SmartSHOW 3D - Slideshow Tutorial
Here's how to make an animated slideshow with music in SmartSHOW 3D: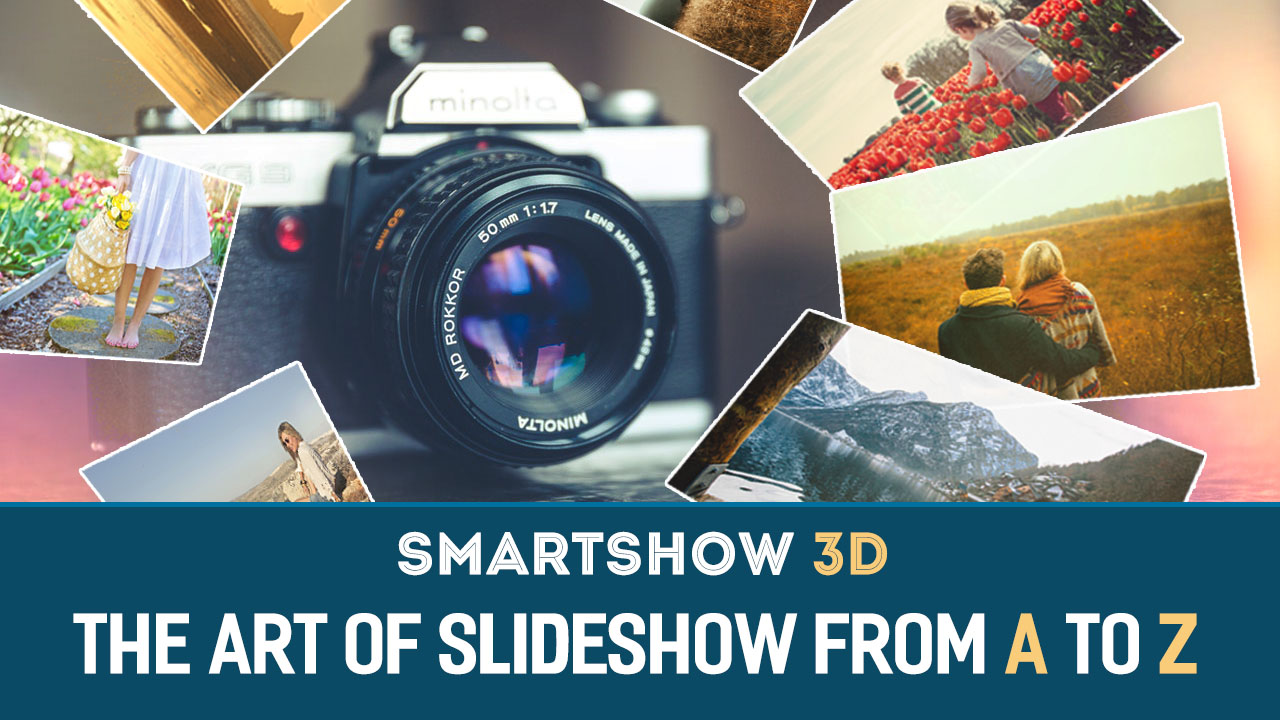 Step-by-Step Software Tutorials
With this series of SmartSHOW 3D tutorials, you'll master the software features inside out. The lessons guide you through all the steps of slideshow creation, from adding photos to fine-tuning sophisticated animation.
How to Edit Slides and Create Animation Effects
Types of Slide Animation Effects
How to Use 3D Camera for Slide Animation
How to Apply Slide Effects: Falling Leaves, Snow, Bubbles, etc.
How to Use Glow Effects: Fire, Sparkles, Burning Shapes etc.
Working with Animated Subtitles and Title Clips
How to Crop Photos for Slideshow
How to Create Your Own Transitions
Highlights, Glows & Flares for Slideshow
How to Save Your Own Slideshow Template
Ideas for Your Slideshow Projects
Searching an idea for your next project? There are plently of occasions when it's time for a slideshow. A friend's birthday party, a family get-together, a wedding reception, a new baby... find exciting slideshow ideas for these and many more events!
Merry Christmas Slideshow Ideas
Valentine's Day Slideshow Tips
Wedding Anniversary Slideshow Ideas & Tips
Mother's Day Slideshow Ideas, Quotes, and Songs
How to Make a Video Greeting Card
Travel Slideshow - Tips and Templates
Wedding Reception Slideshow Ideas
Baby Slideshow Ideas and Baby Song Tips
Tips on Making Happy Birthday Video
Happy Birthday Slideshow Ideas
How to Make a Video Birthday Card
Retro Photo Album with Page Turn Animation
Latest Trends in the Slideshow Art
SmartSHOW 3D uses the ultimate technology for mixing photos, video clips, sound, and 3D effects. With a powerful tool like this in hand, you can realize all sorts of creative projects that seemed impossible just a couple of years ago. Try some of these!
Make Your Own Slideshow with Music, Voiceovers, and Subtitles
How to Make a Slideshow with Animated Collages
How to Make a Movie from Still Images
Video & Picture Slideshow Creation
How to Make a Video Collage with Music
Making a Video Slideshow with 3D Animation
How to Create a Video Slideshow with Special Effects
How to Make a Slideshow on Windows 10
Video Scrapbooking Software Review
Slideshow Intro Design: 5 Do's and Don'ts
5 Awesome Variations of Slideshow Zoom Effect
Best Photo Animation Software for Newbies
Showcase Your Videos in Pro Quality!
Making a slideshow for the Web or planning to show it on a big plasma screen? Check out these tips on slideshow export to make sure it looks absolutely perfect.
How to Make a Slideshow Video in HD Quality
How to Create a Slideshow with Music for Youtube
How to Make a Slideshow for Facebook
How to Burn a Slideshow to a DVD
Choosing the Best Slideshow Presentation Software
Compatible with
Windows 10, 8, 8.1, 7, Vista, XP

Our Users Say:
I shoot weddings for a living, and often make wedding and love story slideshows for my clients. I used to do that with Windows Movie Maker, but then I came across SmartSHOW 3D and realized the immense potential of photo slideshow. This software now helps me do incredible things with my photos. Lots of thanks from happy clients!
I love making movies from our family and travel photos. Have tried a number of slideshow makers, but this one is something special. All kinds of fascinating effects and animation, music and voiceover, and excellent quality video in the end! Never thought I'd learn to make SUCH movies myself one day.

Need to create a professional photo slideshow?
Start now with

SmartSHOW

3D!