How to Burn a Slideshow to a DVD
Burning a slideshow to a DVD is a great way of sharing your photos with friends and relatives. A DVD can be a great gift; you can bring it along to a party and show the photos to your friends on a huge TV screen – this will look awesome. So let's talk about how to burn a slideshow to a DVD.
First, you are going to need a slideshow making program that is capable of DVD burning. We suggest a handy tool – SmartSHOW 3D software. It has all the necessary features to make your project shine along with the disc burning ability. You can download it from the official website. Now that your software is up and running, how to make a DVD with pictures and music ? We'll break that process down into a few simple steps.
Create a draft of your slideshow
Start with the essential parts of your slideshow – pictures and music. Pick the photos you are going to work with and load them into the DVD slideshow software. You can easily swap the slides with drag & drop. Have a look at the built-in collections of templates. They include title slides, photo collages, subtitles and so on. Edit them the way you want clicking on the Edit Slide button.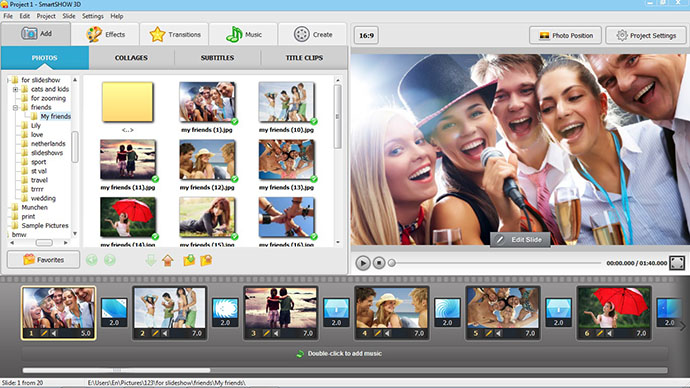 A soundtrack is a must in the slideshow world - that goes without saying. Open up the Music tab and add some vivid tunes. You can cut the tracks if you need to.
Add rock'n'roll effects
Make your project an impressive one with the help of the effects pack. Choose from more than a hundred of different transitions, including sweet gradients and aggressive 3D effects, depending on the theme and pace of your slideshow.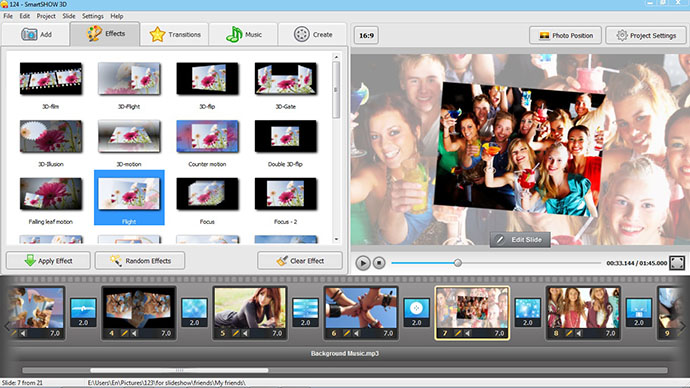 This DVD slideshow software offers a selection of ready-made animation effects - you will find them on the Effects tab. You can preview any effect in the built-in player before applying it. Don't rush it; decide which ones will suit your project best. While some of the effects can brisk a photo up, some may as well completely destroy the same photo..
How to Burn a slideshow to a DVD
When you're done with editing, click on the Create tab and pick the Create DVD Slideshow option. So, how to make a DVD slideshow moving from there? The first step is to pick a menu layout (of course you can pick the "No menu" option if you wish). Pick a template and click the Next button. Customize the menu right in the DVD slideshow software: adjust the title, add background music, and select an image.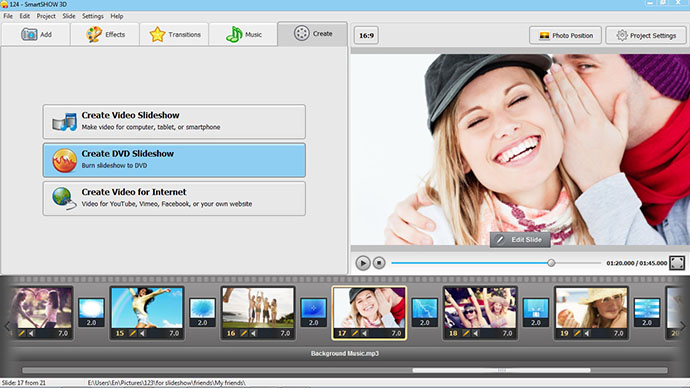 Now we've come directly to DVD burning. Insert a blank disc, and click the corresponding button. Choose the quality you'd like to have: High quality gives you up to 1 hour on DVD-5, decreasing to medium will provide you with an additional half an hour. That's it, hit the Start button and get ready to rumble!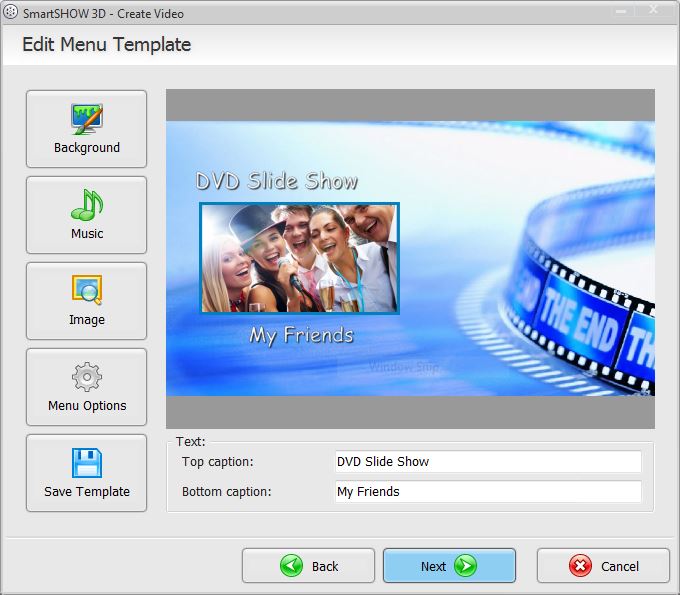 And not only can you burn slideshows to DVD, there are tons of exporting options. You can make a slideshow for Facebook or popular video hosting websites, create a movie for mobile devices and a lot more. So download SmartSHOW 3D now and have a lot of fun creating cool projects!

Get creative with
SmartSHOW 3D !
Want to make stunning photo movies with your own pictures? That's as simple as ABC with SmartSHOW 3D software!
Compatible with
Windows 10, 8, 8.1, 7, Vista, XP

Our Users Say:
I shoot weddings for a living, and often make wedding and love story slideshows for my clients. I used to do that with Windows Movie Maker, but then I came across SmartSHOW 3D and realized the immense potential of photo slideshow. This software now helps me do incredible things with my photos. Lots of thanks from happy clients!
I love making movies from our family and travel photos. Have tried a number of slideshow makers, but this one is something special. All kinds of fascinating effects and animation, music and voiceover, and excellent quality video in the end! Never thought I'd learn to make SUCH movies myself one day.

Need to create a professional photo slideshow?
Start now with

SmartSHOW

3D!