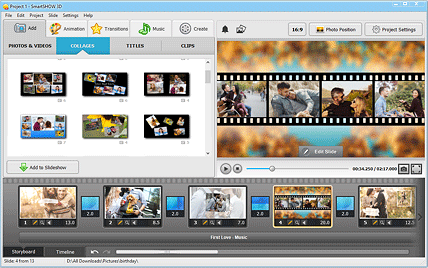 Pro-Level Slideshow Templates
Who says that making a stunning animated slideshow should take you a lot of time and effort? With ready-made templates and pre-designed themes, the whole process becomes incredibly fast and easy. SmartSHOW 3D comes with a huge set of templates created by professional designers. Stylish slide styles, animated collages and title clips will make your slideshow video shine.
Now you don't need to fiddle with complex settings - simply choose the template you like and add your pictures or videos. The smart slideshow app for PC will do the rest for you. Preview the result and save it, or try another templates pack!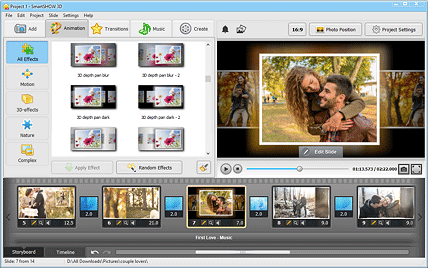 Tons of Stunning Effects
One of the best features of SmartSHOW 3D is a powerful 3D animation engine that can bring all of your creative ideas to life in a few clicks. Thanks to a huge collection of transitions and animation effects, you can make photos and videos appear and disappear on the slide, fly, zoom in and rotate in all possible dimensions.
This photo slideshow maker for PC can recreate nature effects with realistic snow, rain, falling leaves, clouds and bubbles, or decorate your slides with fancy balloons, butterflies, hearts and other animated embellishments. Glow effects, such as fire, sparkles and burning shapes will help you design stylish title slides.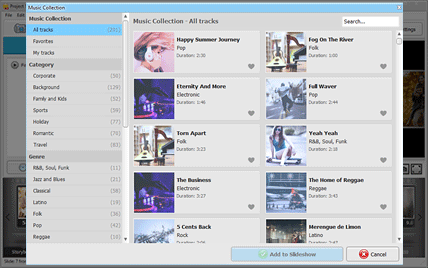 Built-In Music Collection
Want to give your creative project a voice? SmartSHOW 3D is an easy-to-use slideshow maker for PC that blends together any visuals and music. It comes with a large library of royalty-free tracks to meet the demands of the pickiest music lover. All the available soundtracks are divided into different categories, genres and moods so you won't have trouble finding the one that suits your slideshow.
What's more, you can record your own voice comments and synchronize them with the footage, as well as the previously chosen music track. That way you'll surely turn still images into breathtaking videos with music!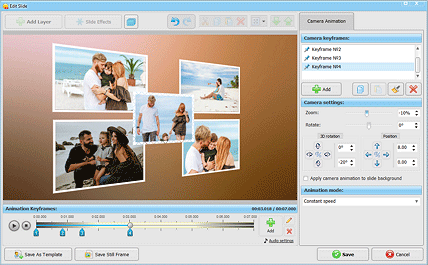 Endless Creative Opportunities
SmartSHOW 3D works as a full-fledged photo and video editor, and allows you to create slides with multiple layers (photos, videos, cliparts, text captions, shapes, and much more), and customize animation for every single layer and even for layer masks with the help of animation keyframes.
The unique "3D camera" tool can move and rotate the whole slide along with its background, while all the slide layers follow their own animation paths. That way you get tons of stunning animation effects and hundreds of different ways to combine them. Experiment with animation presets to showcase your photos as you wish!
Searching the best slideshow creator for PC? Check out the awesome slideshows below and give a try to SmartSHOW 3D!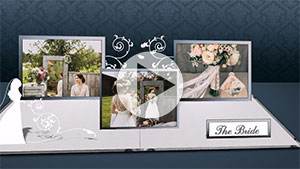 3D Wedding Album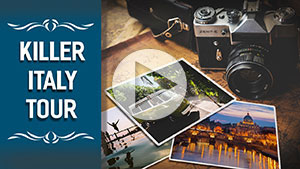 Killer Italy Tour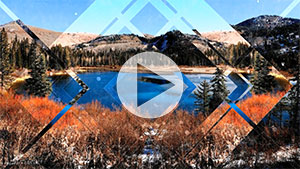 Cinematic Slideshow Example
Liked these examples made with the powerful slideshow app for PC? You can easily create slideshows like this yourself. Get the free trial version of SmartSHOW 3D and start making breathtaking photo movies today!
Looking for the best slideshow maker for PC?
Get started with

SmartSHOW

3D!