Best Slideshow Makers for Windows 11 in 2023
Find the perfect slideshow software compatible with the latest OS version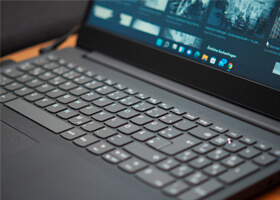 Very little time has passed since Windows 11 was released, but this version of the operating system has already gained numerous users worldwide. Well, it's no wonder - this version of Windows is better, bigger, and more beautiful. But at the same time it poses a few problems, one of them being - do all programs run on it? Especially those that are narrowly specific like, for instance, slideshow making programs?
In case you are into presentations and animated video making and currently in search of a good slideshow app for Windows 11, we have a treat for you. In this article, you'll get to know some of the prime softwares that might as well become your reliable tool for making cool picture videos and presentations. We'll be looking at 5 best slideshow software for Windows 11 that will range from free to paid, from easy to more advanced. So without further ado, here's our list.
Slideshow Program for Windows 11: Key Points
Before we actually begin, let's take a gander at some of the features that make really good slideshow making software. This is what you should pay attention to when choosing your tool.
✔ Ease of use: Presentation making is a challenging activity. Once you start, you can find yourself tangled in many features and effects with no way out. That is why the slideshow making tool of your choice should have a clear interface and a relatively easy workflow. The sooner you master the program you've picked, the sooner you'll be able to produce truly stunning videos.

✔ Built-in templates: Occasionally, you might be lacking time or inspiration to create an impressive slideshow. This is where templates come in handy. If the program of your choice is equipped with them, you'll only need a few minutes and a bulk of your photos to throw together a great video. And if these templates come dedicated to certain themes and holidays - then you are all set up.

✔ Affordability: Doesn't matter whether you are going to use the program for personal or professional causes - it just doesn't have to cost like a brand-new car. Look for softwares that wouldn't leave a huge hole in your pocket (luckily, there are nice options). It also doesn't hurt if the program you chose has a free trial. This way you can make sure that you really like it before you purchase it.

✔ Available tutorials: Unless you are making a simplistic presentation à la Powerpoint, you might want to use complex effects and tools. In order to master them, you'll need a little help. If the slideshow maker you chose has online or integrated tutorials - it's great. Through comprehensive how-tos you'll be able to grasp all the tools and features in no time.

✔ Vast range of export options: The slideshow maker of your choice should have you covered when it comes to exporting your video. After all, you hardly ever know where you are going to show your creation. At your aunt's place on her old TV? On your YouTube channel? On your phone during a lunch break? You should be able to choose the output option that would suit you.

So now that you know what the important features of the best slideshow app for Windows 11 are, let's have a look if our contenders fit these criteria. Let's dive into our comprehensive roundup.

1. SmartSHOW 3D: Best for People of All Skills and Aspirations

If you need a Windows 11 slideshow maker that strikes a perfect balance between the ease of use and a rich toolkit, then SmartSHOW 3D is the right choice for you. This program comes with enough features to substitute a whole suite. First off, there are over 200 templates available that can turn your photos into engaging movies in under 5 minutes. There are themed and multi-purpose options. Besides, SmartSHOW 3D has a Wizard mode that lets you compile your favorite photos and video clips into a pro-looking slideshow and adjust this slideshow to your liking in terms of soundtrack, effects, tempto, etc. The whole deal will only take you a couple of minutes.

If you are looking for complete creative freedom, then SmartSHOW 3D will delight you with its custom animation module. It allows you to create keyframe-based animations, immersive camera motions, and realistic nature effects. Should you need ready-to-use animations and transitions, this slideshow maker has an abundance of them. There are over 400 options, as well as pan and zoom effects and the Live Photo feature. The latter lets you animate only a certain area of your pic and create an illusion of flowing water, rippling flames, and whatnot.

SmartSHOW 3D also comes with a comprehensive music library. There are over 200 built-in tracks for any taste. Naturally, you can add your own music. The program also gives you an opportunity to record your own voice messages and add them to the project. Integrated audio tools will help you adjust the volume and fade-ins and fade-outs effortlessly. When it comes to export options, SmartSHOW 3D offers plenty. There are presets for TV, mobile devices, social media and video hosting websites.

Intuitive workflow
Templates and Wizard mode
600+ effects & transitions
Custom keyframe animation
Integrated photo editor
30+ export options
Free trial

May struggle with larger projects

Price: You can get this feature-packed program for a year, with the price starting from $29.95. A life-time license with an extended template pack will cost you $69.95.

Conclusion: SmartSHOW 3D will be a treat both for newbies and pros in slideshow making. The former will love its templates and automatic slideshow creation mode, while the latter will have much fun making videos from scratch with all the effects and animations that are available.

2. Icecream Slideshow Maker: Best for Creating Minimalistic Projects

If you are looking for a robust slideshow maker that wouldn't confuse you with its interface and an abundance of features, then look no further than Icecream Slideshow Maker. This program lets you turn an unlimited number of your images into a smooth slideshow. There are a host of animations and transitions that are easy to apply, albeit not particularly customizable. This photo slideshow software for Windows 11 also provides no templates.

Icecream Slideshow Maker lets you accompany your slideshow project with a music track of your own choice. However, it does not harbor any music library within itself. Exporting your project is a breeze with this slideshow maker since it supports various formats including but not limited to AVI, MOV, and MP4. There is also a direct output to YouTube and other video hosting sites.

History panel
Smooth performance
Has a free version
Decent collection of effects

No templates available
No built-in music collection

Price: Icecream Slideshow Maker has a free version with a limited functionality. You have to pay $19.95 to get the full version.

Conclusion: If your artistic aspirations are somewhat modest and you just need an easy-to-use program to turn your photos into movies, then Icecream Slideshow Maker is a serviceable choice.

Don't know how you are going to share your slideshows with the world? Video hosting sites are one of the best exposure methods available now. Find time to learn

how to make a slideshow for YouTube

to showcase your creation to a bigger audience and gain likes and positive feedback.

3. Magix PhotoStory Deluxe: Best for Creating Engaging Photo Stories

Magix PhotoStory Deluxe is one of the top-rated slideshow makers out there, and there is a good reason for that. The software comes with a respectable number of templates and hundreds of effects that allow you to not just create videos, but tell artistic photo stories. One of the more interesting features is Travel Maps, that you can use to animate your journey on the world map. Magix PhotoStory also provides tools for image enhancement.

As for built-in music, this slideshow maker has a smallish collection of ready-made tracks and a music production module that lets you compose a track to your liking. Magix PhotoStory has an impressive library of export presets. These include a VR video mode that lets you watch your creation in 360 degrees. Besides, you can export your slideshow as an HD video, a video for TV, PC, tablet or phone. Clearly, Magix Photostory Deluxe is a capable program, but as a result is quite demanding when it comes to your RAM and graphics card performance.

Themed templates
1500+ effects and transitions
Music making module
Export in 4K

Requires a hi-end PC
Paid technical support

Price: Sellers of the software offer two distribution models. You can get a subscription that is $7.99 a month. A lifelong license will cost you $49.99.

Conclusion: Magix Photostory Deluxe is a discovery if you are looking for a program that would allow you to make stunning photo movies in no time. Just make sure that your PC is up for the job.

4. Movavi Slideshow Maker: Best for Beginners in the Craft

In case you are only making your first steps in slideshow creating, but you still want to show off your creative chops, Movavi Slideshow Maker will be a great choice. This slideshow maker with music for Windows 11 offers two approaches to slideshow creation. First, there is the easy route that gives you access to a number of pre-made templates. Alternatively, you can build your project from ground up, using the 160+ built-in effects and 100+ transitions.

The slideshow maker also boasts an integrated music collection and comprehensive audio editing tools. After you are finished with your project, you can export it in a number of formats that include AVI, MP4, MOV, as well as videos for social media and YouTube. Although Movavi Slideshow Maker seems to be a sturdy program, users have been constantly reporting about unexpected crashes.

Built-in templates
Hundreds of effects and transitions
Screencast recording
Audio editing tools

Few effects customization options
Only 1 transition kind for the whole video

Price: The price for Movavi Slideshow Maker for personal use currently sits at $39.95 for a one-year license. If you plan to use this program professionally, be ready to pay as much as $59.95.

Conclusion: Movavi Slideshow Maker is a decent choice for newbies with a certain level of artistic aspirations. It is by no means a pro-level program, but will be enough for casual users.

Want your project to be filled with as many pictures as possible? One of the best ways to cram your photo archive into a slideshow is through using animated collages. It's not that hard to accomplish. Just learn

how to make a video collage

and you'll be good to go.

5. Animoto: Best for Making Slideshows on the Go

Don't want to install any new software to your Windows 11 PC? There is a slideshow making solution for you as well. Meet Animoto. This is a popular web-based service that lets you turn your images and videos into animated movies. Animoto offers both templates and a chance to create a project from scratch. However, there are few customization options for animation.

As for music, Animoto comes equipped with a decent music library. Other perks include access to millions of photos and videos, courtesy of Getty Images, and video editing instruments. This online tool is very easy to use and allows you to share your creation online immediately after you press Finish. The downside to Animoto is that you need a stable Internet connection to operate it.

Requires no HDD space
Built-in themed templates
3000+ music tracks
Access to stock imagery

Needs a stable connection
Might subject photos to privacy breach

Price: Animoto has a free version that is, however, limited in terms of tools. It also superimposes a watermark. You can get the watermark-free version for $8, $15, and $30 a month.

Conclusion: Animoto serves great if you want to quickly throw together a little photo slideshow, provided you have a stable connection and aren't afraid of a potential privacy breach that comes with all online services.

What Are the Best Slideshow Makers for Windows 11?

And this has been our take on the best slideshow software for Windows 11. As you can see, your choice pool is rather rich, but if you still have trouble picking the right tool, here are some words of advice from us. If you want to make simplistic photo movies just for fun, then go with Movavi Slideshow Maker. In case you have no desire to take up your hard drive space with software but still want a quick way to make a video with your pictures and music, then opt to using Animoto. And if your goal is to easily create amazing slideshows both on a casual and professional level, then SmartSHOW 3D is the right choice for you.

About the author:
Brought to you by SmartSHOW 3D team. We are both professionals and enthusiasts in slideshow making from all over the world. We joined together striving to bring you the best ideas and tips for your videos.
Need the best slideshow maker for Windows 11?
Give

SmartSHOW

3D a go!