How to Make a Slideshow for Facebook
Facebook cannot be underrated; the largest social network offers lots of ways of sharing cool stuff with your friends. But what if you want to share photos not in a casual, boring way and avoid all scrolling and clicking? A stylish slideshow with music and effects is way to go. Want to know how you can create a video slideshow and upload it to Facebook?
In order to do that, you are going to need a convenient app – we suggest SmartSHOW 3D, a powerful slideshow maker for Windows. It has everything you might need for making your project: lots of templates, special effects, soundtracks, and of course HD output. So without further ado, let's see how to create a slideshow for Facebook using SmartSHOW 3D, the smart slideshow software.
Collect the photos
It's a good idea to pick the best photos from an event, and put them in some kind of order. Or simply take some high quality pics if you want to make a slideshow about, let's say, your favorite music bands. Then load the photos into the slideshow program, either one by one, or add the whole folder with a single click. You don't want to overload your project with too many photos: slideshow that goes for about 5-7 minutes will keep your audience focused and happy.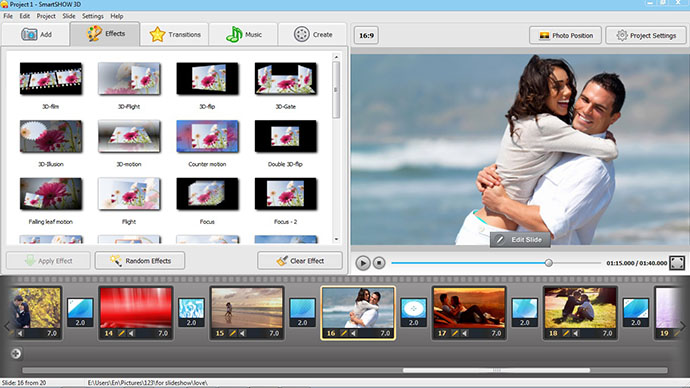 Introduce your project
SmartSHOW 3D has a nice collection of subtitles and title slides. It's very convenient as you still need to give your audience a bit of information of what they are about to see. Look through the templates, both animated and static, and pick the most suitable one. Of course you can edit any template or slide: simply double-click on the slide to open the editor. Here you can add different layers – photos, cliparts, text captions (including 3D), and apply animation to any object. That means, you can make them rotate, move, fly away etc. in any dimension at a certain moment that you pick yourself.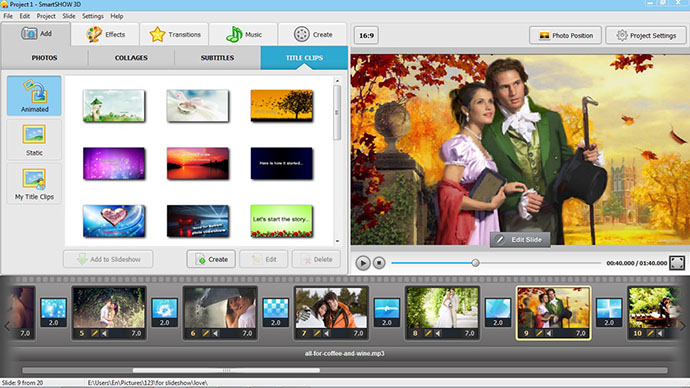 Add effects and music
Enjoy adding cutting-edge 3D special effects and transitions to your project. There are 100+ different presets for any slideshow, mild and mellow, fast-paced and aggressive, etc. You can easily preview any effect before applying, that's very convenient if you want to pick the best ones. It's really important, because the overall look of the slideshow can be easily destroyed with improperly chosen special effects. When you've picked the templates, simply drag them to the corresponding slots on the timeline.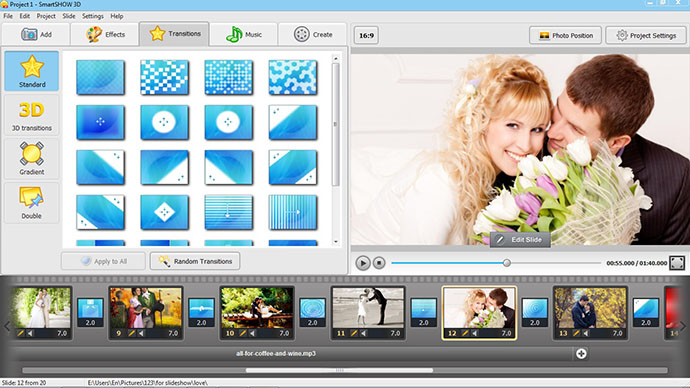 A slideshow without music is simply boring, so don't forget to hit on the Music tab. Here you can add some tunes, cut them if needed, and synchronize the music with the slides' duration. When you're done editing your project, it's time to make a video slideshow.
How to create a slideshow for Facebook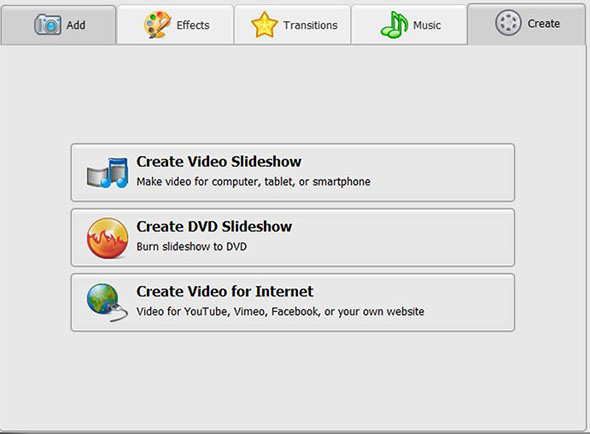 Click on the Create tab, and you'll see a couple of export options. Hit Create video for Internet and pick Facebook's preset of desired quality, either 720p or 480p. The first one gives you better quality, while the second one takes less time to be created. And that's it, hit the Start button and wait a bit until the project is converted.
And not only can you make videos for Facebook or a slideshow for YouTube, you can also make videos for computers, tablets, smartphones, TVs, tons of other gadgets, or burn a DVD – SmartSHOW 3D won't let you down. You should agree that making a slideshow for Facebook wasn't hard at all, was it? SmartSHOW 3D is a true wizard, don't miss a chance to get acquainted with him, with this free download now!

Get creative with
SmartSHOW 3D !
Want to make stunning photo movies with your own pictures? That's as simple as ABC with SmartSHOW 3D software!
Compatible with
Windows 10, 8, 8.1, 7, Vista, XP

Our Users Say:
I shoot weddings for a living, and often make wedding and love story slideshows for my clients. I used to do that with Windows Movie Maker, but then I came across SmartSHOW 3D and realized the immense potential of photo slideshow. This software now helps me do incredible things with my photos. Lots of thanks from happy clients!
I love making movies from our family and travel photos. Have tried a number of slideshow makers, but this one is something special. All kinds of fascinating effects and animation, music and voiceover, and excellent quality video in the end! Never thought I'd learn to make SUCH movies myself one day.

Need to create a professional photo slideshow?
Start now with

SmartSHOW

3D!