Graduation Slideshow Ideas
Tips For Making a Cool Graduation Video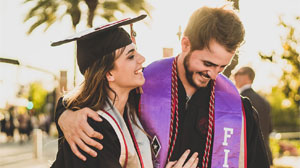 The graduation party is coming and you are completely lost looking for present ideas? It doesn't matter if you're a student or a parent of a child graduating from elementary school - these times should stay in your memories! So, one of the best gifts would be a video slideshow: both parents and teachers will remember the event forever.
We've saved you some time and gathered a handful of useful graduation video ideas. Keep on reading to find out all the secrets for making a cool slideshow.
What Do You Need For Making a Cool Graduation Video?
First, gather some photos from your school years. Don't pick a lot of images. Try selecting only the best ones - 100 will do fine.
Watching still pictures is nice, but may be too boring, so mix the images with video clips - this will make your slideshow more dynamic and lively.
Next, you need cool songs for your graduation slideshow. Look for some popular music that will suit the overall mood. We suggest looking at inspirational or country songs - they usually fit into this type of videos.
Think about adding different captions. On top of simple text and people names, you can add various quotes, mottos or funny slogans that were popular in your class or college. In addition, you can ask friends, other parents and even teachers to share their wishes, congratulations or pieces of advice.
When it comes to choosing the software, try SmartSHOW 3D - this cutting-edge graduation slideshow program is a great tool for creating photo & video slideshows with music and special effects. Compared with other programs like Powerpoint, it is jam-packed with lots of features: adding video clips, GIFs and textures, creating photo and video collages, making animations and many others.
Graduation Slideshow Templates
Where to start? Look for slideshow templates that are suitable for this occasion. They will serve as a perfect basis for your project. We suggest checking out SmartSHOW 3D - this program has an amazing set of designer templates meant for various themes, including graduation. Even when you're using a template, SmartSHOW 3D still gives you a lot of freedom. You can embellish your images with artistic filters and add cute captions.
Want to see a video example implementing great senior slideshow ideas? Click Play below to enjoy a rattling good graduation slideshow. It blends together photos, video clips, and animated text. Memorable pictures are brought to life with the help of shiny effects: camera flash, projector lights, filmstrip, 3D cube and more.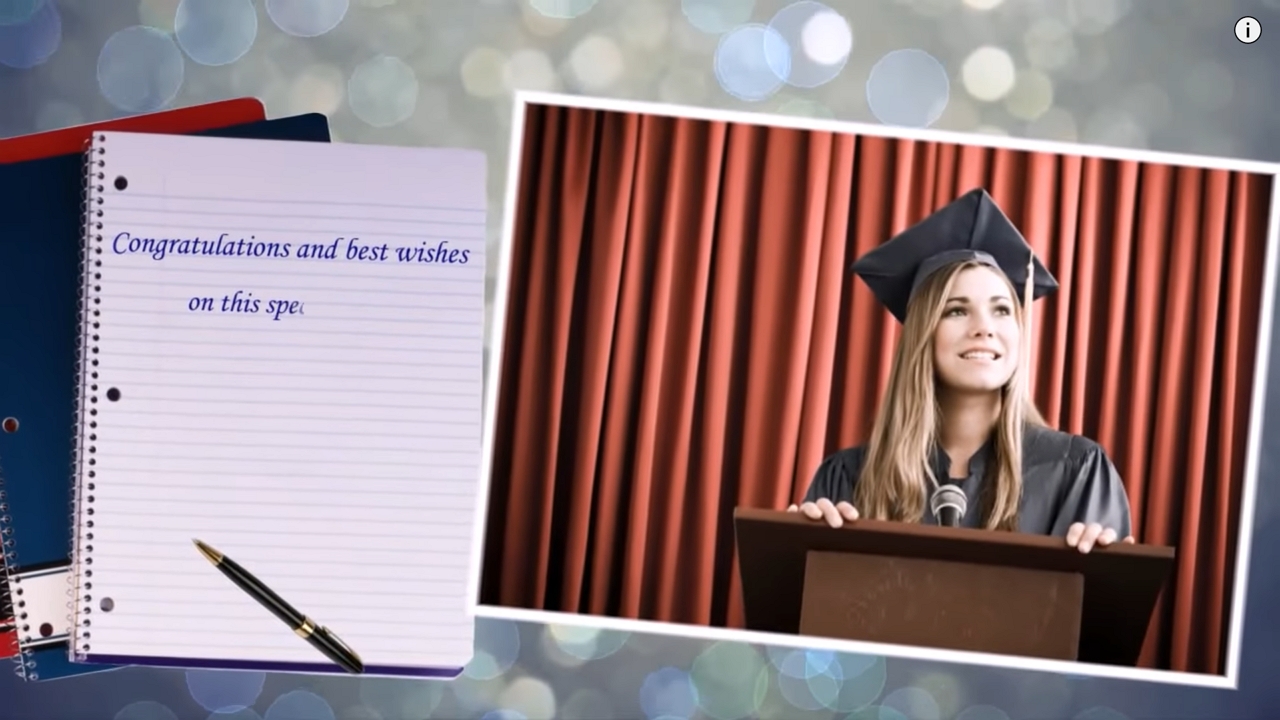 This graduation collage maker is very user-friendly and allows you to easily create collages from pictures and videos. So you can make an awesome slideshow for your son or daughter in just half an hour and continue getting prepared for the celebration. Ready to test it out with your own photos? Just press the button below:
How to Make a Graduation Slideshow with Music and Pictures
Need a step-by-step guide on how to make a graduation slideshow with music and pictures? With SmartSHOW 3D, you will be able to create your presentation in just a few clicks.
Here are the steps:
Step 1. Start SmartSHOW 3D
Open the graduation video maker. If you are pressed for time, the Slideshow in 5 Minutes option will help you out. Start with a new project if you have enough time to create a slideshow from scratch, making each slide individually.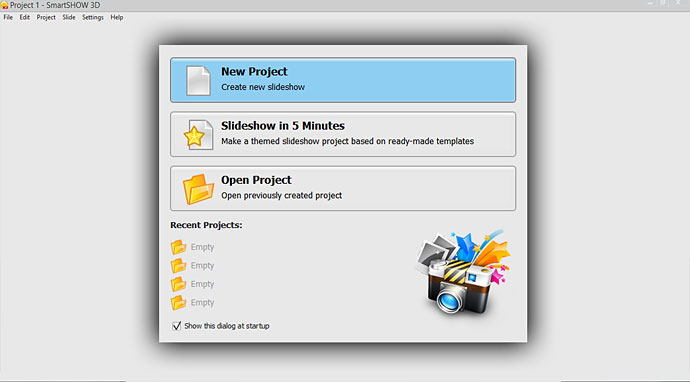 Step 2. Add Photos and Video Clips
Add your photos by dropping them onto the storyboard. Think about arranging pictures into collages to show every important moment. If you want to add a pinch of action, insert some short video clips to your montage line as well. But remember to keep the whole video short - around 5 minutes.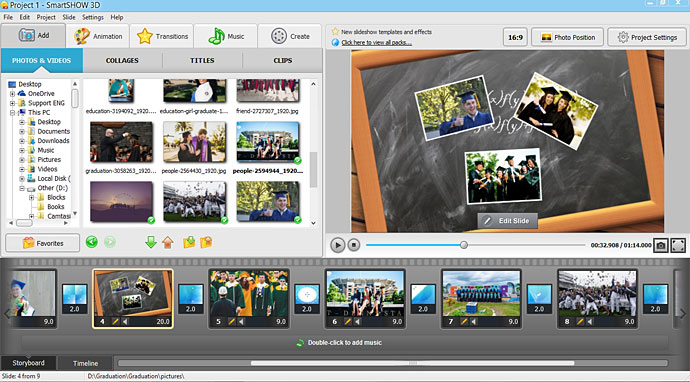 Step 3. Insert Funny Captions
Add the title and the final slide. It's also a good idea to include some slides with text like congratulations, pieces of advice or motivational speeches. If it's a high school graduation, you can add the school hymn with lyrics.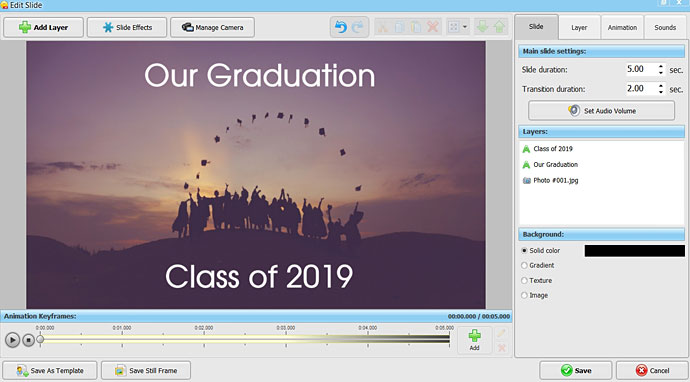 Step 4. Juice It All Up with Music
Now spice it all up with music: add your own or use samples from our collection. Also, go ahead and take advantage of SmartSHOW 3D option to record voice comments and insert them right into the slideshow. If you're making a slideshow for your granddaughter, have some fun commenting her preschool photos and clips.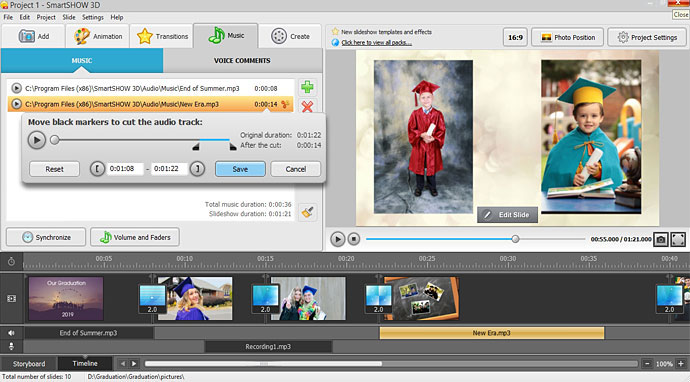 Step 5. Create Your Video
When you finish editing the slideshow, go to the Create tab to make a video. Pick a suitable format, for instance, for showing the video on TV, computer or watching online.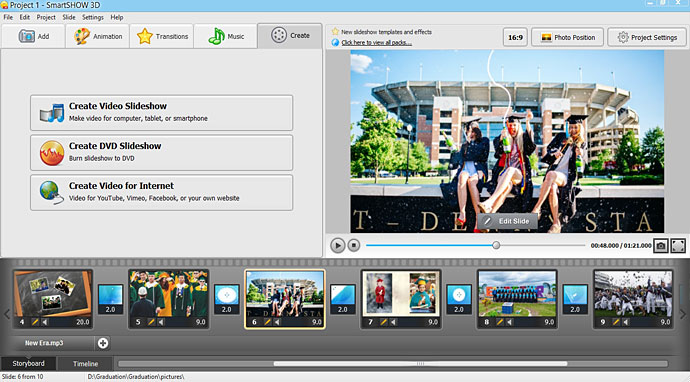 It's done! Just 5 simple steps and your awesome slideshow is ready. Go ahead and try it free for yourself:
Songs for Graduation Slideshow
Music is a very important part of your project that makes your slideshow unique. Depending on the overall style, choose a sentimental or upbeat song. Remember that long videos with slow-paced music usually lull everybody to sleep, so try to avoid it.
Here's our short list of cool music:
Katy Perry – "Firework"
Nickelback – "Photograph"
One Republic - "Good Life"
Green Day – "Waiting"
Birdy – "People Help the People"
Morcheeba – "Enjoy the Ride"
Kelly Clarkson – "Breakaway"
Louis Armstrong – "What a Wonderful World"
Theory of A Deadman – "End of the Summer"
and of course Queen – "We Are The Champions"
Check out more suitable music for your graduation slideshow here.
Inspirational Quotes for Graduation Video
One of the best senior video ideas is to add slogans, mottos or quotes. The graduation means not only the end of school or college period, but the start of a new life, a point of growing-up. So don't forget to include some motivational graduation quotes into your slideshow to inspire the viewers.
We like these ones most of all:
"Obstacles are those frightful things you see when you take your eyes off your goal." - Henry Ford
"The future belongs to those who believe in the beauty of their dreams." - Eleanor Roosevelt
"Sometimes you find out what you are supposed to be doing by doing the things you are not supposed to do." – Oprah
"I have not failed. I've just found 10,000 ways that won't work." - Thomas Edison
"Twenty years from now you will be more disappointed by the things that you didn't do than by the ones you did do, so throw off the bowlines, sail away from safe harbor, catch the trade winds in your sails. Explore, dream, discover." - Mark Twain
Frequently Asked Questions
Now that you've learnt lots of graduation slideshow ideas, tips and tricks, it's time to put them to good use. Impress your classmates and teachers with a stylish memento that they will treasure for a lifetime!
Need to create a professional photo slideshow?
Get started with

SmartSHOW

3D!