Family Tree Slideshow
Create a Lineage Video in Mere Minutes
Have many old photos that tell your family story? Turn them all into a vintage-inspired slideshow. In it, you'll be able to show your lineage and share details about your relatives. This video will be a fascinating trip down memory lane for all generations of your family. Want to see what a family tree slideshow could look like? Take a glimpse at this sample video to get the gist of it.
Did you like the graceful chart and the smooth animation of this video? Want to try to replicate this vintage-flared slideshow? You can do it with SmartSHOW 3D. This program is an intuitive slideshow maker that is filled to the brim with effects, transitions, and templates - and yes, they include options for lineage videos creation. It's easy to honor the one who came before you - just download SmartSHOW 3D to get creative with your family archive.
Download free

Ready to try your hand at digital family tree creation? Then let's find out how to make a heritage video with no hassle.
How to Make a Slideshow with Family Tree
Information
Have all the old images digitized and all the information about your forebears written down and verified? Then you are all set to make your own family tree slideshow. Here's a simple how-to:
Step 1. Start SmartSHOW 3D and pick the appropriate template for your video. If you feel particularly artsy, consider going with a blank project to design a heritage video from scratch. Just be ready to spend more time on it.
Step 2. Add your images to the template. In case you happen to use the wrong photo for the wrong person, you can always replace the photo while editing the slide in question. Make sure that the portrait is perfectly centered and your relative's face is fully in the frame. Use the handy crop tool if necessary.
Some of your pictures don't look good and need photo restoration? Check out this easy-to-use
photo restoration software
. With it you will be able to remove scratches and tears, colorize grayscale pictures in a click, add date stamps and captions.
Step 3. Find a suitable soundtrack for your slideshow. In case you have no clue what tune to use, browse through the collection of songs offered by SmartSHOW 3D. There are over 200 options to choose from, so you are sure to find the perfect, serene or bittersweet tune for your slideshow.
Step 4. Now it's time to export your family tree slideshow. The format you choose depends on how you plan to show your creation. SmartSHOW 3D comes with dozens of export options, so whether you are planning to show your video on TV, post it on Facebook, or simply email it to your distant relatives - this slideshow maker will get you covered.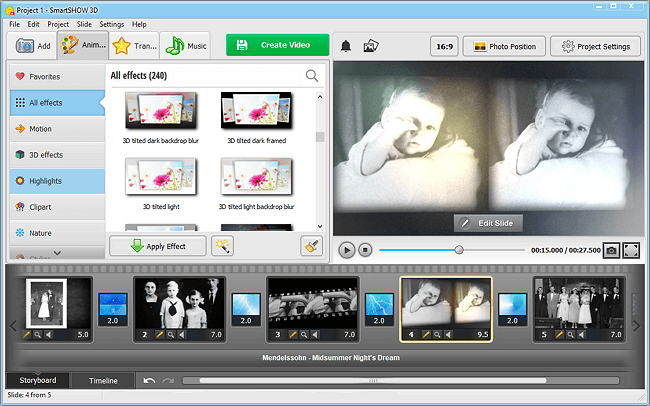 And this is how you make a family tree slideshow. Easy, wasn't it? Then why not get down to business now? Celebrate your lineage and pay your respects to your ancestors with a gorgeous video. After all, there are very few things that are more fascinating than the history of one's family.
Want to create a family tree slideshow?
Get started with

SmartSHOW

3D!