Slideshow Transitions: Wow Your Audience
Learn how to make a picture slideshow with transitions
A transition is the glue that holds your slideshow together. Without transitions, your video might end up being as thrilling as a burnt toast. And it's not all about curtain swipes and ripple dissolves. Carefully and wisely chosen transitions will not only keep the flow of your video the way you want it, but can also contribute to the overall theme and aesthetics of your slideshow.
In this article, we'll touch upon what types of transitions are better suited for different kinds of slideshows and will have a closer look at how to properly use picture slideshow transition to create a well-balanced and engaging video. Just like this one: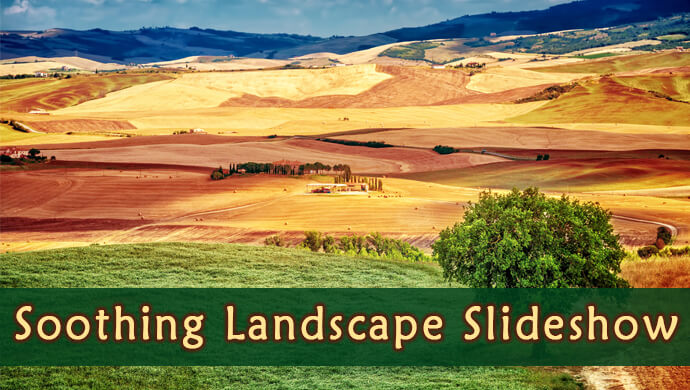 This video example was created in SmartSHOW 3D, a versatile yet user-friendly slideshow maker with transitions. Designed for those who seek artistic freedom and a way to express their singular vision, this software is filled to the brim with hundreds of cool effects and animations.There are more than 150 transitions split into different categories, from simple but effective wipes and gradients to sophisticated and breathtaking 3D effects. And what's more - SmartSHOW 3D not only allows you to use transitions between slides, but also insert them into your slides. All those effects and transitions take no time and very little effort to master which means you can have a stunning video done in a matter of mere minutes.
Want to become a slideshow making maestro with the help of SmartSHOW 3D? Then let's learn how to create a video with transitions and also what transitions to use for certain types of slideshows.
Little Secrets for Picking Perfect Slideshow Transitions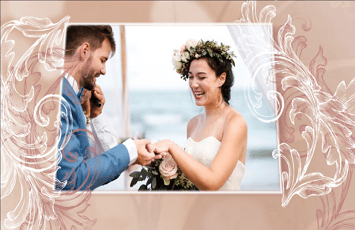 Wedding Slideshow
Doves, pearls, weightless veils - weddings are all about tenderness and subtle grace. When creating a wedding slideshow, opt for gradient slideshow transitions. Try smooth whirlwinds and ripples, beating hearts and mysterious sparks, intricate patterns and graceful whiffs of smoke from SmartSHOW 3D collection.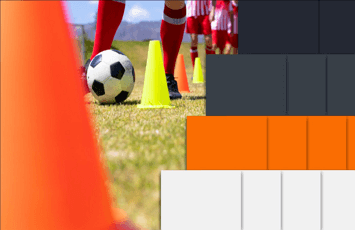 Sports Slideshow
Fast-paced and full of life - that's what a sports slideshow should be. Create a constant illusion of movement using effects that make pictures push (or is it kick?) other pictures out of the frame - upwards, downwards, sideways. Then, there are fun effects that use moving color blocks to change your photos - bright and dynamic, just like a real sports show!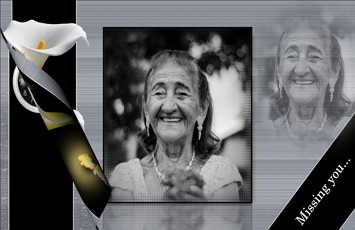 Funeral Slideshow
Sometimes it's not just about fun and romance. If you are creating a funeral slideshow for a friend or a family member, we suggest using graceful 3D transitions. Turn your video into a book with turning pages. Let elegant page turns and delicate pans tell the life story of the one you loved and lost, just like a chronicle.
And those are by far not the only transition types SmartSHOW 3D has to offer. Try this slideshow maker for free to create an eye-catching video with its huge transition collection.
Download free

Now, it's time we learnt how to put all those dozens of photo transition effects to good use.
Sure, using transitions in a slideshow is a great way to amp up your slideshow, but there is another trick that will help you make your project a real crowd pleaser. Just add an
animated collage
to your video! It will bring so much life and movement to your project that viewers won't be able to look away!
How to Add Transitions to a Slideshow: Quick Guide
Unlike many other slideshow makers that also come with plenty of picture slideshow transitions, SmartSHOW 3D offers a simple drag-and-drop workflow that will surely put you at ease if you are not yet an experienced video maker yourself. Let's see how to use those transition effects:
Step 1. Fill Your Project with Your Photos & Music
Once you run the software, you'll have the choice to go with a pre-designed template (a.k.a. Slideshow in 5 Minutes mode), or to create a video right from scratch. Choose whatever mode is more convenient for you. Add your pictures, videos, and music tracks to your project. You can use as many files as you want.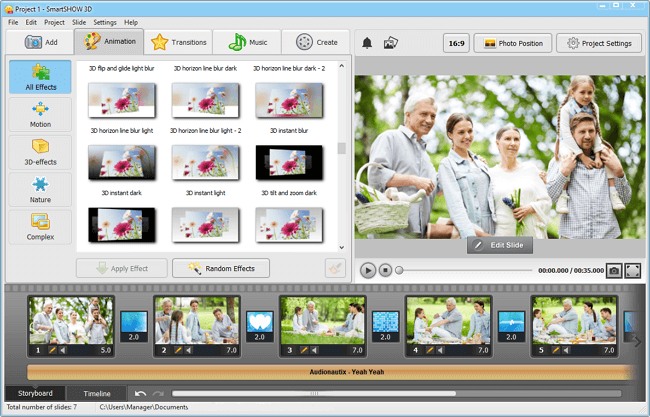 Step 2. Pick Transitions That'll Suit Your Video
Now, switch to the Transitions tab and browse through the library. Here you will find effects of various types - Standard, 3D, Gradient, Original, and Double. You can easily preview each transition just by single-clicking it - you will see the result in the video preview window. The Apply to all button lets you apply a single chosen effect to all the photos in your project.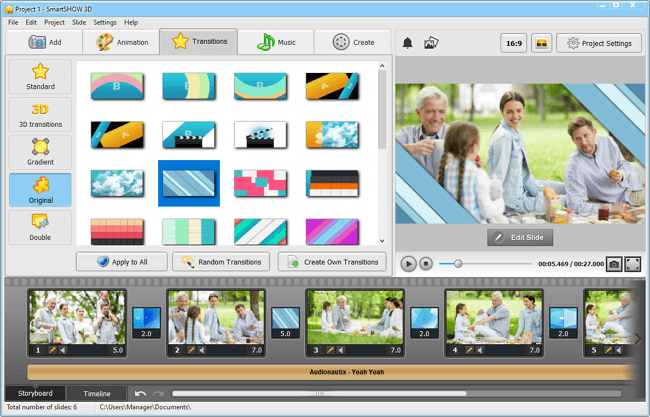 Step 3. Add Chosen Transitions to Your Project
Once you've made your choice, double-click the image transition to add it to your video. Or just simply drag and drop the effect onto the timeline. The transition duration is defaultly set at 2 seconds, but you can change it - just right-click the transition icon and pick Transition duration from the dropdown menu to set a new duration.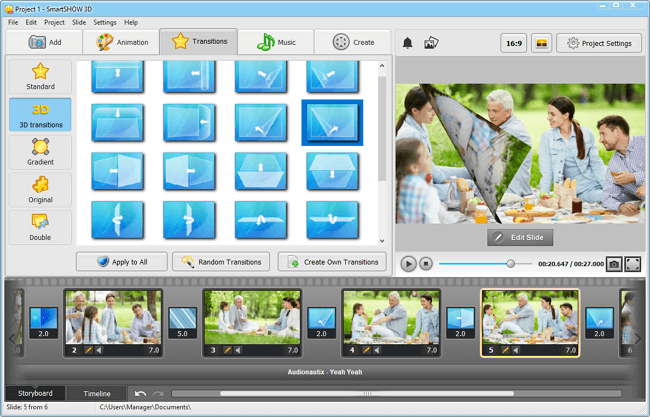 Step 4. Create Transitions Within the Slide
Want to try a really neat trick? Then insert transitions right into the slide itself. Say, you have a slide with a photo collage. With SmartSHOW 3D, you can make the pictures appear one by one, and with a beautiful fade-in or fade-out effect. To do so, pick the slide you want to improve, then click Edit slide. You'll get access to the animation module where you can apply various fade-in and fade-out transitions to a chosen element of the slide - a photo, a clipart, a caption, or a decoration.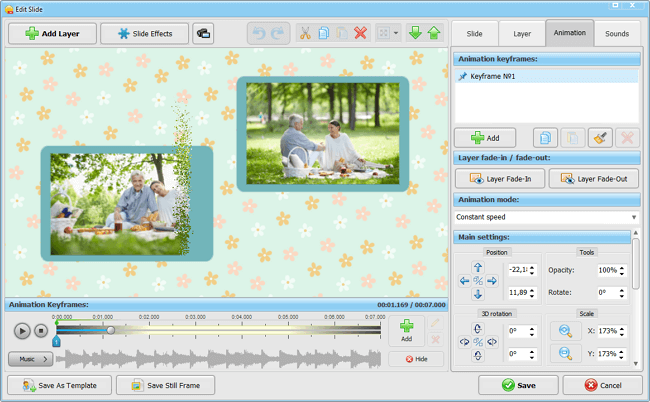 Step 5. Save Your Project in a Suitable Format
With SmartSHOW 3D, you can export your photo slideshow as a video for TV, phone, or tablet. If your project is heading straight to the Internet, you can save it as a video for YouTube, Vimeo, or Facebook. You can also burn your video to a DVD to give someone as a birthday gift - a DIY present is the best kind of present.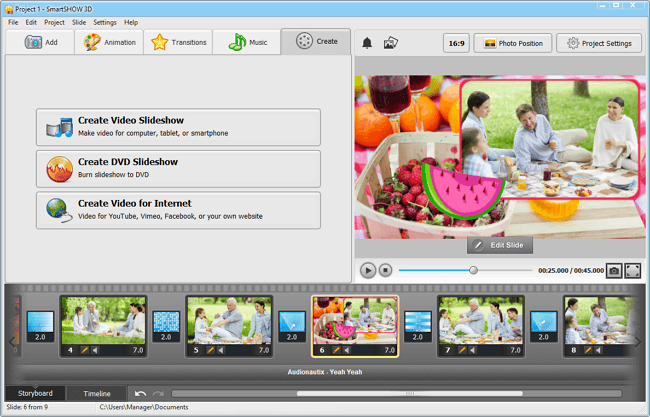 If you want to try your hand at other software with transition effects, we suggest
Google Slides
- this is a very intuitive, albeit a bit simplistic program for slideshow making that also allows you to play with different animations and transition effects.
Now you know how to do transitions for your slideshow and how to choose them. That means that you know a small but essential secret of turning your video into a bonafide thrilling movie. After all, the importance of well-chosen and well-placed transition effects can not be underestimated, since they help you set the pace and the mood of your slideshow. SmartSHOW 3D is a true helper in this regard, as this slideshow maker comes with tons of transitions - from dynamic to soothing, from simple and clear to intricate and surreal. So take this handy package and use it to create a one-of-a-kind slideshow!
Need a slideshow maker with transitions?
Get started with

SmartSHOW

3D!