How to Make a Sports Slideshow
Step-by-step guide and useful tips to create a cool slideshow for sports in a click
Want to showcase your athletic performance and share it with your friends? Maybe you would like to honour the achievements of your favorite football or baseball team? Make a professional-looking sports slideshow with the best photos and videos!
How to make this slideshow? Below, you'll find a detailed instruction, lots of helpful tips, and even some music suggestions.
First, check out the video made with sports slideshow templates for some inspiration:
Impressed? This video was created in Smartshow 3D - an easy-to-use sports slideshow creator. It is extremely user-friendly and will be a perfect tool for people of all ages or skills: from youth to elders, from newbies to pro-level video editors.
The software offers you an endless amount of features for making your slideshow modern, inspirational and authentic: 400+ stunning animation effects, cool-looking transitions and a huge collection of background music. See why it's considered to be one of the best software to create a sport video slideshow?
There is a free trial version that you can use with your own pictures. Just press the button below to get it:
Download free

Install the program and follow the steps from our guide below.
How to Make a Sports Slideshow With Music
Let's dive in in making your own sports photo slideshow.
1. Select Photos and Videos From Your PC
First, select the photos and clips for your slideshow, then put them in a separate folder on your PC. Start SmartSHOW 3D and add the selected content to the storyboard with a simple drag & drop. Thus, all your sports slides will be neatly displayed for your convenience. Think twice about your choice of pictures. Focus on the captivating sports highlights: a jaw-dropping dunk in basketball, game-changing football kicks and flawless jumps in ice skating.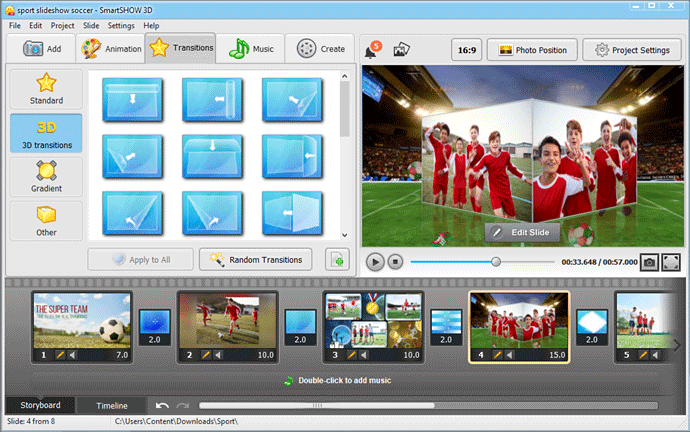 Video clips will make your slideshow even more thrilling! If you make a slideshow featuring your favourite team, add athlete interviews or the most spectacular moments of the plays. You can also use a video clip as a background for the slides to achieve greater immersion.
2. Add Cool-Looking Collages & Animations
Once you have selected all the content, go to Collages and discover over 200 templates to have fun with. Click on the template you like and add photos to it. They will be arranged into an animated collage automatically.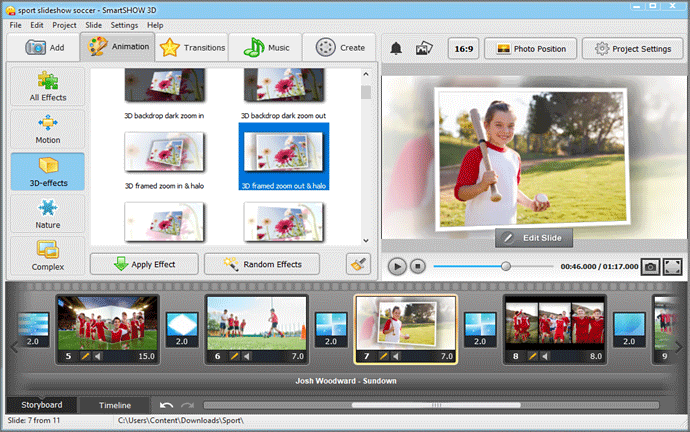 Next, go to the Animation tab. There are 350+ animation and transition templates. Pick the one you like and apply it to your photos with a simple drag & drop. With this sports slideshow maker, you can create your own animations as well: just open the slide editor and move the keyframes to create a stylish 3D rotation or zoom.
3. Insert Gorgeous Titles
To spice up the intro of your sports slideshow, go to the Titles tab and pick a template you like. There are more than 100 templates to choose from. Each of them can be customized to your taste: change the font, replace the background, create custom animations.
4. Juice Your Video Up With Music
Time to add music! SmartSHOW 3D has a built-in collection with over 200 songs of different genres under the hood: Rock, electronic, pop, background music, etc. You can pick the music from your PC as well.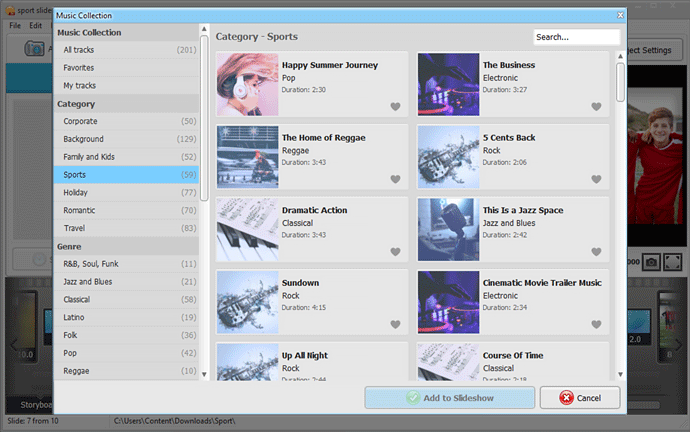 Turn your sports picture slideshow into a real overview or reportage with the voice recording option. Record your comments using a microphone and arrange them on a separate track.
Not sure what song or music to pick? Read on for a suitable track list!
5. Finish Creating Your Sports Slideshow
When you're finished with editing, switch to the Create tab. Pick a format that suits you the best. Use this program to make a sports slideshow in the HD video format, if you want to play your video on a TV for your friends and family. Choose Create video for Internet option if you plan to share it with other fans on your Facebook account.
Songs For Your Sports Slideshow
Music for sports videos should be dynamic, so fast-paced and upbeat music will be highly recommended. Below you will see a top list of the best music ideas to spice up your sports slideshow and make it truly powerful and exciting:
Queen - "We Will Rock You"
The White Stripes - "Seven Nation Army"
Survivor - "Eye Of The Tiger"
Tag Team - "Whoomp! (There It Is)"
AC/DC - "Thunderstruck"
Europe - "The Final Countdown"
The Baha Men - "Who Let The Dogs Out?"
Bon Jovi - "Livin' On A Prayer"
Still haven't found a good sound? Don't worry, here is a great collection of sports slideshow music suggestions.
Now you know how to create a perfect sports video. No matter if it's the end of sports season slideshow or a showcase of your own athletic achievements - with SmartSHOW 3D, you can nail any task with ease.
Need a sports slideshow creator?
Get started with

SmartSHOW

3D!