How to Make Travel Map Animation Step by Step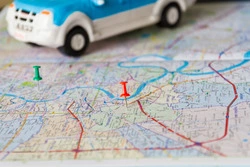 Had a wonderful trip and now want to recap your travel memories and share them with your friends, family, and subscribers? Or, perhaps, you want to map out all the locations you plan to visit during your upcoming journey? Whatever the case, there is a creative solution to put your vacation photos to use - create an animated travel map!
In this article, we'll show you how to make travel map animation on your PC using a convenient slideshow maker. Also, you will watch a sample video for inspiration. Finally, you'll learn alternative ways of creating travel animations to map out your remarkable journeys.
The first software we're going to use to create a travel animation video is SmartSHOW 3D. It's equipped with a special Travel Map effect suite that helps create interactive maps with photos from every location. Also, the program helps add voice comments and accompany your video with music. Besides, it offers 700+ effects and slideshow templates to make a memorable animation video. SmartSHOW 3D comes with a free trial, so you can check whether it's suitable for you paying nothing. Let's see what the program offers you in terms of travel map animation!
Step 1. Download and Run the Program
First, install SmartSHOW 3D on your computer. Click the button below and start your free trial.
Step 2. Create Your Travel Project
Once you open the program, click New Project. Switch to the Effect tab and in the Motion section, pick the Travel Map animation effect. Hit Create Map in the preview window to design your trip project. In the inclusive library of this animated maps software, you will discover a lot of stylish map designs - from retro pirate to modern illustrated. If you don't find the map of the location you need, you can look it up on the Internet and upload it into the program. What's more, you can resize the chosen map if you want a closeup of a particular place on it.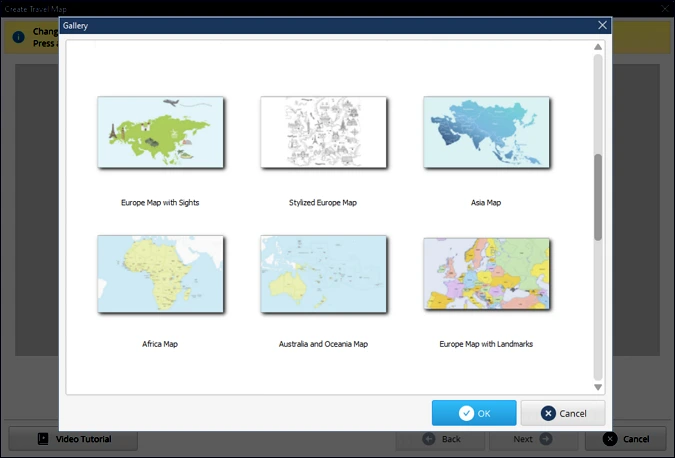 Step 3. Draw Your Route
Now it's time to create the route of your trip. Think about the places you have visited and double-click on the locations to add map markers in the corresponding order. You can add as many of them as you want. Hit Next to move on to map customization.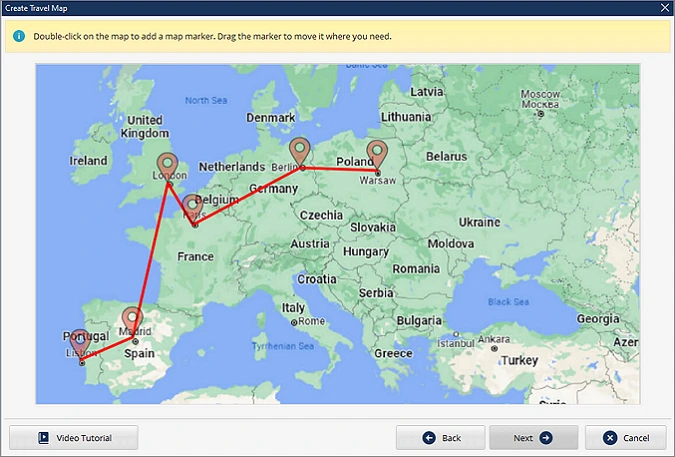 Step 4. Create Your Animated Travel Map
At this stage, you're going to work on animation. Select map markers individually and clip the corresponding photos from your trip to them. Adjust the Animation settings for each of the destination points to provide the viewer with sufficient time to observe your photos. Choose the marker image that suits the map style. Hit Next and select the vehicle and the route images. Hit Done to generate your travel animation.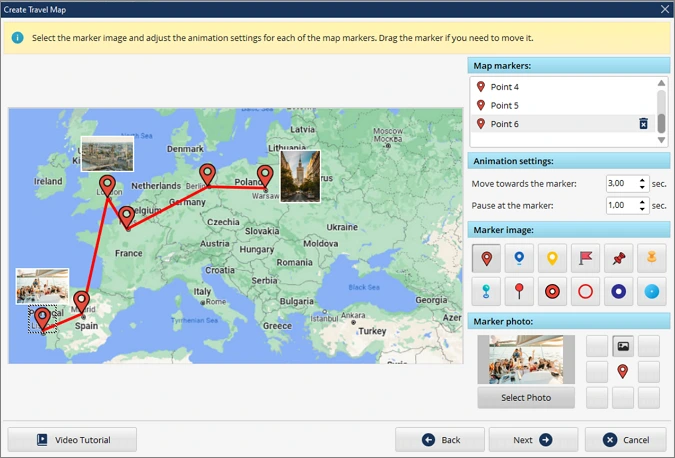 Step 5. Review Your Animation and Edit It
Click the Play button on the preview window to watch your travel map video. If you want to make adjustments, click the Edit Slide button and double-click the Travel Map layer. Here you can work on your animated map further - for instance, rescale the animated elements of the map. Want to make your video more interactive? Use the Sounds tab of the Edit Slide menu to accompany your map with music from the built-in library of 250+ royalty-free soundtracks of the animated map creator. Alternatively, upload a tune from your PC.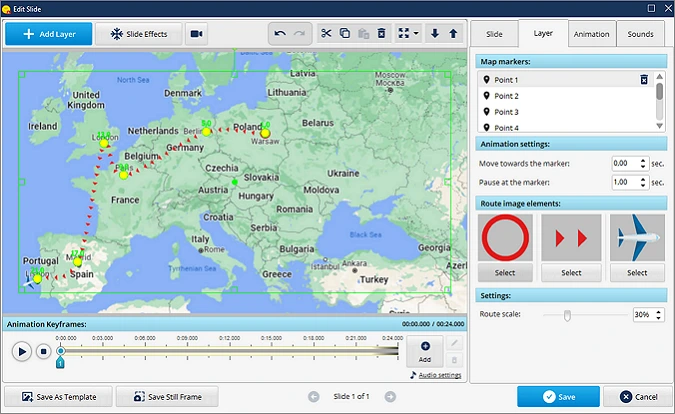 Step 6. Save Your Travel Map
When you're done with the editing process, export your animated travel map for a video project or use it solely. Just click the Create Video button in the upper right corner of your play screen. The program has over 15 export options to choose from, whether you are planning to watch your animation on a smartphone, PC, or a bigger screen.
It takes just a few clicks and your imagination to make a fascinating animation of your trip with SmartSHOW 3D. Prefer watching videos for learning new techniques? Check out our video guide on how to make an animated travel map with little effort and see what results you can achieve.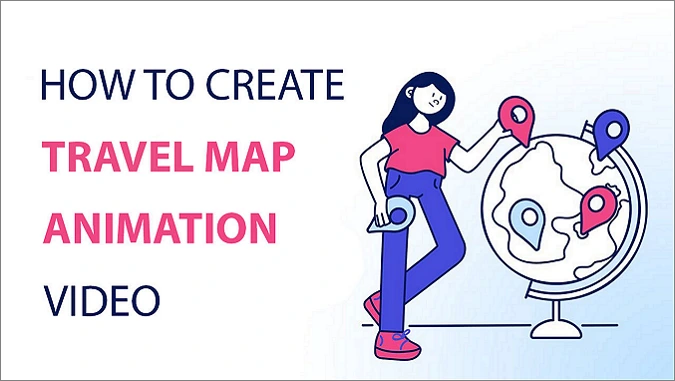 Looks cool, doesn't it? Just imagine, you can create similar animated maps and it won't take you hours of work. Just pack your photos and a joyful mood and put together all your travel memories with SmartSHOW 3D. Why not start now? Just click the button below and get a free trial version.
Now you can recap your travel memories and make your own travel map with ease!
Create Travel Map Animation: 3 Alternative Ways
SmartSHOW 3D is suitable for users of any skill level in slideshow making. If for some reason it's not what you're looking for, or the software is not compatible with your device, we've prepared 3 alternative animated map makers worthy of your attention.
Whether you don't want to download extra programs, Travellerspoint will be a brilliant solution. This web-based app allows you to add photos and dates to each location on the map and shows how many kilometers you've traveled from destination to destination. But you have to become a supporting member to save your maps as PNGs and block ads within the editor. In the free plan, you'll only be able to map out your journey.
If you're looking for more options available for free, then PictraMap is the right choice. This is an online tool that helps make detailed animated road maps. It offers diverse customization options: music themes, pins, and maps. However, unless you buy a subscription, you can add only 10 locations and make only 2 projects inside this editor. Still, you can change the map style and the marker images for free.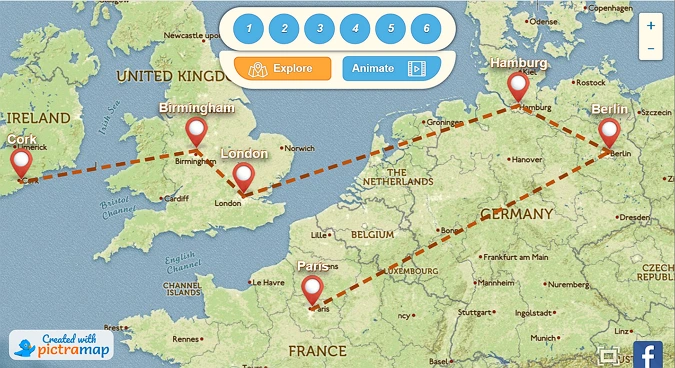 Prefer using your smartphone to create travel content? There is an interactive travel map animation creator for you - Tripline. This app is available for both Apple and Android smartphones and has simple yet efficient features to draw routes of your trips. With this editor, you can add your photos to every destination marker and make your map more interactive. Then, you can easily share your memorable travel animation online. But this app is not as inclusive - you can't change the marker and map designs. It's suitable for planning your next trips or making minimalistic Insta stories rather than creating travel movies for big projects.
Now you know how to make an animated travel map in 4 different ways and can design your own in a couple of clicks. There are various online options that can help you share your travel memories. But if you want the process to be fun and easy, consider SmartSHOW 3D. This program is packed with dedicated tools and features to help you create live images, make exciting presentations, and design animated slideshows with photos. So building your new traveling animation and completing many other tasks related to producing slideshows and videos won't take much time and effort if you use this software.
Want to create an animated travel map in a few clicks?
Make an impressive animation of your journey with

SmartSHOW

3D!