Baby Shower Slideshow - A Girl? A Boy? A Joy!
Create an adorable baby shower slideshow with our songs & images ideas
The little one is kicking in your belly as if saying "Hey, mom! It's time we threw a baby shower!" And you know what - perhaps it is. So decorate your place, gather your loved ones, and have yourself a great party! Do you know what could make this get-together even more memorable? A baby shower slideshow!
Even if you don't know a thing about slideshows, we have got you covered. Here you'll find a step-by-step instruction along with surefire tips on how to make your baby shower video a crowd pleaser.
Here's an adorable slideshow that you can create for your own party or as a surprise for your expecting friend: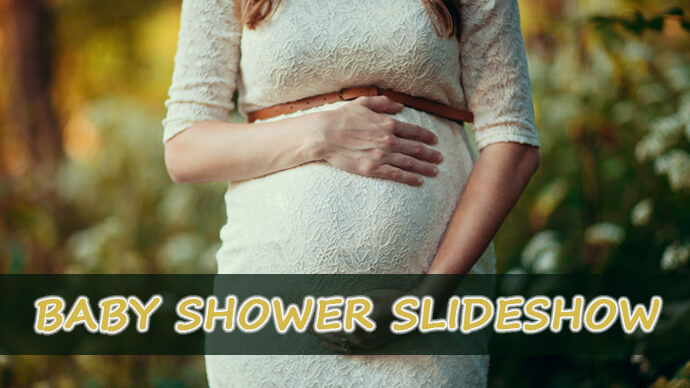 If you think that making such a cute video is a painstaking process, trust us - it's not. You can create a similarly touching slideshow for your baby shower if you use our tips and tricks.
Helpful Baby Shower Slideshow Ideas
Pick a uniting theme - Themed parties are all the rage now, so why should your baby shower be any different? Find a theme that engages you and incorporate it into all the party elements, from invitations to your slideshow. How about a tropical paradise baby shower with exotic fruit, tiki decorations, and a colorful video? Or why not go with something stylish like steampunk? The flapper era? Whatever you choose, maintain the theme throughout to gain the title of the most inventive mommy-to-be.
Mind the length of your video - This one is a no-brainer. Avoid making your baby shower slideshow too long or too short. The former will simply tire and bore your audience, while the latter won't give them enough time to savour your special video and marvel at your slideshow making skills. There is no magic formula to the perfect running time of your slideshow, but we'd recommend to make it last as long as one average-length song.
Find the perfect tune - Speaking of. This step's importance is sometimes overlooked, although a good soundtrack can really elevate your slideshow. There are no strict rules to what kind of music to choose - it all depends on your taste and theme. Go with an upbeat song to cheer everyone, or try a tender, soothing tune. Songs from children shows can serve as great slideshow music as well! But whatever you choose, consider the lyrical theme. Some songs' meaning might contradict their mood.
Choose the right images - If you are wondering what to include in your baby shower slideshow, then you'll probably like the idea of showcasing your pregnancy photoshoot. Choose the best shots from it, blend it with some sonogram pictures of your little one, mix in some photos of the baby's room you have decorated. If you need some inspiration on the subject, make sure to have a look at these images for a baby shower slideshow.
Sneak in a gender reveal - Because why not! If you have never considered having a gender reveal party, but still want to share the big news, try to add the announcement to your slideshow in the sneakiest way possible. Make your baby shower slideshow gender neutral at first, only to paint it bright pink of blue in the final moments. Tape the reaction of your friends and family - those gleeful squeals just have to be immortalized!
Pick reliable software - If you think of a slideshow maker, Powerpoint probably seems like a go-to choice. But consider this - you are making one-of-a-kind baby shower slideshow that should be both beautiful and heartfelt. Can PPT, with its lack of artistic approach, be the right software for the job? If you are looking for a slideshow program that is both easy and powerful, and grants you complete artistic freedom, then SmartSHOW 3D is just the thing for you.
How to Make a Baby Shower Slideshow - Quick Guide
Creating cute baby shower videos is a piece of cake if you follow these simple steps:
Step 1. Run SmartSHOW 3D
Download and start the software. If you want to use a pre-designed template, go with the Slideshow in 5 Minutes options. You'll get access to dozens of gorgeous templates, both themed and multi-purpose. But if you want to create your slideshow from scratch, then choose New Project.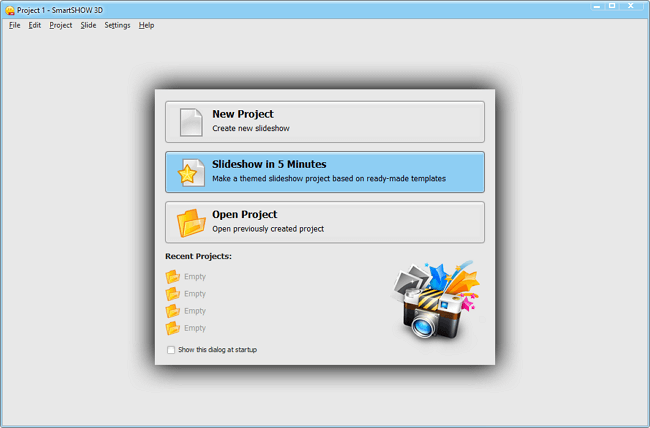 Step 2. Add Your Best Pictures
Now fill the timeline of your slideshow with cute images. Use your pregnancy pictures, sonogram shots, or anything you see fit. Drag and drop single files or the whole folder. Shuffle your pictures or put them in a strict order - whatever suits your slideshow best.
Step 3. Use the Right Tune
Make sure to add a soundtrack to your slideshow. Browse through a massive royalty-free library of SmartSHOW 3D - the software boasts 200+ tunes divided into categories. You can also use a popular song of your choosing. Add some voice comments to your slideshow - give a shout-out to your guests for coming, for example.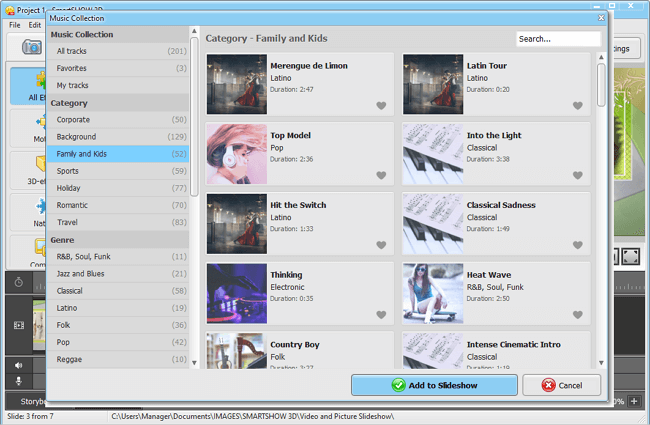 Step 4. Spice Up Your Project with Effects
If you are making a slideshow of your own, embellish it with eye-catching effects! Use lively slide animation effects, graceful and dynamic transitions, breathtaking natural effects to make a visual masterpiece. You can even create effects and titles of your own with an easy-to-use Edit Slide module.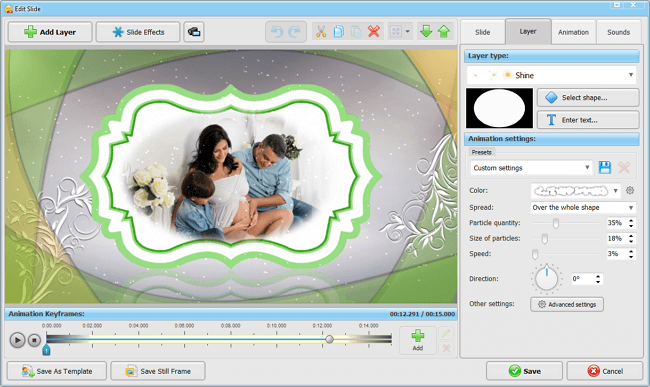 Step 5. Save and Share Your Baby Shower Slideshow
Once your project is complete, save it in a suitable format. Whether you want to show it on a TV, on your tablet, burn the video to a DVD, or post it straight to your Facebook page, SmartSHOW 3D can do it all and then some. Now share your slideshow with your guests to celebrate your transition to motherhood.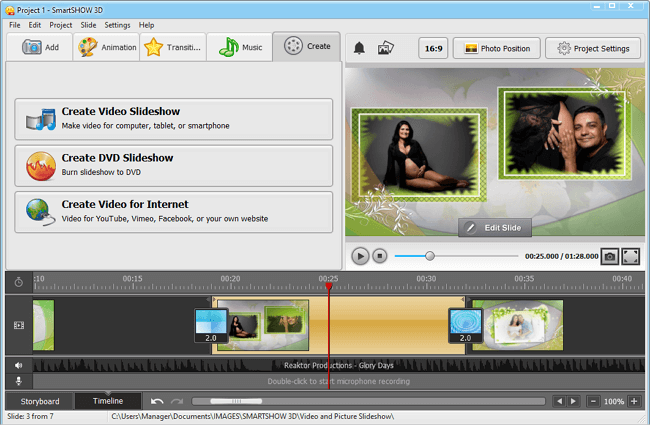 Wasn't it easy and really fun? Then try SmartSHOW 3D for free to discover its endless artistic possibilities:
Download free

Now get started and create a slideshow that will amaze your baby shower guests!
Sweetest Baby Shower Slideshow Songs
There are countless songs written about the wonder of a new life being born. Up the emotional impact of your slideshow with a sweet tune. Go with a feet-stomping song, or use sentimental instrumental music.
Here are some of the songs that are perfect for your baby shower slideshow:
Everything I Do by Bryan Adams
Sunshine of My Life by Stevie Wonder
I Knew I Loved You by Savage Garden
Haven't Met You Yet by Michael Buble
A Thousand Years by Christina Perri
Lullaby by Billy Joel
Just the Two of Us by Will Smith
You'll Be in My Heart by Phil Collins
Want some more tunes? This list will quench your cravings for baby shower slideshow songs.
Even if your pregnancy is taking its toll on you, you'll be fondly remembering this wonderful time nonetheless. The cravings, the raging hormones, that amazing glow. And the baby shower, of course. So make this lovely get-together memorable with an adorable baby shower slideshow. Use our tips, engage your inner artist and create a slideshow your guests won't soon forget.
Looking for a baby shower slideshow maker?
Get started with

SmartSHOW

3D!