Sweet 16 Slideshow for Your Princess
Tips For Making a Stunning 16th Birthday Slideshow
Your precious little girl is turning sixteen soon? A picture slideshow featuring the most memorable moments from her life will be a touching surprise for her and one of the highlights of the party.
Do you want to learn how to make a sweet 16 slideshow? Then read on and find some useful ideas and an instruction on how to create a lovely video about the story of an awkward kid turning into a beautiful young lady.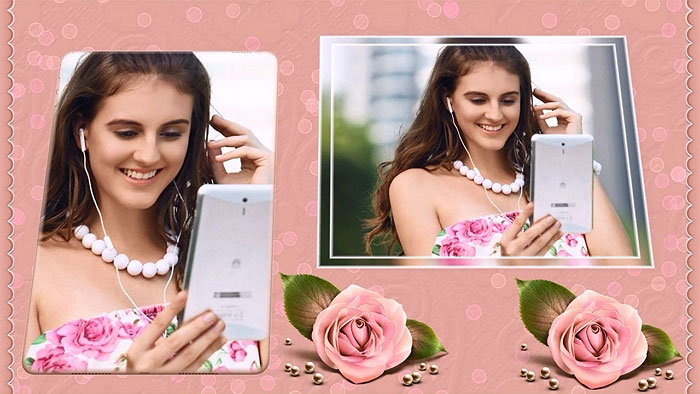 Wondering how to make a video like this? It's pretty easy with SmartSHOW 3D slideshow maker. Its built-in library of 200 templates, 400+ transition and animation effects will help you make an extraordinary gift for your daughter.
Try SmartSHOW 3D for free and add a special treat to your girl's sweet 16 birthday party.
Download free

Get started with this sweet 16 slideshow maker and create the best present that will make your girl feel happy and special on her day. New in making video slideshows ? Spare yourself the trouble - find some good ideas and a step-by-step guide below.
Lovely Sweet 16 Slideshow Ideas
Do you remember how small she was? Those tiny hands and feet, and that delicious baby scent. For sure you have tons of pictures of your little one growing up. Be sure to choose them wisely - don't make it too awkward for your teenager.
Capture your girl's character in her sweet sixteen slideshow video. Is she more of a princess or a rock-star? Pick a special theme that will highlight her unique personality.
Add some texts to your photo slideshow. It may be a funny story that happened during your daughter's childhood, best wishes for her special birthday from her relatives, friends and teachers or inspirational quotes.
Proper background music is also very important in setting up a mood for the whole video slideshow. It can be either slow and romantic, or fast and upbeat. One more idea for you is to make a mix with transition from slow music to fast like in the video example shown above.

Having difficulties finding an appropriate slideshow music piece? We've got you covered - select from these 40 popular

sweet 16 songs for slideshow

Think about customizing your slideshow with cool animation effects. Your daughter was born in winter - add some falling snow to the slides! The theme of the party is Great Gatsby - add magic glitter and glowing texts.
Don't have enough time to prepare a slideshow from scratch? Here's a clue: get sweet 16 slideshow templates. The pre-designed slides will serve as a perfect frame to your girl's pictures!
How to Make a Sweet 16 Slideshow
Follow the easy steps below to create a memorable video in SmartSHOW 3D for your birthday girl:
Step 1. Run the video slideshow software. Go with Slideshow in 5 minutes if you want to use ready-made templates with professionally designed animation and photo effects.
Step 2. Add the pictures of your daughter, of her hobbies and friends to the slideshow. Have a whole bunch of photos and want to keep your video short? Don't worry - just mix them up in collages.
Step 3. Choose songs for sweet 16 slideshow - either pick one from the software's library of 200+ royalty free songs or download your girl's favourite track. Record your voice if you wish to comment on some of the most important events of her childhood.
Step 4. Remember about slideshow titles - browse through the ready-made title templates or write some captions on top of the pictures.
Step 5. Planning to show your creation at a birthday party? Then save it in full HD quality and watch it together with your daughter's guests!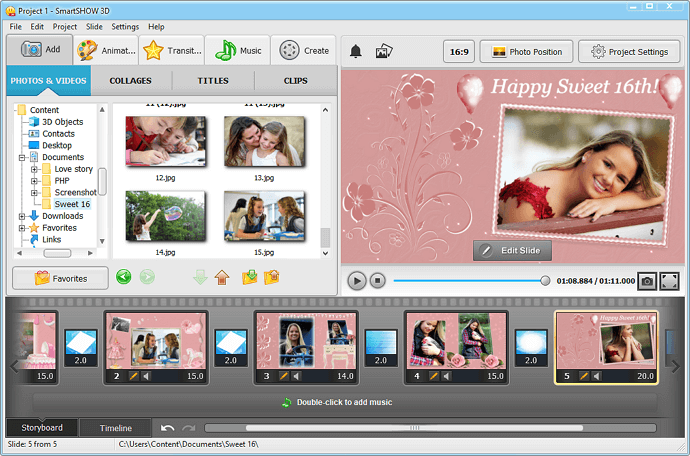 Whenever you are hosting a huge party for your daughter's sweet 16 birthday or a small family get together - surprise your girl with a unique present. With SmartSHOW 3D slideshow maker, ideas and our step-by-step guide you will make a delightful sweet sixteen slideshow for your birthday girl in mere minutes!
Want to try sweet 16 slideshow maker?
Get started with

SmartSHOW

3D!