How to Make a Movie from Still Images
Feel Like a Real Filmmaker!
Do you have plenty of photos and like to share them with your family, friends and subscribers? That amazing place you visited last spring, your never-ending love story, the collection of your photography artworks, the nice and cozy houses for rent you offer to your clients and many other things are really worth showing off to people around. One of the simplest yet effective ways to let everyone see your incredible pictures is to make a movie from still images with some slideshow making software and share it online.
Want to get some inspiration? Watch this video and you'll see how easily you can make your own breathtaking slideshow reminding you of that memorable vacation. It takes a minimum of learning, time and efforts and a lot of joy to give those pictures a new life with SmartSHOW 3D. Bet you'll love the result!
What program to choose? SmartSHOW 3D is an application with a large set of standard photo editing tools and unique features to personalize your presentation. Its interface is so user-friendly and well-organized that it takes little effort and time to learn. To create a stunning movie from photos is now easier than ever. Your slideshow will not look boring, it's not going to be just a monotonous rotation of pictures. You can add some music and voice narration, animation and transitions, collages and subtitles – liven it up, make it entertaining!
Put your talents to the test with the possibilities of this software. You might have a great movie maker gift – ready to discover it? Feel the joy of creating and enjoy the result.
Step 1 – Download SmartSHOW 3D
First of all, visit the official website of the software and click the download button. The download is free and takes a couple of minutes. With the extensive editing toolkit you will get an absolutely admirable presentation. Are you ready to try? Then start the program and move to the second step.
Step 2 – Add Your Fantastic Photos
All the folders of your computer are showing in the left pane. Choose the one you need and add the photos to the Storyboard. You can drag them one by one with the mouse or upload the whole folder at once. If some photos don't fit the slides and you see black stripes on the sides, adjust the photo position – stretch the images with a single click. Arrange the slides as you like, change their order and delete the unwanted ones.
Step 3 – Apply Spectacular Effects
In SmartSHOW 3D, there is a vast collection of wonderful design features to make your movie from still images fascinating. Switch to the Animation tab, drag and drop the chosen effect on the slide or use the Apply Effect button if you like. Try 3D effects for the amazing result that will definitely impress each viewer. Don't hesitate to use snow or falling leaves, bubbles, hearts or balloons – they will liven up your presentation and make it more appealing. Give a new life to your photos with the set of special effects and preserve precious moments in a lovely video scrapbook.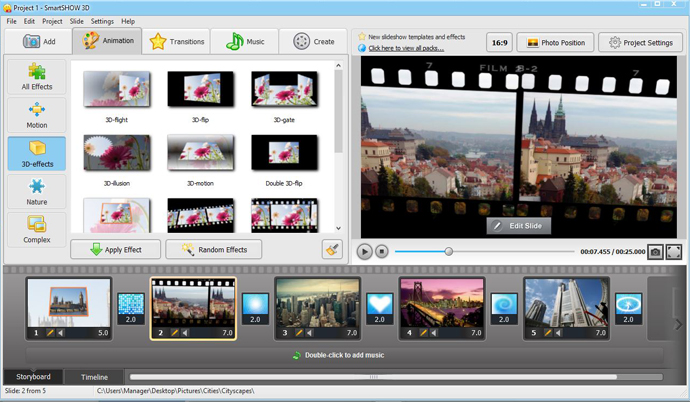 Step 4 – Add Catchy Music and Memorable Subtitles
Would you like your slideshow to become a real movie? Make it sound! Add some cool soundtrack and your voice comments telling the interesting story behind the slideshow. Use your microphone to record voice narration. By the way, it's easy to edit audio tracks – cut them, adjust the volume, arrange sound pieces as you like.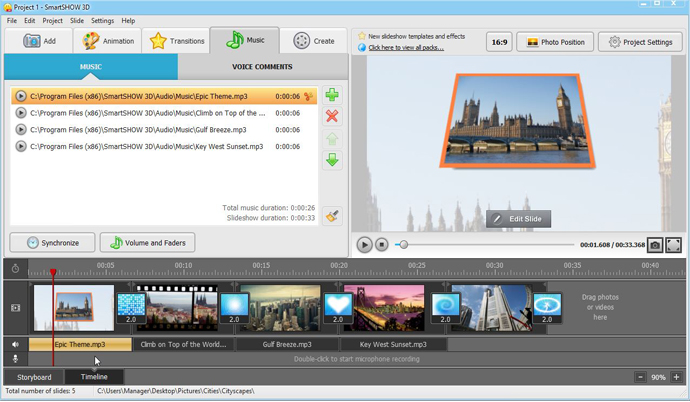 Do you prefer subtitles to voice comments? Then add a text layer to any slide and feel free to experiment with the styles – there is quite a choice of regular, 3D, animated and glowing presets in the menu.
Step 5 – Present Your Slideshow to the World
Finally, all the preparations to make your video from photos have been finished and everything you should do now is to take the last step, the easiest one - create a video from still images. Have you decided yet where you want to watch it – on your PC, TV or maybe you want to share it on YouTube and Facebook? Select the AVI format if you plan to watch your movie on the computer; high-definition is the most suitable for a TV set; mobile video is good for smartphones and other media players; web-optimized videos are used for an Internet broadcast.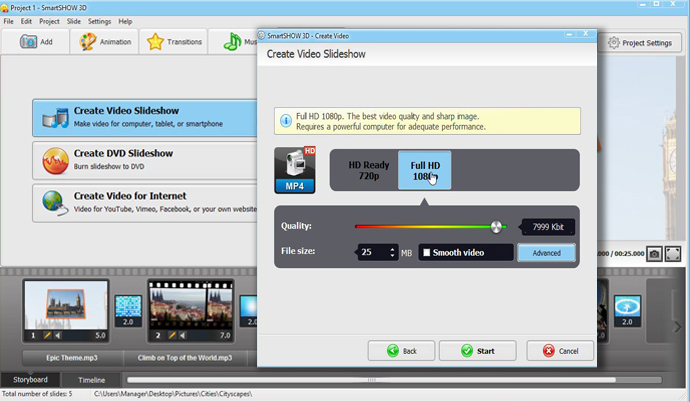 Create your high-quality movie from still images with no effort in SmartSHOW 3D and you will surely win your viewers' hearts!

Get creative with
SmartSHOW 3D !
Want to make stunning photo movies with your own pictures? That's as simple as ABC with SmartSHOW 3D software!
Compatible with
Windows 10, 8, 8.1, 7, Vista, XP

Our Users Say:
I shoot weddings for a living, and often make wedding and love story slideshows for my clients. I used to do that with Windows Movie Maker, but then I came across SmartSHOW 3D and realized the immense potential of photo slideshow. This software now helps me do incredible things with my photos. Lots of thanks from happy clients!
I love making movies from our family and travel photos. Have tried a number of slideshow makers, but this one is something special. All kinds of fascinating effects and animation, music and voiceover, and excellent quality video in the end! Never thought I'd learn to make SUCH movies myself one day.

Need to create a professional photo slideshow?
Start now with

SmartSHOW

3D!