Baby Slideshow - Cutest Video in 5 Minutes
Great tips and ideas on how to make a baby picture slideshow
What's it like to be a parent of a baby? Sleepless nights? Check. Loads of laundry? Check. Diaper rash and teething? Check! Making wonderful memories of your baby growing up? It's time to check that off, too. Preserve the sweetest moments of your little one's early childhood! Don't know how? Well, a baby slideshow might be the best way to do it. Just imagine - the cutest pictures of your baby girl or baby boy, eye-catching effects, dynamic flow, a catchy tune mixed into a lovely video. Just like this one: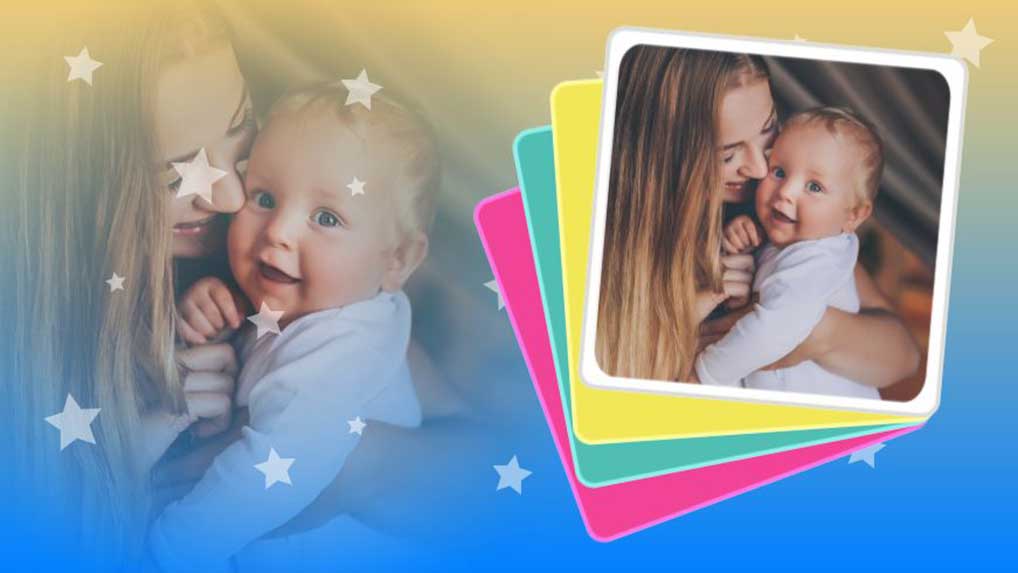 Wasn't it just adorable? This cute slideshow was created in SmartSHOW 3D, a pro-level slideshow maker. This program harbours 350+ slide animations and transition effects, as well as 200+ pre-designed templates for any taste and occasion. Best solution for both newbies and seasoned geeks, SmartSHOW 3D is as easy-to-use as it is powerful. Sounds too good to be true? Then try this slideshow maker for free to see it all for yourself.
Download free

Now let's get started with SmartSHOW 3D and create a touching baby picture slideshow for your little one. Feel like you need some more inspiration? We've got you covered with great ideas on images, songs and more!
Pick a Cute Baby Slideshow Template
To start with, take advantage of ready-made Family and Kids templates from Slideshow in 5 Minutes collection. Their professional quality design and elegant style will surely fascinate you. In order to create the slideshow, just pick a template, add the photos and a song. In five minutes your slideshow will be ready - no need for detailed editing! As a result, you will get a charming slideshow with perfectly mixed effects.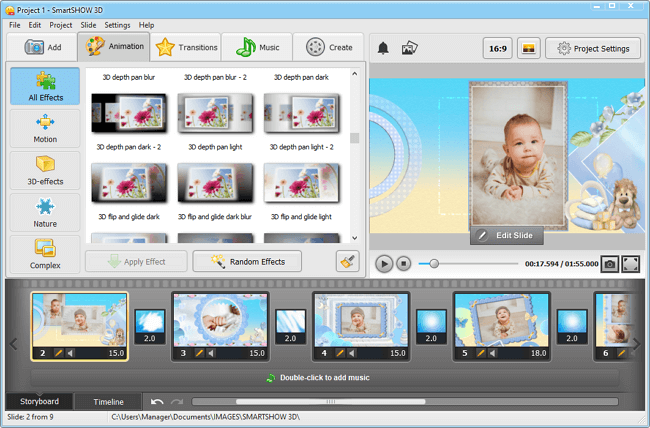 Have Fun with Clipart, Collages, and More Cool Stuff
If you prefer to create your own style and work individually with each slide, you can try making the slideshow from scratch. Thanks to the user-friendly interface of this baby slideshow maker, even a beginning user can do it. Arrange the photos chronologically and use captions to mark how old your kid is in each shot. Make Collages with several pictures, apply Animation and Transitions, and use artistic Filters to refine your photos.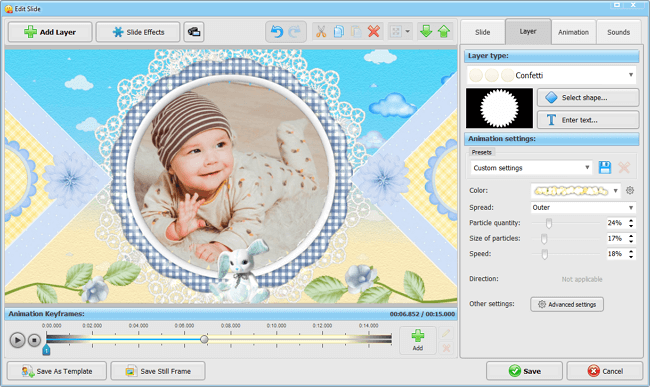 In the slide editor, select some Clipart and add it on the slides. There is a huge gallery of animal, food, flower, travel and car images. You can make any picture move by using key frames. Also, do not forget to look through the Slide Effects gallery. If you have some photos of your baby taking a bath, add some flying bubbles, they will look awesome! For a little girl of fashion, go for flattering butterflies or balloons.
Find Baby Slideshow Songs
When you've embellished your slideshow, it is time to look for some baby slideshow songs. Finding the right tune may be a difficult task. Music is so important that you should think carefully about which baby songs to choose. The lyrics should be meaningful because they are responsible for the mood and the total effect produced by your video. To help you save time, here are 10 catchiest songs for baby girl or baby boy slideshow:
Various Artists – "Chicken Dance"
Creed – "With Arms Wide Open"
Rascal Flatts – "My Wish"
John Lennon – "Beautiful Boy"
Guns and Roses – "Sweet Child O'Mine"
Denmark & Winter – "Enjoy the Silence" (cover)
Celine Dion – "A Mother's Prayer"
The Beatles – "In My Life"
Stevie Wonder – "Isn't She Lovely"
Allison Krauss – "The Smile on Your Face"
Feel like some tunes are missing from the list? Check here for
more songs
to use in your baby slideshow.
Capture Your Baby's Funny Sounds
Using your microphone, you can record voice and sounds and insert them into your slideshow. Use this opportunity to preserve your baby's communication ways. Your child does not talk yet - but it does have a language of its own. Record this cute chuckling, babbling, grunting and everything else it is possible to produce!
In the Timeline, you can arrange the tracks in the order you need. Adjust the volume of the music track; make it a bit lower than that of the recorded comments. It all sounds a bit complicated, but you will learn more about how to make your own slideshow with recorded sounds when you actually start making one. It is not difficult at all!
Baby slideshow is something that you make not only for you and for your family. Just imagine how your friends will react to such a compilation of cuteness! This slideshow will be funny, lovely and of course, it will be memorable. Celebrate your baby's first birthday or just tell its story in the most enchanting way!
Looking for a baby slideshow maker?
Get started with

SmartSHOW

3D!