Baby Slideshow Ideas & Baby Song Tips
Parents always adore recording the growing up of their kids. Newborn babies are so cute that taking photos is irresistible. First smiles, sweet chuckles, little feet and fingers are tokens of these happy days. When the children grow up, they will surely be thankful for all the efforts you have taken to preserve their babyhood. If you have already taken a great number of photos, pick some of them to make a baby slideshow. Even the process of creating such a project is very pleasant for parents, because they need to review all the shots they have taken so far. A baby slideshow is the best way to showcase photos during a birthday party or any other kind of event. Tears of mirth and sympathetic tenderness guaranteed!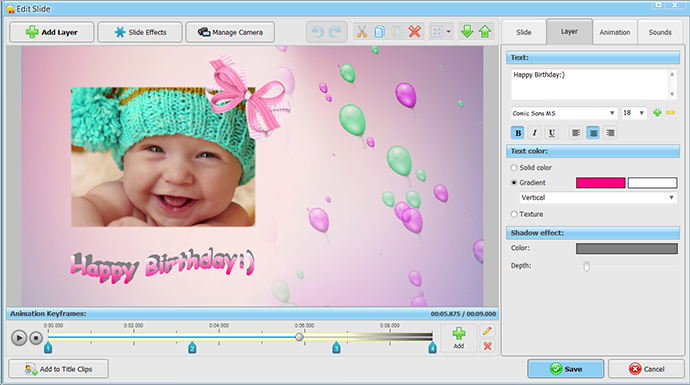 With an easy slideshow maker, you can bring still photos to life by applying effects, filters, transitions, adding captions and music. Experiment with motion and embellishments to create a stunning photo movie. Above all, this software gives you a chance of recording sound, so your kid's baby talk will be kept as a memento.
Pick a Cute Slideshow Template
To start with, take advantage of ready-made Family and Kids templates from Slideshow in 5 Minutes collection. Their professional quality design and elegant style will surely fascinate you. In order to create the slideshow, just pick a template, add the photos and a song. In five minutes your slideshow will be ready - no need for detailed editing! As a result, you will get a charming slideshow with perfectly mixed effects. For instance, the One-Year-Old Birthday Party slideshow theme should satisfy all your creative needs.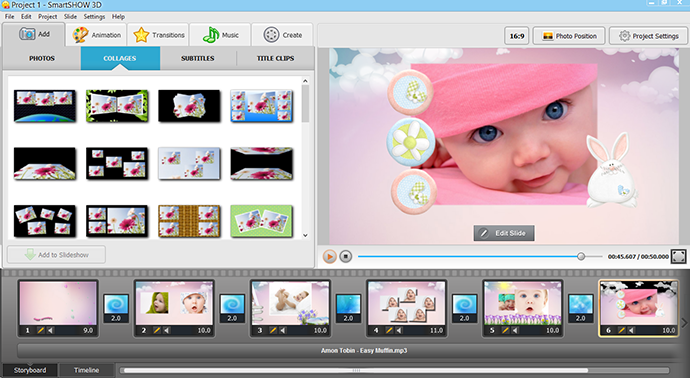 Have Fun with Clipart, Collages, and More Cool Stuff
If you prefer to create your own style and work individually with each slide, you can try making the slideshow from scratch. Thanks to the user-friendly interface of the software, even a beginning user can do it. Arrange the photos chronologically and use captions to mark how old your kid is in each shot. Make Collages with several pictures, apply Animation and Transitions, and use artistic Filters to refine your photos. In the slide editor, select some Clipart and add it on the slides. There is a huge gallery of animal, food, flower, travel and car images. You can make any picture move by using key frames. Also, do not forget to look through the Slide Effects gallery. If you have some photos of your baby taking a bath, add some flying bubbles, they will look awesome! For a little girl of fashion, go for flattering butterflies or balloons.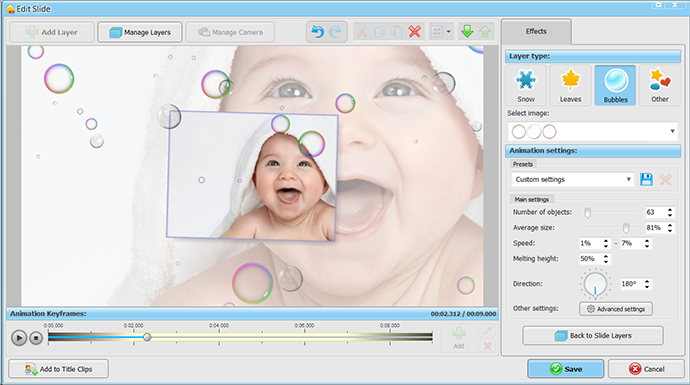 Find Baby Slideshow Songs
When you've embellished your slideshow, it is time to look for some baby slideshow songs. Finding a suitable tune may seem a difficult task. Music is so important that parents should think carefully about which baby songs to choose. The lyrics should be meaningful because they are responsible for the mood and the total effect produced by your photo story. To help you save time, here are 10 most catching songs for baby slideshow:
Various Artists – "Chicken Dance"
Creed – "With Arms Wide Open"
Rascal Flatts – "My Wish"
John Lennon – "Beautiful Boy"
Guns and Roses – "Sweet Child O'Mine"
Denmark & Winter – "Enjoy the Silence" (cover)
Celine Dion – "A Mother's Prayer"
The Beatles – "In My Life"
Stevie Wonder – "Isn't She Lovely"
Allison Krauss – "The Smile on Your Face"
Capture Your Baby's Funny Sounds
Using your microphone, you can record voice and sounds and insert them into your slideshow. Use this opportunity to preserve your baby's communication ways. Your child does not talk yet - but it does have a language of its own. Record this cute gurgling, chuckling, babbling, grunting and everything else it is possible to produce! In the Timeline, you can arrange the tracks in the order you need. Adjust the volume of the music track; make it a bit lower than that of the recorded comments. It all may sound a bit complicated, but you will learn more about how to make your own slideshow with recorded sounds when you actually start making one. It is not difficult at all - just give it a try!
Baby slideshow is something that you make not only for you and for your family. Just imagine how your friends will react to such a compilation of cuteness! This slideshow will be funny, lovely and of course, it will be memorable. Celebrate your baby's first birthday or just tell its story in the most enchanting way!

Get creative with
SmartSHOW 3D !
Want to make stunning photo movies with your own pictures? That's as simple as ABC with SmartSHOW 3D software!
Compatible with
Windows 10, 8, 8.1, 7, Vista, XP

Our Users Say:
I shoot weddings for a living, and often make wedding and love story slideshows for my clients. I used to do that with Windows Movie Maker, but then I came across SmartSHOW 3D and realized the immense potential of photo slideshow. This software now helps me do incredible things with my photos. Lots of thanks from happy clients!
I love making movies from our family and travel photos. Have tried a number of slideshow makers, but this one is something special. All kinds of fascinating effects and animation, music and voiceover, and excellent quality video in the end! Never thought I'd learn to make SUCH movies myself one day.

Need to create a professional photo slideshow?
Start now with

SmartSHOW

3D!