Make a Slideshow with Music for Youtube!
In just a few years YouTube has become quite a revolution in the digital entertainment world, with obvious reasons for that. It's free to use, it's easy to use, and everybody knows about it! Sharing a cool video with your buds has become easier than ever. But wait – what about uploading some photos as a slideshow? Since the service accepts only videos, you'll need some software for a slideshow with music and your own photos (we won't consider the YouTube slideshow creator, as it's very basic and allows hardly any editing). SmartSHOW 3D, a powerful slideshow app for Windows, is the perfect choice if you want to make a really impressive video.
Your personal slideshow making assistant
All of us have lots of interesting stuff we would like to share with other people. A photo report from yesterday's party, grandma's kittens, your music band's promo video… or maybe you want to make something unique and extraordinary? With SmartSHOW 3D you can make a slideshow with music as easily as if you had a magic wand.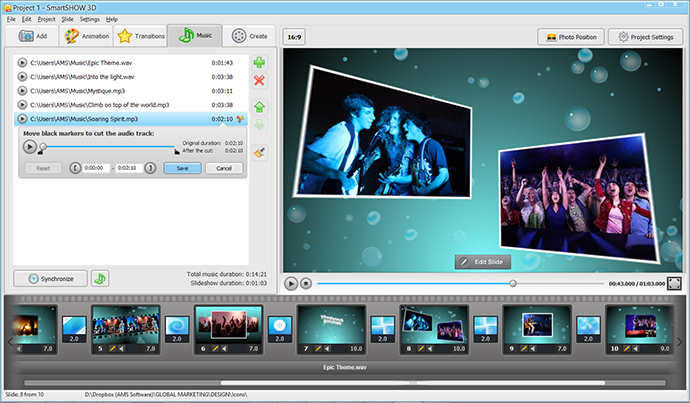 At startup, there's a smart slideshow creation wizard – choose the theme and load your photos and music here. It's really helpful for novice users and quite time efficient if you don't want to spend hours on making the video.
A huge collection of ready-to-use effects and slide templates deserves special attention: spectacular transitions, animated collages, special effects for the slides - all in all, over 350 unique templates. Simply drag & drop any effect to the timeline to make it work.
Edit 'em all!
Wanna try making a unique project of your own? First, work on the concept. For example, a compilation of your fave music bands: mix iconic tracks from different time periods in the Music tab, starting from the early times, and make photos of the musicians appear accordingly to the track. Add song lyrics to the center of the slide!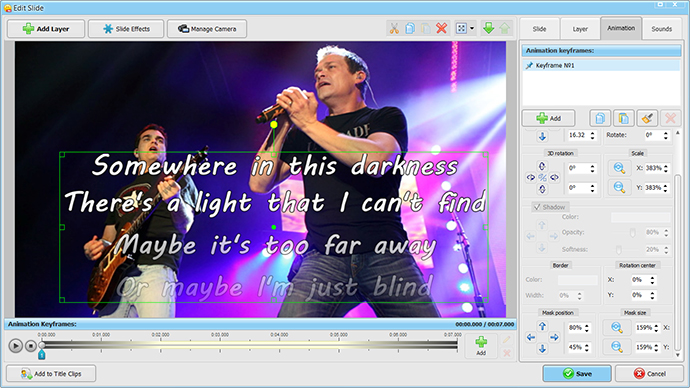 Sounds hard to achieve? Not at all – with the almighty Slide Editor it's a matter of a few mouse clicks. Add layers, i.e. text captions, photos, and fit them to the slide. Now with the help of keyframes you can make any layer appear or move at any time. Synchronizing music and lyrics takes a little bit of time and effort, but it's definitely worth it. Make a slideshow with music in karaoke style, and your audience will sing along!
Use a collection of dynamic glow effects (fire, flashes, neon lights etc.) to make your slideshow a rock show! Each effect can be fine-tuned, so why not add some Rammstein-styled pyrotechnics?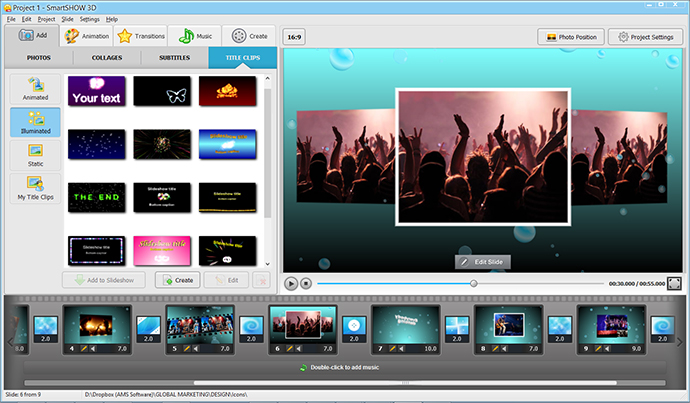 Create a slideshow for YouTube
Final round! Now we'll switch to the Create tab, and pick Create Video for Internet. SmartSHOW 3D has a dedicated YouTube export option, with the most popular quality presets (up to 1080p). We suggest going for best quality available – your viewers will definitely say thanks for that.
As you can see, a few simple steps and you're good to upload a fantastic slideshow with music. Don't be shy now, and download your copy of SmartSHOW 3D - unleash your creativity and earn some likes!

Get creative with
SmartSHOW 3D !
Want to make stunning photo movies with your own pictures? That's as simple as ABC with SmartSHOW 3D software!
Compatible with
Windows 10, 8, 8.1, 7, Vista, XP

Our Users Say:
I shoot weddings for a living, and often make wedding and love story slideshows for my clients. I used to do that with Windows Movie Maker, but then I came across SmartSHOW 3D and realized the immense potential of photo slideshow. This software now helps me do incredible things with my photos. Lots of thanks from happy clients!
I love making movies from our family and travel photos. Have tried a number of slideshow makers, but this one is something special. All kinds of fascinating effects and animation, music and voiceover, and excellent quality video in the end! Never thought I'd learn to make SUCH movies myself one day.

Need to create a professional photo slideshow?
Start now with

SmartSHOW

3D!