How to Make a YouTube Slideshow in 2023
The easiest way to create an awesome YouTube slideshow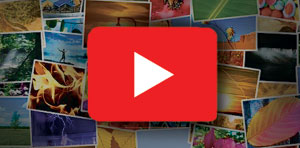 Did you know that YouTube has 2 billion users monthly? That makes it the perfect outlet to showcase your art, photo collection, or basically anything that deserves an audience. What? Your content is mostly comprised of static images? That shouldn't be a problem, since you can easily turn them into an animated slideshow. Before 2017, users could create a YouTube slideshow right within the service itself, however this slideshow maker has since been retired.
Thankfully, there are multiple other slideshow makers out there. Usually, PowerPoint is the first program that comes to mind. It is no doubt a wonderful tool for creating presentations, but if you want your youtube slideshow to be eye-catching, and not just pictures moving around, you'll need a different type of software. We suggest SmartSHOW 3D, a powerful but easy-to-use slideshow maker jam-packed with tons of effects that can give you that little piece of magic you'll need to make your YouTube video engaging and memorable. Want to know how to make a YouTube slideshow with this software? Then here's a blow-by-blow instruction to jump-start your YouTube career.
See what SmartSHOW 3D has to offer
:
✔ 200+ templates, themed and multi-purpose
✔ 400+ effects and transitions
✔ 200+ royalty-free music tracks
✔ 100+ static and video backgrounds
✔ 80+ captions styles
✔ 30+ export formats
…and that's not all this slideshow maker for PC has in store for you!
There is a bit more to making a slideshow for YouTube than just putting your pictures one after another, and we'll be happy to show you how to create a slideshow that will definitely compel this platform's huge audience.
Step 1. Decide on the Project Type
Conveniently, SmartSHOW 3D comes with two options of projects. If you need to create a slideshow for YouTube ASAP or you are new to this whole video making thing, go with the Slideshow in 5 Minutes option. There, you'll get access to dozens of premade templates. You only have to fill them with your photos, and you'll have a professionally looking slideshow in no time. If you have a certain concept in mind, than go with the New Project option, where you can create everything from scratch.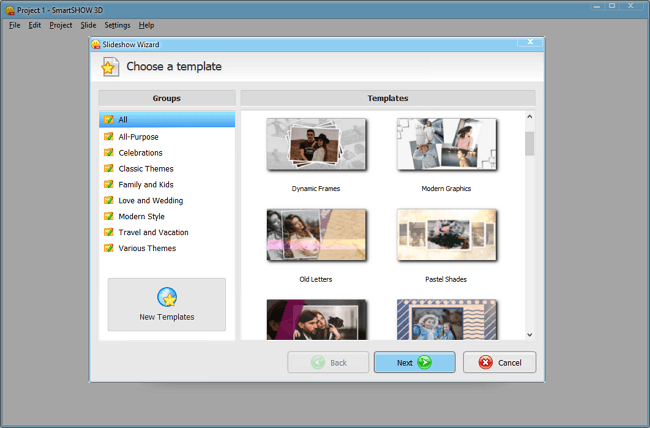 Step 2. Add Your Best Pictures & Videos
Cull your photos or artwork and drag and drop them into the timeline. There is no limit to how many files you can add to your project. However, don't try to cram in everything at once, or else your video might become too long to be interesting. You can shuffle your pictures or put them in some order - all depending on your concept.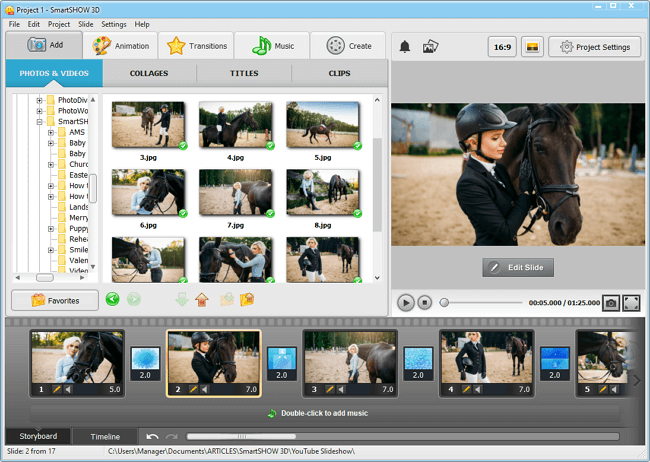 Step 3. Choose the Right Soundtrack
Have you ever seen a thrilling but mute video on YouTube? Neither have we. So spice up your slideshow with some fitting tune. After all, SmartSHOW 3D comes with a huge library of 200+ tracks and sound effects. The tracks are divided into categories and genres so it will be easier for you to choose. You can also add music of your own choice. But do remember to comply with YouTube's license regulations.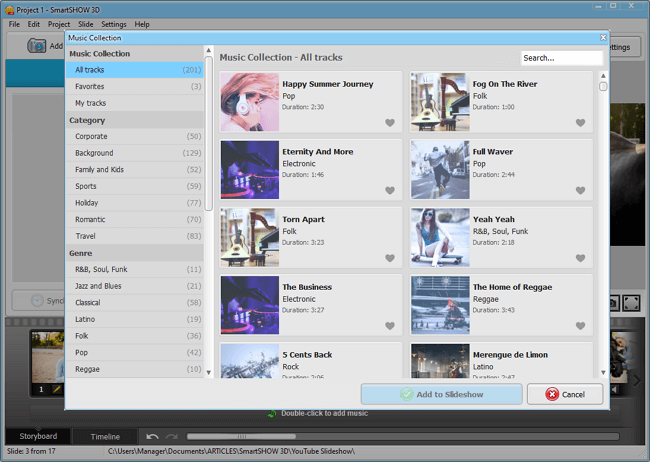 Step 4. Add Some Zest with Effects
Do you want your video to stand out from the crowd? Then jazz it up with effects! Set the flow and the pace of your video with an extensive library of transitions - gradient, 3D, mosaics, curtain swipes, etc. Use animation effects if you want your pictures to fade in, zoom out, pan left and right, rotate and flip. Then be sure to add a bit of magic with nature effects like falling snow, leaves, bubbels, or cherry blossom.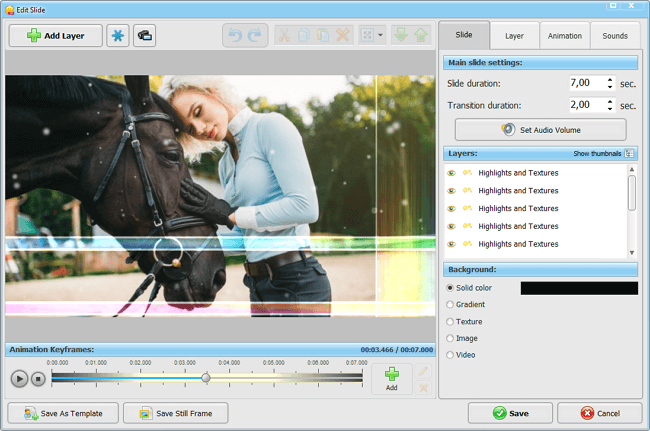 Step 5. Create Your YouTube Slideshow
Your project is now complete, and it's time to render it. Luckily, SmartSHOW 3D cuts the middle man, which means you don't have to make a video only to later convert it into the right format. This slideshow maker allows you to save your slideshow as a video for YouTube in any resolution you need.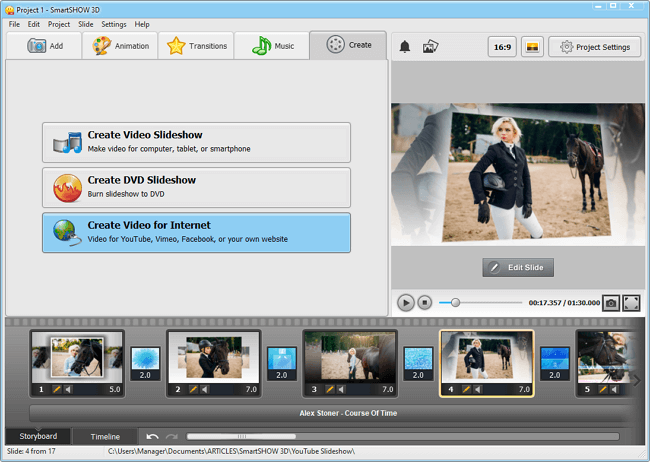 There, now you have a thrilling slideshow with music and pictures done in no time! That wasn't that hard, was it? All it took was a bit of inspiration, dedication, a clear concept, and an efficient slideshow maker, of course. Ready to take YouTube by storm? Download SmartSHOW 3D's free trial to make a video that will amaze everyone.
Download free

Want some more YouTube slideshow tricks? Watch this guide on how to create a karaoke-style video: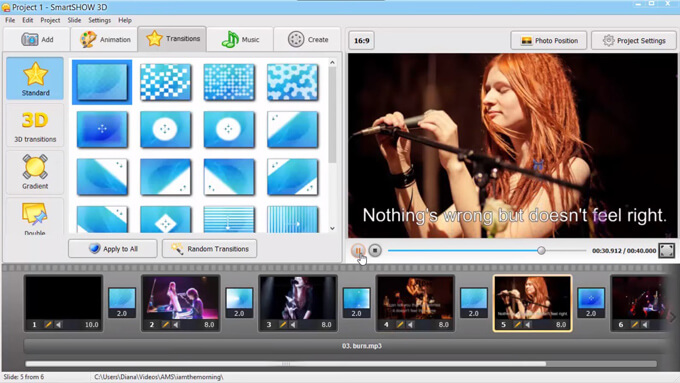 Keep in mind that it's not all you can accomplish with SmartSHOW 3D's capabilities. So don't hesitate and get started with this software to make amazing content. If for some reason SmartSHOW 3D doesn't feel like the solution you have been looking for, check out a detailed review of the best video editors for YouTube to explore more options.
Frequently Asked Questions
Now that you know how to make a slideshow for Youtube, it's time to take your pictures, artwork, or photos and turn them into a visually captivating and technically perfect video. SmartSHOW 3D will be your reliable guide and assistant all the way through. Now it's time to dethrone those cat videos once and for all!
Want to make a slideshow video for Youtube?
Get started with

SmartSHOW

3D!