Bridal Shower Slideshow - a Touching Gift for a Friend
Learn how to create a lovely surprise for your bestie's special day
A couple's wedding is a significant milestone in their lives. But for almost every bride, a wedding shower is still an important occasion. Planning this event takes a lot of time and effort, and many little things frequently go unnoticed. Want to add a sentimental touch to your best friend's party? As a sister or bestie, you can make a bridal shower slideshow. With it, you can express your sincere wishes and let the bride-to-be relax, recalling her most memorable moments.
Today, we're going to share with you some basic tips on how to create an unforgettable slideshow and a step-by-step guide, so you can start on your work right away. We will also provide you with the best songs and wishes for your slideshow.
Can't wait to see what kind of bridal shower slideshow template you can use for your video? Here's a lovely example of what you can do for such an essential event: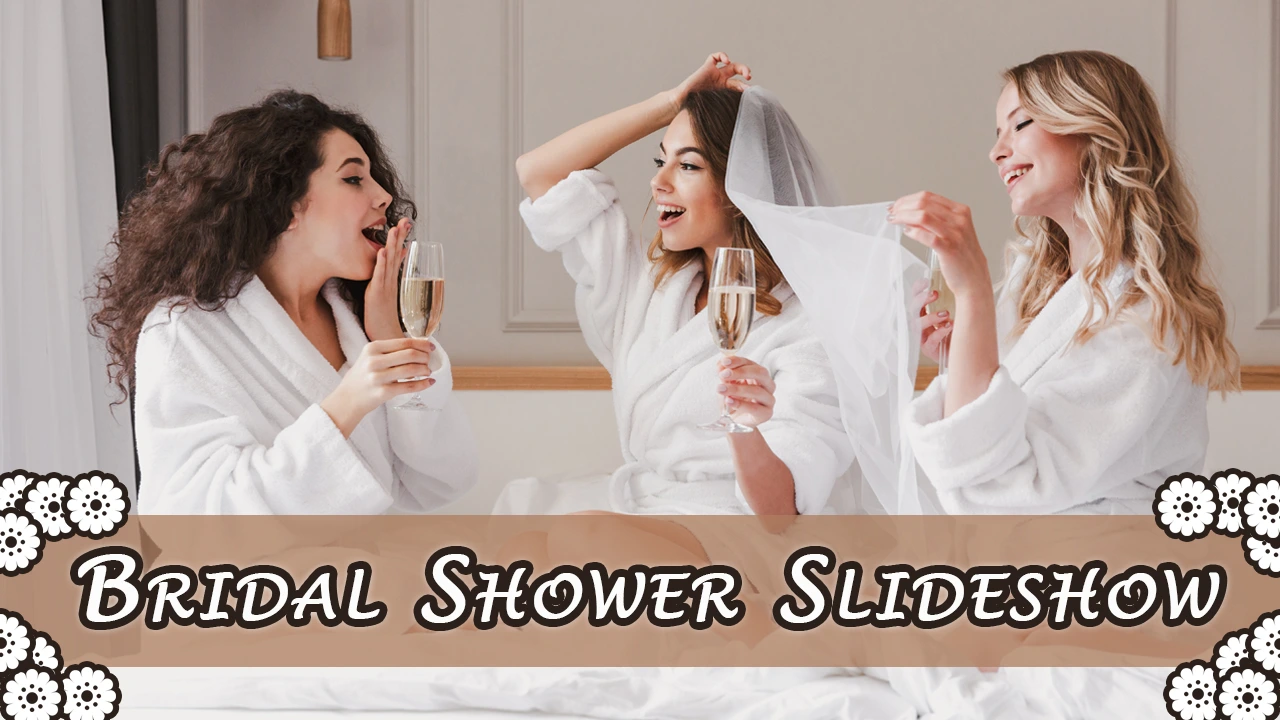 Looks awesome, doesn't it? Want to create something similar but aren't sure where to begin? First, you'll need slideshow making software. For example, this slideshow was made with SmartSHOW 3D. This powerful software has 700+ effects and templates that help create stunning clips. Heart-shaped transitions and frames will convey the mood for the upcoming event.
Want to check out what this bridal shower slideshow maker can do? Download the free trial and be sure that you'll find everything you need to create a touching video for the upcoming party.
Download free

Now that you have the right software, it's time to explore some basic tips on how to make your slideshow really impressive. So, let's start off!
Bridal Shower Slideshow - 5 Tips to Make It Look Better
Choose the right images - When making slideshows, it's crucial to pick pictures that correspond to the main theme of the presentation and the occasion. Include photos from your friend's childhood and school years. Add pics of the bride-to-be with her friends and their adventures. Don't forget about the photos' quality either. In case you select a poor one, it will be challenging for others to understand what is happening in the photo.
Find the right music - Think about the event and the mood you want to create. If we're talking about bridal shower, then give your preference to energetic music to have fun together. Does your bestie have a favorite song? Add it to your slideshow and make her remember funny moments with friends, her school graduation or first kiss.
Add inspiring quotes - Want to make your bridal shower slideshow more heartbreaking? Think about adding some quotes and wishes. This is a fantastic way to let your friend know how you feel and demonstrate her value. You may find plenty of wishes online, or you can just come up with some of your own that will make her feel how much you value your friendship.
Make it unique - Don't want to make a slideshow that is similar to others? You can interview other bridesmaids and friends in order to collect their memories about the bride-to-be, or just ask them to share some warm words. You can also include some childhood videos, especially if you grew up together. Make a list of bridal shower slideshow ideas and choose the best one.
Keep it short - It may be a nice idea to show all the moments of life in your video, but don't make a slideshow longer than 5 minutes. Shorter is better and there are some reasons for it. If you don't want to make the party tiring and focused only on watching your bridal shower slideshow, then 2-4 minutes will be a perfect duration as you're going to have other activities during this day.
Now that you know some basic tips and have some inspiration for making a bridal shower slideshow, why not put it all into practice? Check out the guide below and learn how to create an impressive video right away.
How to Make a Bridal Shower Slideshow in a Snap
Here you'll find a detailed tutorial that will guide you through the creation process.
Step 1. Run SmartSHOW 3D
To begin, download and run the software. On the startup screen, choose New Project if you want to create a slideshow from scratch or Slideshow in 5 Minutes if you want to use a pre-designed template. We will choose the second option. Here you can find a romantic template in the Love and Wedding section or something universal under All-Purpose.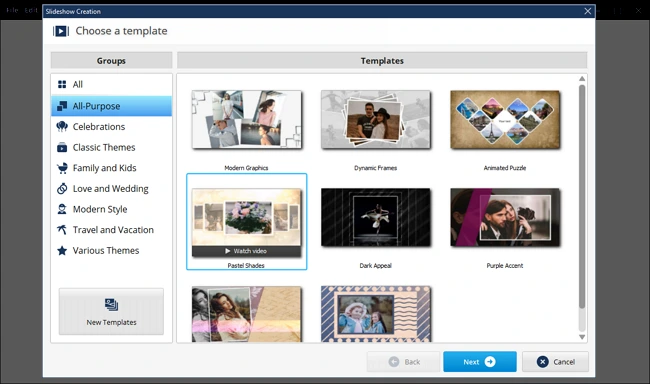 Step 2. Add Photos and Videos
Now it's time to add the photos you've chosen. Click Add Photo or double-click on the workspace to upload them. If you have a separate folder with videos and pictures prepared for your slideshow, click Add Folder to upload all of them at once. You can also search for additional bridal shower pictures to use them as embellishments or as an intro background. To rearrange photos, pick the image and then click Move Back or Move Forward. You can also click Random Order to shuffle all the pictures.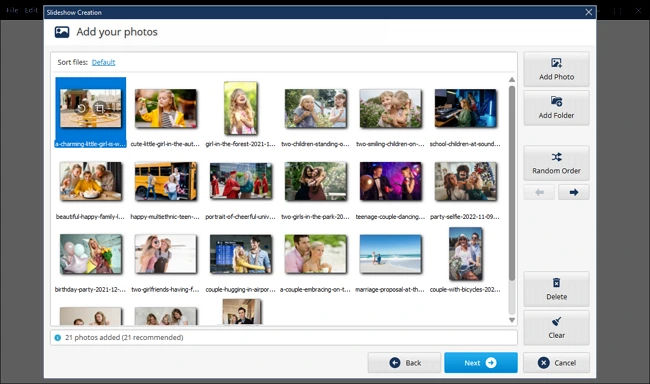 Step 3. Choose a Perfect Soundtrack
Next, add bridal shower slideshow songs to your project. Choose a soundtrack from a built-in library or add your own by clicking the Add Music from File button. Besides, you can record good wishes or some funny comments by yourself or ask friends and family members to do it. Hit Next.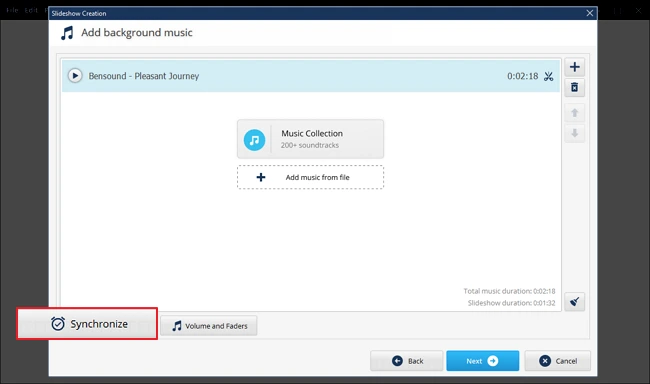 Step 4. Add Titles and Effects to Your Video
At the next stage, type some love quotes, congratulations and good wishes for the title and final slides in the text areas on the left. Use the video player on the right to watch your slideshow before saving it, and make sure you don't need to change anything. Then hit Next. If you're satisfied with the result, save your slideshow as a video. But maybe you want to add some filters or a custom animation to your clip? Then click Do some further editing to leave wizard mode.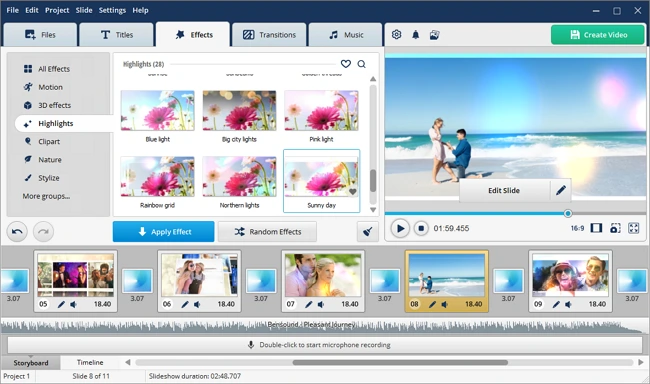 You'll be taken to the main program window. Here, switch to the Effects tab - there you'll find 200+ one-click animation presets, which are divided into categories for your convenience. Add dynamics to your project with the help of Motion and 3D effects. Highlights, Vintage and Stylize effects will make your video more romantic.
Step 5. Save Your Bridal Shower Slideshow
When you've finished editing your slideshow, it's time to save and share your creation. Click the Create Video button and choose the desired format - the software has over 30 of them. If you're planning to show your clip on your smartphone, switch to the Gadgets tab. Here you'll find settings for the newest iPhone and Samsung models, as well as lots of other gadgets, so the quality of your video will be at the top. If you want to upload your video to social media, pick the Websites tab and choose Instagram, Facebook or any other site.
Want to make a custom gift for the wedding day but lack ideas? Explore
how to make video greeting cards
and forget about spending hours finding the perfect present.
Bridal Shower Slideshow Quotes
Want to share your love with the bride-to-be and support her before such an important event? Add wishes to your slideshow and make this bridal shower more heartwarming.
Here are some examples:
You have chosen the perfect person to grow old with. Best wishes!
Choosing each other was difficult, you have done that, now you can relax and enjoy the rest of your life with each other!
May you stay the same; madly, crazily, and truly in love! Best wishes to you.
The big day is almost here, and I am as thrilled as you, and I will be there if you need me till then and after as well!
I am elated to be able to share this joyous day with you.
Life is short, but you can start with being together forever! Best wishes for that!
Want to add other wishes? Check the list of short bridal shower wishes to find the perfect one.
Music for Bridal Shower Slideshow Videos
Don't know what soundtrack to choose? Think about a special song that evokes some warm memories or just fits the mood of the bridal shower. If you still lack ideas, check the list below and see what you can add:
"Crazy Little Thing Called Love" by Queen
"Treasure" by Bruno Mars
"Heartbeat Song" by Kelly Clarkson
"Marry You" by Bruno Mars
"Dancing in the Moonlight" by King Harvest
"Perfect" by Ed Sheeran
"Always Be My Baby" by Mariah Carey
"Crazy in Love" by Beyoncé
If you didn't find a perfect match among these songs, look through the list of the best bridal shower songs ever.
Now that you know how to make a bridal shower slideshow, you can create an unforgettable gift for your friend that she will review again and again, feeling the same emotions each time. So use all the tips above and your inspiration to make it truly mind-blowing. Use one of the best software for a bridal shower slideshow and make sure your pre-wedding party will go smoothly.
Need a bridal shower slideshow maker?
Get down to work with

SmartSHOW

3D right away!