Serene Landscape Slideshow
Enjoy a digital retreat within your own scenery slideshow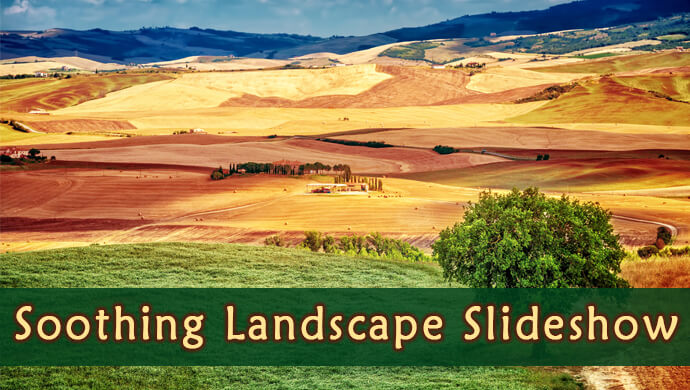 Sometimes such a video is exactly the thing you need. A pleasure for the eyes, a meditation for the mind, a refuge for the heart. Don't you wish you could create one just for yourself? You can! In this guide, we will tell you how to craft a peaceful and relaxing landscape picture slideshow with the least effort.
Landscape Slideshow Checklist
Before you can relax your mind, you need to flex it just for a little bit. Here's the list of the most essential elements and do's and don'ts you'll need to create a beautiful scenery slideshow. So take notes and accumulate your inspiration.
Decide on the perfect running time - This could be a bit tricky. On one hand, your slideshow can't be short, because it won't have the therapeutic effect you are looking for. But on the other hand, watching your landscape pictures on an endless loop could make you drowsy. An acceptable running time of a scenic slideshow - established by trial and error - should be between 5 and 8 minutes.
Use your own pictures for a more personal photo slideshow - Sure, your pictures might be amateur. The horizon is slanted, and there are random photobombers in the background - but who cares? These pics depict the places you have been to, so they have so much more meaning. Was this the mountain path you went on your life-changing hiking trip? Is this the lake where you had your first date with your sweetheart? So ditch professional landscape photography and use pictures that will have a true impact on you.
The hills (and meadows) are alive with the sound of music - That's right, no slideshow is complete without music. So what goes well with landscapes? The answer is simple - anything, depending on your aim. Go with an upbeat song to kickstart your wanderlust. Choose a soothing instrumental piece if you need a tranquil mood. Is it a spiritual journey you are in for? Then folk music is your choice. Be sure to check some great music ideas to find the perfect soundtrack for your video.
Keep the embellishments and decorations down - Once you discover the joys of slideshow making, you might be tempted to try all things at once. Curtain wipes with zoom ins and zoom outs? 3D transitions with rotating collages? Don't. No effects and transitions should distract viewers from the beauty of nature. Frame your awe-inspiring pictures with smooth transitions and graceful animation, and you'll have yourself a meditative scenic slideshow you can feast your eyes upon.
Search high and low for the right software - There is so much more to slideshow making programs than the traditional PowerPoint. The industry is full of software that drastically range in their functionality, price, and user-friendliness. If you are looking for a slideshow maker that is feature-rich without being overly complex, then SmartSHOW 3D is just the thing you need.
SmartSHOW 3D is a powerful
automatic slideshow maker
with pro-level tools and peerless performance. It has everything to make your slideshow creating process fun and easy - from hundreds of cool effects and transitions to huge collections of predesigned templates and 200+ royalty-free tracks.
So now that you are - hopefully - full of inspiration and know the best software for the job, it's time to create your own beautiful landscape slideshow. Don't know how? No problem. We are happy to share with you a guide on how to make a slideshow on Windows 10 (that is relevant for older versions as well).
Sometimes it's essential to have a little stress detox. This is when a calming scenery slideshow really comes in handy. They offer a much needed break from your routine without the trouble of long-distance travelling. So create your own piece of this amazing portable magic. You won't need much - just some beautiful landscapes, a lovely tune, and SmartSHOW 3D's endless possibilities.
Want to create a mesmerizing landscape slideshow?
Get started with

SmartSHOW

3D!