Best Professional Slideshow Software in 2023
Are you into photography? Decided to earn money by making slideshows? This is a great idea since more and more people now prefer videos featuring their memorable moments to boring still shots. A slideshow is also a perfect way to showcase your own photos through a stunning video portfolio. So to get started, you need to choose a professional slideshow creator to work with. However, this is where the real struggle begins. Which software to use? What program has all the essentials for making a pro-level slideshow?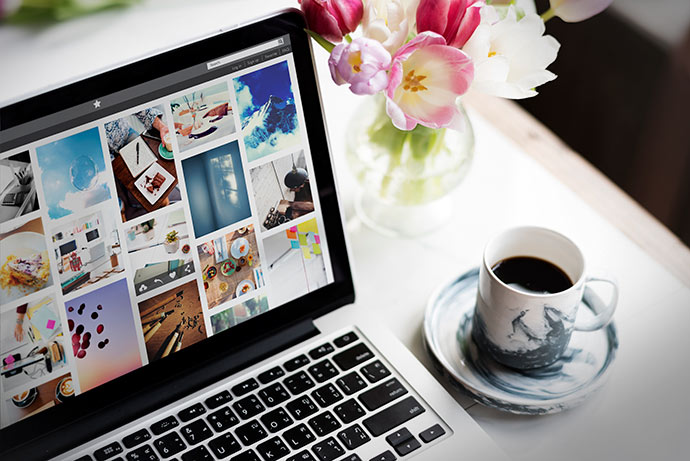 Instead of trying out randoms suggested by Google, save yourself some time (and probably money) and read our reviews of top 6 slideshow making programs. We will dwell on their features in detail and point out all the pros and cons, so you will definitely find the best professional slideshow software for your needs.
Key Features of Professional Slideshow Software
If you plan to make video slideshows for a living, then you will need a program equipped with certain features. Here's what you should be able to do with pro-level software:
✔ Mix pictures & videos on the same slide: Leave interchanging stills in the past - they'll bore your clients senseless in a minute or two. Modern softwares allow you to combine different media on the same slide. Pictures, clips, video backgrounds - all of that can make your project really dynamic.

✔ Create multiple layers: If you want to make a sophisticated design with images, frames and effects, then you need to work with layers. The majority of photo slideshow softwares let you add texts or frames. However, only few of them offer a proper layer system, like in Photoshop.

✔ Make custom animations: This is what will help your slideshow stand out among the others. Ready-made presets can wear down their potential too soon, so the ability to create your own animations using keyframes will be quite handy.

✔ Use pre-made templates & effects: Sometimes you need quite the contrary: create a good-looking slideshow asap, without spending time on customization. For instance, to share ideas with your client on the spot. That's why the program you choose should have a vast collection of slideshow templates, titles, animations, effects, frames, texts, and whatnot.

✔ Fine-tune sounds & music: The video won't be that engaging without music. Searching for a suitable tune without copyright protection may be tiresome, so look for software with a built-in music collection. Also, opt for slideshow makers with the necessary sound adjusting features: cutting, splitting, volume control, audio waveform, etc.

✔ Export your video in many formats: This can become crucial since people want to watch your video in the way they prefer. Some will watch only high-quality slideshows on TV, some will enjoy your creations on YouTube or Facebook, others will notice your works while surfing the internet on their mobile. So, the more export options you have - the more clients you can attract.

In our opinion, these are the main features a professional photo slideshow maker should have. We took them into consideration while creating our list of the best programs. Which ones did we pick? Have a look:

1. SmartSHOW 3D

SmartSHOW 3D takes the first place in our list of professional slideshow makers since it combines a powerful toolkit with total freedom for your creativity. There are two ways to create a slideshow: use one of the themed pre-made templates or set your creativity free in a project from scratch. Keeping its UI neat and friendly, SmartSHOW 3D offers lots of pro-level features: mixing pictures & videos, creating animated collages, using layers and masks, making custom animations with 3D effects, etc. You can polish the soundtrack as well - for example, adjust the volume, fine-tune the audio waveform and record voice comments on the go.

600+ templates & effects
200+ royalty-free songs
Flexible keyframe animation
Unique effects with 3D Camera
Built-in image editor
Collection of video backgrounds
Extensive export options

Watermark in the trial version

With SmartSHOW 3D, you can create slideshows for any occasion. Here are some pro-level slideshow examples showing projects for love story, wedding, birthday, anniversary, etc. Want to see how you can create similar projects? Let's take a look at SmartSHOW 3D in action:

Think you might give SmartSHOW 3D a go? The software offers a free trial version - it's a good way to test out its features. Click the button below to download it.

Download free

2. Magix PhotoStory Deluxe

Magix PhotoStory Deluxe is one of the best professional slideshow apps for Windows. It's not a surprise: the software has one of the largest transitions & effects libraries - around 1500+ pieces. Each of them can be customized to a certain degree. While using PhotoStory, you can quickly color correct and edit your photos with special looks. What's more, you can record voice comments and manage sound settings. One of the biggest downsides is that the software has an unfriendly interface with lots of small buttons and names. Getting used to it really takes time, and most of the important features are hidden in the UI depths.

100+ slideshow project templates
Filters for color correction
Built-in sound library
Up to 16 tracks on timeline

3. PhotoStage by NCH Software

If you're just starting to make picture slideshows for a living, check out PhotoStage by NCH Software. This user-friendly program is free for personal use and offers all the basic features you might need. There is the Quick Create option to build a themed slideshow automatically. Alternatively, you can get started with a new project and add video clips, special effects and pre-made animations to it. You also have access to extensive audio tools: voice comments, volume fading, large library of sounds and a mixer (should be installed separately). Nevertheless, if you plan to use PhotoStage for commercial purposes, you'll have to buy a license. Another thing to consider - there is no multiple layer system or 3D effects.

300+ songs with no copyrights
Simple workflow
Direct import from Dropbox
Portable .exe videos
Sharing videos on Internet

Small number of quick presets

Your clients love slideshows with complex animations? Want to accomodate them? Then learn

how to make a 3D video slideshow

to create projects with unique camera work and motion paths.

4. Adobe Premiere Pro

Adobe Premiere Pro is one of the top rated video editors, however, it can be used for making slideshows as well. Since Premiere Pro is aimed at complex video editing, it provides you with tons of video effects and animations. Bear in mind that there are no pre-made slideshow templates within the software. Nevertheless, you can get custom presets from the Internet. When it comes to the export options, this Adobe product offers quite a lot of them: for PC, Mac, DVD, YouTube, etc. However, you need a high-end machine to run Premiere Pro. Moreover, this is not easy professional slideshow software, so be prepared to study lots of manuals.

Vast library of effects
Custom 3D animations
Support of 4K/8K videos
Lots of tools for video editing
Cloud storage for projects

No built-in slideshow templates
Very pricey subscription

5. CyberLink MediaShow

Like to keep your media files organized while creating videos? CyberLink MediaShow is a decent choice then. This slideshow maker boasts a face recognition technology and a smart tagging system. It will help you sort all the clients' photos into separate folders in a flash. MediaShow has a very friendly interface, and lots of effects and transitions. However, it doesn't shine among other professional software for slideshows - you can't make your own animations or work with layers.

User-friendly interface
Built-in image editor
Face recognition & tags
70+ effects & transitions
Import photos from Facebook

No precise audio adjustment

Want to watch your slideshows on a big screen in the best possible quality? Then learn

how to make an HD slideshow

. Go with a 720p setting or opt for 1080p - just keep in mind that the better the quality, the bigger the video file.

6. AquaSoft SlideShow

Looking for a robust program to make wedding or travel slideshows on Windows 10? AquaSoft SlideShow is one of the best options. It comes with maps and travel routes animations, almost 200 text styles, themed templates and a built-in video editor. AquaSoft also provides sound tools like voice recording and volume adjustment. The timeline is extremely convenient: you can organize large projects into chapters and subchapters for easier management. Sadly, there is no integrated music collection and you can't fine-tune animations.

250+ effects and transitions
190+ text style options
Chroma Key (green screen)
Picture-in-picture effects
Export to Blu-ray & DVD

No music collection
No custom animations

Frequently Asked Questions

This was our short list of the best professional slideshow software. As you can see, there are different alternatives for different goals and wallets.

If you are into making videos and have an Adobe Premiere Pro subscription, then you can use this software as a slideshow maker. You won't be able to make stunning animations, but extensive video editing tools and effects will be quite handy for a videographer. If you need something more basic and less expensive, opt for PhotoStage. It doesn't have a vast toolkit but all the necessary features are at hand, and besides the program has an easier workflow.

Want both power and ease of use? Then go with SmartSHOW 3D. This program is great for aspiring professionals and is suitable for a wide range of goals: from making a stylish portfolio showcase to creating a mind-blowing vacation video.

We hope this top list will help you find versatile software to boost your business and attract even more clients!

About the author:
Brought to you by SmartSHOW 3D team. We are both professionals and enthusiasts in slideshow making from all over the world. We joined together striving to bring you the best ideas and tips for your videos.
Looking for the best professional slideshow maker?
Check out

SmartSHOW

3D!