Pro-Level Real Estate Video in 5 Minutes
Increase engagement on your website with a real estate slideshow!
Sometimes real estate clients just need a little help to envision a property's full potential. Photography is a helpful visualization tool, but it doesn't always convey the right emotion. However, as very busy professionals, real estate agents rarely have hours of extra time to dedicate to trying out a whole new process. Realtors who don't currently use any software at all are quickly discovering that videos are a necessary part of staying relevant in today's market.
That's why many of them are adopting SmartSHOW 3D, a real estate video maker that puts emotion and excitement into client presentations without requiring extra hours in front of a computer. Why rely on static pictures when you can wow clients with an entire presentation, complete with music and effects? There are infinite ways to apply this slideshow app for PC to generate real estate sales. All the information you need to start seeing a dramatic difference in your real estate business is right here on this page, so keep reading!
Real Estate Video Example
Once realtors see how professional their first slideshow looks, they are hooked on SmartSHOW 3D for life. One of the most popular features by far is the template pack specially geared toward real estate videos. See a presentation made with this template below: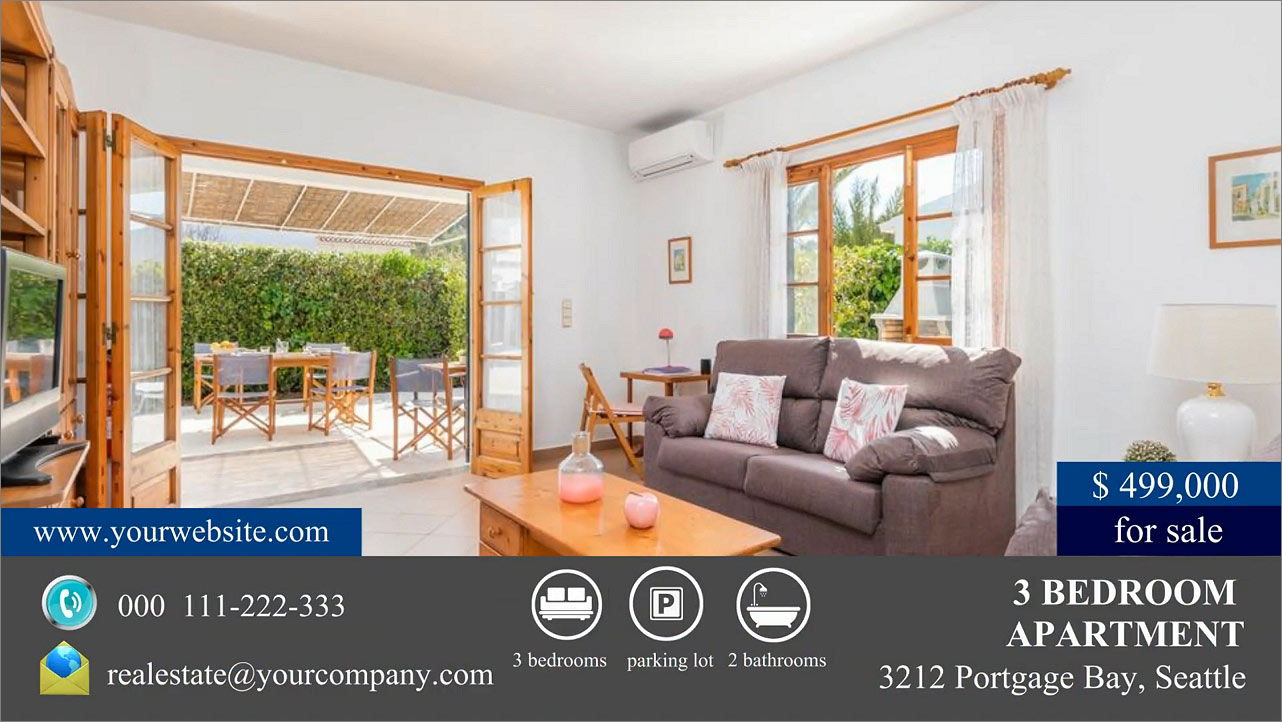 Yes, that promo was made in SmartSHOW 3D! You can imagine how impressive that is to new clients who have only seen static photography and dry spec information on your competitors' websites. And you don't have to take it at face value: video use has been statistically shown to generate sales more effectively than text alone. After watching a branded social video, as much as 64% of consumers will end up making a purchase.
See what a real estate video can do for you!
Real estate sales increase dramatically when agents use video in their consults, on their websites, and on social media. There are a few tips and tricks to using video marketing that make it even more effective:
Include testimonials from satisfied customers. It builds your credibility and makes first time buyers and sellers feel more confident right away.
Use professional photography and videography to document your properties. Clients can tell the difference, and it really bumps the quality of your presentation up a notch!
Draw attention to desirable features with text and recorded commentary. Clients don't always know what to look for on their own, but you can guide their attention.
Customize your presentation whenever possible. Customers who have specific needs will be particularly impressed with your attention to detail.
Give potential buyers a tour! You can sequence photos in your video so that they show off the flow of a particular property or include a video walkthrough.
73% of homeowners say they're more likely to list with a realtor who offers to create a video for them, but only 4% of agents make real estate listings.
How to make a real estate video in 5 easy steps:
Realtors often resist trying to create a real estate slideshow for one simple reason: they assume it will be hard to make. Once you get started with SmartSHOW 3D, you will be amazed at how quick and easy it is to put together a full presentation. It may completely change how you handle last minute clients; now that you can create that "wow factor" even on very short notice. Let's walk through it step by step.
Step 1: Start with choosing a template
When you open the real estate video maker, the first thing you do is choose a ready-made template. There are hundreds to choose from, so you'll definitely see one that meets your needs! Only have a few minutes? 5-minute themes are exactly what you need. Just add your media and the program automatically generates your slideshow. Get a themed pack to make more advanced customizations or use it as-is. It's all up to you!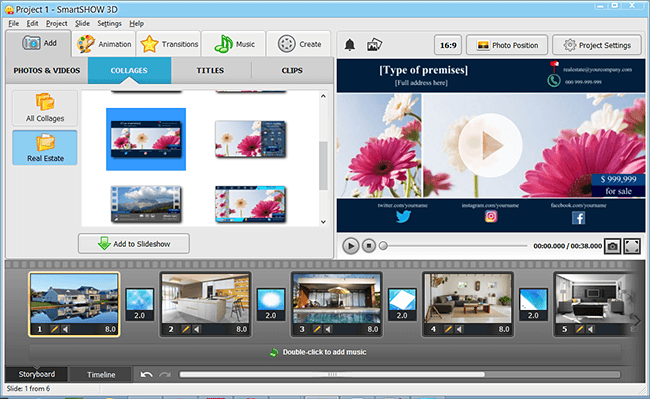 Step 2: Import your photos and videos
In just one step, your video can be almost ready to go! Add your photos and videos with the super easy import process, then have a look around at the hundreds of features. This is a great time to preview your 5-minute template with your own media added, or to make customizations as needed. Try out the expansive library of slideshow transitions or even create your own! Have fun looking at over 380 effects to spice up your slideshow.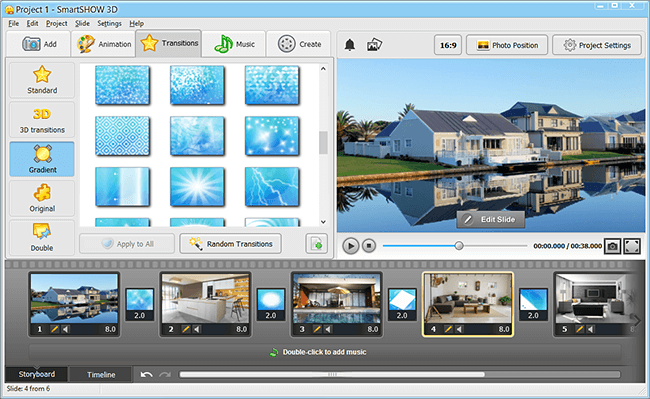 Step 3: Pick a suitable soundtrack
Add atmosphere to your video by including music. The program comes with an extensive, royalty-free collection that never fails. With over 200 tracks at your disposal, you can create any mood without the need to recycle the same music for each customer or property. Don't worry if you have something specific in mind though, you can just import your personal choice of music. It's that easy.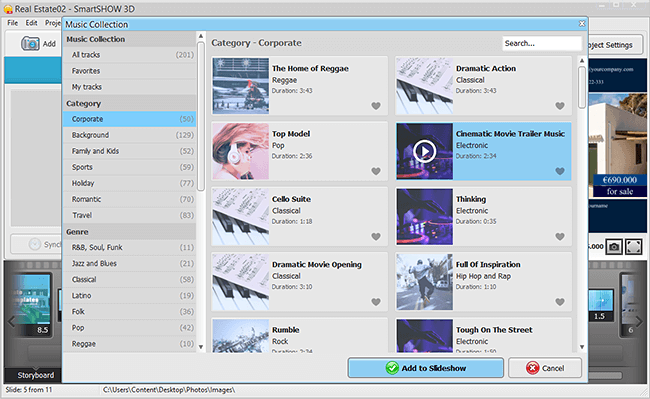 Step 4: Add your own commentary
A recorded voiceover or text overlay will allow you to include important information for your customers. Now you can upload to social media knowing that your potential clients will be well informed. Most importantly, potential buyers love to see a property's specs alongside the pictures and video.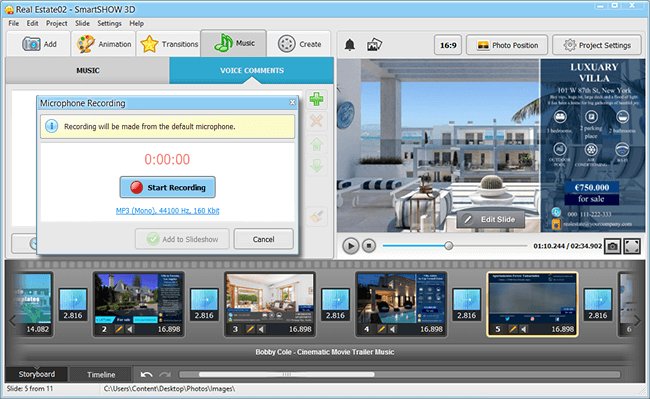 Step 5: Save and share your video
You can burn to DVD right in the real estate video software and give out copies or share the presentation on social media. There are several useful formats to choose from. Save in HD for the highest quality! This is a great way to get the word out about properties that are new on the market.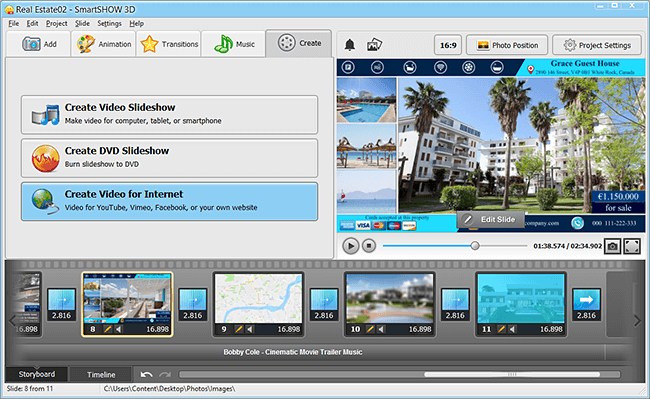 And you're done! It's that easy to put together a professional real estate video. Click the button below to try it now, or continue reading to find out more about real estate video marketing.
Download free

Use real estate video templates to get the best results:
Templates are a game-changer for busy real estate agents who turn over a lot of properties. Without the predesigned slideshow templates in SmartSHOW 3D, who would ever have time to put a presentation together for each property or client? The templates are universal enough to use for both personal and professional needs. These three are the crowd favorites so far:
Real Estate Promo Slideshow

This one is great for still image-based slideshows. There are lots of dynamic effects that keep your video interesting, without distracting from the most important part: the photos!

Interior Design Gallery

Need a high-tech feel? Get a template with 3D elements & geometric effects. Users love the clean feel here and often use it to promote commercial properties.

Realtor's Slideshow

Flashy backgrounds and exciting music make this a can't-miss add on. Any property can look exciting with this template! The constant motion makes this great for tour-style shows.
Get started with a real estate video maker now!
SmartSHOW 3D has completely changed how realtors work! First time users say they will never go back to how things were before they added realtor videos to their sales technique. New users love that they can now put together a professional presentation for any need in just a few minutes. The icing on the cake is that the videos are also completely customizable. After importing everything into a template, all that's needed is to go back and change a few details to make the slideshow fit your exact needs for that project.
So what are you waiting for? SmartSHOW 3D is waiting to transform your real estate listings. Go and claim your free trial today!
Need a real estate video maker?
Start now with

SmartSHOW

3D!