Happy Birthday Slideshow Ideas
Great Birthday Present for Young and Old!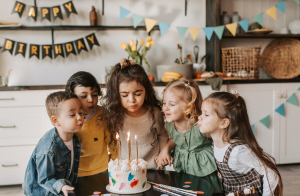 Birthday is a special time of your life when you're lavished with attention, love and plenty of presents. However, it's not all about sending invitations and receiving wonderful gifts. This annual event not only brings you joy and happiness but also marks your personal growth. Being a milestone of your life, every birthday is unique and calls for a different kind of celebration. What stays the same, though, is the tradition to spend this day among family members and close friends. Wonderful time, isn't it? The only problem is that a birthday comes only once a year, so why not make the best of it and immortalize the party in a breathtaking birthday slideshow?
With the help of a happy birthday slideshow maker your fondest memories will shine as bright as candles on a birthday cake. As an easy-to-use app, SmartSHOW 3D provides you with a variety of themed slideshow templates, grasping transition and animation effects, original slide captions and title clips. These customizable designs can add a festive touch to your photos. Check out a few birthday slideshow ideas to ignite your inspiration.
First-Ever Birthday Party
Children grow up so quickly that sometimes it's hard to recall them being little and cute. That's when numerous photos taken during their babyhood come to aid. The first step, the first word and, more important, the first birthday party – it's all recorded and preserved in a digital form. Transform these memories into a touching photo movie using a birthday slideshow maker. In this project, you can realize all your baby slideshow ideas and showcase the result during the next birthday party or other family events.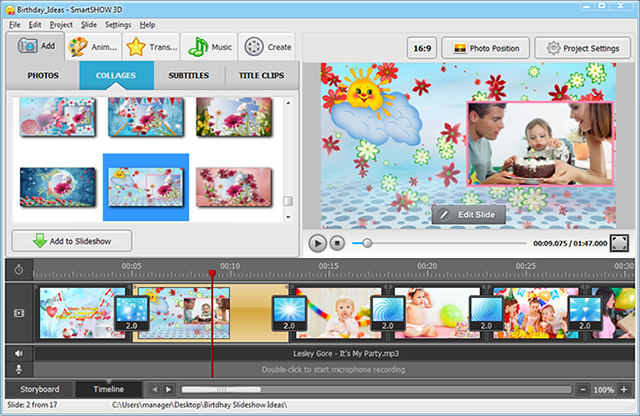 Happy Birthday Card for Your Family
Imagine that the birthday of your mom or dad is round the corner and you still haven't found a proper present to express all your love and gratitude to them. You can't show up with empty hands, as well as buy a cliché. Your gift should be touching and personal, and show all the efforts put into its creation. In this case, there is no better present that a video made in a birthday slideshow maker. Just choose the best photos from previous parties and assemble them into a marvelous greeting card. We bet your parents have never seen such a happy birthday slideshow!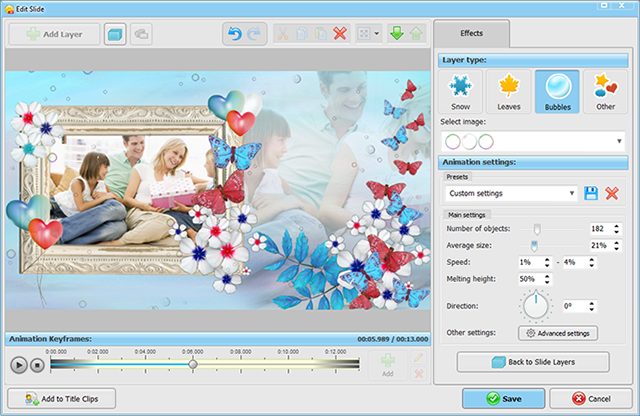 Surprise for a Friend's Birthday Party
Your faithful friend and you surely share a lot of history and can remember plenty of funny or remarkable events that have brought you even closer. Why not implement the memories of this quality time into a cool birthday gift? A personalized slideshow featuring your best pals and you will beat fancy gadgets or trite postcards. With a birthday slideshow maker, you can tell an exciting story of your friendship and incredible adventures.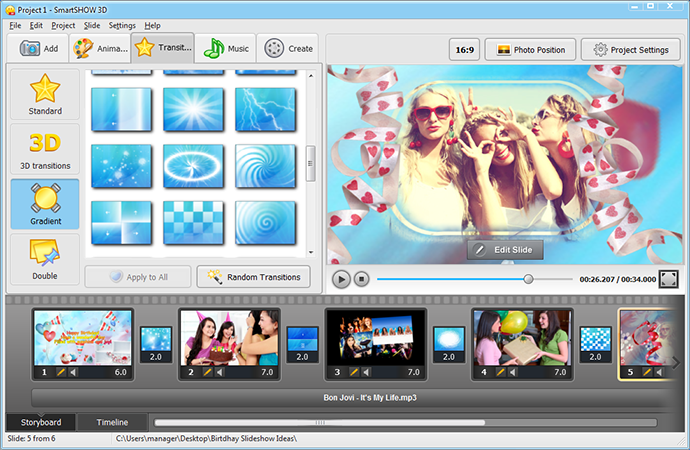 If your friends are hard to impress with common designs, make use of special birthday slideshow templates which were made exclusively for SmartSHOW 3D. They feature flower backgrounds, bright balloons, beautiful butterflies and other themed graphics. Finish your birthday slideshow by adding greeting words into a text box.
Songs to Make a Birthday Slideshow with Music
When you throw a birthday party you can't do without music. Lighthearted tunes are crucial to set a cheerful and festive tone. The range of songs deemed suitable for such an occasion is truly immense. Here we've enlisted several birthday slideshow songs for you to choose from:
Oasis – "Wonderwall"
Bon Jovi – "It's My Life"
Katty Perry – "Birthday"
Alma Cogan – "Hello, Baby"
Lesley Gore – "It's My Party"
Alphaville – "Forever Young"
Queen – "Don't Stop Me Now"
Ronnie Mislap – "Happy, Happy Birthday, Baby"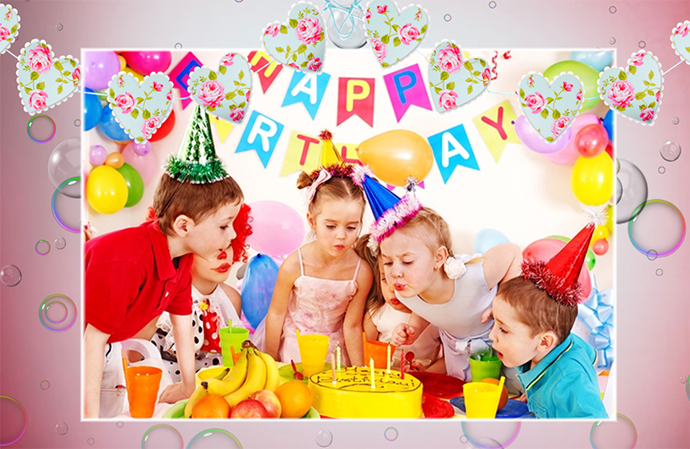 Your birthday fun doesn't need to stop once the celebration is over. Bring the most memorable moments back to life with a birthday slideshow maker like SmartSHOW 3D. It doesn't matter whether you're preparing a gift for your serious parents or carefree friends, there are plenty of birthday-themed templates and designs to suit everyone's tastes. Wish your friends and family members many happy returns with an awesome happy birthday slideshow!

Get creative with
SmartSHOW 3D !
Want to make stunning photo movies with your own pictures? That's as simple as ABC with SmartSHOW 3D software!
Compatible with
Windows 10, 8, 8.1, 7, Vista, XP

Our Users Say:
I shoot weddings for a living, and often make wedding and love story slideshows for my clients. I used to do that with Windows Movie Maker, but then I came across SmartSHOW 3D and realized the immense potential of photo slideshow. This software now helps me do incredible things with my photos. Lots of thanks from happy clients!
I love making movies from our family and travel photos. Have tried a number of slideshow makers, but this one is something special. All kinds of fascinating effects and animation, music and voiceover, and excellent quality video in the end! Never thought I'd learn to make SUCH movies myself one day.

Need to create a professional photo slideshow?
Start now with

SmartSHOW

3D!