HAPPY BIRTHDAY SLIDESHOW IDEAS
Create a Memorable Birthday Slideshow with Music!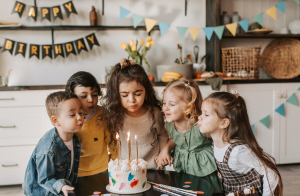 Birthday comes only once a year, so why not make the best of it and treat your loved one to a very special gift? With a happy birthday slideshow maker, you can make the celebrant's fondest memories shine as bright as candles on a birthday cake. Just gather the best photos and videos, pick a ready-made template, add a catchy soundtrack and spice up your creation with some of 350+ animation effects.
Want to try this slideshow maker for PC? Here we'll show you how to create your first birthday slideshow in less than 5 minutes and share a few birthday video ideas with you to ignite your inspiration.
What is the Recipe of a Happy Birthday Slideshow?
Consider the concept of your birthday photo slideshow. There are many creative ways you can explore: make a party recap with the photos taken at previous celebrations; create a year-in-review video to mark the celebrant's achievements and crucial events; or keep it funny and compile a hilarious footage of bloopers.


Keep in mind the interests and preferences of your birthday girl or boy. Remember that your digital gift should be personal, so fill it with all the things that matter to the celebrant: it can be a lovely pet, years-long hobby or desirable travel destination. This information will help you choose an appropriate slideshow theme and suitable color scheme.


Make them longing for more. You don't have to make a birthday slideshow that lasts for an hour to impress the celebrant. Sometimes the shorter is the better. That way you can really focus on one topic and present it in a more creative manner. Following this advice, you can also save up some photos for the next year.


Pick the right background music. A proper soundtrack can create the necessary mood while a wrongly chosen song can completely kill it. Be careful with picking the main tune as it determines the way viewers perceive your video. Go for traditional songs for a birthday slideshow or try something new - it's up to you!


Add meaningful quotes and greetings. Your birthday slideshow can easily become a video card if you add good wishes and kind words to its slides. It's also a good idea to insert some touching quotes and even lyrics.


Decide where to show your B-day video. If you plan to create a birthday slideshow for TV, you should opt for HD formats so your viewers will be able to see even the smallest details. In case you think about sending your creation via Facebook or Instagram, optimize it for a slow Internet connection.


Get an easy-to-use app to get the job done. To create a memorable B-day video with stunning animation and lovely text captions, you'll need powerful slideshow software. SmartSHOW 3D offers you plenty of creative tools - from simple editing functions to eye-catching effects and 5-minute themes you should definitely try.
Get Started with Birthday Slideshow Templates
Looking for a last-minute gift that won't look impersonal? It can still be a touching slideshow made with the help of birthday slideshow templates! SmartSHOW 3D comes with about 200 ready-made style slides that let you create a stunning video card in just 5 minutes. There's a lot of different themes for moms and dads, boys and girls, daughters and sons, and all kinds of birthday anniversaries (the 18th, 21st, 40th, 60th and so on).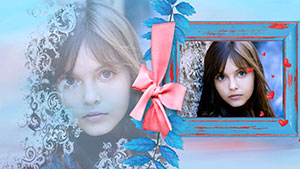 "Happy Birthday" Slideshow Templates"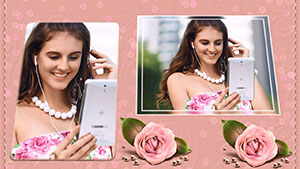 Sweet 16 Slideshow Templates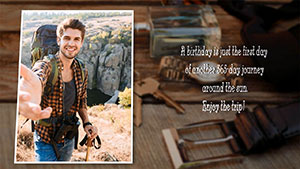 Man's Birthday Slideshow Templates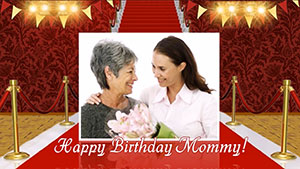 50th Birthday Slideshow Templates
Like these happy birthday slides? With SmartSHOW 3D, you can add your own photos and videos to any of predesigned templates and make a 'wow' effect with the resulting slideshow. Feel interested? Click the button below and download this birthday slideshow maker to your computer.
Already own the program but don't know where to start? Keep reading this guide and follow five simple steps to make a slideshow of your dreams in a few clicks.
How to Make a Birthday Slideshow with Music
The process of making a festive video might be a little bit challenging at first, but once you've come up with happy birthday slideshow ideas it only takes some inspiration and a powerful program at your hand. Let's see how to make a one-of-a-kind slideshow with minimum efforts.
Step 1. Pick the Best Celebrant's Photos
Before making your festive slideshow it's really important to choose the best celebrant's photos and video clips that fit the mood of your project. If needed, ask the family and other friends to provide you with more pictures. Add them to the program and arrange on the Storyboard. Don't forget to align and crop for a better look.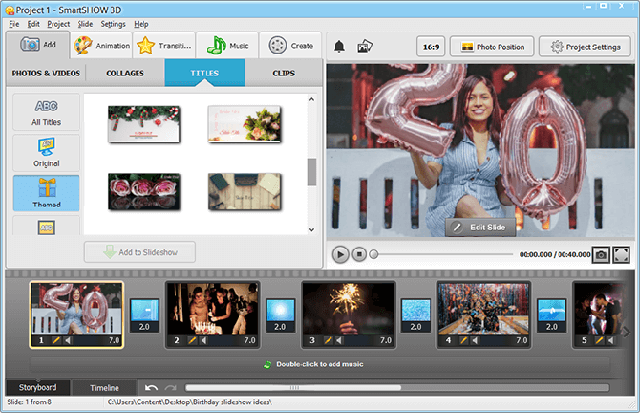 Step 2. Use a Bunch of Ready-Made Templates
If your friends are hard to impress with common designs, make use of special birthday slideshow templates. They can be found in the start-up menu under "Slideshow in 5 Minutes" or on the Collages tab. Just drag the slide style you like to the Timeline and insert the necessary number of photos and videos - click the Play button and see its animation in action!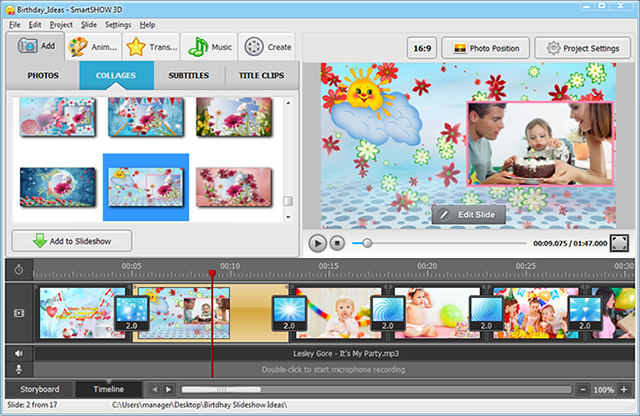 Step 3. Jazz Up Your Slideshow with 3D Effects
The slideshow templates available in SmartSHOW 3D feature flower backgrounds, bright balloons, beautiful butterflies and other themed graphics but you can further stylize them using special effects. Move to the Animation tab and pick any of animated presets. Otherwise, you can open the Slide Editor and set unique animation for each photo layer.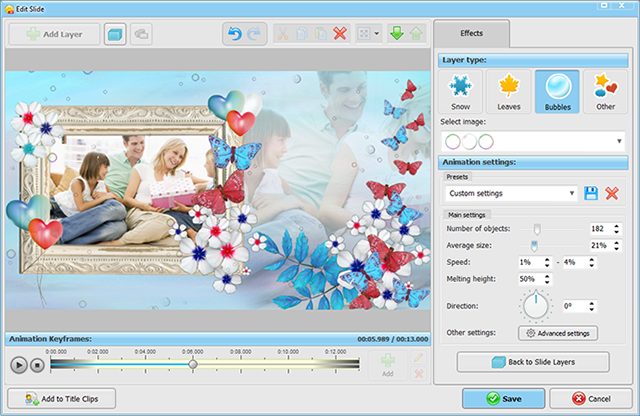 Step 4. Make a Birthday Slideshow with Music
Unlike PowerPoint and other presentation software, SmartSHOW 3D works as a video editor. It means that you don't need any additional programs to turn your photo presentation into a music video. Switch to the Music tab and upload your own melody, or choose one of 200+ royalty-free tracks. They're divided into several genres and moods so you will easily find suitable music.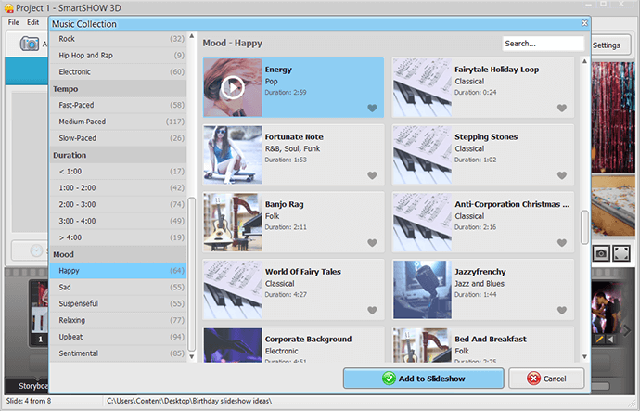 Step 5. Save Your Video Gift & Share with the World
Watch the slideshow project you've made on the preview panel. If you're satisfied with the result and think that it'll bring tears of joy to the celebrant's face, save your birthday slideshow with music. While on the Create tab, you have three options - to make an HD video for PC, tablet or smartphone; burn your slideshow to DVD; create an optimized video for the Internet. Regardless of the saving option you choose, your slideshow will surely move the birthday boy or girl.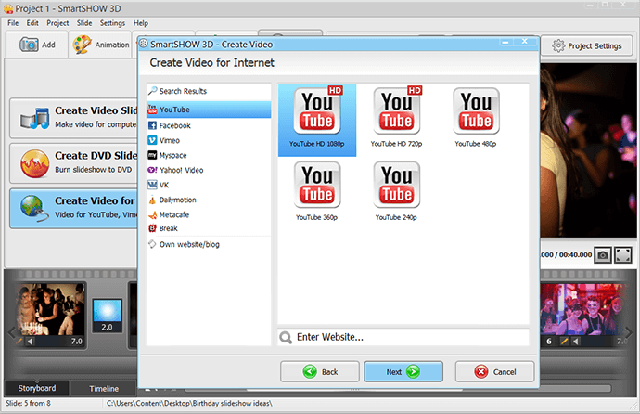 Best Songs for Birthday Slideshow
When you throw a birthday party you can't do without music. Lighthearted tunes are crucial to set a cheerful and festive tone. The range of songs deemed suitable for such an occasion is truly immense. Here we've listed several birthday slideshow songs for you to choose from:
Oasis – "Wonderwall"
Bon Jovi – "It's My Life"
Katty Perry – "Birthday"
Alma Cogan – "Hello, Baby"
Lesley Gore – "It's My Party"
Alphaville – "Forever Young"
Queen – "Don't Stop Me Now"
Ronnie Mislap – "Happy, Happy Birthday, Baby"
Need more soundtrack ideas? Check out these songs for birthday slideshows. Try a simple "Happy Birthday" in different styles and genres!
Lack some photos of a birthday cake or lit candles for your festive slideshow? Check out this stock of
happy birthday images
and don't worry about the copyrights - they're totally free to use! Still have plenty of time before the special date for more fun photos of the birthday boy or girl? Visit the
FixThePhoto
website for some creative picture ideas.
Happy Birthday Greetings
Fill your happy birthday slideshow with warm and fuzzy feelings by adding text captions. Don't know what to say? Here're a few examples of moving and funny birthday greetings you can use:
Wherever the year ahead takes you, I hope it's happy.
The world is so lucky to have you in it — here's to a wonderful year ahead!
Today, the flowers are bloomier, the sun is sunnier, and life is awesomer – all because it's your birthday!
You get more amazing every year. Hope your birthday is, too!
How do you keep getting older but looking younger? Just one of the many amazing things about you!
This used to be just an ordinary day… until you came along and made it awesome!
Frequently Asked Questions
The birthday fun doesn't need to stop once the celebration is over. Realize the boldest birthday slideshow ideas with SmartSHOW 3D. It doesn't matter whether you're preparing a gift for your serious parents or carefree friends, there are plenty of birthday-themed templates and designs to suit everyone's tastes. Wish your friends and family members many happy returns with an awesome happy birthday slideshow!

Need a birthday slideshow maker?
Start now with

SmartSHOW

3D!