How to Make a Wedding Slideshow with Ease
The Best Wedding Slideshow Ideas Are Here
The big day - the biggest one - is coming. Whether it's your or your friends' wedding, you are probably in search of a proper way to celebrate it. All the usual wedding routine aside, is there a special way to honor the happy couple on their happiest day? How about a creative slideshow?
Take a little break from preparations and learn how to make a touching slideshow for a wedding. We'll give you a step-by-step instruction along with tips on how to make your slideshow truly memorable. Find inspiration in song and quotes compilations as well as slideshow samples below.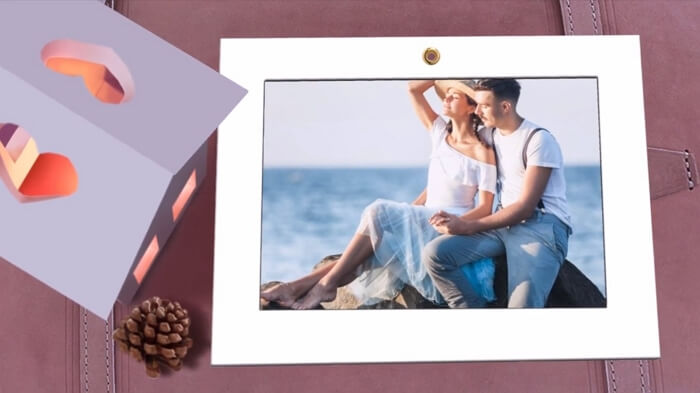 Want to create something just as graceful and heartfelt? Then find out how you can accomplish it.
Surefire Wedding Slideshow Ideas - Do's and Don'ts
Find the perfect running time - Don't give into temptation to cram all your favourite photos into one picture slideshow. Your goal is to have your slideshow heartwarming and entertaining. Making it too long will have the opposite result - you might bore your guests. Have your video run for two average-length songs - this way you'll balance the desire to show your massive photo archive, all the while keeping the viewers engaged.
Share the spotlight - While making a personalized slideshow, some people tend to make it only about themselves. Why should you forget about other people that make your life bright? Pay homage to the person responsible for your meeting, to your friends that are always by your side, or to your long-suffering parents - add their pictures too. That's how you create an awesome wedding slideshow!
Tell the whole story - Don't limit yourselves to telling just the love story. Go all the way back! Show you and your significant other growing up - especially if you did it together - and becoming the people you are now. Then reveal how your feelings bloomed from mere interest to infatuation, then to true love. There is hardly anything more enthralling than a love story of the people you care about.
Pictures speak. Videos speak louder - Yes, a picture is worth a thousand words. But what is a video worth? Don't waste that opportunity to make your slideshow even more engaging - add videos! Intervine pictures with footage to create a dynamic video sideshow. Every soon-to-be-family has a video or two - serious or funny, cute or hilariously quirky - that could complement a wedding slideshow or be used as a slideshow background.
Pace it, pace it, pace it! - Do not rush, do not drag. There is nothing more frustrating than a piece of entertainment that has an inconsistent or non existent pace. Determine the perfect speed for your slides to change each other. If you balance the pace of your presentation, it will have a smooth flow, so pleasant for the viewers. Don't let anything distract their attention from the happy couple's pictures.
Keep the embellishing down - There are countless slideshow examples that prove a simple truth - sometimes less is more. Even if you are a wedding slideshow software virtuoso, try to keep your inner artist leashed, especially if you have a tendency to over decorate. There is no need in over-the-top effects and transition animation when you are dealing with something as gentle as a wedding slideshow.
Pick the right software - All those do's and don'ts will be of no use if you don't have the right wedding slideshow maker. Direct your attention to SmartSHOW 3D, photo slideshow software that harbors a library of 600 templates, transition and animation effects and that is surprisingly easy and fun to use. Make a mesmerizing wedding slideshow in no time and no effort!
Get a Glimpse of Wedding Slideshow Templates
What should a good wedding slideshow look like? Have a look at the following video slideshows that can be used both as a template or as a mood board. Looks too technically complex? SmartSHOW 3D comes with 200+ templates that will help you create something similarly stunning in just under five minutes for almost any occasion. Use this software to make slideshows that capture your life before you tie the knot and right after it.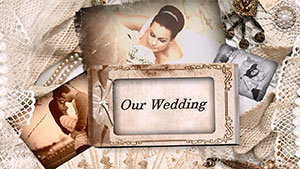 "Vintage Wedding Album"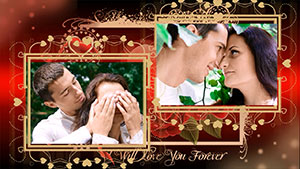 "Love Story" Slideshow Templates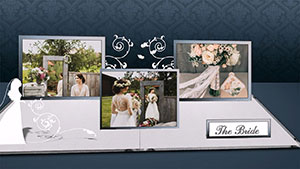 "3D Wedding Album"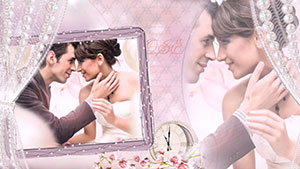 Romantic Slideshow Templates
Hopefully, now you have that dreaded question of how to make a slideshow for wedding answered. All it takes is powerful software like SmartSHOW 3D and a collection of your best pictures and videos. Try it for yourself!
Standing apart from the rest of slideshow programs due to its sheer immensity of effects and other features, SmartSHOW 3D is a great asset to anyone eager to try their hand at creating a slideshow. 200+ templates, 350+ animation and transition effects, 200+ royalty free music tracks coupled with your imagination, artistic vision, and determination - this is the best recipe for a stunning piece of work.
How to Make a Wedding Slideshow - a Blow-By-Blow Instruction
Creating a slideshow always seems like a difficult job, until you break it into simple steps. See how it's done:
Step 1. Run the Software
Install SmartSHOW 3D to your PC and run it. You can either create a slideshow from scratch, incorporating all your wedding slideshow ideas, or if you're pressed for time, you can pick one of the "Slideshow in 5 Minutes" options added to this automatic slideshow maker. Don't worry, it won't look like homework done on the morning of the day it's due. Instead, you'll get access to gorgeous wedding slideshow templates.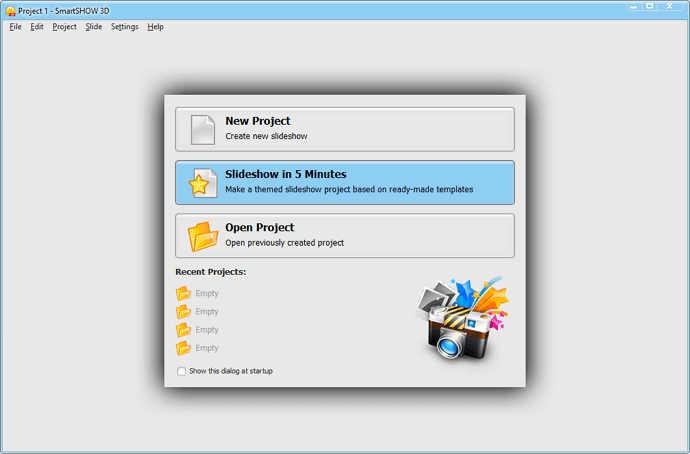 Step 2. Add Cute Pictures
Once you're settled on the style, pick the pictures that will chronicle your path as a couple, from your first date to marriage. It doesn't matter what pictures you choose - professional shots, selfies, friends' first steps in photography, surreal photo montages - as long as you are happy in those pictures. Arrange the photos on the timeline as you feel fit.
Step 3. Apply Stunning Effects
You have your pictures in order, now it's time to bring them to life. SmartSHOW 3D has a library of 350+ eye-catching effects. Smooth transitions, explosive dissolves, dramatic reveals and swipes, sparks, leaves, snowflakes - they are just too numerous to mention. Feel too creative to use preset effects? Then try making your own animation with an easy-to-use animation module.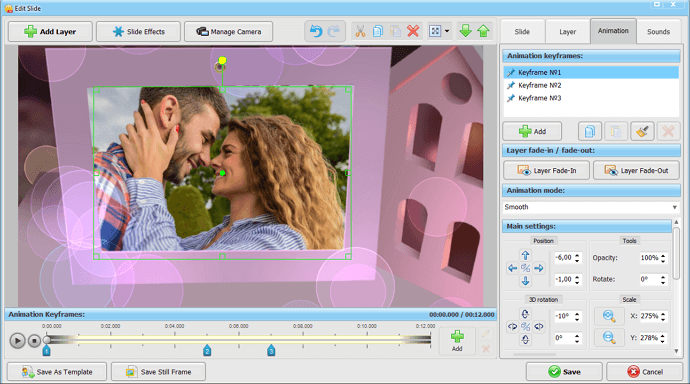 Step 4. Add Meaningful Quotes
Words don't come easy? Well, now it's time they did. Doesn't matter if you are making a slideshow for yourselves or for your friends - decorate your slideshow with some meaningful quotes. Carefully choose the right words, type in the text, edit it, then throw in some animation effects for good measure. Make heartfelt quotes hover over the happy faces of bride and groom to celebrate their love.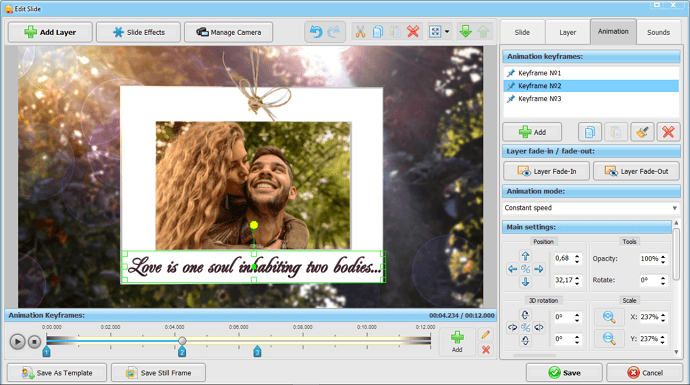 Step 5. Find the Perfect Music
Since we are not making a silent movie, adding some tune is in order. Liven up your slideshow with a carefully chosen track to reflect the mood. Either pick it from the software's 200+ royalty free library, or use a music piece of your own choosing. After all, who better understands what your slideshow needs, if not you?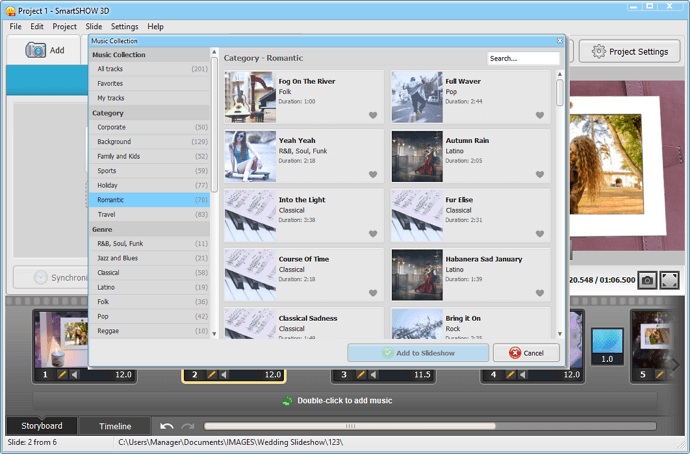 Step 6. Save Your Wedding Photo Slideshow
As a powerful 3D wedding video maker, SmartSHOW 3D is capable of saving your slideshow in a variety of formats. Whether you want to show your video on a big TV screen, burn it to a DVD to give as a gift, or post it directly on some social media - the software can do it all. You can even save the slideshow as a template for later use. Now, let's wow every one!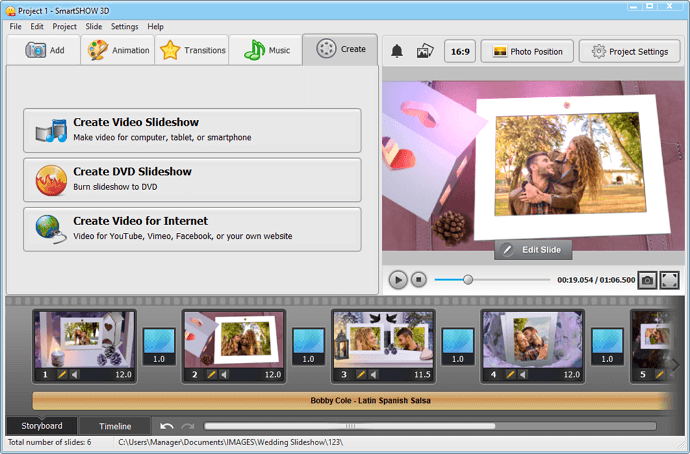 Wasn't it easy and fun - just six steps for such an impressive result? Try it for free to see for yourself:
Well, now you know how to make a wedding slideshow with music with virtually no effort and time-waste, at least the technical part of it. Now let's find a way to make your slideshow tug at people's heartstrings even more.
In Search of Perfect Songs for Wedding Slideshow
What else can speak of love better than music - a universal language to express the deepest emotions? Let the best love tunes accompany your slideshow to appeal to the viewers. Don't be afraid to use an overly romantic song - some best songs ever written are love ballads, after all.
Have a look at the songs that might be the perfect fit for your slideshow:
Truly Madly Deeply by Savage Garden
Come Away with Me by Norah Jones
From This Moment by Shania Twain
This will Be an Everlasting Love by Natalie Cole
All I Want Is You by U2
Can't Stop Falling in Love by Elvis Presley
Unchained Melody by Righteous Brothers
Thank You for Loving Me by Bon Jovi
Not quite to your liking? Then browse through more wedding slideshow songs to find the perfect tune.
Some of those songs just beg to be used in a well crafted slideshow, don't they? Then put them to good use while creating your slideshow. Or, if you are pressed for time, just use one of the many deeply romantic tracks from the software's free library. Either way, you'll have the end result that will melt your viewers' hearts!
Most Heartfelt Wedding Slideshow Quotes and Wishes
Some say that words can hardly express your feeling to the fullest. Well, it's true, but only of ill-chosen words. Choose your words wisely and thoroughly, then they'll hit home.
So if you are at a loss for what to say to the happy couple, go with some words that have stood the test of time:
May the years ahead be filled with lasting joy!
Love is patient. Love is kind…Love never fails. 1 Corinthians 13:4-13
Let love be the focal point of your daily life. May you find hope, peace and faith in each other's arms!
Wishing you fulfillment of every dream!
Today, we add one more member to our family and we couldn't be happier!
We're so thrilled to celebrate this wonderful day with you both!
May God grant you all of life's blessings and love's joys!
Need some more cue cards? Then find out what other wedding wishes are worth to embellish your wishing card or your slideshow.
Tying the knot is the logical conclusion of a couple's journey. Prove how magical and thrilling this journey has been with a slideshow. Since you now know how to create a slideshow for a wedding, combine your raw artistic vision with SmartSHOW 3D's technical abilities to come up with a stunning piece of work to prove once and for all - all you need is love!
Looking for a wedding slideshow maker?
Get started with

SmartSHOW

3D!