Pro-Level Funeral Slideshow Maker
Make a Heartwarming Memorial Video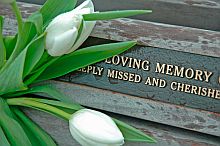 A funeral video is a way to honor the one who is gone and to celebrate their life by sharing your memories of them with family and friends. It's not an easy time when you need to make such a presentation so it's better to focus on the things that really matter and leave the rest to a special tool.
SmartSHOW 3D is a powerful memorial slideshow maker that offers hundreds of ready-made templates and effects, and won't make you fiddle with numerous settings like traditional PowerPoint.
In this guide, you'll learn how to make a memorial slideshow, what songs will fit the mood and which images will help you to tell the life story of your loved ones.
Funeral Slideshow Templates
These memorial slideshow templates were especially designed so you could create a heartfelt tribute video to a loved one's memory with no trouble at all. They are aimed to help you with this challenging task when you don't have a lot of time left until the funeral ceremony. All it takes is to add your loved one's photos, and a beautiful remembrance video is ready.
Take a look at the video example below. Monochrome backgrounds and slow-paced animation create a serene mood, letting the audience focus on the memories of a great person who left this world.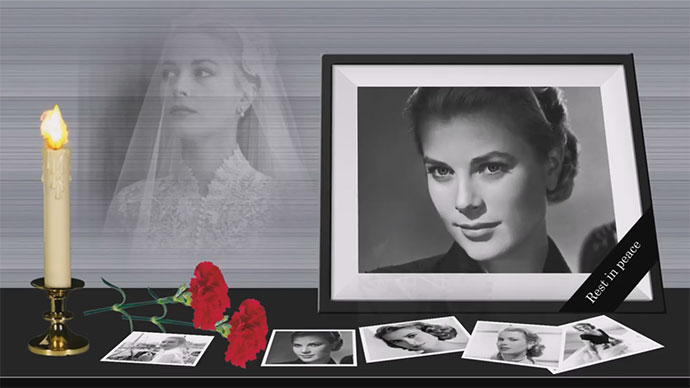 Need to make a photo slideshow for funeral in a very short time? Click the button and get your copy of SmartSHOW 3D!
What makes SmartSHOW 3D the best memorial slideshow maker?
180+ themes, collages and titles to create a touching video
A great collection of effects & transitions for a harmonious story.
200 royalty-free tracks classified according to tempo and mood
Lots of sharing capabilities: on-going HD videos, DVDs, etc.
How to Make a Memorial Slideshow with Music
A funeral video tribute is a challenging type of video to make but this slideshow maker for PC will guide you through the creation process and help pay your respect to a deceased person. So how to make a slideshow for a funeral? Follow these five simple steps and you'll create a touching video commemorating the life of your special one.
Step 1. Choose the Photos That Keep Memory
Once you've installed the memorial slideshow software and run it on your computer, add the pictures and videos featuring your loved one to the Storyboard. Try arranging them in such a way that they tell the story of a life well-lived - both major events and small everyday activities. With SmartSHOW 3D, you'll be able to crop and slightly edit them right in the program without additional editors.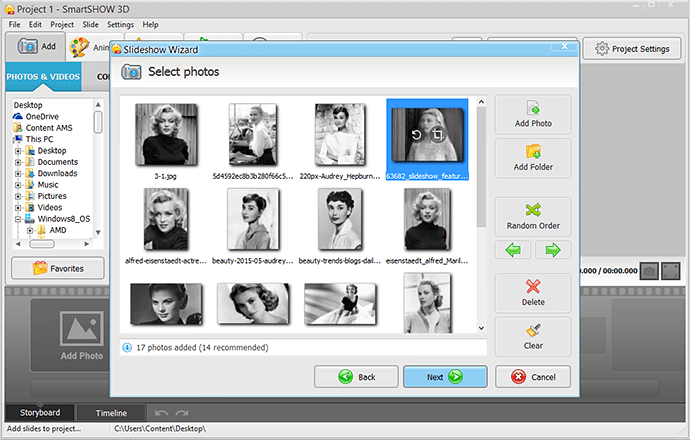 Step 2. Create a Memorial Slideshow
Making a funeral video is not an occasion when you want to be creative. In SmartSHOW 3D, you'll find a dozen of ready-made themes under the "Slideshow in 5 Minutes" category, as well as a special memorial stylepack. In this case, all you need to do is to add your photos and videos into predesigned frames. If you want to create subtle animation yourself, switch to the Animation tab. There you'll find lots of 3D collages and presets you can apply to any of your picture or video.
Step 3. Add Meaningful Texts and Quotes
While creating a memorial slideshow, you should think about opening and final titles. They will set the scene for your video and make the presentation more wholesome. On the Titles tab, you can find plenty of titles for different occasions that just wait to be added to the Timeline and customized. If you want to add your own message or quote to some slide, click on the Slide Editor > Add Layer > Text, type in your text and stylize it whatever you want.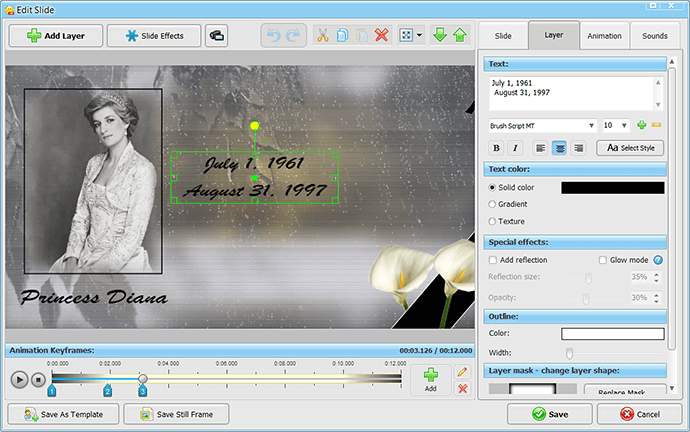 Step 4. Set the Tone of Your Slideshow with Music
Choose background music that matches the spirit of the slideshow - a classical piece or religious soundtrack works best. SmartSHOW 3D comes with a large collection of royalty-free tracks that are divided into several categories, like genre, mood, tempo, etc. - you'll surely find the one made just for you. The memorial video maker also lets you add a voiceover in case you wish to share some personal memories.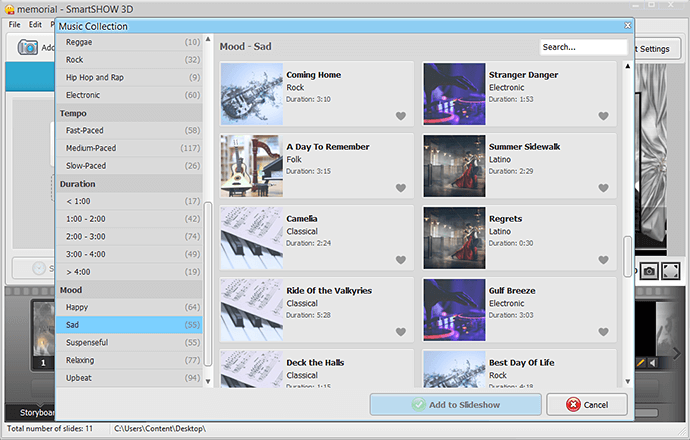 Step 5. Make Your Slideshow Ready for the Ceremony
Most funeral homes will ask for a DVD, so find this option under the export settings. Switch to the Create tab and click on Create DVD Slideshow. Decide whether your video should play once or become looped, and burn a few copies. If you want to share your memorial slideshow with more people, upload it to YouTube or some other social network. There's a special saving option that will help you create an optimized video for the Internet.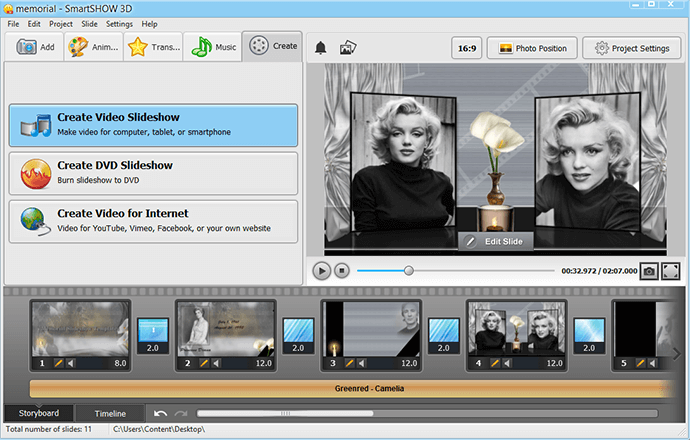 Ready to make a slideshow in loving memory of your deceased friend or relative? Let SmartSHOW 3D take care of that.
Best Songs for a Funeral Slideshow
People often look for suitable music to play during a funeral service. Funeral songs are traditionally religious and classical pieces but you can also use a favorite song of your passed away friend or relative. In this case, it can become a moving final farewell, powerful acoustic ballad or uplifting anthem for your memorial tribute. Find it hard to choose? Here's a list of somber songs that still convey a message of strength and perseverance:
Frank Sinatra - "My Way"
Eric Clapton - "Tears in Heaven"
Sarah Brightman - "Time to Say Goodbye"
Robbie Williams - "Angels"
Elton John - "Candle in the Wind"
Wiz Khalifa - "See You Again"
Queen - "The Show Must Go On"
Jeff Buckley - "Hallelujah"
Funeral Slideshow Quotes to Say Goodbye
Sometimes it's hard to find the right words for saying your last goodbye. The task becomes much more difficult when you need to make a memorial video with photos of the dear person you've lost and insert a message of tender grief there. That's why we've picked a number of funeral and remembrance quotes that will elegantly complement your picture slideshow.
How can the dead be truly dead when they still live in the souls of those who are left behind?
The journey doesn't end here. Death is just another path, one that we all must take.
A death is not the extinguishing of a light, but the putting out of the lamp because the dawn has come.
Many people will walk in and out of your life, but only true friends leave footprints in your heart.
Death leaves a heartache no one can heal, love leaves a memory no one can steal.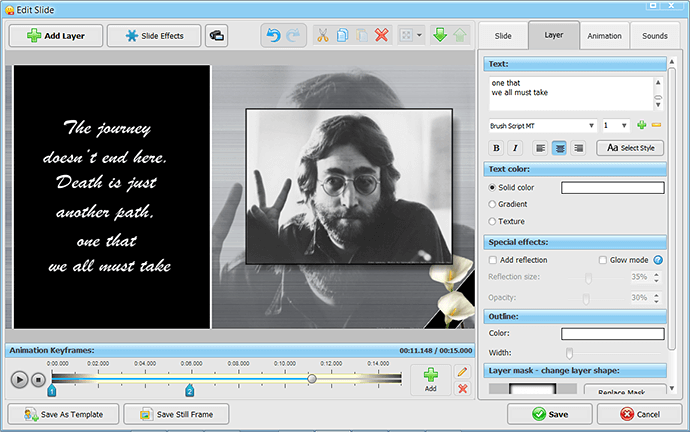 Memorial Video Ideas for You To Realize
No one likes to attend a memorial service. It evokes sad thoughts and makes you realize that a special person is lost to you. However, you can turn this melancholic ceremony into a time to share favorite memories of the beloved one with their family and friends. Follow the funeral slideshow tips below and you'll be able to make a video tribute that will bring laughter and tears of happy sorrow.
1. How long should a funeral slideshow be? Show timings can vary depending on the type of memorial video you make. Funeral slideshows usually last for 4-5 minutes and present 6 or 8 pictures a minute. This allows a comfortable time for reflection as the slideshow is viewed. If you plan to loop your footage, make sure there is enough photos to be showcased again and again. In case of doubt, consult with the funeral director on their thoughts on the slideshow duration.

2. Decide on the type of your memorial video. It can be a "trip down memory lane" slideshow tracing the life of your loved one through everyday pictures and video clips. You can also create a video to celebrate the service of your deceased relative and honor their military achievements. Even a pet deserves a sweet video that you can watch whenever you're missing your furry friend.

3. Think about what you'd like to share with the family and guests. Be careful with choosing photos for your memorial tribute. Combine pictures of your loved one as a child or young person, images with a loving spouse, during the courting stage and through the years that followed. Scan photos if you do not have digital copies, as well as any other precious mementos (love letters, a favorite poem or religious passage). Check out more memorial picture ideas for inspiration.

4. Share your funeral video with those who can't make it to the service. You may post your memorial slideshow on the Internet (with the consent of all family members) so that it's available for any friend or any family member to view from any computer whenever they want.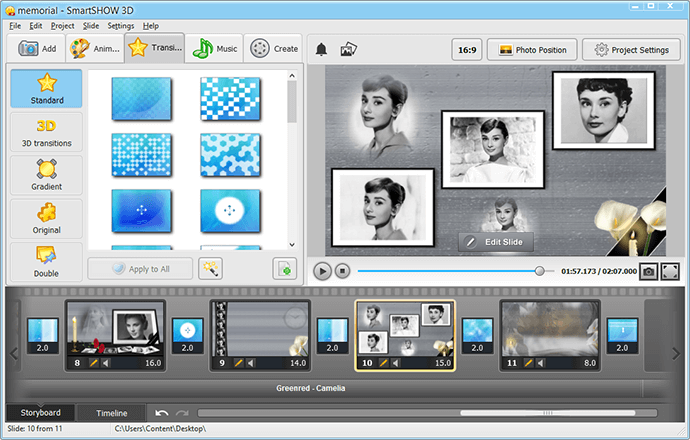 How to make a tribute video that will become a treasured keepsake for family and friends? Using the tips we've gathered in this tutorial, you'll be able to create a true tear-jerker and keep the memories of your loved ones forever alive.
Need an easy funeral slideshow maker?
Get started with

SmartSHOW

3D!