Family Slideshow - Make a Memorable One
Slideshow ideas for anniversaries, birthdays, family reunions
Invited to a family celebration and want to relive the sweet memories that you and your family members had together? Whether you are having a birthday party or a big family get together it's always fun to watch family pictures. Don't want to share one album or pass photos around from one person to another? Then try out something that's all the rage - a family slideshow!
You don't need to be a pro to frame your family memories into a heartwarming video presentation. Get inspired by our ideas and templates for various types of family slideshows. Then use our step-by-step guide on how to make a family reunion slideshow and create a video for everyone to remember!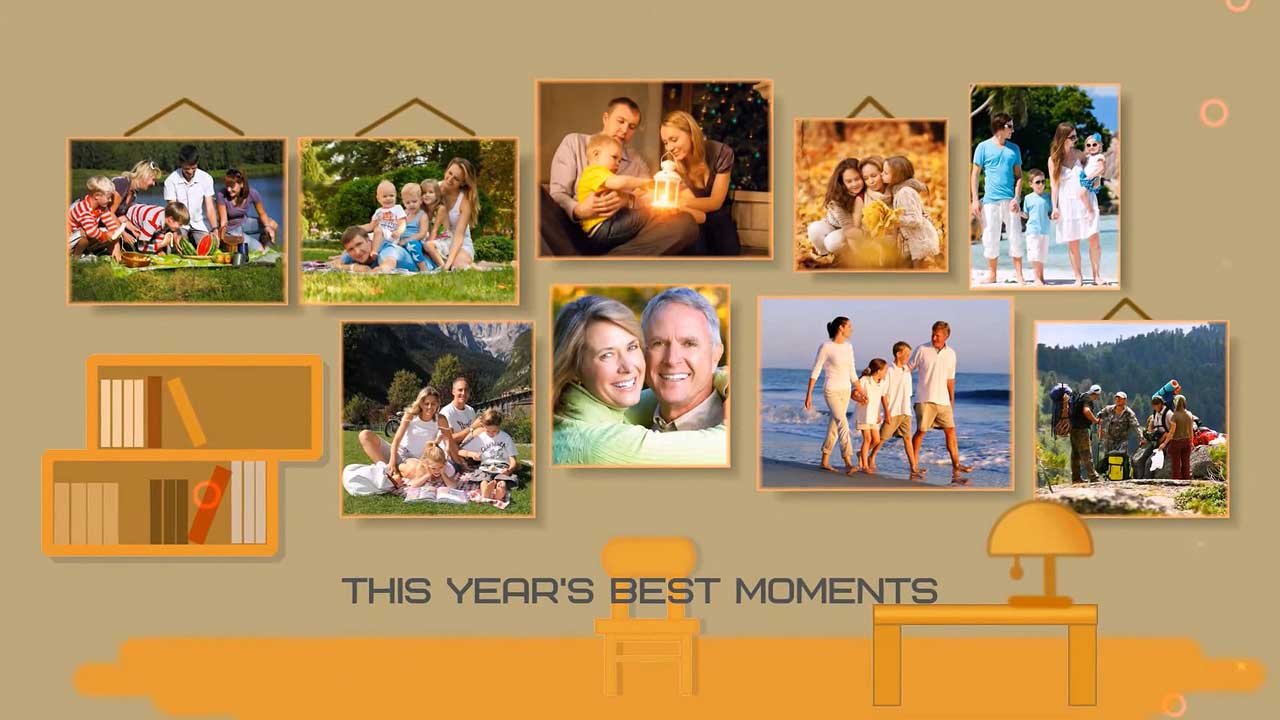 Liked this family picture slideshow? Wouldn't it be great to make a similar video of your own? Then let us share with you some secrets and tips on how to make a family-themed video.
Some Tips and Tricks for Your Family Slideshow
Make collages. Have tons of pictures and can't choose the most suitable ones for the slideshow? Don't worry, mix them up in collages. Select the photos and the slideshow maker will create an animated collage according to a certain pattern.
Add some dynamics. Watching pictures is nice, but you don't want your family and friends to get bored. Add some dynamic videos to your slideshow. May be it will be a funny interview of your 5-year-old kid or a rafting video from your recent vacation.
Set the rhythm. Find the right song depending on the theme of your slideshow and your goal. If you are feeling happy and want for everyone to sing along with you while watching the video - opt for upbeat music.
Pick a theme. Many celebrations like birthdays and anniversaries offer you a chance to make a slideshow. But why wait for an occasion? Search through family-themed slideshow templates to get inspired, pick one and create a video for everyone to enjoy on a usual evening.
Choose the right software. Slideshows are usually associated with Powerpoint. True, if you are making them for work or educational projects. But for a heartfelt family video you may need some other slideshow software with more artistic possibilities. Let's take a look at SmartSHOW 3D. With this slideshow maker for Windows and its built-in library of 600 templates, transition and animation effects you will create an unforgettable video for your family!
Touching Songs for Family Slideshow
The Internet is full of different ideas on background music for almost every family event. But if you want a 'one-size-fits-all' song, try these:
We are Family by Sisters Sledge
Meanwhile Back At Mama's by Tim McGraw
I'll Be There by Mariah Carey and Try Lorenz
The House That Built Me by Miranda Lambert
Who Says You Can't Go Home by Bon Jovi and Jennifer Nettles
These Are My People by Rodney Atkins
Want to pick out some other tune? Then check out this selection of family songs.
Family Slideshow Examples for Various Occasions
Don't know where to draw inspiration for your slideshow? Then have a look at these four examples of family-themed videos.
Ready to create your own family photo slideshow? Then let's get started with SmartSHOW 3D. Try it for free:
Now that you have ideas, suggestions on songs and themes for family slideshow you can get going!
Don't have a clue about how to work in a slideshow maker? Just use the step-by-step guide below - it shows how to create a slideshow for a family reunion.
How to Make a Slideshow For a Family Reunion
Follow these easy steps to create a slideshow on your own:
Step 1. Start the Slideshow Software
Download and run SmartSHOW 3D. Choose the type of the project you want to make. Go with New Project if you want to create your slideshow from scratch. Slideshow in 5 minutes will grant you access to a library of pre-designed templates with modern or vintage effects.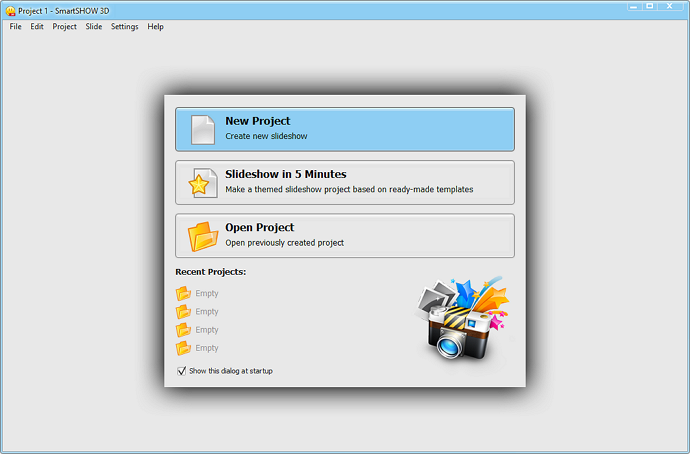 Step 2. Choose the Family Pictures
Fill the timeline with photos of your family members. Ask your distant relatives to scan and send you some pictures and videos and add them to the storyboard too. Arrange the pictures in the strict order or shuffle them - whatever suits your story better.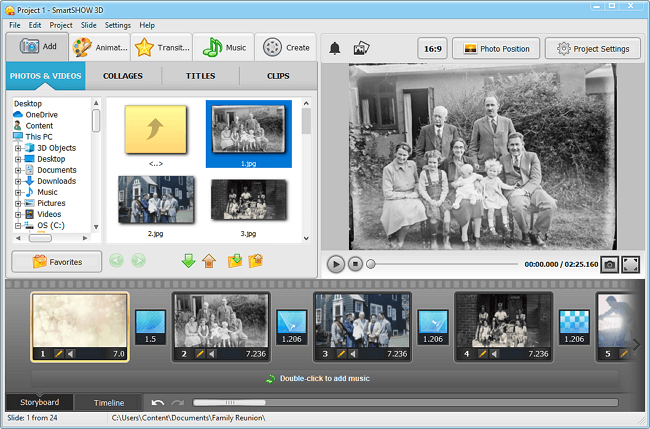 Step 3. Insert Texts and Quotes
Making a story of your family or just reflecting on the most meaningful moments of your family life? It's always a good idea to add some narrative.To keep the attention of your viewers, use different text effects. For example, apply animation to your text and the words will appear on the slide letter by letter.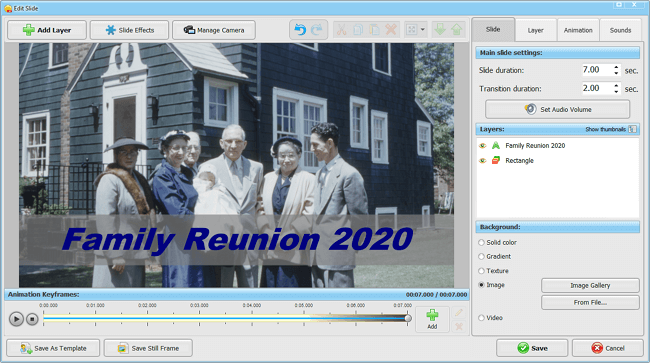 Step 4. Add Dynamics to Your Slides
Don't want everyone to get too bored by simply watching photos on the screen? Then add a few effects. Choose from a large collection of ready-made animations to apply to the video - there are over 350 effects of various types: motion, nature, and 3D. Well-chosen transitions will make your slideshow flow.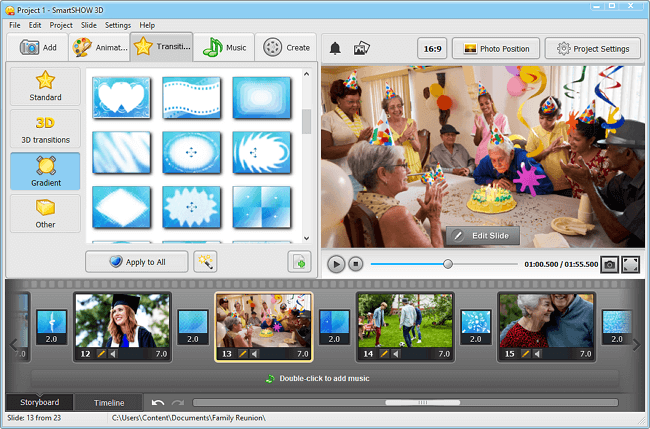 Step 5. Save Your Family Reunion Video
Want to share your masterpiece with all the family members, even with those who won't have a chance to come? Save your slideshow for family reunion in several formats - burn it to DVD to show at the reunion and post it to Facebook for everyone to see.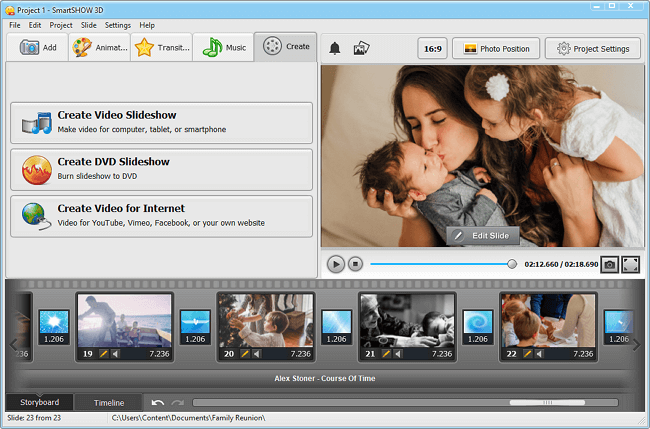 Did you like our family reunion slideshow ideas and step-by-step guide? Then create your own video with SmartSHOW 3D. Check it out for free:
Now it's your turn to surprise your family with a heartwarming video!
Get Rolling With Family Slideshow Templates
Need more ideas? Have a look at these lovely family slideshow templates. SmartSHOW 3D offers 200+ templates that will make it easier for you to choose a theme for your family video.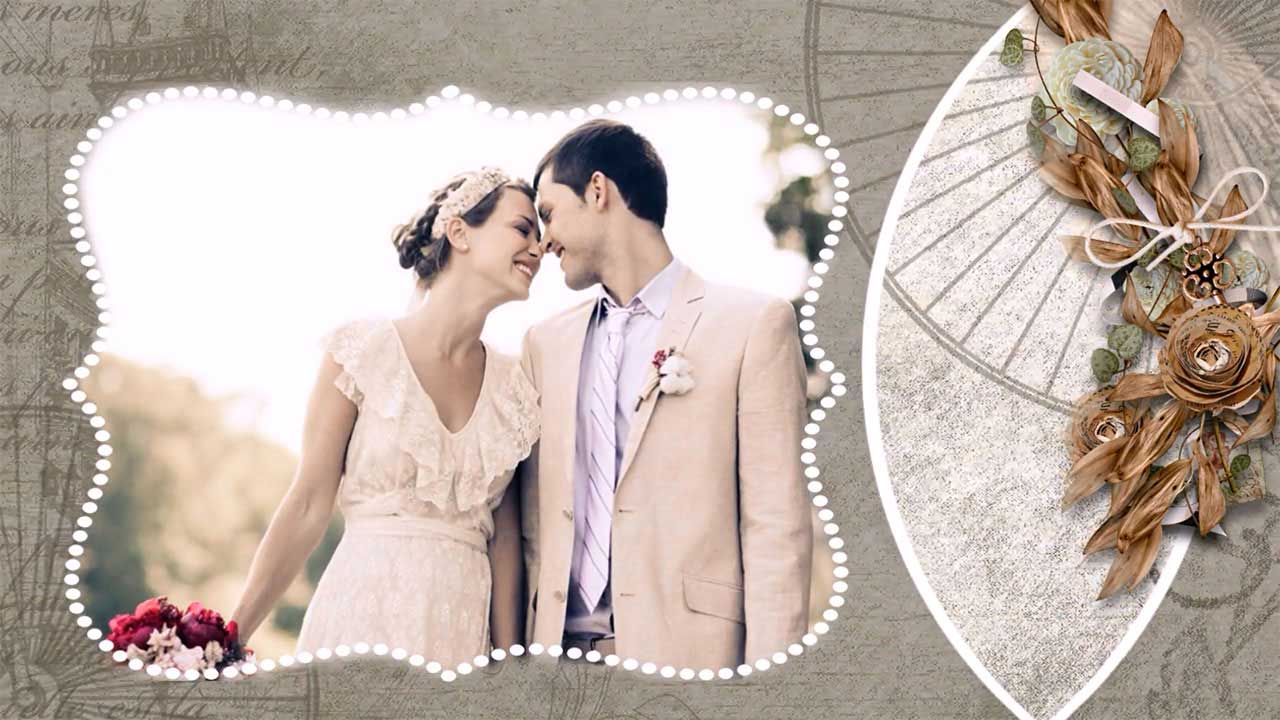 Vintage Slideshow Templates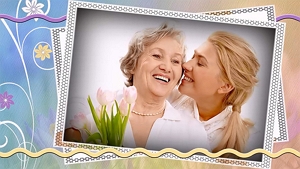 Mother's Day Slideshow Templates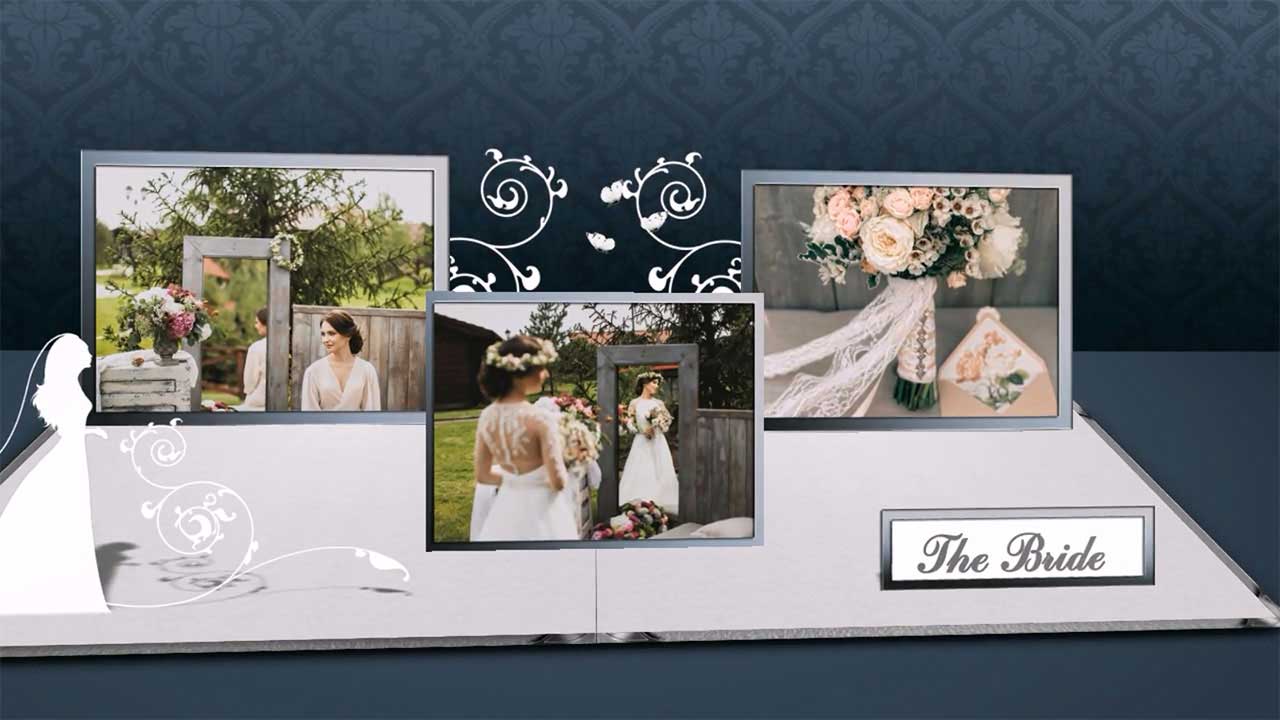 "3D Wedding Album"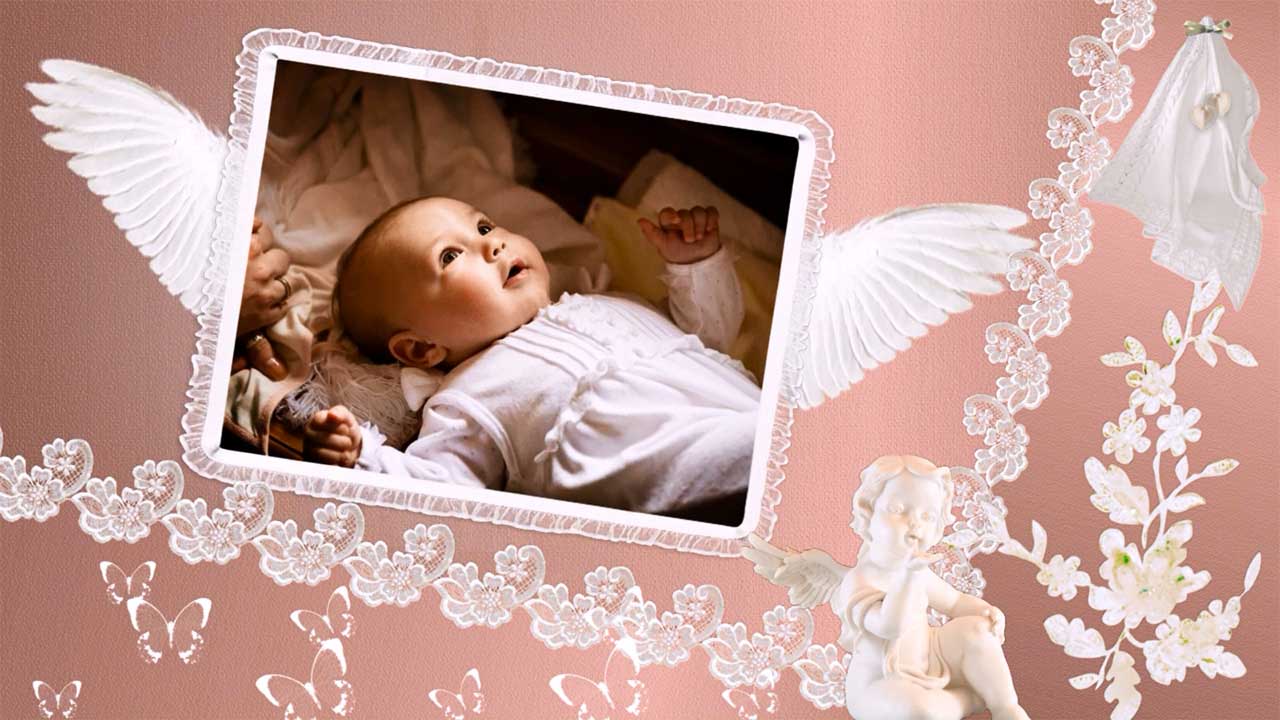 Christening Slideshow Templates
Frequently Asked Questions
No matter if your family is small or big, if you are having a mega-event or a small get-together, it's always good to remind your relatives how much you cherish them and that you will always be there for one another. The best way to do it is creating a family slideshow!
Need to create a family slideshow?
Get started with

SmartSHOW

3D!