How to Create a Festive Easter Slideshow
Step-by-step instruction to make a lovely Easter video slideshow
It's springtime again, and everyone's favourite blessed holiday is on its way! Why not make this Easter special by adding something new to your traditional holiday activities? Here's an idea - an Easter slideshow. Cute and funny or deeply religious and graceful - a festive video is a great way to celebrate this wonderful holiday.
Don't know how to make one? No problem! In this article, we'll give you a blow-by-blow instruction on how create a cute Easter-themed slideshow. Just like this one: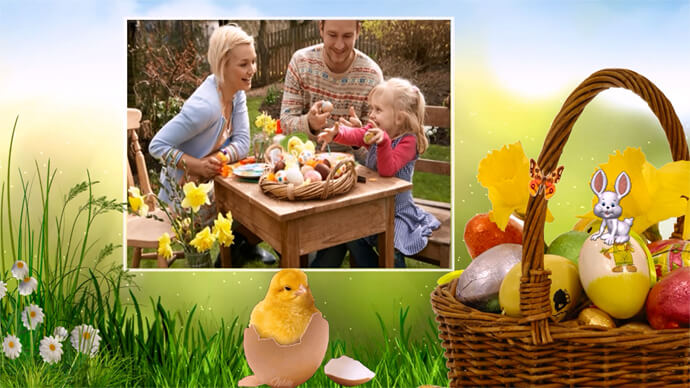 Lovely, wasn't it? To create a video like that, you'll need your fondest family photos, Easter-themed slideshow backgrounds, and convenient software. We suggest SmartSHOW 3D, a powerful yet easy slideshow maker. With 600+ animations, transitions, and templates (including Easter slideshow templates) under the hood, this software is the perfect choice both for newbies and advanced users. Unlike the traditional Powerpoint, SmartSHOW 3D does not limit your creative freedom, all while keeping the creation process clear and easy to grasp. Besides, it comes with a free trial, so you can download the software to try it for yourself.
Download free

For those of you who prefer a more orthodox approach to Easter traditions, SmartSHOW 3D has a style-pack of graceful religious templates. So use this
church slideshow software
to create a religious Easter slideshow that will spell out the beauty of New life.
How to Create a Slideshow for Easter in Five Steps
Easter is one of the most joyful holidays of the year. So let this joy, delight, and hope translate into an inspiring festive video. We'll walk you through the creation process to help you craft a perfect Easter picture slideshow.
Step 1. Start SmartSHOW 3D
Install the software following the wizard instructions, then run it. Choose "New Project" to create an Easter video from scratch. You can also opt for "Slideshow in 5 Minutes" to use one of the pre-designed templates.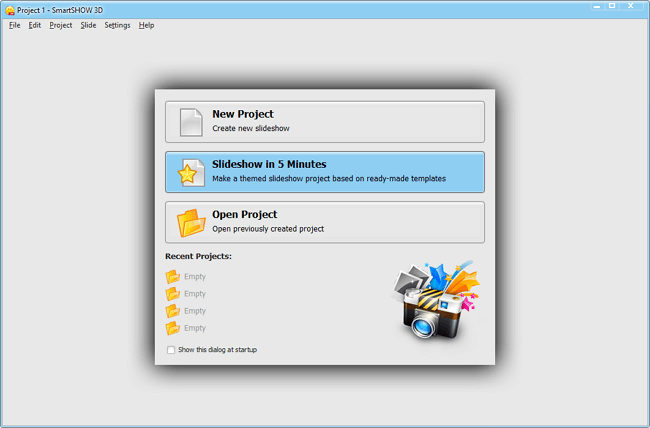 Step 2. Add Your Favourite Pics
Now fill your project's timeline with lovely pictures. You can use photos from the previous years' Easter eggs hunt, cozy family get-togethers, as well as holiday-themed imagery like chocolate eggs, Easter bunnies and lilies. Here's some inspiring Easter images for you to choose from. Shuffle your pictures or put them in a strict order if you are telling the Easter story in its entirity.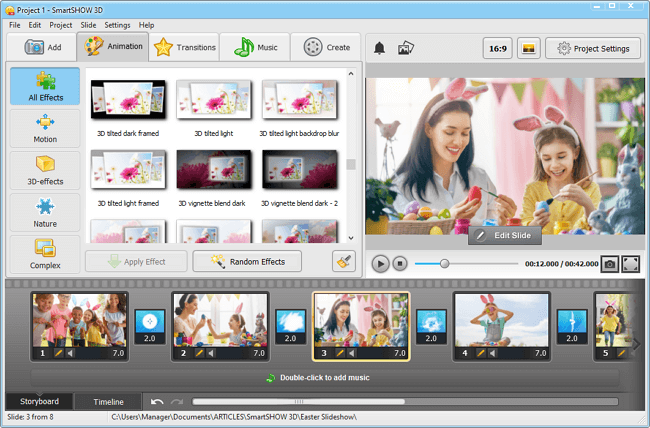 Step 3. Use Beautiful Effects
Add eye-catching animation effects and transitions to your Easter video slideshow. Use the software's 400+ animations and transitions to make your slideshow dynamic or slow-paced, joyful or subtle. Add some spring spirit to your slides with nature effects. Fill your Easter video with floating flowers, ladybirds, or butterflies.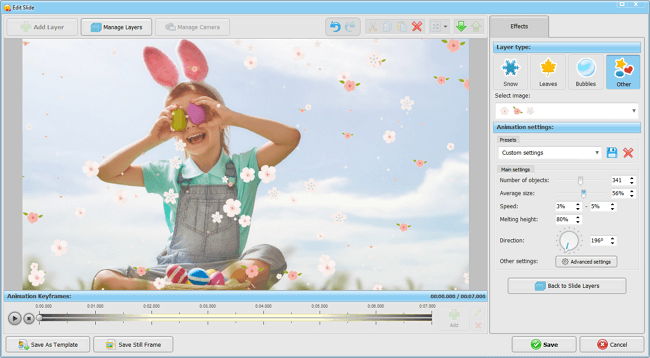 Step 4. Set the Mood with Music
Use music to elevate your Easter slideshow. SmartSHOW 3D offers you a library of 200+ tunes to choose from. The tracks are divided by genre, so you'll easily find a tune to complement your slideshow. You can also use a track of your own choosing. Go with a church hymn, a delicate instrumental piece, or browse through beloved Easter songs. Add multiple tracks if you can't decide on just one. Mix the tracks right in the software's timeline.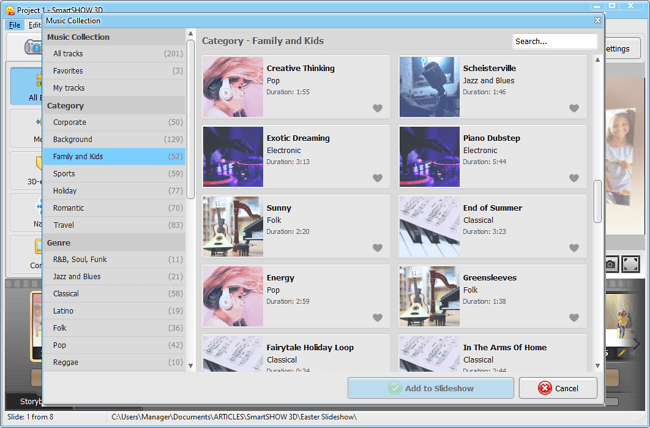 Step 5. Save Your Easter Slideshow
Now it's time to decide on the way you want to share your video creation. If you are going to watch it on your TV, then choose the "Save for TV" option. If you want to share your slideshow on social media, go with "Create Video for Internet". You can also burn your Easter video to a DVD and give it to your loved ones as a gift come Sunday.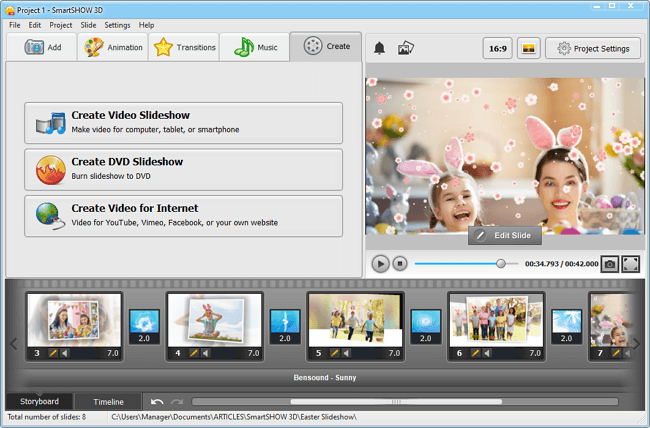 So celebrate this beloved holiday with a bright and fun video your created yourself. Now you know how easy and quick it is to make one! All you need is just a handful of Easter slideshow pictures, a lovely tune, and a few minutes of your time. Oh, and SmartSHOW 3D, of course. So use this software to create a new holiday tradition of making a cute festive video.
Looking for an Easter slideshow maker?
Get started with

SmartSHOW

3D!