Merry Christmas Slideshow Ideas
The Recipe of a Holiday Photo Movie
With December in full swing and a festive mood felt in the air, it's high time to think about the upcoming holidays and touching gifts for your dear ones. It's fairly said that nothing can beat a personalized present, especially when you put your heart in its creation - be it a hand-made accessory or a digital gift.
Imagine how cool it will be to make a holiday slideshow or a video postcard with your own hands. We've prepared a demo video for you to draw inspiration from. Click Play to watch this Merry Christmas slideshow and learn how to funk up your home photo collection and make original presents!
Whether you are planning to make a video greeting card or tell a photo story about your family's Christmas traditions, you cannot do without a multifunctional animated slideshow maker. SmartSHOW 3D software is a jack of all trades that has proved its worth in terms of stylishness and entertainment. With its help, you can create stunning slideshows for numerous occasions, including Christmas and New Year. Here are several creative ideas on the kinds of photo gifts you can make.
Digital Christmas Postcards
Forget about dull holiday cards and snail post to deliver them. This year, try your hand at making a gorgeous Merry Christmas slideshow for sharing it with all your family and friends online instead. Put together a video greeting card using themed templates, like 'Merry Christmas' slide styles, and your favorite pictures holding sweet memories of the past year.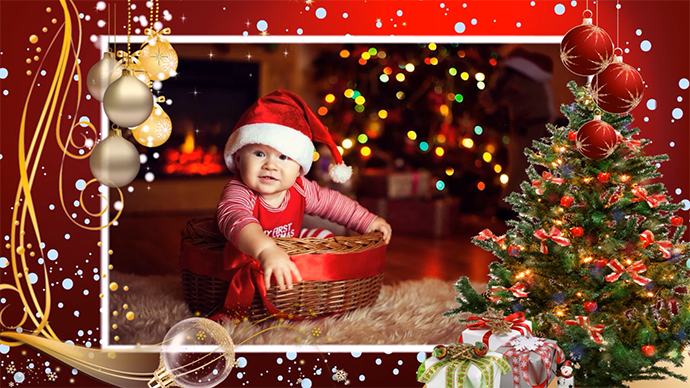 Type in your warmest wishes, record your voice comments or even add a video address to capture the Christmas spirit in a one-of-a-kind postcard. Once you are done, post your slideshow on YouTube, Vimeo, etc. and email the link to share the video, or just publish it on your Facebook page to give joy to everyone!
Musical Slideshow DVD
During the festive season you can also surprise your family and friends with a musical slideshow that expresses your kindest wishes in the most captivating manner. Did someone have a grand wedding, a cute baby, a memorable vacation this year? Give them a really special gift by bringing back these precious memories in an artistically choreographed Merry Christmas slideshow.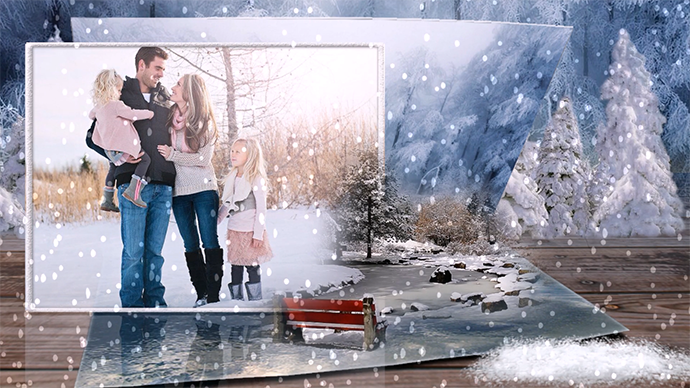 Transform their pictures into a touching photo movie custom made just for them, complete it with synchronized music and eye-catching 3D effects to bring the Christmas spirit to a lovely slideshow and warm the hearts of its viewers even on the coldest winter evening. Burn this slideshow video to DVD, wrap it in bright paper and present to your dear ones. Happy tears are guaranteed!
Family Chronicle Slideshow
The end of the year is probably the best time to reflect on the passing events and count their blessings. While making original gifts for others, do not forget about yourself and start creating your own annual video library to tell the story of your family. Throughout the year, put remarkable pictures and video clips aside, then combine them in a slideshow and enhance with modern or vintage effects.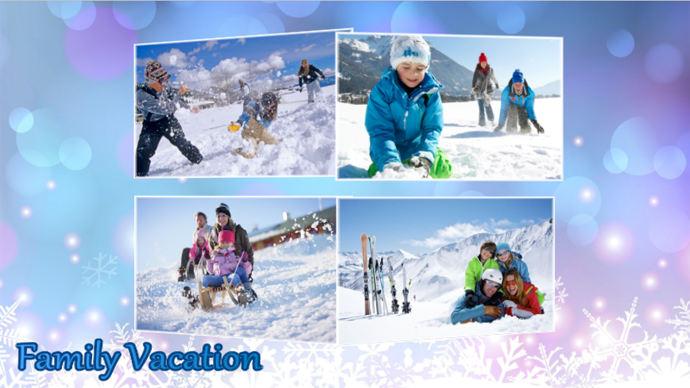 Share your favorite memories and noteworthy occasions (including vacations, birthdays, graduations, family get-togethers, weddings, etc.) by making a touching and truly personal video photo album. Start a new tradition and watch a new fascinating slideshow with your family every Christmas!
Karaoke Christmas Video
After everyone is done eating the big holiday meal, it is high time to keep them entertained with a karaoke slideshow. Create a holiday carol video to engage your guests in singing the best-known Christmas songs and feel the true power of the holiday spirit. All you have to do is to pick a holiday tune and type its lyrics on the bottom of your slides. Play this Merry Christmas slideshow in the living room to get everyone involved!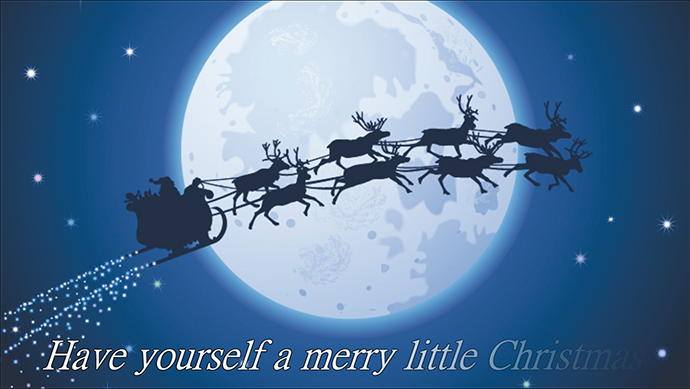 When you have checked out these wonderfully unique, touching and truly personal gift ideas, do not waste a great opportunity to make a stunning photo movie even in the middle of your festive preparations and pre-holiday rush. Start the countdown to Christmas and New Year with an awesome video and picture slideshow and give your loved ones a present to relish for years to come!

Get creative with
SmartSHOW 3D !
Want to make stunning photo movies with your own pictures? That's as simple as ABC with SmartSHOW 3D software!
Compatible with
Windows 10, 8, 8.1, 7, Vista, XP

Our Users Say:
I shoot weddings for a living, and often make wedding and love story slideshows for my clients. I used to do that with Windows Movie Maker, but then I came across SmartSHOW 3D and realized the immense potential of photo slideshow. This software now helps me do incredible things with my photos. Lots of thanks from happy clients!
I love making movies from our family and travel photos. Have tried a number of slideshow makers, but this one is something special. All kinds of fascinating effects and animation, music and voiceover, and excellent quality video in the end! Never thought I'd learn to make SUCH movies myself one day.

Need to create a professional photo slideshow?
Start now with

SmartSHOW

3D!