How to Make a Video Collage with Music
If you wonder how to keep the excitement alive after a party or an adventurous trip, the best solution is to merge the photos you took into one video. It is much easier to play one video file than to click through dozens of photos on your PC or in a social network. A compelling soundtrack can also surprise your family and friends. Video collages are very easy to deal with; you can watch them on the Internet, on your iPhone or PC. If you want to learn how to make a video collage with music, just follow this step-by-step instruction.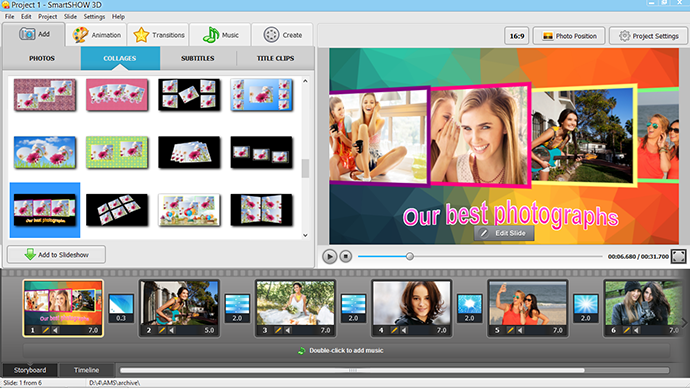 SmartSHOW 3D, a video collage maker for PC, allows you to use still and animated collages which go with the software. Adding photos is very intuitive and easy, it takes only a few seconds. You can change the background and customize all the settings or even create a collage from scratch. Besides, the software offers presets for the most popular devices and websites, so you can save your collage in the video type you need.
Select the Right Photos
How to make a video collage of photos with music? Start with selecting the proper photos. Remember that all the shots you pick will be displayed in one collage, so make sure the color scheme is consistent. If the major part of the photos has bright and vivid tones, adding a black and white one may ruin the impression. Try to choose the photos with a matching set of colors. For instance, orange looks great with blue, violet with yellow, and red with green. These complementary colors are especially dynamic and pleasing to the eye.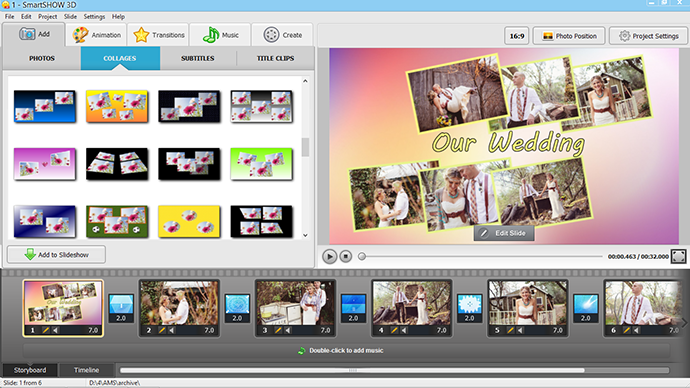 The layout and composition are also important. Each photo deserves attention, so do not let the video collage be "overcrowded". For a wedding video collage, for example, decide whether the collage will include the shots of the couple or photos of the guests. When you combine a few portraits with a group photo, try to locate the latter in the middle. Making video collages in SmartSHOW 3D, you can choose a template from a variety of layouts for such cases.
Pick the Collage Style
After starting the software, go to the Collages tab and select the style you like. Click on the play button on the right to preview the collage and decide whether it suits you or not. Then, add the photos you want to use. You can change the number of photos in the slide editor. For this, add a layer with a new photo or delete one. You can also adjust the duration of the slide and change the background. Choose a solid color, gradient, texture or your own image instead of the initial background. If you want to customize the way the photos move, appear and disappear in the collage, you should work with animation keyframes.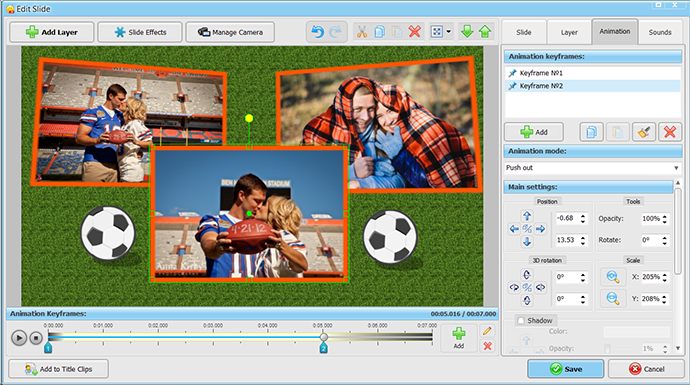 Make a Video Collage from Scratch
A great idea for a video photo collage with music is to let the images appear out of nowhere. Insert a blank slide to the storyboard. In the slide editor, add several photos and place them where you wish. Now change each layer's opacity to 0 in the first keyframe, and then add other keyframes with 100% opacity for each. This will make the photos appear slowly. The speed depends on how close to each other you put the keyframes. In case you want the viewers to examine the photos in detail, take advantage of the Manage Camera option. By adding camera keyframes, you can zoom one photo at a time, showing them all one by one.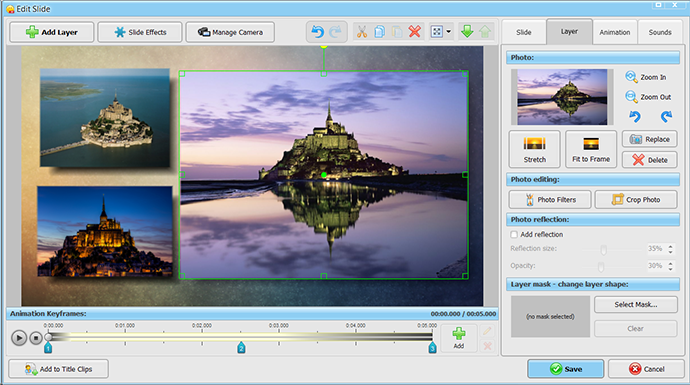 Add Music to Your Video Collage
A catchy soundtrack is necessary for a video collage. Consider the style of your video, its topic and the duration of the slides. For a dynamic video, select a rhythmic and jump song, for a romantic one, go for a slow-paced or a medium-paced tempo. SmartSHOW 3D video collage maker gives you an opportunity to record sound using your microphone. You can record voice comments and then play them simultaneously with your collage. Use the Timeline to move and relocate the recorded messages. Imagine how useful they can be for a travel video, for instance. No need to repeat the same explanation a hundred of times!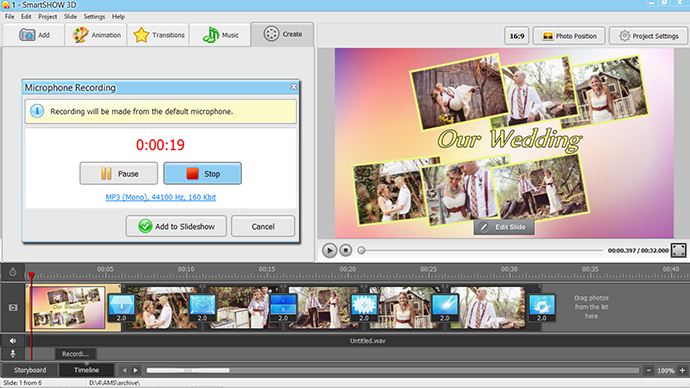 Once you make a video collage for the first time, you will understand that it is the most convenient and practical way of showing and sharing images. SmartSHOW 3D can also help you export you video collage with optimized settings for PC or iPhone, Facebook, Youtube etc. You can make a slideshow with animated collages and share it with the world. It is time to forget about boring and time-consuming video projects. Start creating professional quality video collages on computer within mere minutes.

Get creative with
SmartSHOW 3D !
Want to make stunning photo movies with your own pictures? That's as simple as ABC with SmartSHOW 3D software!
Compatible with
Windows 10, 8, 8.1, 7, Vista, XP

Our Users Say:
I shoot weddings for a living, and often make wedding and love story slideshows for my clients. I used to do that with Windows Movie Maker, but then I came across SmartSHOW 3D and realized the immense potential of photo slideshow. This software now helps me do incredible things with my photos. Lots of thanks from happy clients!
I love making movies from our family and travel photos. Have tried a number of slideshow makers, but this one is something special. All kinds of fascinating effects and animation, music and voiceover, and excellent quality video in the end! Never thought I'd learn to make SUCH movies myself one day.

Need to create a professional photo slideshow?
Start now with

SmartSHOW

3D!