How to Make a Video Collage In a Flash
All-In-One Video Collage Maker For PC
Wonder how to show lots of photos and not make your viewers fall asleep? Turn your images in a collage video! It is much easier to play one video during a party than to click through dozens of photos on your PC. Plus, you can embellish your video to make it even more entertaining!
So, how to make a video collage on a computer? You will definitely need a powerful program. Do not rush and search for it right now, instead take a look at SmartSHOW 3D. This easy-to-use software will help you create a stunning movie collage in just a few clicks!
Still not sure? Watch this gorgeous video made in SmartSHOW 3D: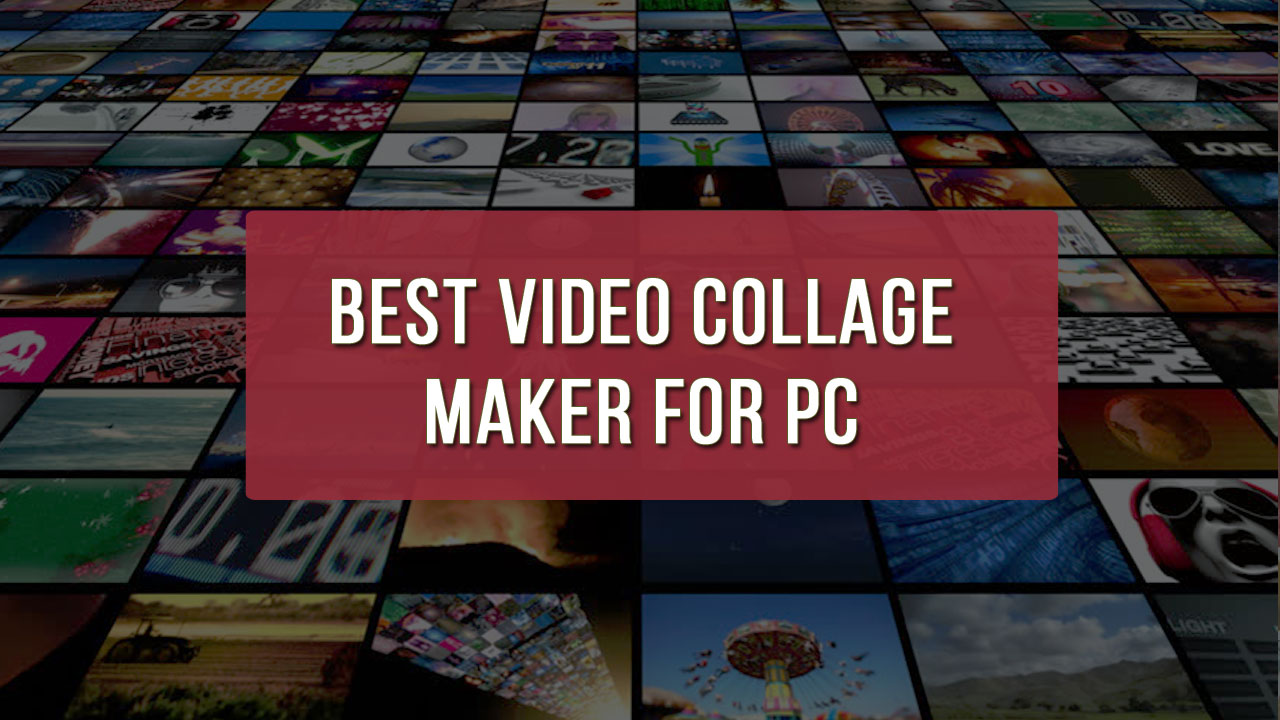 Like the video? SmartSHOW 3D lets you achieve stunning results in mere minutes. No matter if you are a newbie or a pro in video editing - you will definitely succeed in making a video collage. Beginners will be happy to see 600+ ready-made templates and effects. No need to read boring manuals - just a simple drag and drop.
Pro users will enjoy this video collage software as well. They will be able to create custom 3D animations, add gorgeous effects with highlights and textures, and merge multiple videos together. What's more, this editor runs on all Windows versions: 11, 10, 8, and 7.
Why not create your own video collage on a computer? Start making it right now with SmartSHOW 3D! Click the button below to get a free trial version:
How to use this software? There are no special tricks - read on to discover a few easy-to-follow steps!
How to Make a Video Collage On Your Computer
Here are the steps:
Step 1 – Add Your Images to the Collage
Start with selecting the best photos but do not let your collage slideshow be "overcrowded" - add up to 6 photos on one slide. While picking the images, make sure the color scheme is consistent. If the major parts of your photos have bright and vivid tones, inserting a black and white one may ruin the overall impression.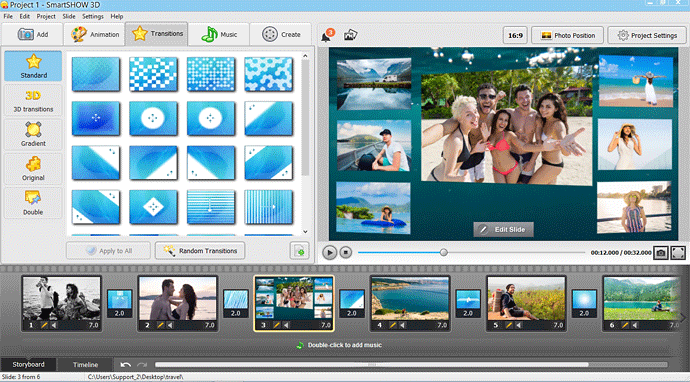 Try putting together photos with a matching set of colors. For instance, orange looks great with blue, violet with yellow, and red with green. These
complementary colors
are very dynamic and pleasing to the eye.
Step 2 – Pick the Style of Your Collage
How to make a video collage under a deadline? Use a collage template to speed up the process. Switch to the Collages tab and select the style you like. Want to tweak the chosen template a bit? Double-click the slide and start working on it! For example, change the background. Choose a solid color, gradient, texture or upload your own image. You can also use a video clip as a background.
Step 3 – Add Music to Your Collage
A catchy soundtrack will be a perfect addition to your collage. Consider the style of your video, its topic and duration. For a dynamic video, select a rhythmic song. For a romantic one, go for a slow-paced or a medium-paced tune. You can also record voice comments using the built-in microphone and play them simultaneously with your collage. SmartSHOW 3D allows you to lower the music volume and make your voice louder.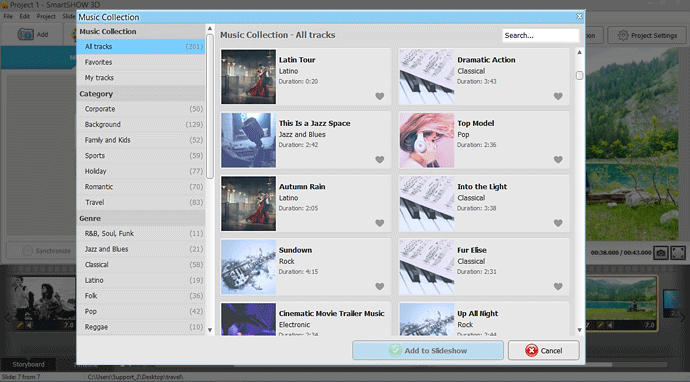 Step 4 – Create Your Video Collage
Everything is in place? Then it's high time to create your own collage. Switch to the Create tab and pick a suitable format. If you want to rewatch this animated video during family parties, then pick the HD format - you can save it to a USB flash drive or play the video on a TV. Want to share the collage with your friends online? Create a video for the Internet.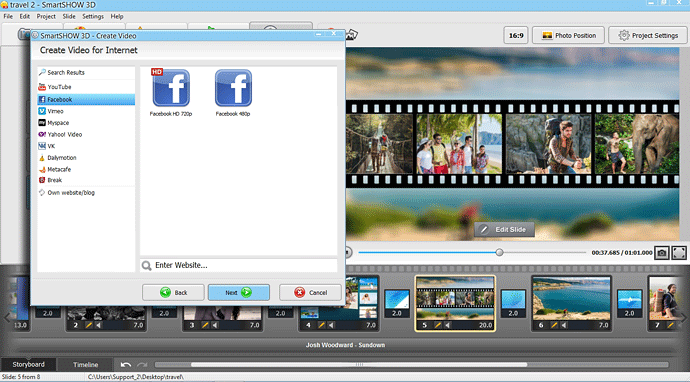 Follow these 4 easy steps with your own photos! Just download the free trial version using the button below:
Want more awesome collage templates? Check out these ones: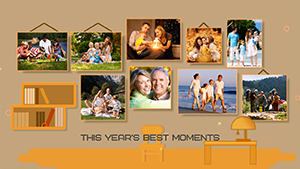 "Our Best Moments"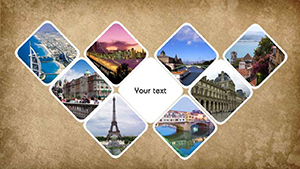 "Animated Puzzle"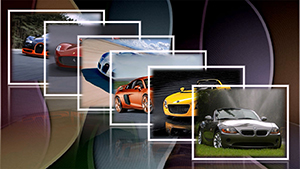 "Professional Slide Styles"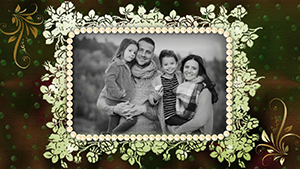 "A Life Story"
Now you are well-prepared and know how to make a collage with videos. Do not waste any more time, do not let your inspiration wear out - start SmartSHOW 3D. Take ready-to-go templates, grab your pics and follow the steps above to get on a highway to a perfect video!
Need a video collage maker for PC?
Check out

SmartSHOW

3D!