How to Make a 3D Slideshow
Lots of people like making beautiful photos putting them carefully into thematic albums. At the same time not everyone knows how to share your photos with friends in an attractive way, not considering boring facebook-type scrolling. We want to talk about an original and creative way – making a 3D slideshow with effects and music. You will need a handy tool for that, for example SmartSHOW 3D software. Learn more about this app on the official website. Now we'll give a useful instruction about how to make a 3D slideshow.
Apply 3D transitions
When you have added the photos into the project, switch to the Transitions tab. The app has a pack of cool transitions to choose from, so try them all out to choose the most suitable ones for your slideshow. Preview them clicking once, and apply clicking twice. Thus you will make your slideshow quite entertaining and vivid!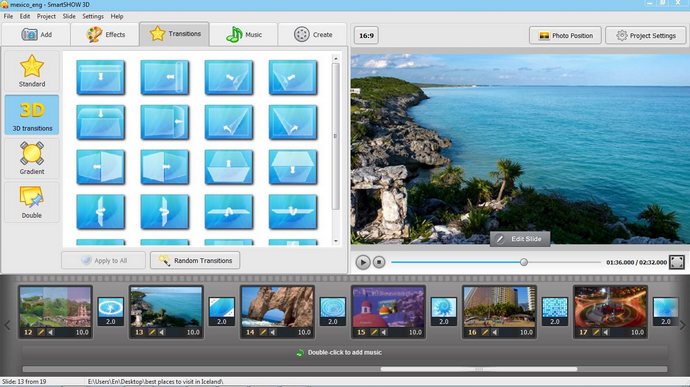 Use 3D special effects
Now switch to the Effects tab. Here you will find lots of special effects that you can use to spice your project up. Choose from spectacular 3D rotations, flips and unique 3D illusions, photo film effects and other awesome stuff. Each effect can be previewed in a built-in player so you can pick something suitable for your project.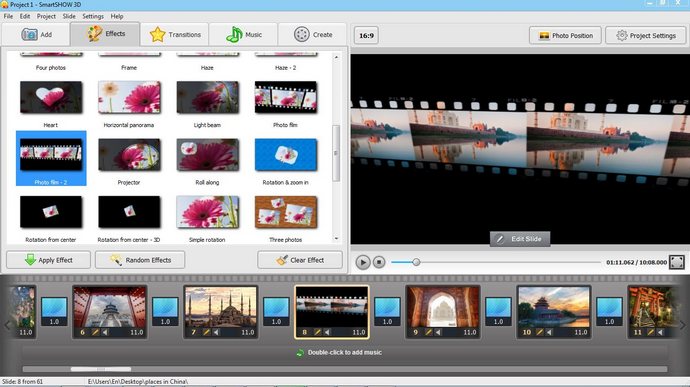 Customize the slide animation
While the previous steps were rather for novice users or for time-efficient creation, you are also able to set up your own custom 3D animation for each slide. Insert a blank slide (right-click on the timeline, or press Ctrl+Ins) and click the Edit Slide button to open the built-in editor.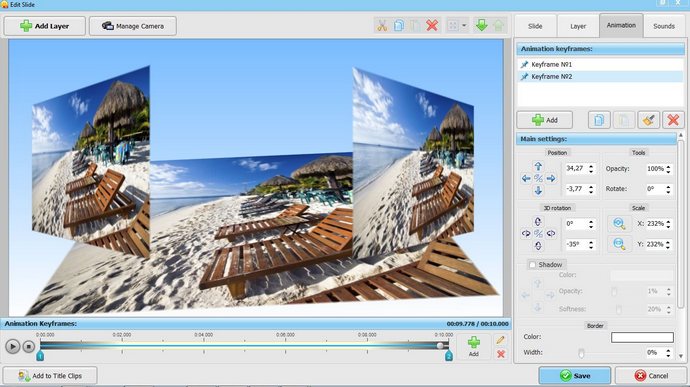 Use the Add Layer button to add photos, cliparts, and text captions to the slide. Now select a layer and click on the Animation tab. Set up animation with the help of keyframes. Position the object for the first keyframe, then add the second, and adjust the necessary settings, which can be rotation in 3D, scale, opacity and so on. Click the Play button to preview the result. Use this pattern to set animation for the rest of the objects.
Discover the 3D-camera
The unique feature of SmartSHOW 3D is the 3D-camera. Not only can you apply animation to objects on the slide, you are able to apply it to the whole slide! Add keyframes the same way you did in the layers animation step. The settings you can adjust are as follows: apply zoom in or zoom out, experiment with the rotation angle (both simple and 3D), and of course, adjust the initial and the final position of the "camera eye". For example, you can make the slide fly straight into the viewer's eyes or fly away. It's your imagination that matters!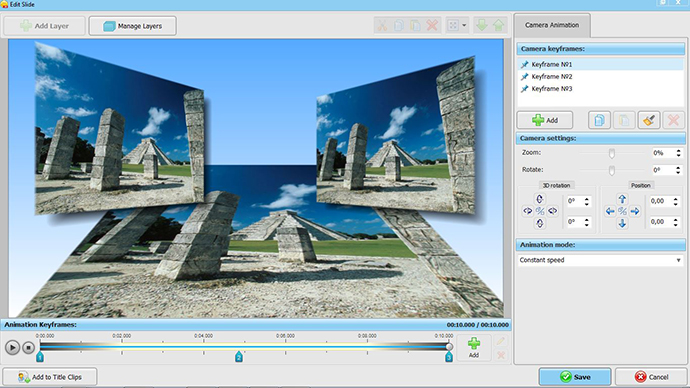 We've shared some useful information on how to make a 3D-slideshow. We hope that this article will help you to learn some new tricks to make your slideshows exciting and unique. If you are still hesitating – check out the free trial version of SmartSHOW 3D to try all the cool features by yourself!

Get creative with
SmartSHOW 3D !
Want to make stunning photo movies with your own pictures? That's as simple as ABC with SmartSHOW 3D software!
Compatible with
Windows 10, 8, 8.1, 7, Vista, XP

Our Users Say:
I shoot weddings for a living, and often make wedding and love story slideshows for my clients. I used to do that with Windows Movie Maker, but then I came across SmartSHOW 3D and realized the immense potential of photo slideshow. This software now helps me do incredible things with my photos. Lots of thanks from happy clients!
I love making movies from our family and travel photos. Have tried a number of slideshow makers, but this one is something special. All kinds of fascinating effects and animation, music and voiceover, and excellent quality video in the end! Never thought I'd learn to make SUCH movies myself one day.

Need to create a professional photo slideshow?
Start now with

SmartSHOW

3D!