Vintage Slideshow Maker with Retro Effects
Turn your old-fashioned photos into a fascinating retro slideshow!
Are you a fan of old black and white movies? Then you might want to recreate the theme of "Casablanca" and revive the charm of other motion pictures made in the 20th century. But how to make a vintage slideshow with your own modern photos? Here, you'll learn more about the effect of photo aging, see a brilliant example of a retro slideshow and find a convenient program with dozens of templates to create such movies yourself.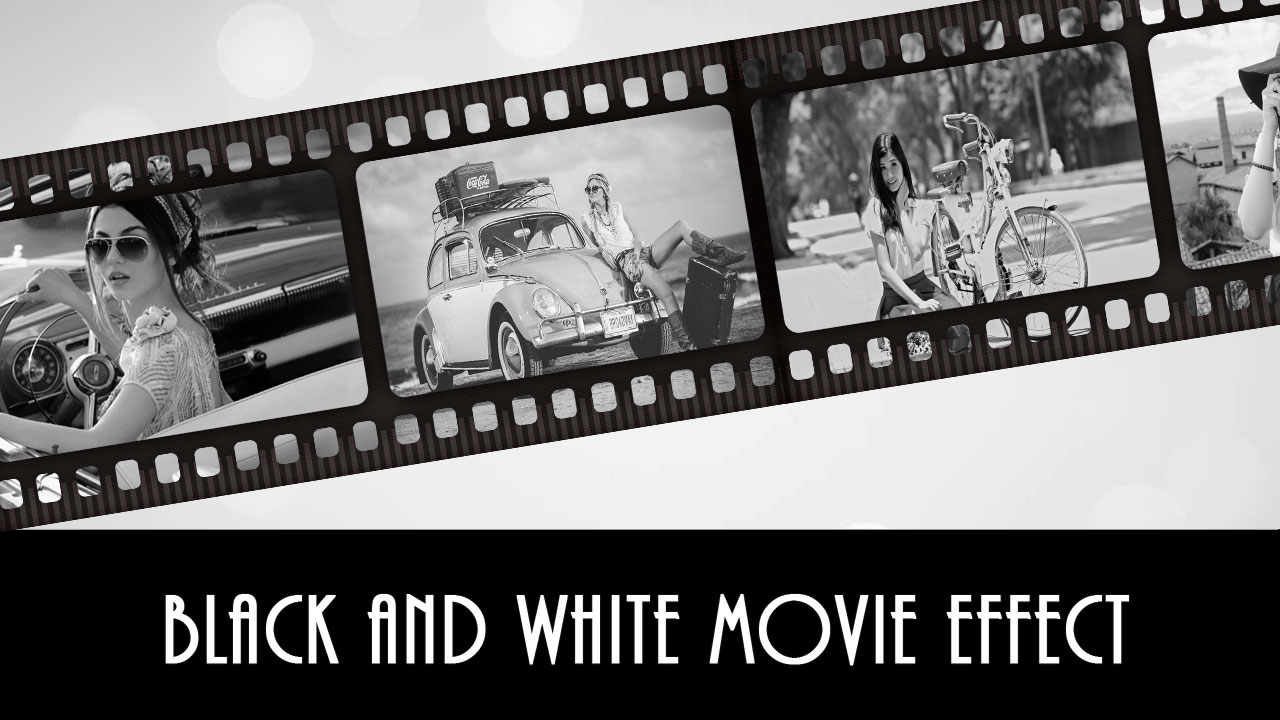 Still in some doubt whether this style of slideshow would be great for your photos? Below we've stated three more reasons to go for it right now!
Why should you try a black and white movie effect?
It is a great alternative to common photo slideshows
You can try a unique way of presenting modern pictures
You'll get a stylish photo movie with both videos and music

Read this tutorial till the end and you'll learn how to make a vintage video slideshow in just five steps using an easy-to-use program.
Step 1. Install SmartSHOW 3D to Your PC
SmartSHOW 3D is the best slideshow software for a computer that will help you stylize your pictures and turn them into a vintage slideshow. Download its free trial from the official website. When download is complete find the .exe file in your Downloads folder. Follow all the instructions of the installation wizard and start the program once the installation process is complete.
Download free

Step 2. Apply a Grayscale Filter to Your Photos
Before you start working on your film noir you need to pick suitable photos. Choose pictures with a vintage feel about them that won't look strange in this aesthetics. Good news is you don't have to choose black and white images as you can easily apply a vintage movie effect to any of your pictures right in the program. Click Edit Slide and switch to the Layer tab. Push the Photo Filters button and find a grayscale filter in the list of instant artistic effects. Tick the box and get a black and white photo in a single click.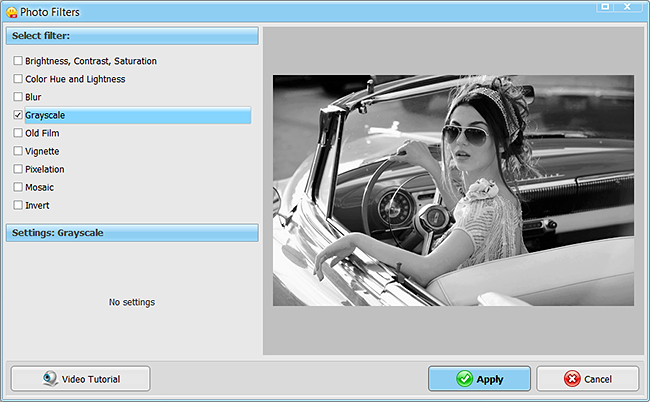 Step 3. Choose a Mask to Make Retro Style Pictures
Now the photos in your slideshow seem rather old but you still need to give them a film strip look. In the slide editor, take a look at the bottom section of the Layer tab and click Select Mask. Browse through the collection of layer shapes until you find a suitable one. The program will put the mask layer over your photo. After that, apply the same mask to other pictures in your retro slideshow.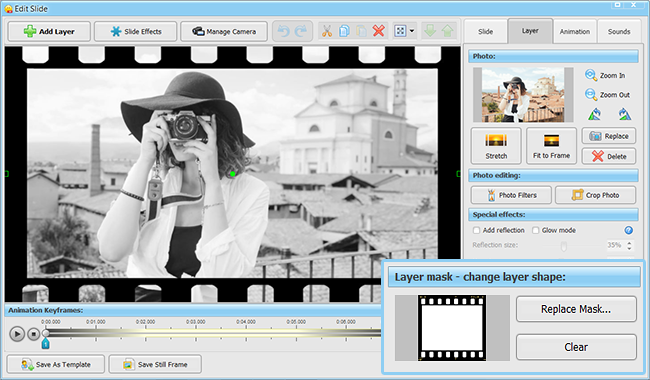 Step 4. Make Your Photos Move with Transitions
It's time to make your photos move. For that, switch to the Transitions tab in the main program window. To imitate the smooth movements of a movie tape, it's better to pick a simple transition where one slide is replaced with another by sweeping from right to left, or vice versa. Choose the transition you like and click Apply to All so you won't have to add this effect to each photo manually. If needed, change the duration of the chosen transition to slow down or speed up the change of slides.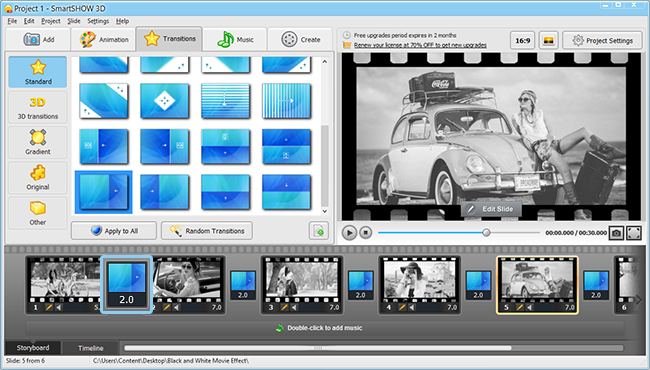 Do you know that first movies were silent? In fact, early screenings featured live music contributing to the atmosphere of a particular film. These musical scores were either composed or improvised by a musician (often, a guitarist or pianist). Thankfully, today it's no problem to accompany your photo movie with any track to your liking.
Step 5. Add Music & Save Your Vintage Video Slideshow
Unlike silent movies, your slideshow doesn't have to be musicless. Move to the Music tab and insert a suitable track from your folder or choose it from the vast program library of old style music. We'd recommend adding some lyrical music to better suit the atmosphere of your photo movie with a black and white film effect. When all is done, switch to the Create tab and decide how you're going to save your slideshow. You can save it as an HD video to play on TV, upload it to YouTube and other social networks, or burn it to DVD and give as a gift.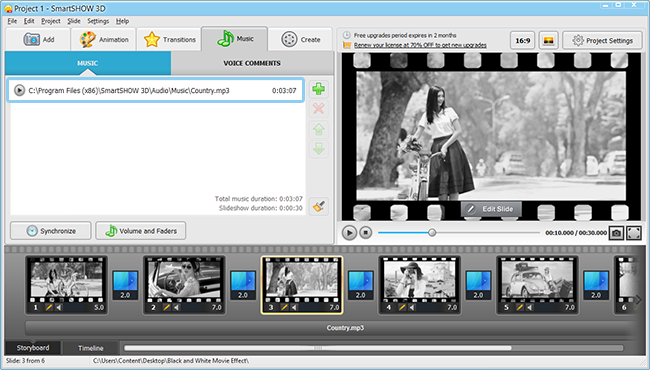 With SmartSHOW 3D software, you can also make other fascinating projects with your own pictures, video clips and music. Create a vintage wedding slideshow, a retro photo album with a page turn effect, or a retrospective presentation featuring the life of your family. Share your ideas and creative works in the comments!
Want an easy-to-use vintage slideshow maker?
Get started with

SmartSHOW

3D!