Wedding Anniversary Slideshow Ideas & Tips
Make an Anniversary Video to Preserve Your Best Family Moments!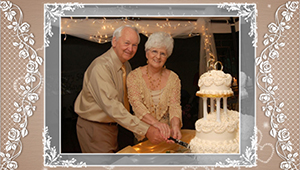 A wedding anniversary day is just as significant as the wedding day itself, no matter for how long a couple has been together. Have you decided on what to present them for the 20th time? 30th? 50th? That's a hard row to hoe!
If you're lacking gift ideas consider making a wedding anniversary slideshow from the pictures capturing the most precious moments of that family life. From the guide below, you'll learn how to create it. Besides that, we'll show you a brilliant example of a parents' anniversary slideshow.
To make a movie from photos, you'll need your photo selection, a suitable filmmaking mood and a proper program. Download SmartSHOW 3D - it's a convenient anniversary slideshow maker that allows you to create a cool animated greeting card in a few minutes.
See what you can do with SmartSHOW 3D
:
✔ make a themed anniversary slideshow in 5 minutes
✔ use the collection of Wedding Anniversary slideshow templates
✔ add romantic music or use a microphone to voice over the slides
✔ create your own animation effects and original transitions
✔ save your movie in any video format or burn it to DVD
Get started with this powerful slideshow program and create your own happy anniversary video!
The Recipe for a Wedding Anniversary Slideshow Video
Creating a good video gift requires some preparations. Having got them done, you'll make your movie in the blink of an eye. So what are the 50th wedding anniversary slideshow ideas and tips you should realize in you project? Let's see what helps you to be at your best and how to get ready to start:
1. The Best Photos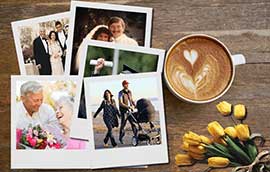 Photos are the base of any slideshow that define its topic and mood. You surely have the wedding pictures – let it be the first chapter of your wedding anniversary book. You could also order a photoshoot for the couple and use the results in your project - here're some wedding anniversary pictures ideas for your inspiration. Tell the love story bit by bit: a new house for a happy couple, their first baby, family holidays, etc.
2. Animation Effects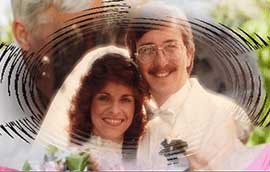 What differs a photo slideshow from a traditional album? It's the way pics blend into a lively movie! You don't have to turn the pages – just look at the screen while one slide is changing another. Pick the transition effects carefully, don't overuse them, limit yourself to one or two types to avoid making the slideshow too dynamic and dizzying. Remember, it's a life-long love story, let it keep going on easily and smoothly.
3. Sentimental Words & Music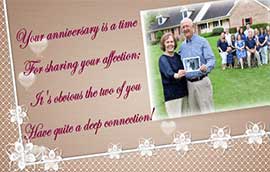 Make your wedding anniversary slideshow speak and sing - such a gift will certainly touch the celebrants to the bottom of their hearts! Find the warmest words and quotes or make your own poems. You know what tunes are special for the family? Add one or two to the slideshow. Don't select too slow songs, though, as they can sing the viewers to sleep.
How about getting some inspiration? Watch the video below - it showcases wedding anniversary slideshow templates that make a cute presentation. These styles are absolutely easy to use even for newbies, make sure of it right away!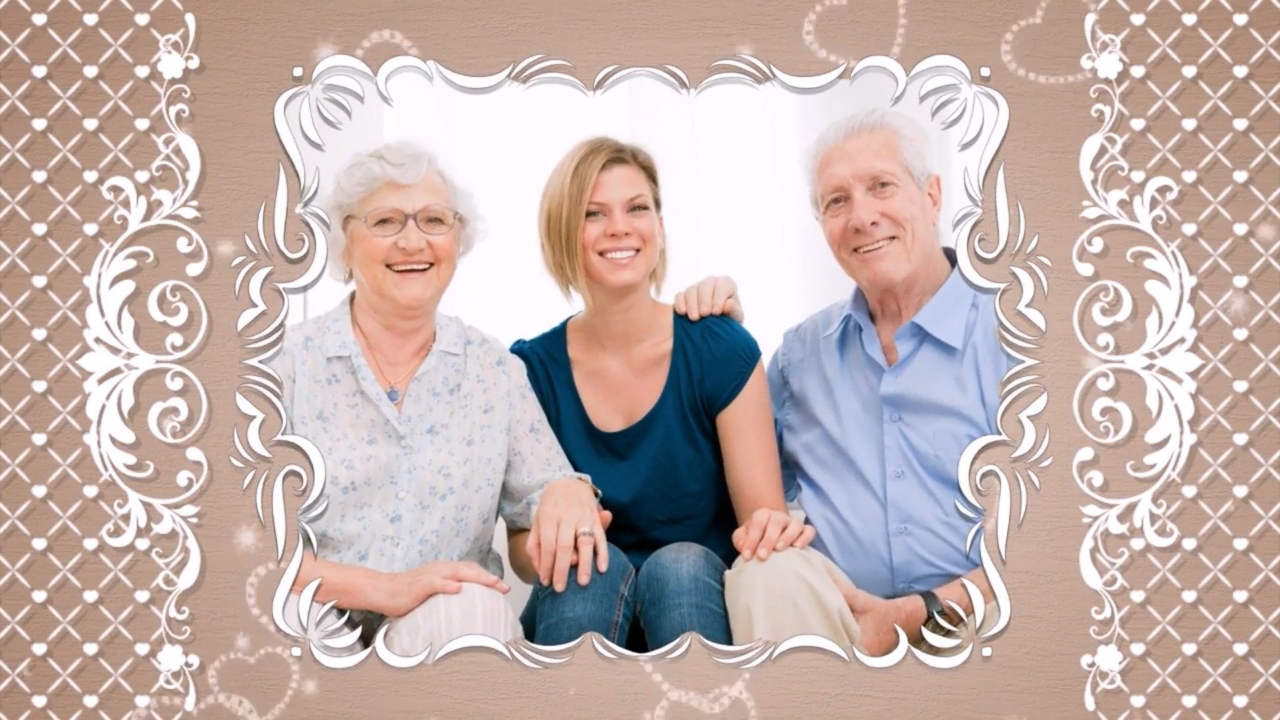 Want to create a 50th wedding anniversary video for your parents? Hit the button below and download SmartSHOW 3D. This anniversary video maker will help you express your love in the most touching and heartwarming way!
How to Make a Wedding Anniversary Video
Ready to find out if your creativity has any limits? Keep on reading to learn step by step how to create an outstanding present for a wedding anniversary that suits anyone and will never fade, and get started!
Step 1 – Create Romantic Titles
Create the first and the last pages of this marriage book. Find a themed image, prettify it with romantic cliparts, and write in some information about your presentation – its name, the cast of characters, its epilogue or the story to be continued. Generally speaking, engage your imagination. Take a humorous approach and don't make your wedding anniversary slideshow overdramatic – let the viewers smile.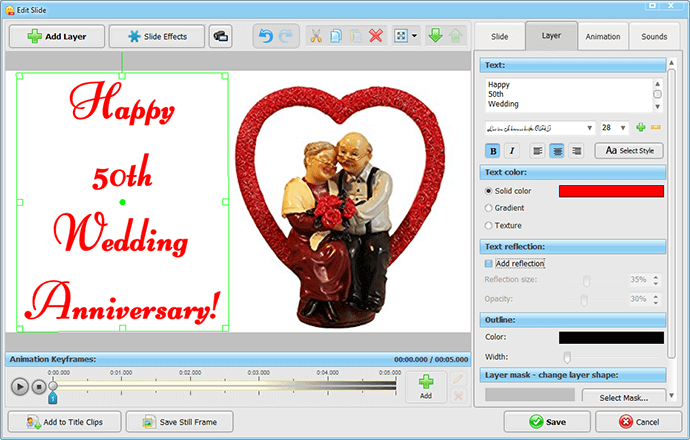 Step 2 – Insert Suitable Images
Get all the photos you have found together. Are some of them printed? Well, it's no problem, scan them and use the images like digital ones. Add the photos to the chosen templates, it takes just a double-click of your mouse. Opt for a photo collage to show the friends and the rest of the family and let the celebrant couple be the central figures of the slide – they deserve it. Keep the flow of pictures consistent with the storyline you have composed.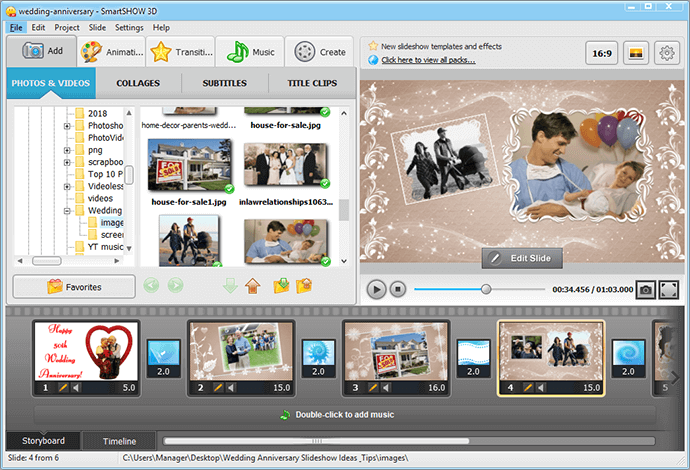 Step 3 – Add Music & Text Captions
It's high time to romanticize your movie. Human memory can bring back a lot from the past, but the capacity of music to recall even small details is beyond competition. That very track for the first dance, for the first kiss, for the proposal moment – is there anything more sentimental for lovers all over the world? Apply the meaningful tunes to the slideshow and bring happy tears to their faces. You can import them easily from your computer. And don't forget to type touching messages that tell this fascinating Love Story to everyone.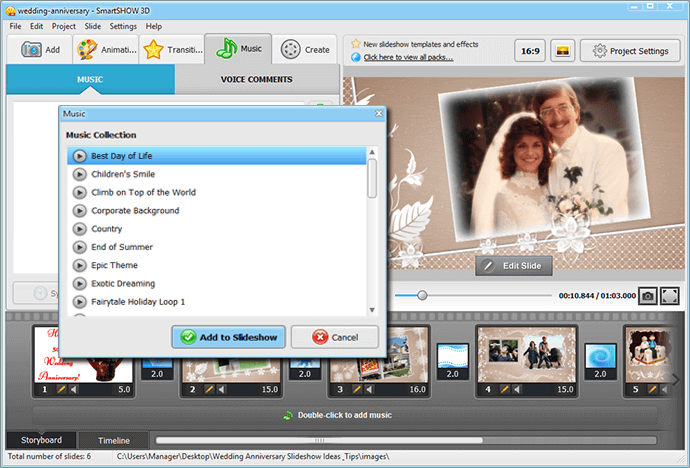 Step 4 – Set the Transitions
Animation effects play the crucial role in the whole photo presentation. What would you prefer watching – a coherent narration shown by slides altering in a stylish way or a crazy mess made of your photographs? Despite the wide animations choice, try limiting your selection to 1 to 3 slide transitions to make your wedding anniversary slideshow easily comprehensible.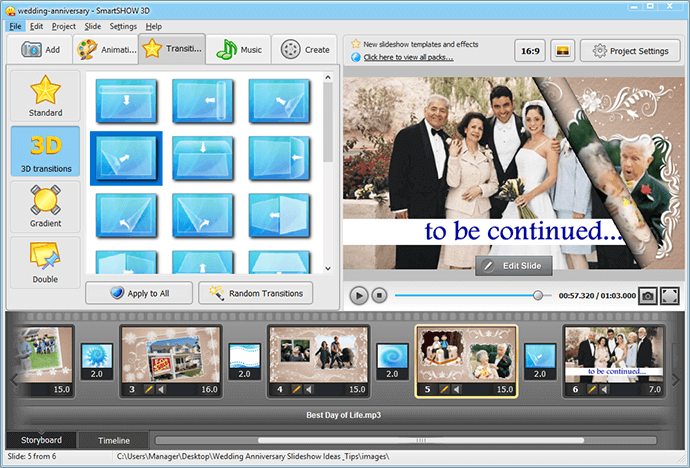 Step 5 – Save Your Anniversary Slideshow
So, your project is all ready now and the last thing is to be done – create a video. Preview the slideshow once again to make corrections or adjustments if needed. You are just one click away from the heartfelt treat to the big date. A wedding anniversary slideshow is not only a unique present – we bet it will become the headline of the evening. Share it both with the occasion heroes and their guests!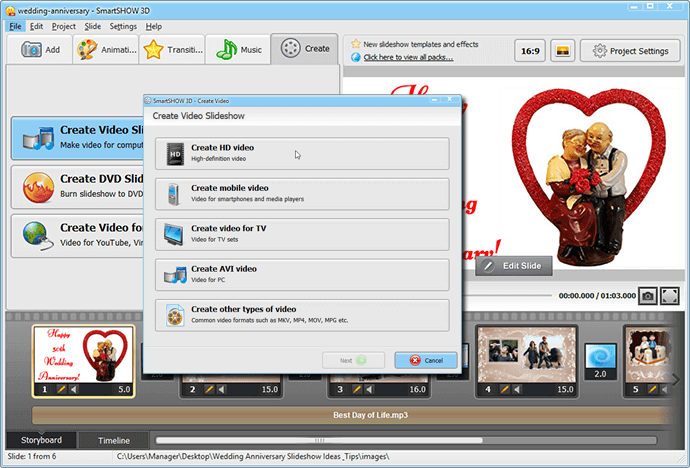 Ready to make your own anniversary slideshow? Get started with SmartSHOW 3D for free!
Wedding Anniversary Slideshow Songs
Background music is the crucial element of any slideshow. It will help you create an emotional connection with the audience and make them more involved in the photo story happening on the screen. Be it classic songs for parents or funny melodies for your friends who married not so long ago, these tracks should set the right mood from the very first slide.
Don't know what music to choose? Try these songs in your anniversary slideshow:
Elvis Presley - "Can't Help Falling in Love"
Michael Bublé - "That's All"
The Beatles - "P.S. I Love You"
Elton John - "Your Song"
Celine Dion - "Because You Loved Me"
Sonny and Cher - "I Got You Babe"
Mumford & Sons - "Awake My Soul"
Edward Sharpe & the Magnetic Zeros - "Simplest Love"
Stevie Wonder - "You Are the Sunshine of My Life"
Whitney Houston - "I Believe in You and Me"
How about more romantic music tracks? Check out these anniversary songs and find the one that suits your slideshow in the best way.
Most Touching Anniversary Wishes
To turn your photo slideshow into a real video greeting card, you should add wedding anniversary wishes that touch the hearts of your audience. These sayings will help you find suitable words for the celebrants and express your love in a lyrical manner.
Here're a few samples you may like:
"It's not about the candles or the lights, it's about the spark of love in your eyes that is ignited every time you look at each other. Happy anniversary!"
"You have survived so many years together, but the spark of love you have in your eyes has remained unchanged."
"You are the most romantic couple and most caring parents in this world. Congratulations both of you on this special occasion! We love you!"
"Your marriage will always be a great love story for us to share with our children. They'll always be amazed by what true love can do! Wishing you a happy anniversary!"
"When true love is shared between two true souls, a miracle is bound to happen. 50 years of togetherness is nothing less than a heavenly miracle! Happy 50th Anniversary!"
Frequently Asked Questions
Thanks to these anniversary video ideas, you would definitely like the fruits of your labor and ensure the moments of true happiness for your parents or friends. Challenge your artistry and make a video greeting card for other celebrations in a few minutes. Enjoy being creative with SmartSHOW 3D!
Need an anniversary slideshow maker?
Get started with

SmartSHOW

3D!