Travel Slideshow Tips & Templates
Cool ideas for making a perfect vacation slideshow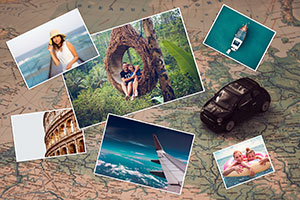 Looking for a good way to organize and share your travel photos and videos? Creating albums or digital galleries may be tiresome, don't you think? One of the most popular ideas for keeping pictures together is making a travel photo slideshow with music. This way you can complement the story of your vacation, for example, add a song for the right mood, then share the video on social media.
However, creating a perfect travel slideshow can be tricky. You could just drop in all your photos, splash them over with random songs and run off to showcase the video to your friends. In this case, though, you'll bring them a powerful sleeping pill, and not a cool slideshow. How to avoid that? Read on to discover a complete step-by-step guide for making a diverting slideshow, together with interesting ideas, tricks and tools.
Let's start with some inspiration. Watch this wonderful video example of a vacation slideshow video we created: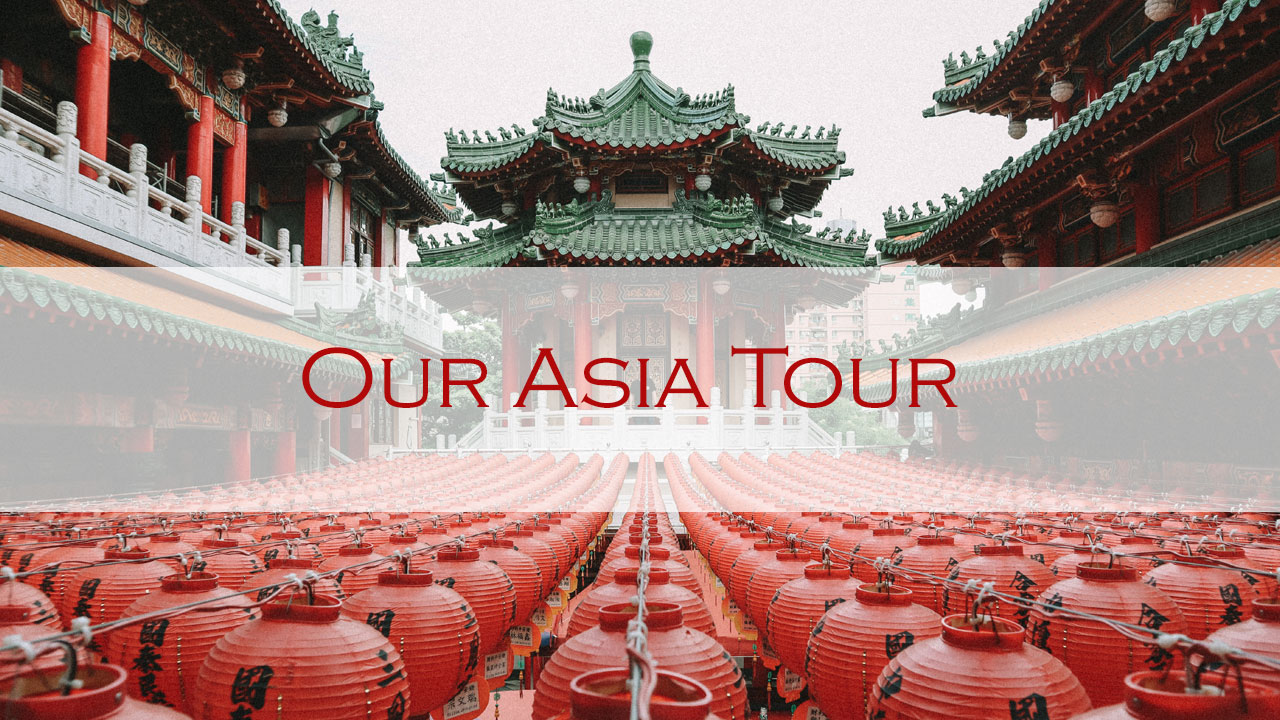 Liked the video? Want to create something cool-looking like that as well? Here are the top tips for making a slideshow of your best vacation ever.
How to Design a Travel Slideshow: Best Tips
So, you want your video to be entertaining and engrossing. You want it to ignite a spark of interest in the viewer's eyes. You want to hear "wow!" and "cool!" as feedback after watching the slideshow. Let's get your desires onto practical route and start with general tips. What are the secret hints for making a vacation video slideshow?
Consider your audience. Think about the people that will watch your video. Is it your family and close friends? Or are they just random viewers from your YouTube channel? Different people want to see different content. For example, some will be bored to death watching your family breakfast at a hotel instead of a mountain ride.

And speaking of YouTube videos. Do you want your video to go viral on that platform? If so, then you absolutely need to learn

how to make a slideshow for YouTube

. This is a short read, but it's sure to give you some inspiration boost.

Cull the photos from your collection. Even if you had a world tour and have lots of things to show, pick no more than 70-100 photos. The total length of you video should be no more than 5 - 7 minutes. Select different kinds of photos: landscapes, portraits, close-ups, unusual perspectives.
Tell a certain story. Don't add photos chaotically. Try creating a story from your travels, so the viewer will see the introduction, the middle and the end. Don't forget to spice the main story with some events. Share your little leisure activities with the viewers, like drinking coffee in a cafe or buying goods at a local flea market.
Add video clips. Watching pictures changing each other is too boring. Throw in some short videos to spice up the stills: seascape panorama from your cruise, sightseeings interiors, etc.
Use appropriate effects. Apply transitions and animations that suit your project. If it's about a short car trip with your friends, add quick transitions and flashy effects. If it's a slow-paced journey with your family, use standard fade-through-black transitions.
Play the right tune. 50% of your slideshow mood is created by the soundtrack. Consider the topic of your video and pick a few corresponding songs. Pop and rock for fast-paced and fun trips, classical or instrumental for old city sightseeing.
Need some help with music? In the next chapter, you'll find the best songs with an adventurous spirit. Your friends will for sure appreciate your musical taste!
Choosing Music for Travel Slideshow
So, appropriate music is the key. Can't come up with any suitable songs? Don't have much time for googling the music? Take a look at our top songs: they will inspire you, make you grab the backpack and go on a new journey.
Carolina in My Mind by James Taylor
Katmandu by Cat Stevens
Graceland by Paul Simon
The World at Large by Modest Mouse
King of the Road by Roger Miller
Wherever I May Roam by Metallica
Ok, ideas - check, pictures - check, music - check. Seems like we have everything we need except an easy-to-use vacation slideshow maker, with lots of cool-looking effects to play around. We suggest checking out SmartSHOW 3D. It's extremely user-friendly, with 600+ professionally designed slideshow templates, a collection of royalty-free music and titles. You can create animated collages from pictures and videos, add voice comments, apply 3D effects, fine-tune sounds and much more.
Plus, SmartSHOW 3D has a free trial version. Use it to follow the guide on making a video presented in the next section. Hit the button below to get the trial:
How to Make a Travel Slideshow With SmartSHOW 3D
So, an easy-to-use program for making slideshows - check. Let's get down to the actual process of creating your video. Here comes the ultimate guide!
Step 1. Add Your Travel Photos
Add your photos to the Storyboard. Drop them one by one or add the whole folder. You can change the order, crop and rotate the images if necessary.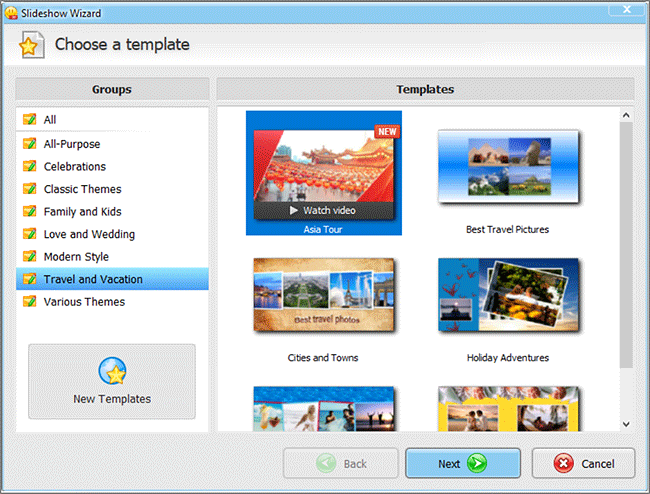 Spice your photos up with videos and collages. You don't need to arrange everything manually - just go to the Collages tab and pick a preset you like. Drop in some photos and voila - they will be turned into a collage automatically. To make the slide look even more awesome, use one of your videos as a background.
Step 2. Apply Cool-Looking Animations
Want to make your photos roll like a book page and rotate in 3D? Go to the Animations tab and browse through dozens of ready-to-use effects. Apply the one you like with a simple drag & drop. No cumbersome montage: just a few clicks and the software will animate the pictures automatically.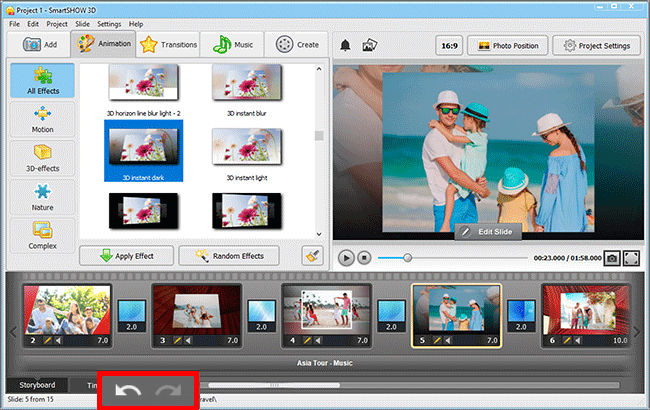 What's the best way to emphasize the moment depicted on the photo? Add a special effect! Have a group shot of you and your friends skiing in the mountains? Make it snow! Is there a campfire party? Let the cinders dance in the wind!
Step 3. Drop In Your Favourite Tunes
Grab the music you prepared and drop it onto the Timeline. Alternatively, you can use music from the built-in collection: there are 200+ tracks of different genres. For example, there are cool folk and rock songs that can pump up your slideshow. Apart from the background music, you can record voice comments as well. Share with the viewers your impressions on the journey, the places you visited. The recorded pieces will be placed on the separate track automatically.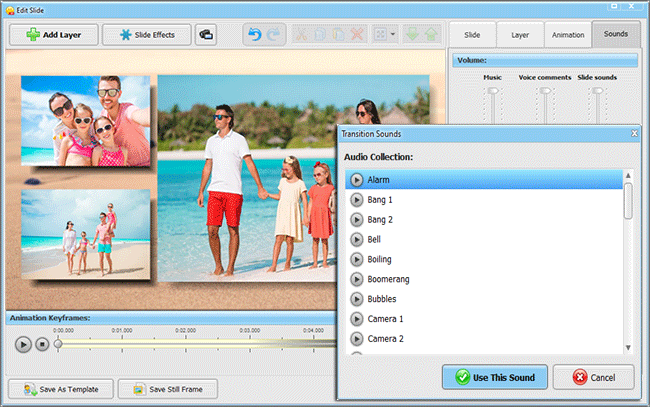 Want to lower the music volume while the comment plays? Right-click the music track and choose Add Audio Point. Insert three or four points and set the ones in the middle to minimum.
Step 4. Create Stylish Intro and Titles
A well-made intro is key for an engrossing video. If the beginning is dull, there is a high chance the viewer will hit Stop and give up watching the video. To avoid that, make your intro unique. You don't have to spend a lot of time: use a pre-designed template from the built-in collection and customize the preset to your taste.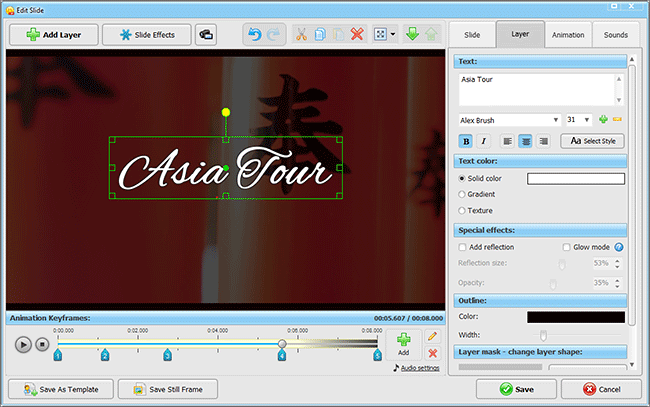 Add stylish captions to the title slides. Use plain text for names, dates and locations. It will be easier to read them, and the viewer can take a closer look at the photos as well. If you want to draw all the attention to the caption, use animated or glowing text.
Step 5. Share Your Vacation Slideshow
Satisfied with the result? Time to wrap up your slideshow then! Choose a suitable video format for the export. Are you a travel blogger on YouTube? Select Create video for the Internet then. Just a regular globe trotter? Pick HD format and watch the video on any device: on TV with your family or show it to your friends on a mobile phone.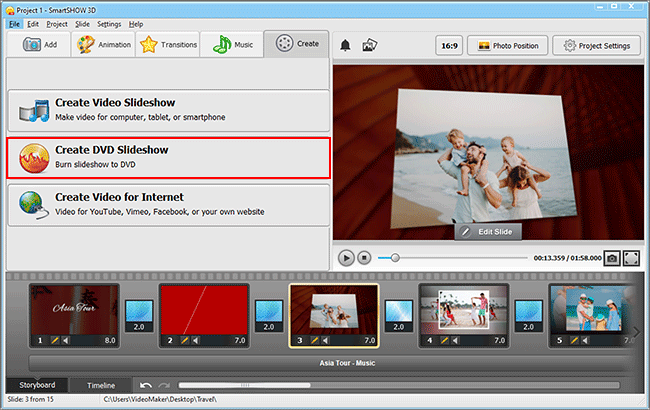 See how easy it is to create a vacation photo slideshow? Time to follow these steps using your own photos! Just start with downloading SmartSHOW 3D - click the button below:
Frequently Asked Questions
Now you are all set for diving into the world of slideshow. Do not allow your adventures to fall into oblivion. Take all the pictures and clips from your trips, grab your favourite music and share the pleasant experience with your friends and family.
Looking for a travel slideshow creator?
Get started with

SmartSHOW

3D!