How to Make a Slideshow With Voiceover
Easy-to-follow guide on making a video with pictures and narration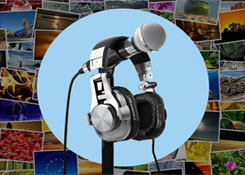 Need to create a slideshow with voiceover for your job or studies? Just want to showcase photos from your recent travels and share your trip impressions in the background? In any case, this task doesn't seem easy. Just think: you need to compile pictures, record your voice and synchronize it with the video, add fade-ins and fade-outs, etc.
How to make a slideshow with voiceover and not break a sweat? Breathe out: you have the answer now. Just continue reading to discover a detailed step-by-step guide with tips and advice on the software.
Let's start with the key things to keep in mind when you make a slideshow with voice comments.
5 Tips For a Cool Voiceover Slideshow
First, you need a microphone: stand-alone or built into your computer. If the device doesn't have any pop filter, make sure it doesn't catch any additional noises. Find a small room, turn off fans with an air-conditioning system and shut the door. Adjust the volume level so your voice will be easy to hear.
Think about how you will record the speech. You can record it piece by piece or record voicing for the whole slideshow at once.
Prepare yourself for voice recording. Write a script or least some key sentences for your speech. Before hitting the Record button, practice a bit: read the script aloud a few times and make a couple of test recordings. Don't forget about pauses, intonation and clarity.
Stand up while recording your voice. This posture opens up your chest, so it'll be easier for you to read and control your breathing. As a result, you'll get more confident and avoid unnecessary pauses.
Prepare the photos for your slideshow. Don't just copy the whole Pictures folder - look through your images and take 30-50 photos corresponding to your topic. Try taking different images: landscapes, group shots, close-ups, portraits, etc.
Find suitable software for making a video‌ ‌slideshow‌ ‌with‌ ‌voiceover‌. Most people suggest using Powerpoint or Google Slides, but they have a pretty limited toolkit. If you want to fine-tune the sound and create a pro-looking video, you'd better try a different program. For example, SmartSHOW 3D.
What you can do with SmartSHOW 3D?
:
✔ create slideshows in 5 minutes using pre-made templates
✔ use 200+ royalty-free music tracks of different genres
✔ fine-tune the sound for voice comments and music
✔ apply 600+ effects and transitions: from classic fades to modern 3D rotations
✔ export your photo slideshow in 30+ video formats
Get this powerful slideshow software and start creating stunning presentations with voiceover right now!
How to Make a Voiceover Slideshow
Now when you are fully prepared, let's see how‌ ‌to‌ ‌make‌ ‌a‌ ‌video‌ ‌with‌ ‌pictures‌ ‌and‌ ‌narration‌. The steps you need to follow are pretty simple:
Step 1. Browse Through Your Photos
Browse through your photos and pick the shots that are suitable for your script. Arrange them on the Timeline. If you have lots of photos on one subject, group them into collages. You can use pre-made templates or quickly group up the pictures manually. This will keep your slideshow short and informative. Apart from photos, you can add video clips as well. Mix them with pictures or use as a background for the collages.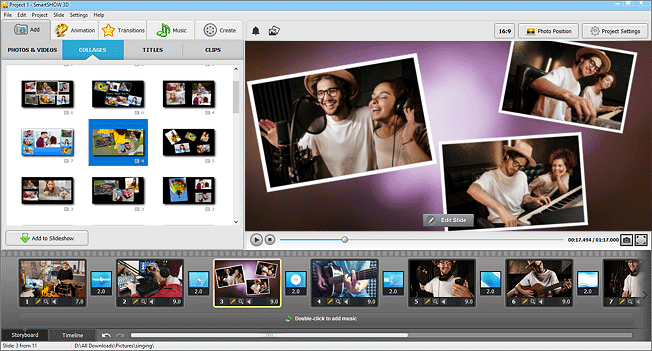 Step 2. Make the Perfect Music Mix
There is no photo slideshow without music. Add one of the 200+ songs from the built-in collection or drop in your own music. Switch to the Timeline view and fine-tune the sound using Audio Points: right-click a song and add a few. Move down the points in the middle to lower the music volume in certain places. If you want to adjust the volume for the whole track, then go to Volume and Faders. Here you can add fade-in and fade-out effects, as well as change the volume of the main audio stream.
Step 3. Record a Perfect Voiceover
Go to the Voice Comments tab and click Record Voice. Once you are done, the voiceover will be added to the second track. You can edit the comments just like music: cut, fade, reposition, etc. To record your comments for a certain slide, open the slide editor window (simply double-click on the slide) and switch to Sounds tab in the top right corner. Click Record Sound and then Start Recording. Keep an eye on the recording duration – it shouldn't be longer than the slide duration.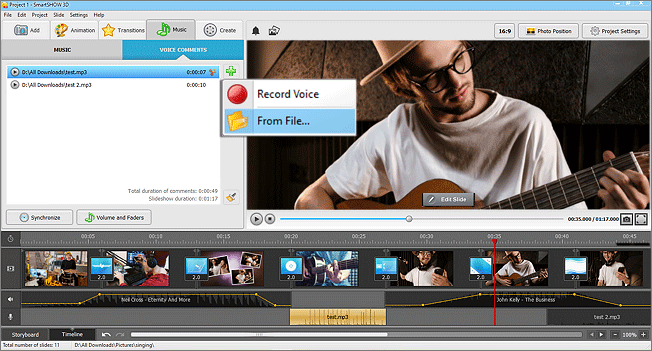 Step 4. Add Stylish & Funky Intros
Have a large project? Divide it into several parts by adding cool-looking intros between the chapters. There are dozens of ready-made templates in the Titles collection to choose from. Just add the desired template to your project and replace the default text with your own. It's a perfect option if you want a professional-looking text animation but have no time to fiddle with the settings.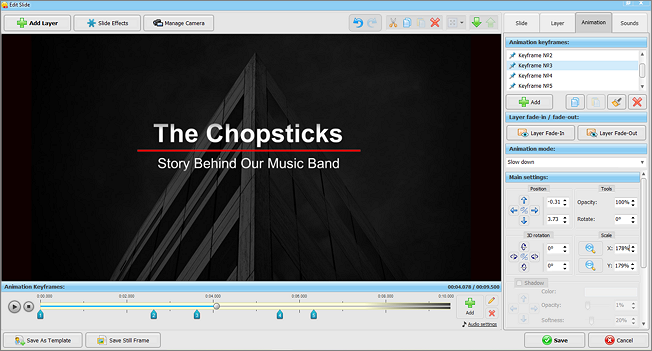 Step 5. Create Your Video
When you're done with the creative part of the work, go to the Create tab and export your project to video. SmartSHOW 3D offers 30+ video formats, including slideshow for Facebook, YouTube, TV and even DVD burning. There is a helpful step-by-step wizard for creating video – it will guide you and give prompts to ensure perfect quality output.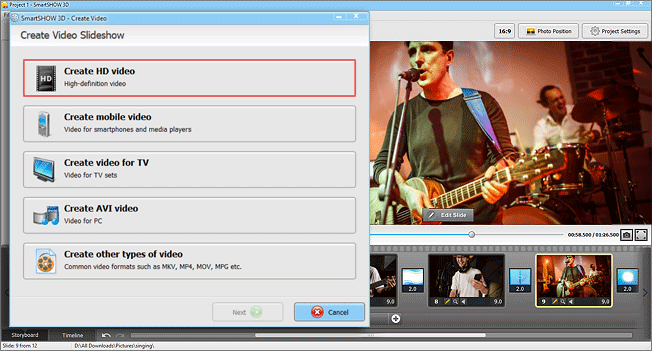 Follow these easy steps and create your own slideshow with voiceover! Start with downloading SmartSHOW 3D for free‌:
Download free

Prefer watching video guides over reading text? Watch this video and discover how‌ ‌to‌ ‌make‌ ‌a‌ ‌voiceover‌ ‌slideshow: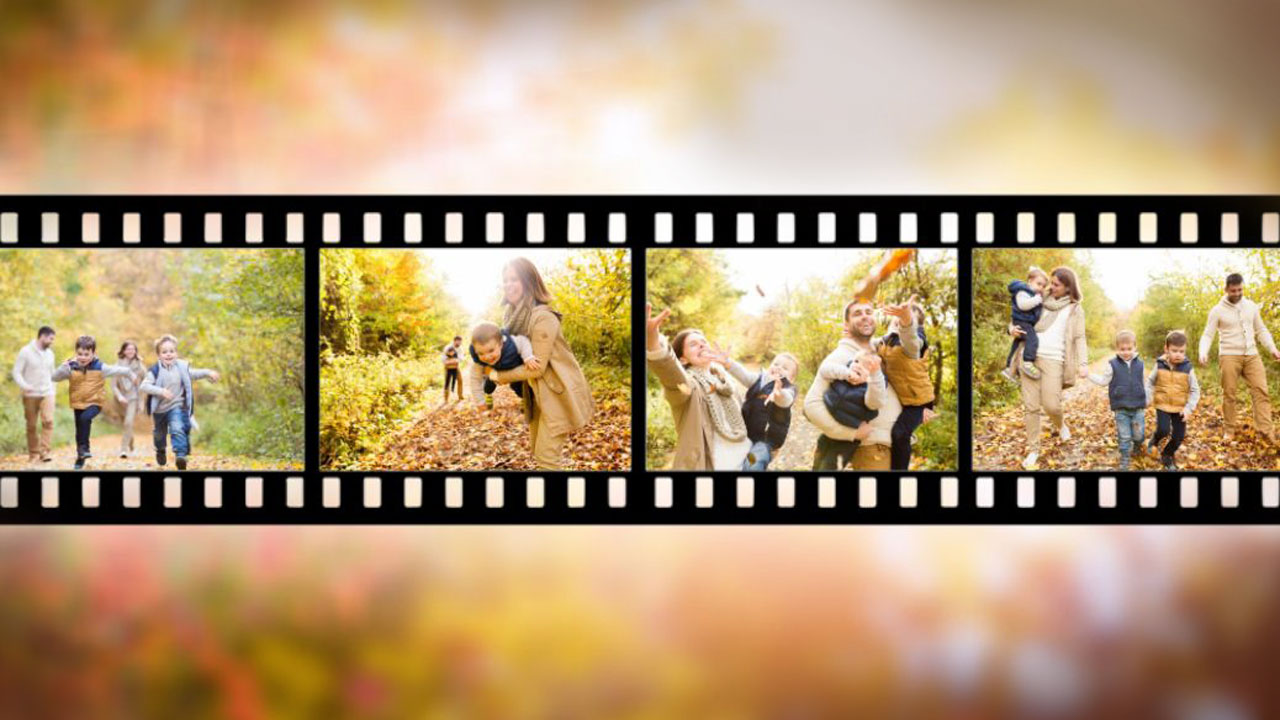 Although there are other softwares that allow you to make slideshows, like PowerPoint and iMovie, you won't be able to do much with their help because of their limited toolkit. However, they'll work just fine if you urgently need to make a simple slideshow with voice comments.
If you want to make a gorgeous slideshow with perfectly synced voice, then try SmartSHOW 3D. It doesn't matter if you aren't skilled at making videos. Thanks to a user-friendly interface, all the essential features will be at your fingertips. You can create photo and video collages, insert stunning transitions, apply 3D and nature effects, like snow or rain, create custom animations using keyframes and much more.
Need a ‌‌slideshow‌ ‌maker‌ ‌with‌ ‌voiceover‌?
Get started with

SmartSHOW

3D!