How to Make Your Own Slideshow - 5 Simple Steps!
We all love to tell stories and showcase photos at family events, friend parties and get-togethers. Wouldn't it be great to combine the story and the photos into an exciting multimedia show? Photo slideshow makers such as SmartSHOW 3D let you mix pictures, music, titles, and voice narration into a magic blend that will make an unforgettable impression. Want to surprise everyone at the upcoming event? Then, download slideshow software and make your own slideshow with music!
Create a captivating visual story
When you have the software up and running, the first thing to do is to add pictures to the storyboard. Naturally, you have some plot in your mind. So browse through your photos folder and pick the best shots that make up a story. SmartSHOW 3D lets you have single photos or collages on your slides. So, if you have a hundred of photos to share, collages will come handy to keep your show not too long.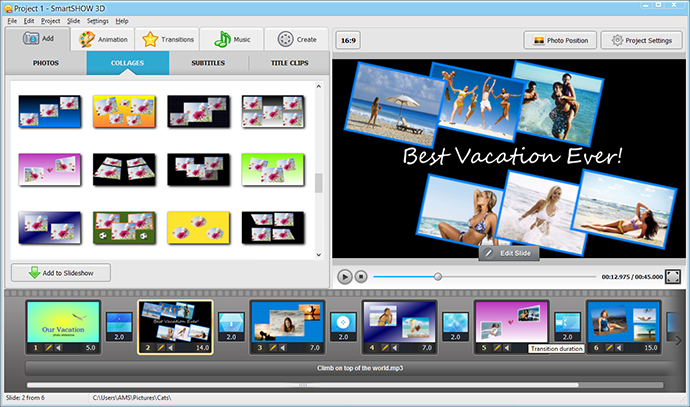 Make the perfect music mix for your slideshow
In order to add a soundtrack, double-click on the music bar in the storyboard – it's right under the slides. You can add as many songs and instrumental pieces as you wish. Open the Music tab for a convenient overview and access to editing tools. If you need to cut some track, select it and click on the red scissors icon to the right of its name. The Synchronize button under the list of music tracks lets you sync the total duration of slides and transitions to the music duration with a single click. The Volume and Faders button provides access to two important options: adding fade-in and fade-out effects and changing the volume of the main audio stream. It's a good idea to reduce the volume if you plan to add voiceovers on top of the main soundtrack.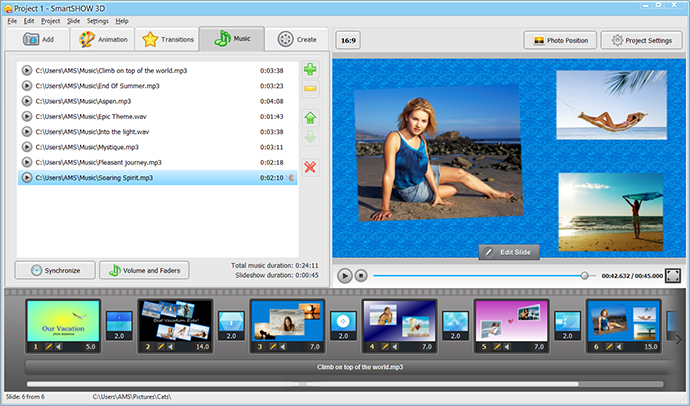 Record voice narration
Voiceovers add a nice personal touch when you create a photo slideshow with music. SmartSHOW 3D lets you add voice narration to every slide using the built-in microphone. To record your comments for a certain slide, open the slide editor window (simply double-click on the slide) and switch to Sounds tab in the top right corner. Click Record Sound and the Start Recording – here you go! Keep an eye on the recording duration – it must not be longer than the slide duration of course. If it happens to be longer, you can either cut the recording right here in Sounds or switch to the Slide tab and change the slide duration.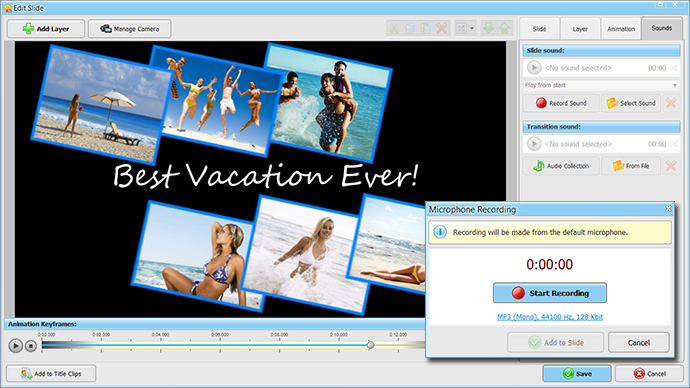 Add funky subtitles
Bright animated subtitles will make a slideshow with music shine. There are two options in SmartSHOW 3D: add text captions to a certain slide in the slide editor or use the ready-made templates from the Subtitles tab (the latter is shown next to Collages when the Add tab is active). Let's take a closer look at each of the options.
If you want to add text to a slide with a photo, open the slide editor, click the Add Layer button and select Text or 3D-text. Thus you will add a new layer on top of the photo, and the Layer tab will open where you replace the default text with your own. Here you can change the text font and color, add outline and shadow. Even more settings are available in the Animation tab: the warp effect for 3D-text, for example. Read about working with animated subtitles and title clips to learn more.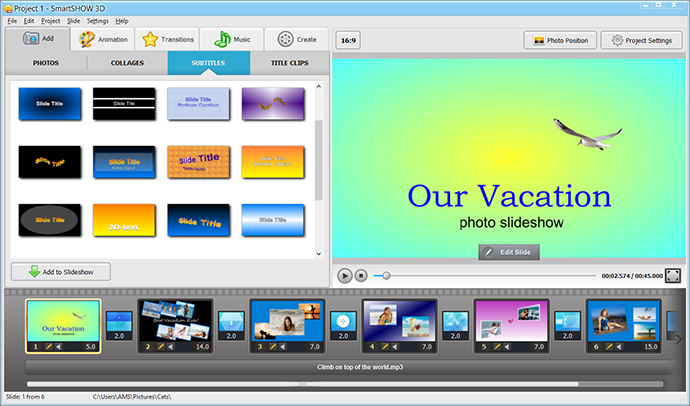 The second option – using the ready-made templates from the Subtitles collection – is great for intro and final slides or for dividing the project into "chapters". You can also use the subtitles templates if you want professional-looking text animation but have no time to fiddle with the settings – just add the desired template to the picture slideshow with music and replace the default text with your own in the slide editor. By the way, it is possible to add a photo (via Add Layer) and send it to the bottom layer making the subtitles visible – the green arrow buttons for arranging the layers are in the top right corner of the slide preview window.
Convert to video and enjoy the show!
When you're done with the creative part of the work, export your project to video or burn to DVD. SmartSHOW 3D has a helpful step-by-step wizard for creating video – it will guide you and give prompts to ensure perfect quality output.
Still not sure that you can do all of the above? Watch and see how easy it is to make your own slideshow:
It might take a while to make your photo slideshow with music truly personal and unique, but you realize that it was worth the effort when you see your friends' and relatives' astonished faces and smiles!

Get creative with
SmartSHOW 3D !
Want to make stunning photo movies with your own pictures? That's as simple as ABC with SmartSHOW 3D software!
Compatible with
Windows 10, 8, 8.1, 7, Vista, XP

Our Users Say:
I shoot weddings for a living, and often make wedding and love story slideshows for my clients. I used to do that with Windows Movie Maker, but then I came across SmartSHOW 3D and realized the immense potential of photo slideshow. This software now helps me do incredible things with my photos. Lots of thanks from happy clients!
I love making movies from our family and travel photos. Have tried a number of slideshow makers, but this one is something special. All kinds of fascinating effects and animation, music and voiceover, and excellent quality video in the end! Never thought I'd learn to make SUCH movies myself one day.

Need to create a professional photo slideshow?
Start now with

SmartSHOW

3D!