How to Make a Video with Pictures and Music
Tips and ideas on making the most out of your photos
Now everyone has a huge photo archive on their computer's hard drive. Pictures from vacation trips, family holidays, wedding photoshoots - you name it. Is there a way to give your pics a new life? Why yes, a video and picture slideshow!
You don't need to be a tech savvy to easily learn how to make a video with pictures, music, and text. All you need is a spoonful of your time, your best pictures and videos, and powerful slideshow software. Plus, a few great tips and ideas we have picked for you.
Use all of these ingredients to create a stunning video with photos and music just like this one.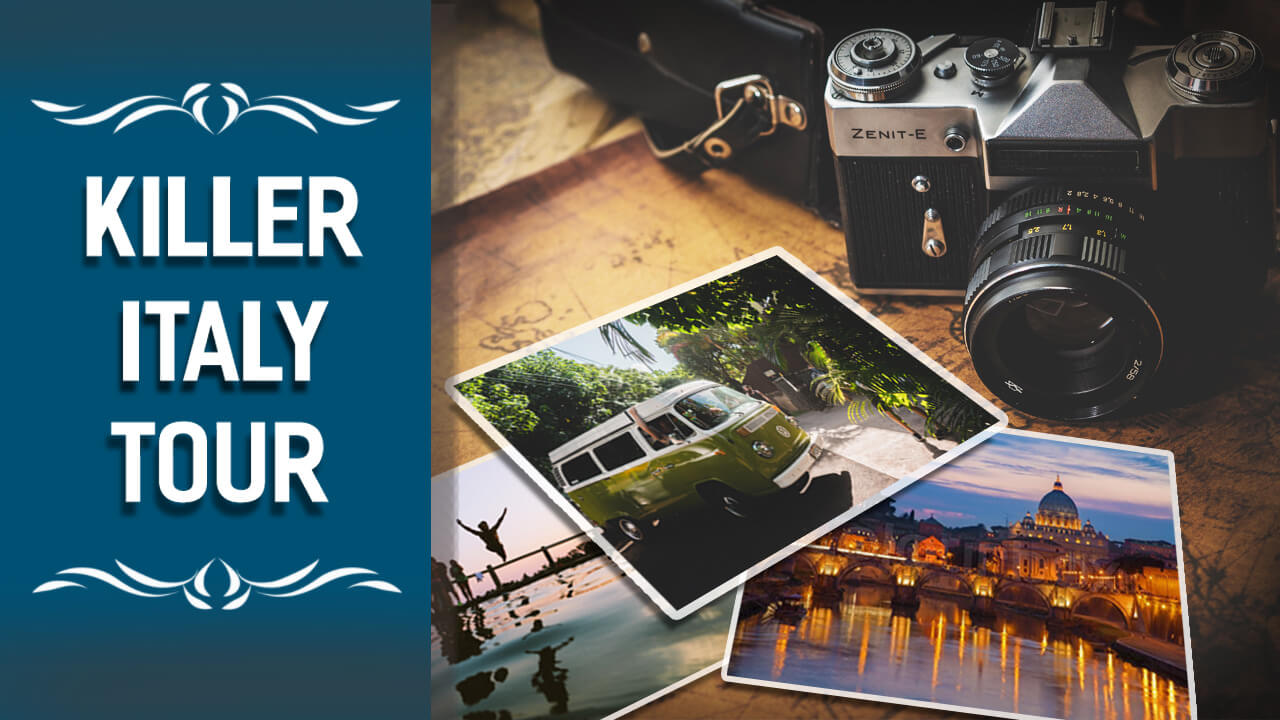 This slideshow was created in SmartSHOW 3D, an efficient and versatile slideshow maker. It boasts a huge library of 200+ gorgeous ready-made templates that will turn your picture collection into an engaging video presentation. This software is filled to the brim with eye-catching effects that will take your slideshow to the artistically new level. Try it for free to see for yourself.
Got you hooked? Then learn how to make a video out of pictures just as beautiful in a few steps.
How to Make a Video with Photos and Music in 4 Steps
Step 1. Mix Your Photos and Video Clips
Whether you are working on a video greeting card or a grasping photo story, you can rely on SmartSHOW 3D to make a stunning fusion out of your pictures and video clips. Just switch to the Add tab and drag all the necessary files to the Storyboard. Click on the Edit Slide button and put your video clip right on top of an image.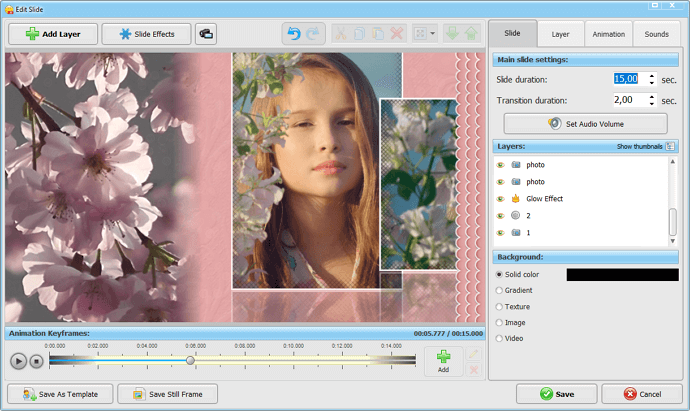 Step 2. Spice Up Your Slideshow with Special Effects
Switch to the Animation tab and spice up your video slideshow with special effects, including 3D, nature and motion animation. Once you've mastered keyframes and can successfully add them to your photos or videos, you'll be able to realize any creative idea. Don't forget about transitions since they help to set the right pace and synchronize your photos and videos slideshow with music.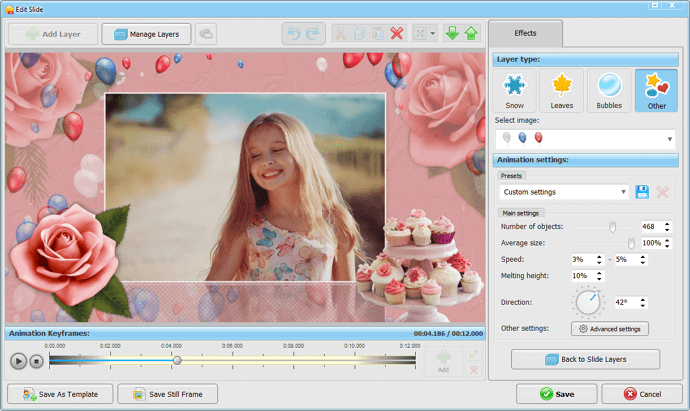 Step 3. Add Catchy Music and Voice Recordings
Soundtracks play an important role in conveying the right atmosphere and making a highly entertaining slideshow. Go to the Music tab to add some well-known song or record short voice comments to give depth and dimension to your creative project. The good news is, the app has two separate audio tracks, so you can add as many comments and tunes as you wish.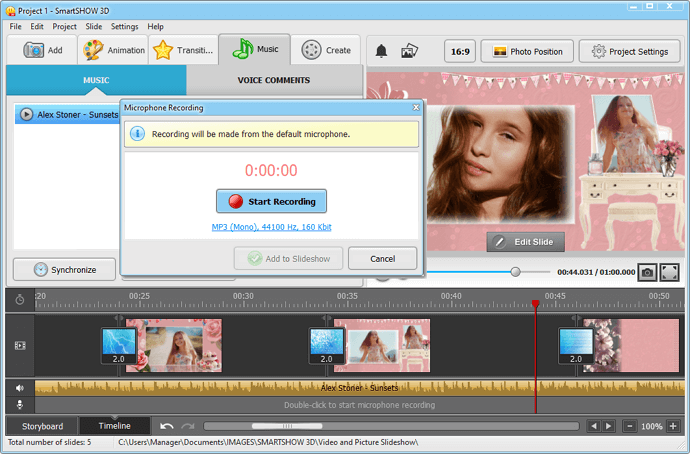 Desperate to find the best fitting song for your slideshow? Then browse through these royalty-free tunes to find your perfect
background music
.
Step 4. Make It Feel Like a Movie with Title Clips
As a finishing touch, insert subtitles or title clips or any other kind of text into your slideshow, so that it looks like a real movie. Make good use of static, illuminated and animated captions or create your own designs, and add a catching intro and a memorable final to your digital story. Finally, save your project and move to the Create tab to make a video for the Internet, tablet or DVD.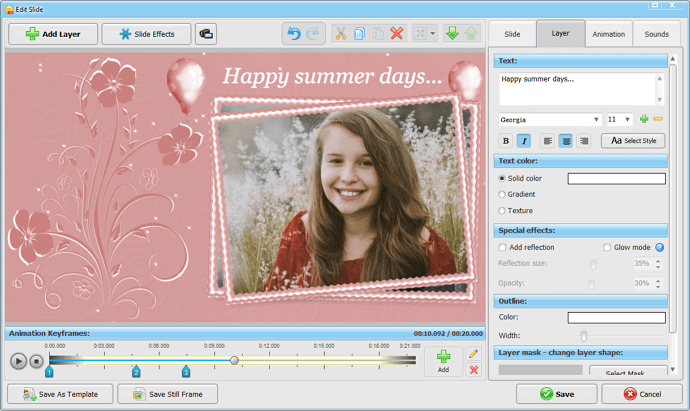 Need some funny one-liners or words of wisdom for your creation? Be sure to check out these
quote ideas
.
Wasn't it easy and fun? Then try SmartSHOW 3D software for free to create a unique video slideshow with photos, music, and text in no time!
Surefire Tips on Making Cool Videos with Pictures
Keep it tasteful - Whenever you are making videos with pictures in software as engaging as SmartSHOW 3D, you are likely to fall into temptation to over decorate. Of course, you want to use this effect, and that, and throw in some bubbles, and add a floating and glowing quote. Do not. Never go too flamboyant when creating your slideshow. Remember - sometimes less is more.
Use templates - If it's the first time you create a slideshow, you are accompanied by doubts and hesitations. If you find the task difficult and tedious, then go the easy way and opt for pre-designed templates instead. There is no shame in using someone else's fruit of labor. That's what these 200+ templates are here for.
Stick to one theme - Just because you can cram all of your best pictures into one slideshow doesn't mean you have to. It would be wiser if you choose a theme and cling to it. This way you'll have a coherent narrative that will be easy to follow. And if you wish to have a stunning end result, opt for sticking to a single color palette as well.
Pacing is the key - Don't ruin your slideshow with an uneven or drawn out pace. Yes, you want your viewers to have a good look at your pictures, but they don't have to stare at them that long! Spare their time and fuel their attention by making your slideshow dynamic. Find the most fitting pacing for your slideshow and you'll be rewarded by applause.
Inspiring Videos Made from Pictures in SmartSHOW 3D
Now you know how to make a video from pictures and what pitfalls to avoid. If you still hesitate, then have a look at these engaging slideshows for some creativity boost.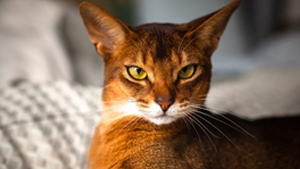 Top 12 Most Beautiful Cat Breeds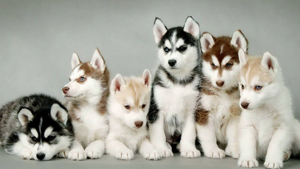 Top 12 Most Beautiful Dog Breeds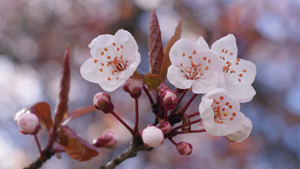 10 Most Beautiful Flowers in the World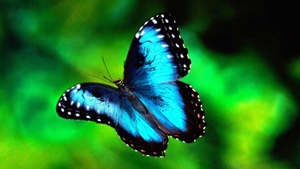 Top 10 Most Beautiful Butterflies
So take your photo archive, add your favourite tune, and utilize SmartSHOW 3D's immense library of effects to create one-of-a-kind slideshows. Relive your most precious memories once again or make a thoughtful gift for your loved ones. After all, there is no end to creative possibilities with SmartSHOW 3D.
Want to make a video with pictures?
Get started with

SmartSHOW

3D!