How to Make a Video with Pictures
Improve Your Way of Digital Storytelling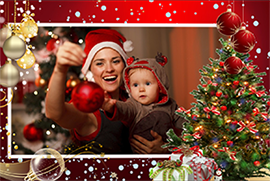 With modern software, you may want to go beyond simple memory-keeping and celebrate the events you cherish in an entertaining video and photo presentation. Making videos with pictures is a great way to add a ton of value to your photos and video clips for very little effort. If you want to try your hand at creating eye-catching photo movies, you will not do without a proper app and some useful tips up your sleeve.
SmartSHOW 3D is a video and picture slideshow maker that keeps a good balance between simplicity on the one hand and customization on the other. With this software, you can turn your creative ideas into stunning digital presentations and proudly show the results to your relatives and friends. Here are a few guidelines on how to make a perfect video and picture slideshow and give it a personal touch.
Mix Your Photos & Video Clips
Whether you are working on a video greeting card or a grasping photo story, you can rely on SmartSHOW 3D software that enables you to make a stunning fusion out of pictures and video clips. Just switch to the Add tab and drag all the necessary files to the Storyboard. What is even more, mixing photos and videos on a single slide is easier than ever. Click on the Edit Slide button and put your video clip right on top of a picture.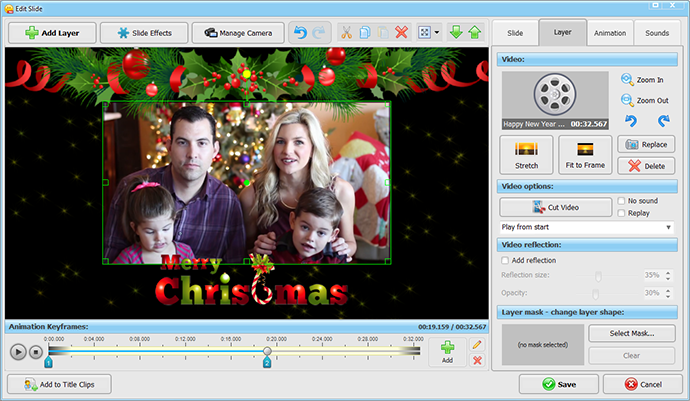 Charge a Slideshow with Special Effects
If you are still a newbie in photos and videos slideshow creation, you may want to start with "Slideshow in 5 minutes" themes as they contain ready-made templates and animation effects. In this case, all you need is to choose your favorite pictures, and the app will turn them into a cool photo movie for you.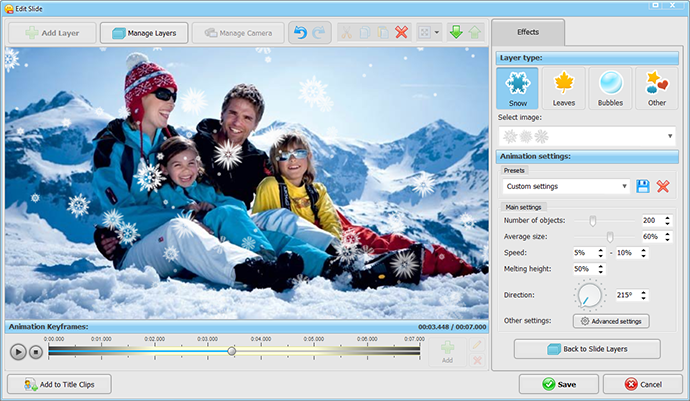 If you want to go further, though, switch to the Animation tab and create a video slideshow with special effects, including 3D, nature and motion animation. Once you've mastered keyframes and can successfully add them to your photos or videos, you may call yourself a real pro and realize any creative idea. Don't forget about transitions since they help to set the right pace and synchronize your photos and videos slideshow with music.
Add Catchy Music & Voice Recording
Soundtracks play an important role in conveying the right atmosphere and making a highly entertaining slideshow. Go to the Music tab to add some well-known melody or record your own voice comments to give depth and dimension to your creative project. Good news is, the app has two separate audio tracks, so you can add as many comments and tunes as you wish.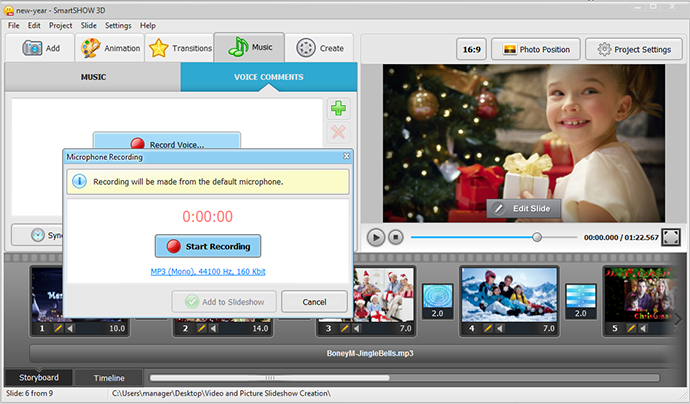 Make it Feel Like a Movie with Title Clips
As a finishing touch, insert subtitles or title clips into your video and picture slideshow, so that it looks like a real movie. Make good use of static, illuminated and animated title clips or create your own designs, and add a catching intro and a memorable final to your digital story. Finally, save your project and move to the Create tab to make a video for the Internet, tablet or DVD.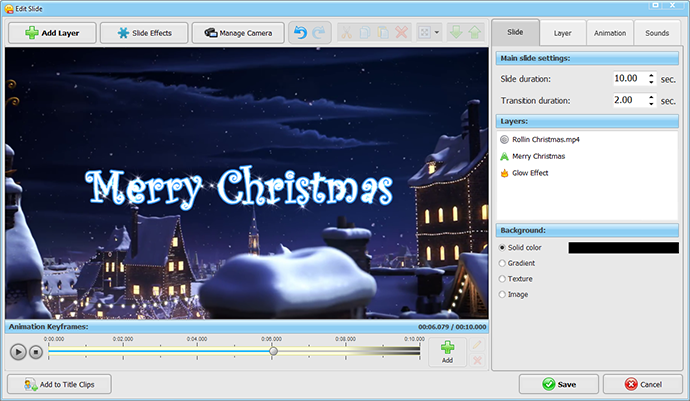 With SmartSHOW 3D software, telling digital stories is easy, funny and cost-effective. Add these creative results to your private collection, post them in the Internet or present as a great personalized gift on some special occasion. Treat you family and friends to a video and picture slideshow they will want to rewatch again and again!

Get creative with
SmartSHOW 3D !
Want to make stunning photo movies with your own pictures? That's as simple as ABC with SmartSHOW 3D software!
Compatible with
Windows 10, 8, 8.1, 7, Vista, XP

Our Users Say:
I shoot weddings for a living, and often make wedding and love story slideshows for my clients. I used to do that with Windows Movie Maker, but then I came across SmartSHOW 3D and realized the immense potential of photo slideshow. This software now helps me do incredible things with my photos. Lots of thanks from happy clients!
I love making movies from our family and travel photos. Have tried a number of slideshow makers, but this one is something special. All kinds of fascinating effects and animation, music and voiceover, and excellent quality video in the end! Never thought I'd learn to make SUCH movies myself one day.

Need to create a professional photo slideshow?
Start now with

SmartSHOW

3D!