How to Make a Slideshow for a Wedding Reception
5 Slideshow Ideas For a Perfect Wedding Reception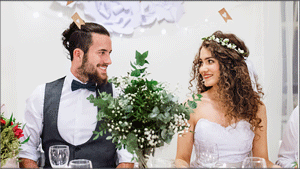 Decided to create a wedding reception slideshow? Want to impress your guests and keep the memories about the best days spent with your beloved? Perfect idea! But how to make this video appealing to everyone and not spend too much time on it?
Here, we've gathered some fresh ideas for your slideshow and offer you a simple way to create it in just a few steps. Less fuss and more time to prepare for that awesome day!
First of all, you will need an all-in-one slideshow maker for Windows 10 (also fit for earlier versions) - SmartSHOW 3D is a perfect example. It allows you to mix photos and videos, then spice up your creation with stunning effects. Here is an example of the wedding reception slideshow we've created in this program: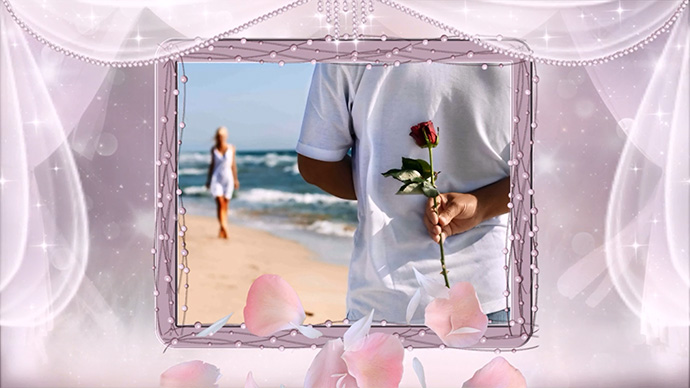 Like the video? Get started with SmartSHOW 3D for free and make a cool slideshow with your own photos!
How to Make a Slideshow for a Wedding Reception
To create a wedding reception video, you need to follow just 5 simple steps:
Step 1. Add Your Photos
Start SmartSHOW 3D. You can make a new project from scratch or use a ready-made wedding template to get your video done in minutes. Then drop in the pictures of you and your beloved. You can also add video clips to the Storyboard for some spicy action.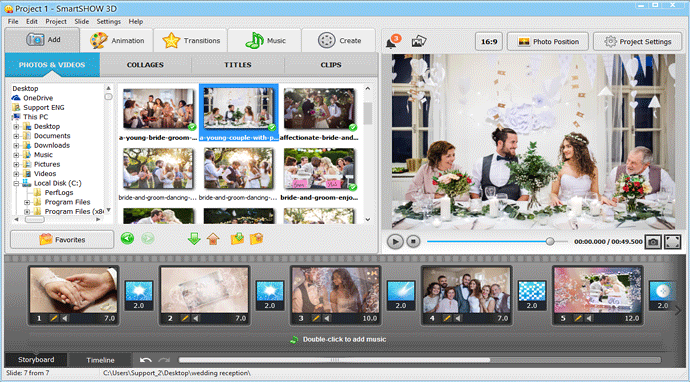 Step 2. Create Photo and Video Collages
How to make a slideshow for a wedding reception with lots of photos? Turn them into collages! SmartSHOW 3D offers you hundreds of collage templates to choose from - just switch to the Collage tab. If you want to create your own collage, add a video clip as a background and arrange your photos on top of the clip. This will make your slideshow more engaging. Once all the content is added, drag and drop the slides to arrange them chronologically.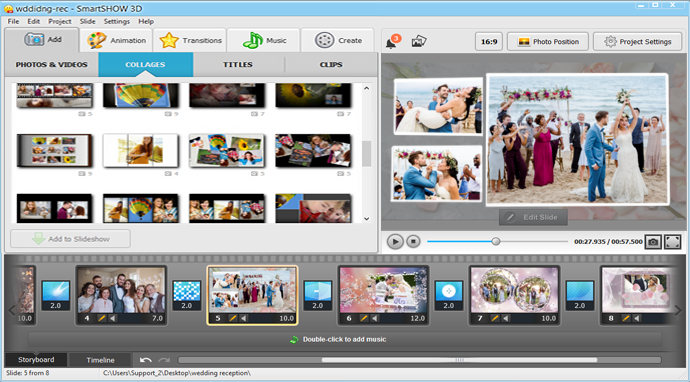 Step 3. Bring Your Photos to Life with Animations
Animate your photos with premade effects available under the Animation tab. Let your images dance, swirl or fall down. Add some romantic vibes with special effects like falling petals, glowing stars or flying doves. Click the Slide Effects button and you'll find them in the slide editor.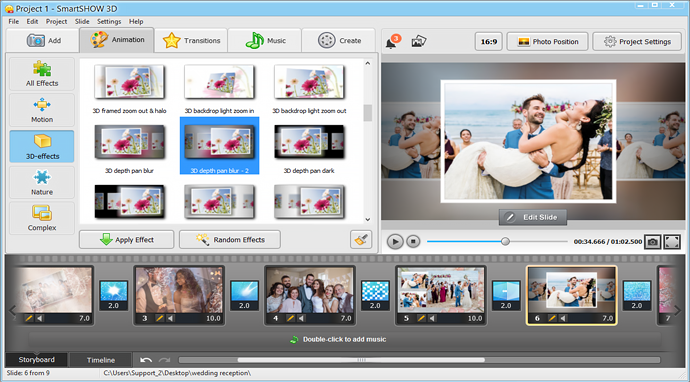 Step 4. Insert Music and Record Voice Comments
Now juice up your slideshow with your favourite music. If you can't come up with any song right now, use one from 200+ royalty-free music tracks from the built-in collection. Have some moments you want to dwell upon? Record your voice comments right in this wedding reception slideshow maker using the built-in microphone and share your impressions with the audience.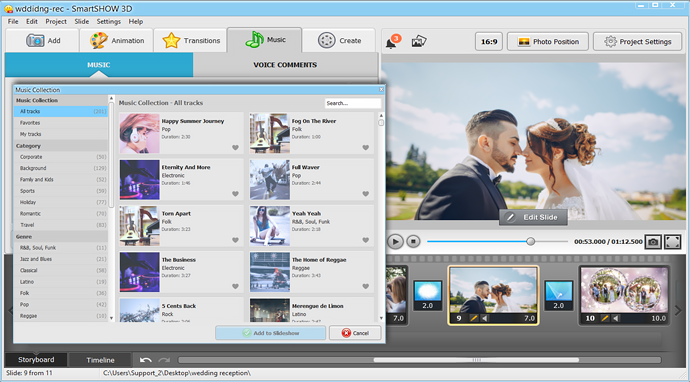 Step 5. Create Your Wedding Reception Video
When you're satisfied with the result, move to the Create tab. Pick the format you need. For example, make an HD video slideshow to play it in the best quality on TV during the reception. Or burn your slideshow to DVDs and present them to your guests.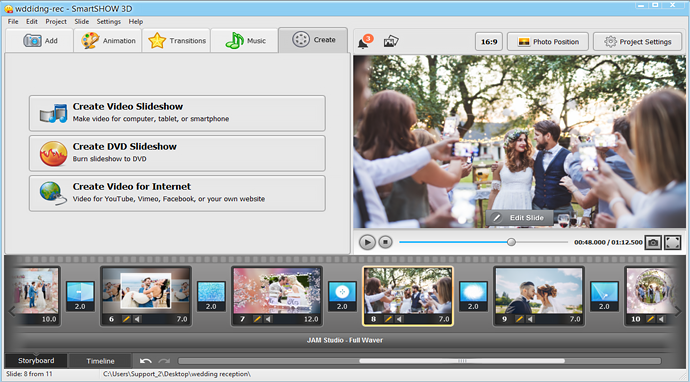 How about creating a slideshow for your wedding reception yourself? See how easily you can do that yourself - just click the button below to download the trial version of SmartSHOW 3D:
Wedding Reception Slideshow Ideas
Lack creative ideas for your slideshow? Or just need some inspiration? No one wants their guests to fall asleep at the event, so your video should be involving and captivating. Don't worry, we have prepared wedding reception slideshow ideas especially for you. Here you go:
First of all, think about the story you want to tell with your video. Just a bunch of random photos won't do any good. Instead of that, show the guests how you met each other, how your feelings evolved, or some interesting and funny similarities between you two.
Pick your photos carefully. Take some time and look through all the pictures you have. Resist the temptation to add all of them at once and select only 20 or 30 pictures. If some of them are less than perfect, don't be lazy to do at least minor retouching.
Look for suitable music. You can't just throw any melody in - it may ruin the impression completely. Don't have any ideas for the song to add? There are plenty of wedding reception slideshow songs on the Internet.
Add some captions and poems that tell cute little things about you and your beloved. They can be romantic, funny or even sarcastic - depending on the mood of your video.
Insert a few photos showing you and your beloved in 10 or 20 years in the future. Imagine the upcoming life you will have together: two oldies on a beach with vine in their glasses, for example.
Look through the wedding reception video ideas above and decide which of them you're going to use in your own creation. Actually, to make a cool video, all you need is just some inspiration, interesting ideas, a pinch of desire and easy-to-use software. With SmartSHOW 3D, you don't have to think about how to make a slideshow for a wedding reception - the program will do everything automatically. So you will have more time to prepare for the ceremony itself!
Looking for a wedding reception slideshow maker?
Check Out

SmartSHOW

3D!