Happy New Year Slideshow for 2024
Tips For an Awesome New Year Slideshow Video
One of the most important holidays of the year is coming. Time flies and you still have no cool ideas for presents? Mainstream gifts like chocolate and cards occupy your mind? Be a creative Santa - make a photo slideshow for New Year! Your friends and family members will definitely appreciate a personalized video full of funny moments and warm wishes for the nearest future!
Is it possible to make a New Year slideshow without breaking a sweat? It may sound difficult at first but after reading our guide you'll need just photos and a little bit of inspiration! You don't have to be a tech savvy to make something like this: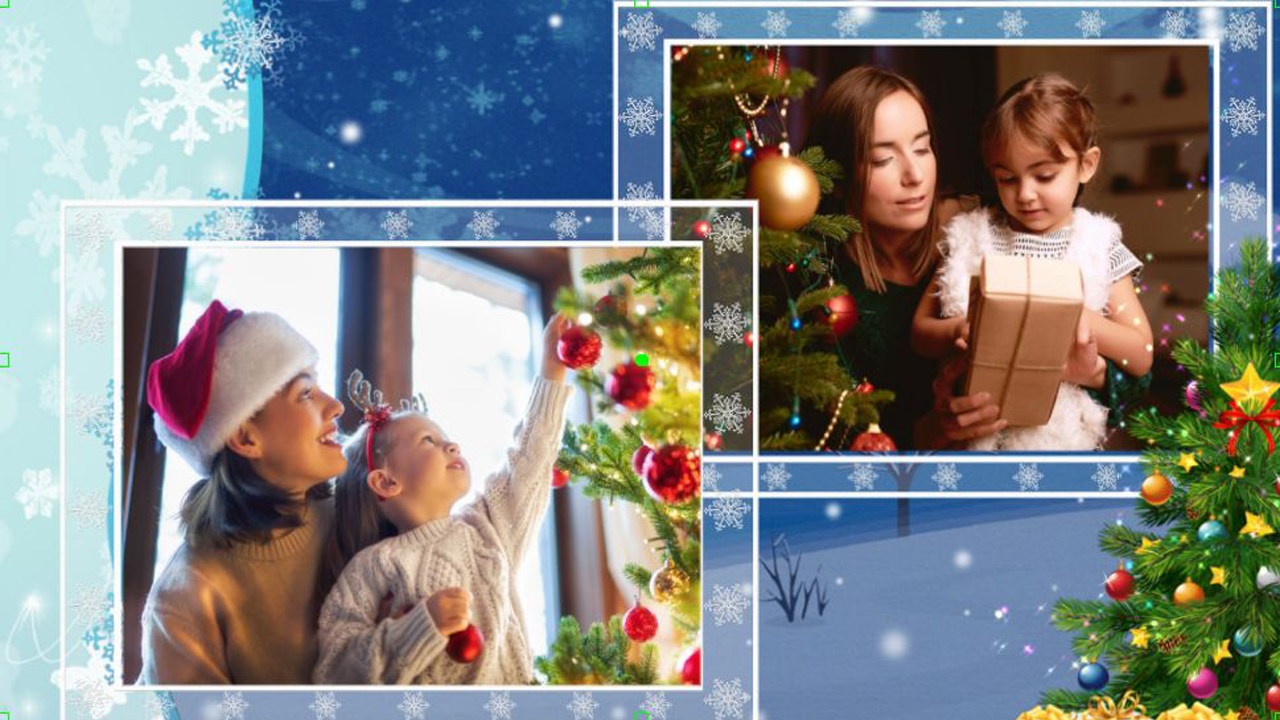 Looks awesome? We've made this festive video in SmartSHOW 3D. This is an easy New Year slideshow maker that has tons of various features! Now you can forget about Powerpoint where you had to crawl through the inconvenient interface to bring some life into your sldieshow.
SmartSHOW 3D lets you mix photos and videos, create collages with 3D animations, add realistic effects like falling snow and glowing stars, insert catchy music and record voice comments. What's more, you will be able to play with 570+ templates & effects, including gorgeous New Year slideshow templates.
Eager to test out SmartSHOW 3D? Download the free trial version below:
Now, let's see how to create a stunning New Year video in a few minutes with SmartSHOW 3D.
5 Easy Steps to Make a New Year Slideshow
Imagine that you could make an awesome slideshow in a few clicks and get tons of wows from your friends. With the professional slideshow software, this dream comes true - just follow these simple steps:
Step 1. Let's start! Create a new project if you want to make a video from scratch. Otherwise, go with a ready-made template to save yourself more time: there are plenty of pre-designed templates for making New Year slideshows. It's up to you to choose the best way of creating your festive video.
Step 2. Look through your pictures and add your favourite ones into the project. You can change the order of slides as well as crop or rotate your images. This way you can arrange your New Year pictures in a chronological order.
Step 3. Make your friends and family members smile by adding warm wishes to your New Year video. Just double-click any slide and click Add Layer. You can use animated text or insert simple captions. Just be sure to pick a readable font.
Want to make your video truly one-of-a-kind? Take an extra minute and browse through the Internet to find cool
New Year wishes
.
Step 4. Switch to the Music tab and drop in some holiday tunes. You can use 200+ royalty free music tracks from the built-in collection or add your own songs.
Step 5. Once everything is in place, move to the Create tab. Pick a format that suits you best: make an HD video for playing it on a TV, burn your slideshow to DVD to hand it out during the party, or create a YouTube video and share it online.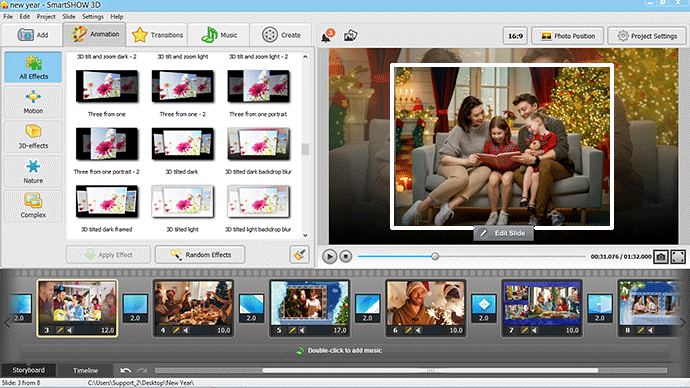 That's it! Making a video is really easy as pie, so you'll have enough time left to prepare for the celebration itself. Ready to follow these steps? Just download SmartSHOW 3D then:
Happy New Year Slideshow Tips
Short on cool ideas for your slideshow? Need some tips? Here are some for you:
Retrospective. Show only the best moments from the passing year. Don't just grab all the photos, instead, pick them carefully. Select 50 or 100 pics that will build a certain narrative throughout your video


Film it. Record a few videos with your friends or family members wishing something great for everyone. Scatter these greetings here and there. They will shine like little diamonds among regular slides.


Where is the beat. Don't forget about music. It's one of the most important mood makers in your 3D video. Look for some cool New Year songs that could complement your slideshow.


Pinch of magic. Don't be afraid and let yourself experiment with different features. Try creating custom animations or adding a video background to your picture collage.
Now you are ready to create a New Year 2024 slideshow. Follow the steps described above and you'll finish your video in no time at all! Interested in making videos for Christmas sermons and worship? Check out church slideshow software then. It will definitely make the creation process much easier.
Need a New Year Slideshow Maker?
Check out

SmartSHOW

3D!