Valentine's Day Slideshow Templates & Best Tips
Create a romantic Valentine's day slideshow to surprise your significant other
Well, it's February again and love is certainly in the air. And so is the pesky question - what do i do for Valentine's day this year? How do I say "I love you" in a new way? Get off the beaten path of flowers, chocolates, perfume, and whatnot and create an unforgettable slideshow for Valentine's day instead! Declare your love for your significant other with a romantic video. Just like the one below: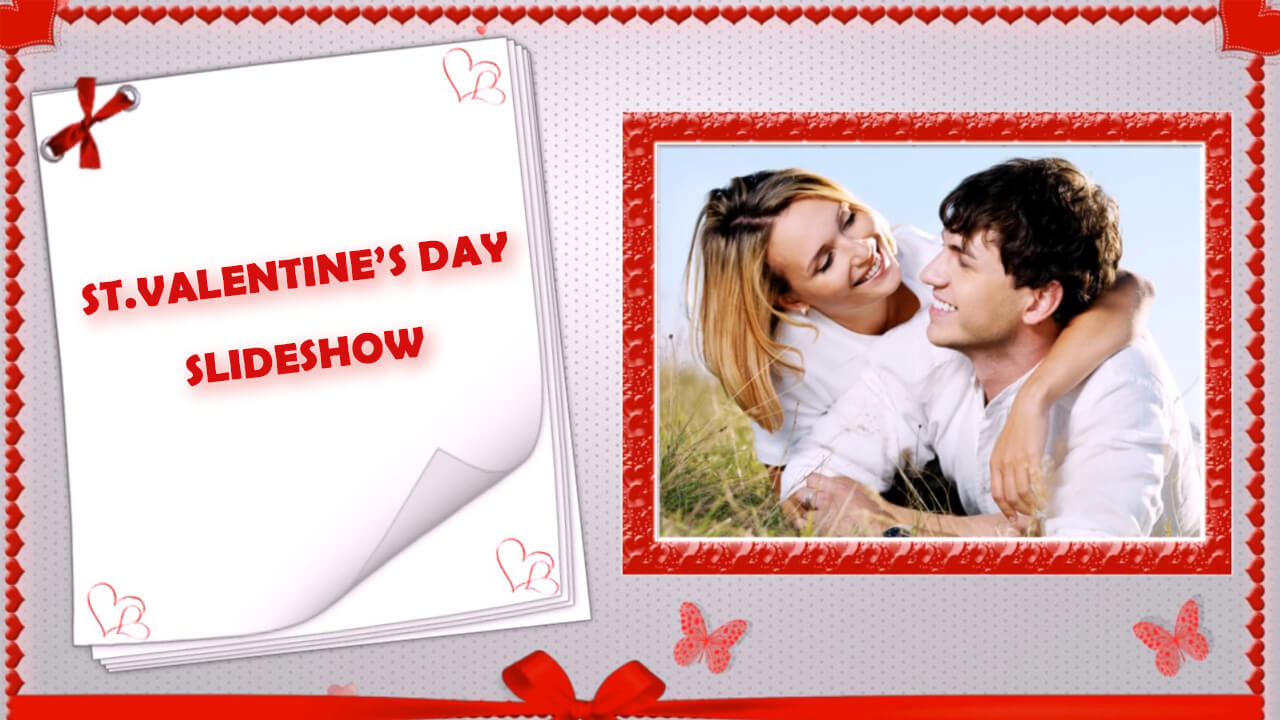 Would you like to create a similarly heartfelt gift? It's a lot easier that it looks. You just need to follow our step-by-step instruction as well as several do's and don'ts and you'll have a romantic video done in no time!
Happy Valentine's Day Slideshow - Surefire Tips & Ideas
Set the right mood with music - Slideshows are alive with the sound of music! As they should be - there is no way your Valentine's day slideshow would be romantic without a soundtrack. So make sure to add a lovely tune to your video. This could be a sensual instrumental piece, your partner's favourite track, or undying classics like these Valentine's day songs.
Find the perfect running time - When a slideshow is durable, it tends to be boring. When it is brief, it's simply underwhelming. So use Goldilocks' approach and make your video not too long, and not too short. Is there a secret recipe? Well, just wrap your video when it hits a 3 minute mark (like the length of an average song).
Sneak in a proposal - Because what could be more romantic? Imagine a tender Valentine's day slideshow that chronicles your life as a couple that ends with the most important question - "Will you marry me?" Can you imagine the surprised look on your partner's face? This might be the best Valentine's gift they have had yet...
Tone down the decorations - Don't dive headfirst into decorating your slideshow with floating hearts and soaring doves. Remember - less is more. Don't overcrowd your slideshow with flamboyant effects and make them as subtle as possible. Effects should be a graceful frame for your slideshow, but not the main attraction.
Go for the right software - Most people overlook this step. After all, how much different can slideshow makers be? The answer is extremely! Some software are user-friendly but poor in functionality, others are feature-packed, but unbearably complicated. So if you are looking for a slideshow maker for Windows 10 (as well as for earlier versions) that is perfectly balanced, SmartSHOW 3D is just the thing for you.
SmartSHOW 3D is a pro-level slideshow maker. It's jam-packed with effects - there are 350+ stunning slide animations and transitions. A huge library of templates lets you make amazingly romantic videos in mere minutes. This Valentine's day slideshow maker is incredibly easy to master and navigate. Try it for free!
Download free

How to Create a Valentine's Day Slideshow
Step 1. Add Your Pictures to Your Slideshow
Download and run the software. Browse through dozens of themed templates to find the most romantic one. Drag and drop photos of your couple to the timeline. Shuffle them or put in a strict order if you want to chronicle your life as a couple. You can even add videos to your slideshow to make it more dynamic.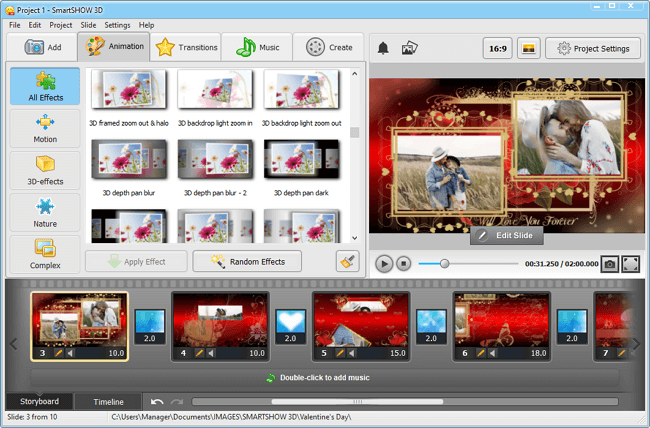 Step 2. Funk Up Your Slideshow with Music and Effects
Set the romantic mood with a carefully chosen tune. You can use the built-in library of 200+ royalty-free tracks or add a song of your own. Record voice comments for a talking postcard effect. Add some glitz to your slideshow with stunning effects like glowing hearts or tender captions in glittering letters.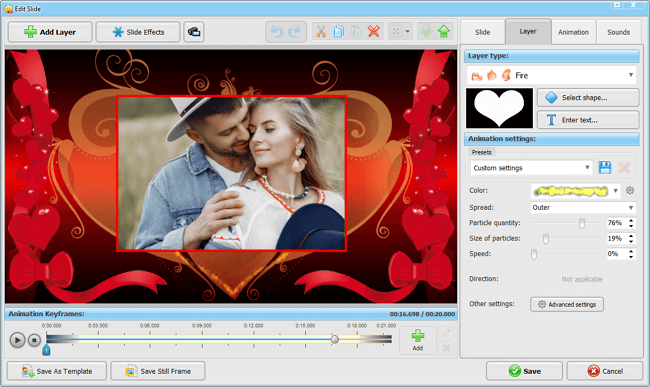 Step 3. Save and Share Your Valentine's Day Slideshow
SmartSHOW 3D offers 30+ saving formats. Convert your photo slideshow into a video for a tablet, cell phone or TV if you want to watch it together with your partner on a quiet evening. Or create a video for Internet to upload it to your partner's Facebook page as a surprise. Or burn your slideshow to a DVD, then present it to your special someone.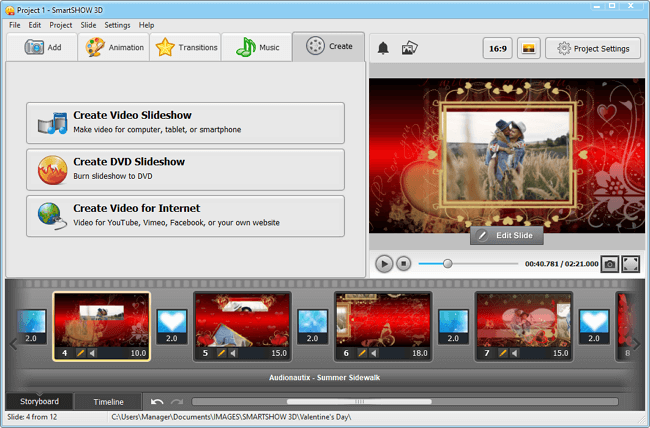 Gone are the days of unoriginal gifts and unimaginative celebrating. Thanks to the digital age and DIY trends, Valentine's gifts can now be bright and memorable. Tell your partner how much you love them with a romantic slideshow video made with SmartSHOW 3D! After all, there can't be too much romance on this special day!
Need a Valentine's day slideshow maker?
Get started with

SmartSHOW

3D!