Valentine's Day Slideshow Tips
Star in Your Own Love Movie
When Valentine's Day is right around the corner, flowers, boxes of chocolate and jewelry are a safe choice for holiday gifts. However, you might be ready to step out of your comfort zone and try something new this year. So how to overcome the stereotypes of a celebration characterized by hearts, red roses and love letters? The easiest way will be to make a memorable Valentine's Day slideshow and share it with your significant other as the ultimate love confession.
Just take a look at this Valentine video card and see how fresh and yet touching your slideshow can be! This lyrical photo movie was made with SmartSHOW 3D software. Click the Play button to draw inspiration from this clip and try your hand at making your own slideshow charged with the power of love.
So, you are probably reading this because you do not want to join the swarm of couples that will descend on pompous restaurants and exchange year-in and year-out presents. Spare some time and discover the secrets of photo movie creation. Be sure that a personalized slideshow will speak volumes about your feelings and devotion to another person. To try your hand at making one, you'll need a proper slideshow movie maker, such as SmartSHOW 3D. Here are a few things you should take into consideration before creating the best Valentine's Day video card.
Set the Romantic Mood
The first step in making a Valentine's Day slideshow will be to choose pictures and video clips that display your loved one and you in the happiest moments of your lives. Whether it is a photo set or a video collection, it should be uplifting and romantic. Your choice is not limited by soppy images, though – the theme of your future slideshow present depends on the couples' hobbies and interest. Arrange the chosen elements on the Storyboard, and then think about creative ways of funking them up.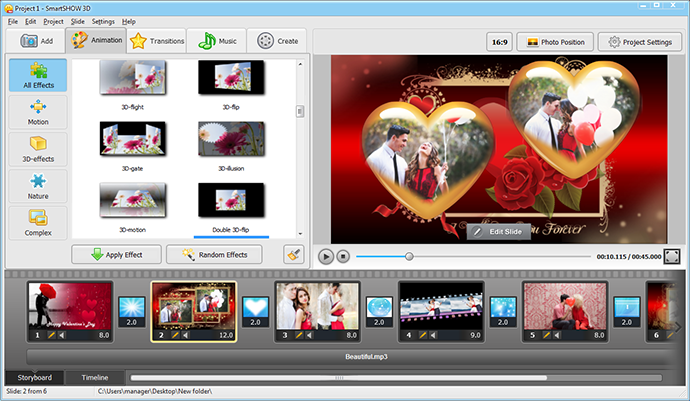 Adorn Your Valentine's Day Card
It is impossible to imagine some Valentine's Day gift that is not decorated with red hearts and bright ribbons. That is why you would probably like to spice up your slideshow with embellishments like this. Luckily, SmartSHOW 3D software is equipped with dozens of built-in tools to create cute effects. For example, a set of themed templates and animated collages will help you make a perfect holiday video card fast and easily.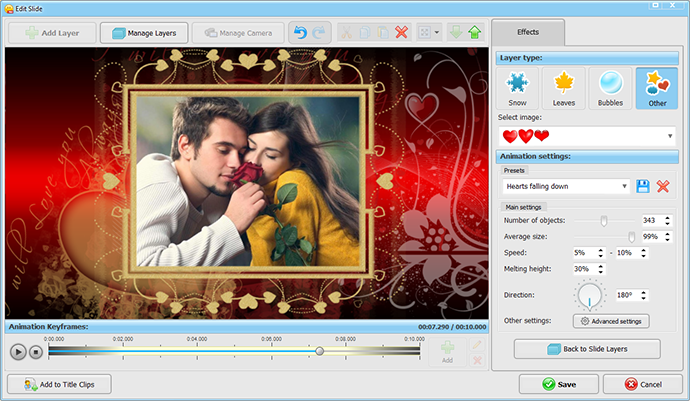 If you have not found a suitable slide style, you can always create the desired effects with your own hands. Switch to the Animation tab and play with pre-designed templates to make one-of-a-kind animations. Do not forget about transition effects as they make the change of slides smooth and improve your skills of a visual storyteller.
Let the Music Express Your Feelings
Your Valentine's Day slideshow will not do without lyrical music, so be careful when choosing your soundtrack. It can be a special tune describing some moment of your relationship or a melody you heard in a romantic movie. The point is to find the kind of music that will bring the tears of joy to the eyes of your significant other. What is even better, you can record voice comments and tell the most touching love story yourself!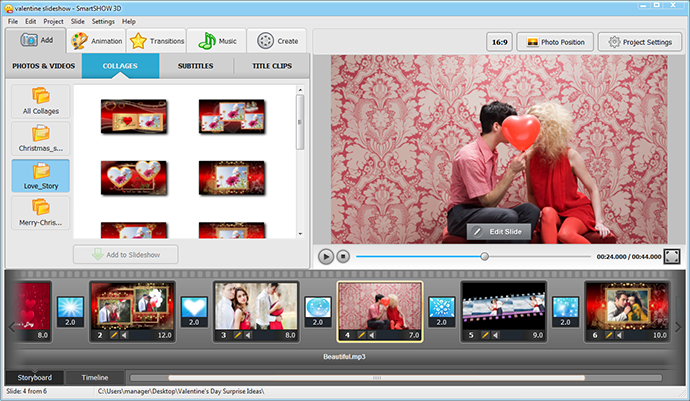 Celebrate the most romantic day of the year with a Valentine's Day slideshow that captures every moment of your love life. Do not waste your chance to make this February 14 really special! And after you have created a photo movie for Saint Valentine's Day, your creative skills can still come in useful when you decide to make a gorgeous wedding reception slideshow.

Get creative with
SmartSHOW 3D !
Want to make stunning photo movies with your own pictures? That's as simple as ABC with SmartSHOW 3D software!
Compatible with
Windows 10, 8, 8.1, 7, Vista, XP

Our Users Say:
I shoot weddings for a living, and often make wedding and love story slideshows for my clients. I used to do that with Windows Movie Maker, but then I came across SmartSHOW 3D and realized the immense potential of photo slideshow. This software now helps me do incredible things with my photos. Lots of thanks from happy clients!
I love making movies from our family and travel photos. Have tried a number of slideshow makers, but this one is something special. All kinds of fascinating effects and animation, music and voiceover, and excellent quality video in the end! Never thought I'd learn to make SUCH movies myself one day.

Need to create a professional photo slideshow?
Start now with

SmartSHOW

3D!