Church Presentation Software for Your Sermons
Create stunning and inspired church slides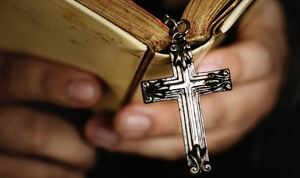 Modern technologies have integrated themselves into all spheres of our lives. So why should church be any different? Welcome the perks of the techno-era into your ministry routine. Say, you've always felt that your Sunday sermons weren't as engaging as you hoped, especially for a younger generation. A church presentation is the right remedy.
Capture your congregation's heart with a slideshow! Complement your service with uplifting imagery, scripture quotes against beautiful backgrounds and celestial hymns.
Learn how you can easily make a presentation with SmartSHOW 3D - powerful worship presentation software. Get your church presentation up and running with our tips and ideas on imagery and music!
Whenever you think about a presentation of some sort, PowerPoint seems like a go-to choice. But it's probably ill-fitting software when it comes to religious agenda. Being somewhat dry in its delivery and lacking artistry, PPT won't be able to pass on the Lord's Word in all its glory. Your presentation calls for something more feature-rich and visually engaging. SmartSHOW 3D - a powerful slideshow maker - offers 570+ templates and effects to make your presentation memorable. Try it for free to see what it is worth.
Church Presentation Templates
If you are pressed for time or just not sure of your artistic capabilities, give pre-designed templates a try. Rely on SmartSHOW 3D to provide you with a visual representation of your sermon. Use professionally designed templates, accompanied by worship songs, to inspire your congregation.
See how graceful a church presentation can be. With SmartSHOW 3D, you will visually translate something that otherwise might have sounded too dry and dull.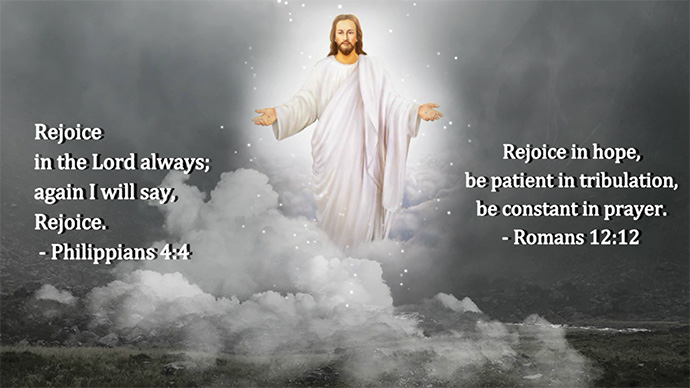 There is probably no doubt left that Christianity can truly benefit from modern media. Serving as worship presentation software, SmartSHOW 3D allows you to stay true to your religion, while also exploring the rich world of technology.
How to Make a Church Presentation Step by Step
Step 1. Download and Start SmartSHOW 3D
Download the slideshow maker and install it, following the instructions of the wizard. Run the software, then choose the type of your project. It can either be "Slideshow in five minutes" - a convenient tool to create an impressive video in under five minutes, using your pictures and the software's templates. Or pick "New project", where this projection software for churches allows you to be the creative force.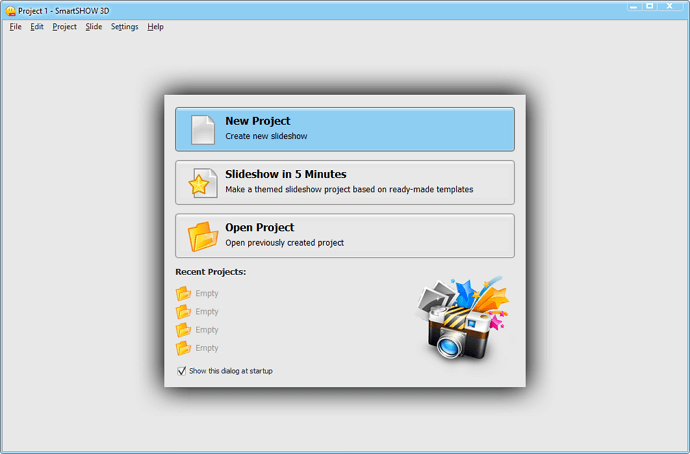 Step 2. Create Refined Church Slides
First, make a church slide background. Add inspiring pictures to your project by dragging them to the timeline. Try going with endlessly beautiful landscapes, gentle abstract art, or subtle religious imagery. Rearrange the slides if you want to create some continuity. To add dynamics, use animation effects from a vast library of this software for church worship. Now add slide transitions for a seamless flow. Graceful wipes, elegant dissolves, gradient segues - your presentation will only benefit visual-wise.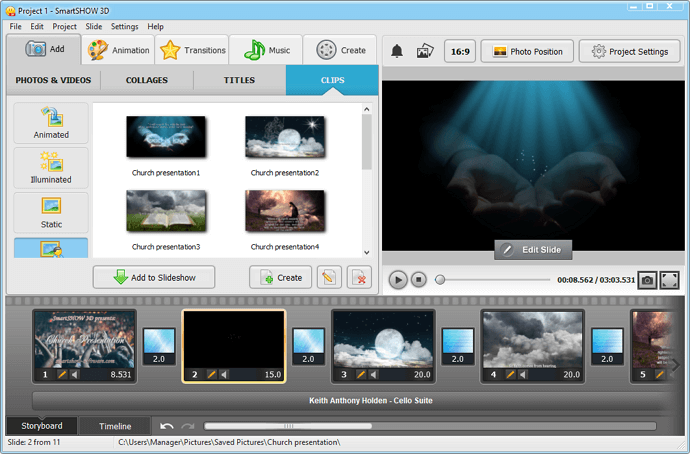 Step 3. Add Uplifting Quotes and Verses
Make your slides speak the wisdom of the Lord's Word. Add most heartening Bible quotes or verses to your church slides. Coupled with stunning backdrops, those words will surely strike home. Add your text by clicking the Edit Slide button. Switch to Add Layer, choose one of the text styles, then type in your caption. Wish to see your text move around the slide? Use SmartSHOW 3D's easy-to-use animation module to have your text obey your every bidding. That's what this bible presentation software is for!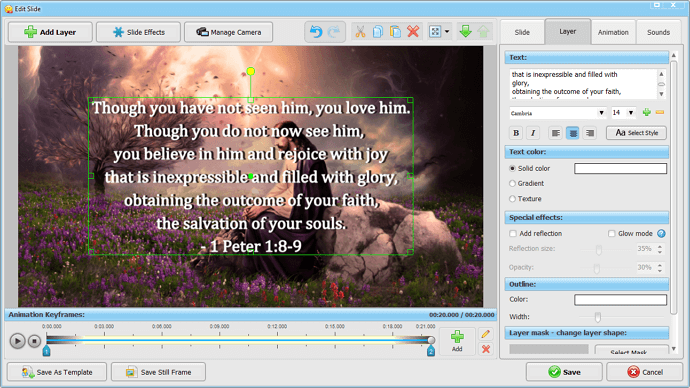 Step 4. Pick the Right Music for Accompaniment
Now you have a visually engaging complement to your sermon. If you have a fleeing sensation that it can be improved, music could be just the thing for it. After all, there's no savor in a tuneless presentation. Add music to your slideshow by either choosing a track from the royalty-free library of this presentation program, or using one of your own. Have soothing music accompany your presentation or go with an engaging worship song - after all, music is too precious of God's Gift to overlook.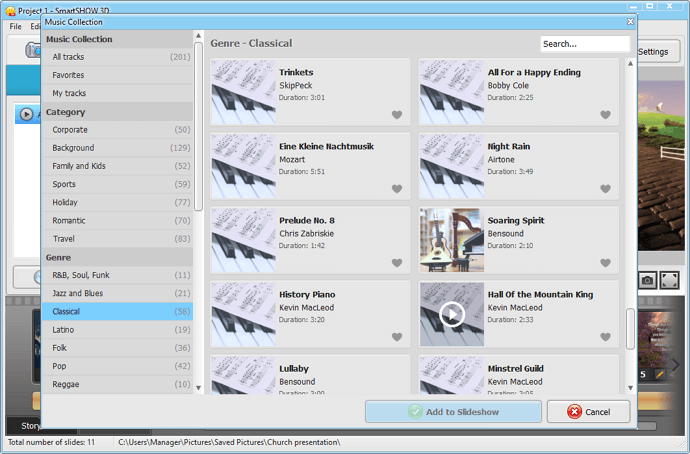 Step 5. Save Your Presentation
Save your project as a church announcement template for later use. This way it'll have the same structure, but you'd be able to use different images and quotes, adjusting the presentation to the needs of your service. Then save the presentation itself to share it with your congregation. Pick the best fitting format - either an HD video, or a video for a TV set, or almost any other popular video format. This church projector software can do it all.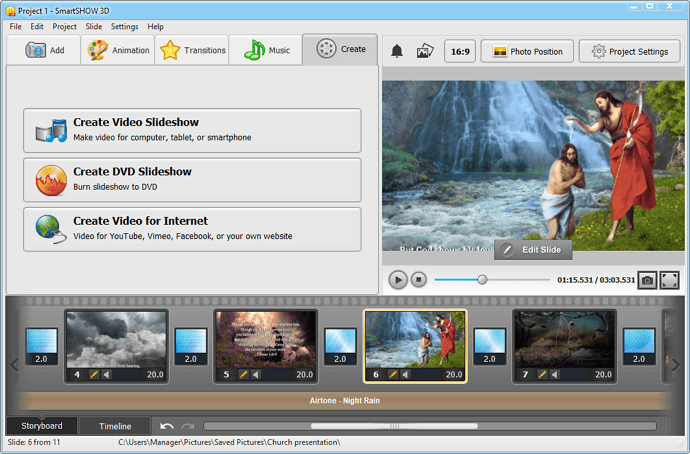 Now you have an inspiring presentation to make your service memorable. And it was all completed in five simple steps in this church presentation software! Try SmartSHOW 3D for yourself - follow the instruction to create a lively praise and worship presentation to complement your sermon.
Finest Church Video Ideas
We have covered the technical side of a church presentation, but what about the artistic one? Let's see how you can create a church presentation that will truly reach souldeep into your flock. Try these tips whenever you use church projection software. Reach a new artistic level, while also having an approachable result!
Take your congregation into consideration. This one is a no-brainer, but still has to be covered. When creating church announcement slides, consider the people that you minister. Never use small and barely legible fonts for texts, especially if you make any serious video announcements.
Don't go too visually flamboyant. When creating a slideshow, you can get carried away by the animation possibilities of any church video software, especially SmartSHOW 3D. Do not oversaturate your presentation with too many effects. Remember - it's to get the the point across, not boast your visual escapades.
Pick the right images. An image can either highlight the meaning of the Word, or ruin it beyond repair. Find the right images to ensure the former. Frame the beauty of the Lord's Word wisely in your welcome church slides. Going with Christian imagery is usually a good choice.
Use suitable templates. Sometimes we are just not fit for a technical task like this, even with worship software as easy as SmartSHOW 3D. Use pre-designed templates to create a church presentation. With little time and effort, you'll have an impressive result.
Search for the right music. Never underestimate the importance of a well-chosen tune. Let music tie your worship slides together. Browse through the best church songs to find the most fitting to your church video backgrounds and quotes.
We're done with the theoretical part. Now it's your turn to create a glorious church presentation, using this how-to-guide and the tips. With SmartSHOW 3D, you'll have an invisible but gentle guide through your Sunday service in no time. Easy-to-use and feature-rich, this is just the right presentation software for churches.
Looking for church slideshow software?
Get started with

SmartSHOW

3D!