Making an Animal Slideshow: From A to Z
Gorgeous slideshow of animals in a few minutes
Do you work in a kindergarten or elementary school? Planning a lesson about animals full of different activities? Perhaps you have a kid of your own and want to get him or her acquainted with the mysterious world of nature?
Then the best way is to create a slideshow of animal pictures! A cool presentation with music and voice comments will definitely catch the kid's attention and make your child remember all the important facts.
Want to make such a slideshow for your own children? Draw inspiration from the cool video sample below: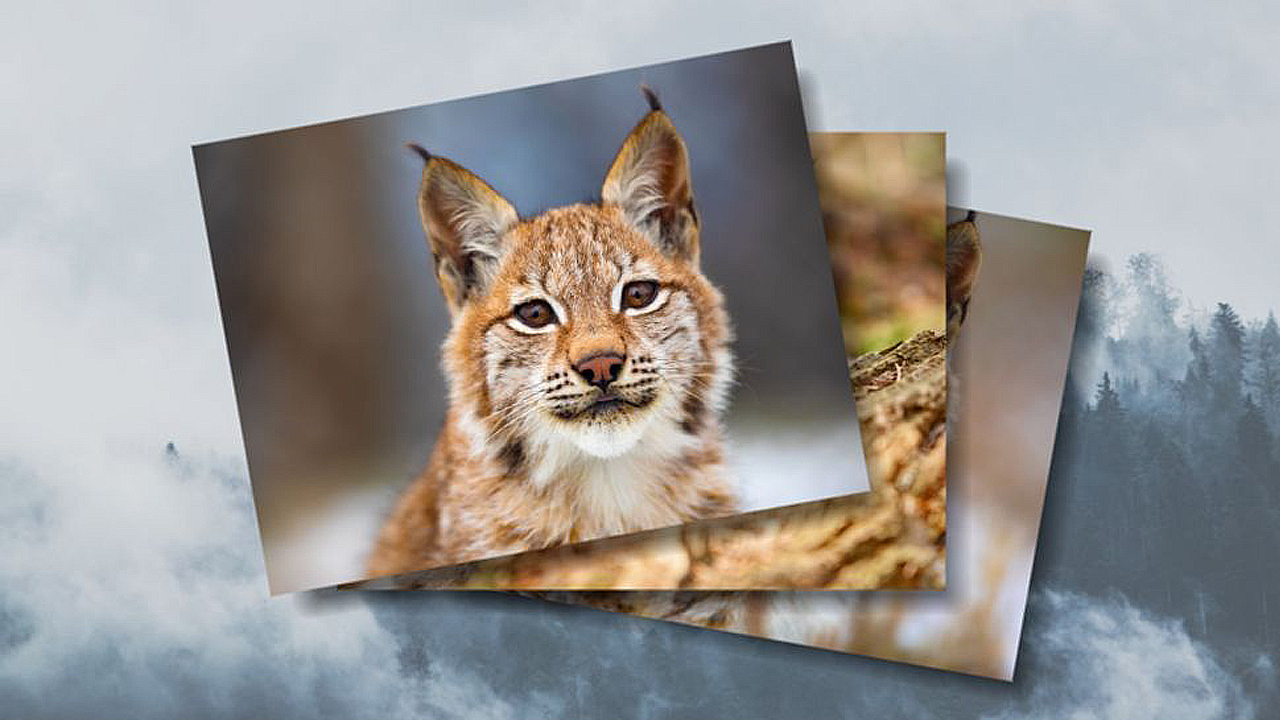 Don't want to spend a day on making such a video? You're likely to if you use some simple software like Powerpoint. Give it up! With powerful software in hand, you'll make an awesome slideshow in a minute.
Check out SmartSHOW 3D, a versatile slideshow program for Windows 10 (that also works fine on earlier versions). With it, you will be able to make a photo slideshow even if you aren't skilled in creating such videos. Arm yourself with 570+ templates and effects to make the process simpler and more enjoyable for you and your kid. Thanks to the simple interface, every feature will be at your fingertips.
What's even more awesome, making slideshows with SmartSHOW 3D is so easy, that even your kids will be able to manage that! It will be a perfect activity for kindergarten or elementary school.
Eager to try the software right now? Go ahead and download the free trial version. Then follow the steps below and create your first slideshow using SmartSHOW 3D!
Download free

How to Make an Animal Slideshow With Ease
Grab the pictures of fluffy baby animals and their parents, start SmartSHOW 3D and let's make something awesome! Here are the steps:
Step 1 – Drop In Your Pictures
First, decide whether you want to create a new project from scratch or use a "Slideshow in 5 Minutes" template. Second, add your images. You can drop in a whole folder or add pics one by one. What's more, you can arrange your images in a certain order, crop and rotate them if necessary.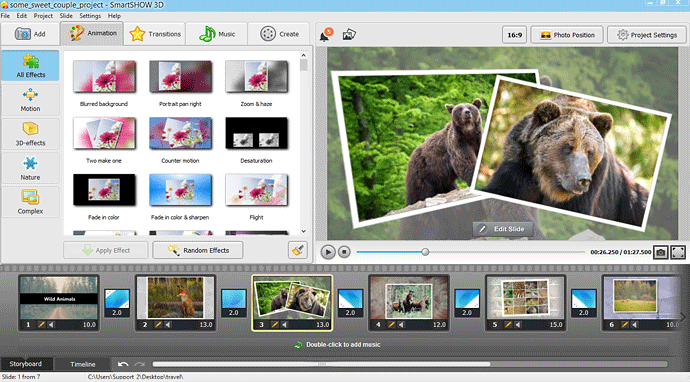 Step 2 – Insert Stylish Captions
Add short captions to the chosen photos. It will be easier for your kid to remember names and facts about different animals. The text should be bright enough to catch attention, but still readable. Otherwise, your child may not understand anything at all.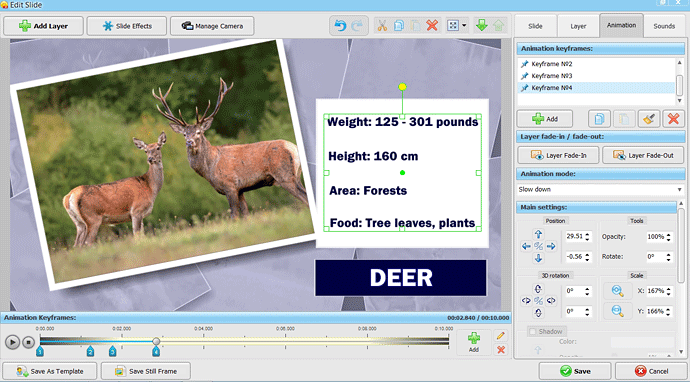 Step 3 – Add Realistic Effects
Bring your photos to life with stunning effects and animations! Immerse your kid into the world of nature by adding falling snow, swirling leaves and sparkling stars. They will help your little viewer remember details about the natural habitat of different animals.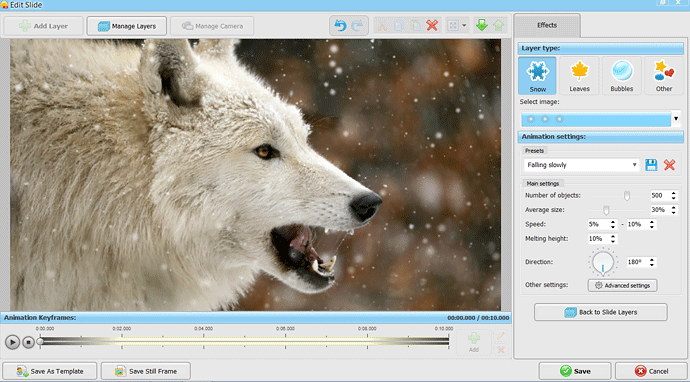 Step 4 – Record Voice Comments
Remember the storytelling time with your parents? Turn your animal slideshow into a fairytale with your guiding voice. Use the microphone built into your computer or laptop to record voice comments and complement the video with additional info. You can fine-tune the music volume to make your voice clear and loud.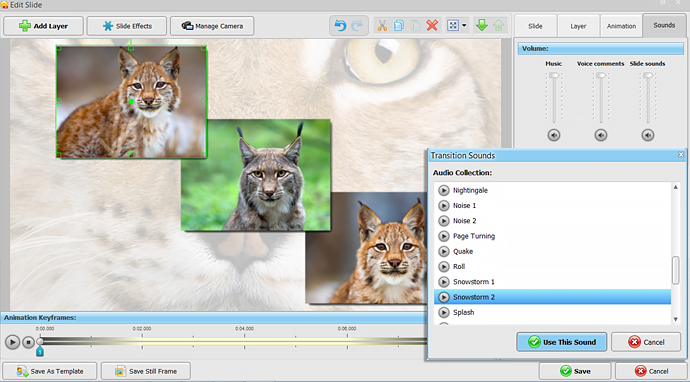 Step 5 – Create Animal Picture Slideshow
Added the final touch? Now it's time to save your slideshow. Switch to the Create tab and select the format that suits you better. Pick HD if you plan to watch the video together with your kids on a TV. Want to upload the slideshow to YouTube later on? Then save your slideshow for the Internet.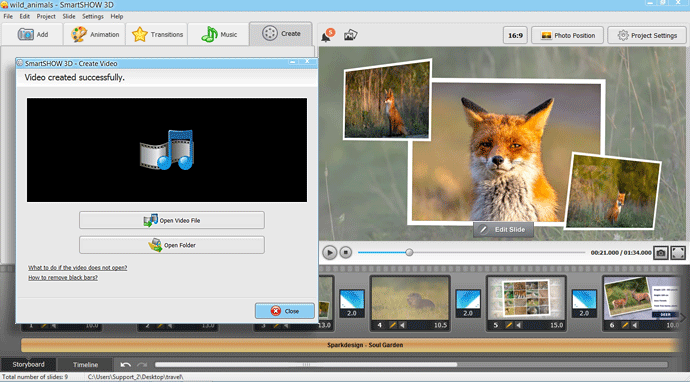 That's it! Now you are ready to create a slideshow with animal photos for your kids. Take them on a gorgeous journey around the captivating world of beasts. Just start SmartSHOW 3D and nail this task in a few minutes!
Need to create an animal slideshow?
Start now with

SmartSHOW

3D!