Video Scrapbooking Software Review
Feel the Joy of Video Scrapbooking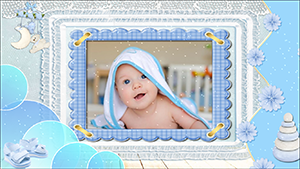 Many of us have tons of family photos, both digital and paper, that are left forgotten in dusty albums or unused folders. Instead of putting them out of sight, you can give your pictures a new life in the form of mesmerizing slideshows. Video scrapbooking is a great way to preserve your personal and family memories in a digital photo book with gorgeous backgrounds and designs. What is more, this photo presentation is perfect for special occasions like weddings, anniversaries, birthdays, and much more.
In order to start working with your photos in a new way you will need a proper application. SmartSHOW 3D is video scrapbooking software that has a user-friendly interface and intuitive tools suitable for users of any level. A large collection of built-in templates and slide styles will enable you to simply add pictures into the program and get a wonderful result. More experienced scrapbookers will be glad to create their one-of-a-kind photo movies from scratch.
How about a video lesson that presents the best features of this digital scrapbooking software? Click Play and learn more on how to make video scrapbooks with SmartSHOW 3D. Here are some creative ideas on how to pick templates for your project and customize these slide styles to your own liking.
What is Digital Scrapbooking?
In fact, digital scrapbooking is not so different from making traditional photo books. The creative process still revolves around arranging the chosen photos into some themed groups and decorating the page they are placed on. The only difference is that embellishments you buy and glue together are digital cliparts and effects.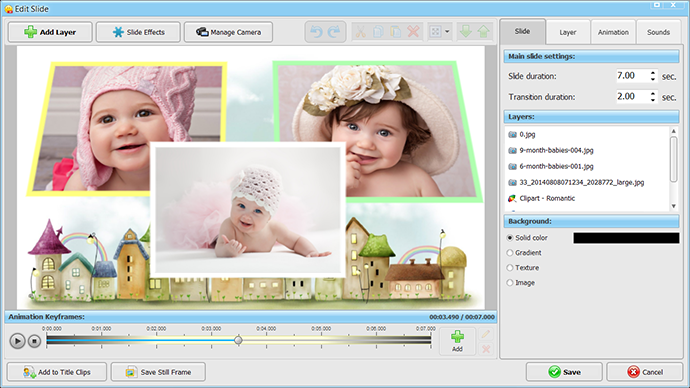 Modern applications for video scrapbooking allow you to create a beautiful scrapbook in minutes with ready-made templates and graphics, and share it to anyone online. SmartSHOW 3D offers many different ways to make scrapbooks from scratch or on the base of pre-designed slide styles. Keep on reading to learn more about digital scrapbooking and get inspired to create your own video albums!
Make Your First Video Scrapbook in 5 Minutes
The Slideshow in 5 Minutes option is a great time saver and a remedy for all those who are still new to slideshow creation. When you launch the application for the first time you can simply pick some theme that fits the occasion and add your pictures. The software will do the rest and arrange the images on the storyboard. Yet, the process goes way beyond organizing your photos.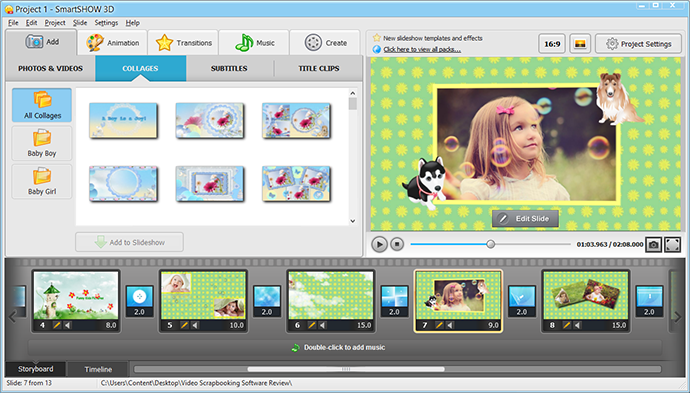 After the best family pictures have been chosen, you can funk up the footage with cool music and even add more effects to some of the slides. All in all, if you want to very quickly collect related images into a personalized scrapbook, this is the fastest and easiest solution.
Build a Personal Scrapbook on Gorgeous Templates
Apart from ordinary slide styles, the video scrapbooking software offers stunningly beautiful templates. These scrapbook kits embrace a handful of graphics that is charged with eye-catching animation effects. Switch to the Collages tab and you will find plenty of templates that are ready to go. If you want to expand this collection, though, you can get more gorgeous slideshow templates made by professional designers on the official website of SmartSHOW 3D.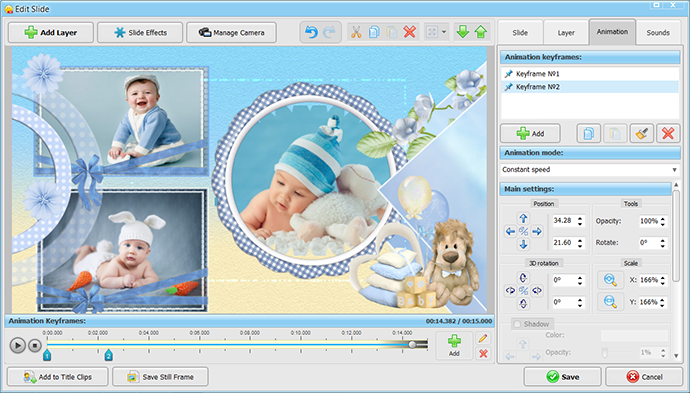 Scroll through a large set of romantic, funny, seasonal and holiday-related templates, add the ones you like to the Storyboard and finally insert your photos or even video clips into these fancy frames decorated with animated cliparts and glow effects. The resulting video scrapbook will certainly catch the viewer's eye!
Create One-Of-A-Kind Digital Scrapbooks from Scratch
What sets a scrapbook apart from an ordinary photo album? It is the carefully chosen or handmade embellishments. With SmartSHOW 3D software, you get unparalleled creative freedom in finding the best form to preserve your happy memories. First of all, create a blank slide and hit the Edit Slide button to get started with the customization of your future video scrapbook.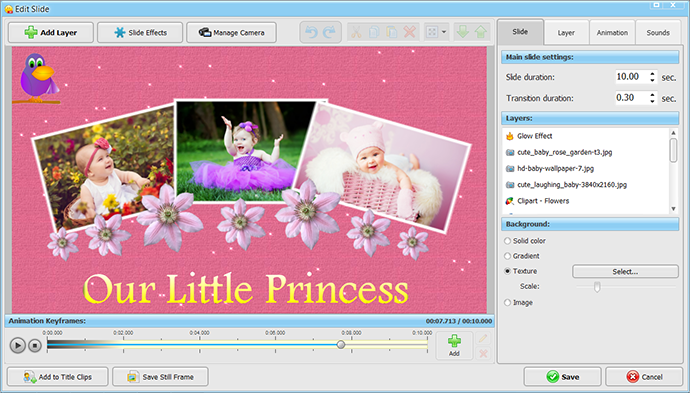 Set the background color or add some background image, and insert your photos. If needed, resize the pictures and place them on the slide. Then add more layers such as cliparts, gif images or 3D effects. Type in animated text captions that can warp, fly over the pictures and fall over the brim of your display. Move to the Animation tab to make the chosen element zoom in or rotate with the help of keyframes – special marks on the time line that capture every single movement of the photo or clipart you want to animate.
With video scrapbooking software, you do not have to physically cut and stamp photos and other embellishments to the page, but you can still get as creative as you want. When you are deciding what to do with the photos on your computer, scrapbooking programs help you make a nice display that may become a treasured keepsake for future generations of your family. For virtually any scrapbooking task, the software like SmartSHOW 3D offers a variety of beautiful templates, is easy to use and a pleasure to work with.

Get creative with
SmartSHOW 3D !
Want to make stunning photo movies with your own pictures? That's as simple as ABC with SmartSHOW 3D software!
Compatible with
Windows 10, 8, 8.1, 7, Vista, XP

Our Users Say:
I shoot weddings for a living, and often make wedding and love story slideshows for my clients. I used to do that with Windows Movie Maker, but then I came across SmartSHOW 3D and realized the immense potential of photo slideshow. This software now helps me do incredible things with my photos. Lots of thanks from happy clients!
I love making movies from our family and travel photos. Have tried a number of slideshow makers, but this one is something special. All kinds of fascinating effects and animation, music and voiceover, and excellent quality video in the end! Never thought I'd learn to make SUCH movies myself one day.

Need to create a professional photo slideshow?
Start now with

SmartSHOW

3D!