Mother's Day Slideshow Video Ideas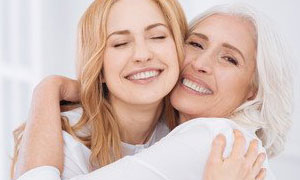 Mother's Day is the time when we want to give our mothers something really special. Show your mother how much she means to you and make a personalized, one-of-a-kind gift. Why not create a DIY Mother's Day slideshow with your family pictures? Add heart-warming congratulations, gorgeous animation effects and mom's favourite music.
Here we've gathered all kinds of useful tips on how to create your festive photo slideshow, choose proper images and quotes, what music to use, and much more. Read this guide till the end and treat your mom to the most touching DIY gift this year!
How to Make a Mother's Day Slideshow Video
If you want to create a unique and professional-looking Mother's Day slideshow, make use of SmartSHOW 3D software. This automatic slideshow making program offers you hundreds of ready-made templates - a perfect solution if you need to make a last-minute digital gift. This Mother's Day collage maker also comes with lots of animation effects and themed embellishments that are rather handy for creating your own Mother's Day video from scratch. So where to start? Follow the simple steps below and you'll be able to design a unique video card in a couple of minutes.
Step 1. Pick a suitable "Slideshow in 5 Minutes" theme or start your own project from scratch if you have enough time to go creative.

Step 2. Add the photos of your mom and you together, special videos and lovely collages into your slideshow video. If you're looking for appropriate images and themed cliparts, check out these happy Mother's Day pictures.

Step 3. Insert Mother's Day greetings: it can be predesigned titles from the built-in collection or customized slides with heart-stirring text messages, wishes, quotes, and much more.

Step 4. Spice up your Mother's Day slideshow with a catchy soundtrack: either choose some melody from the program library or upload your mom's favorite track. You can even record comments with your microphone and insert them into the slideshow.

Step 5. Export you slideshow in full HD quality and play it during your family party, or send it to your mother by e-mail if she lives far away.
Want to play such a photo presentation on Mother's Day and see happy tears running down your mom's cheeks? Click the button below and get started with SmartSHOW 3D!
Mother's Day Slideshow Templates
If you are pressed for time, there is no better way than using predesigned templates. You just need to add the pics and music, and your Mother's Day slideshow is ready in mere 5 minutes. Of course, you can customize the details in the slide editor, and you'll obviously want to add some captions with your own words, but 180+ built-in templates will help you create dozens of Mother's Day slides with minimum efforts.
Take a look at this Mother's Day slideshow example made with the template pack for SmartSHOW 3D. Elegant embellishments, subtle animation effects, moving quotes and great combinations of photos and video clips - here are the key components of a memorable slideshow.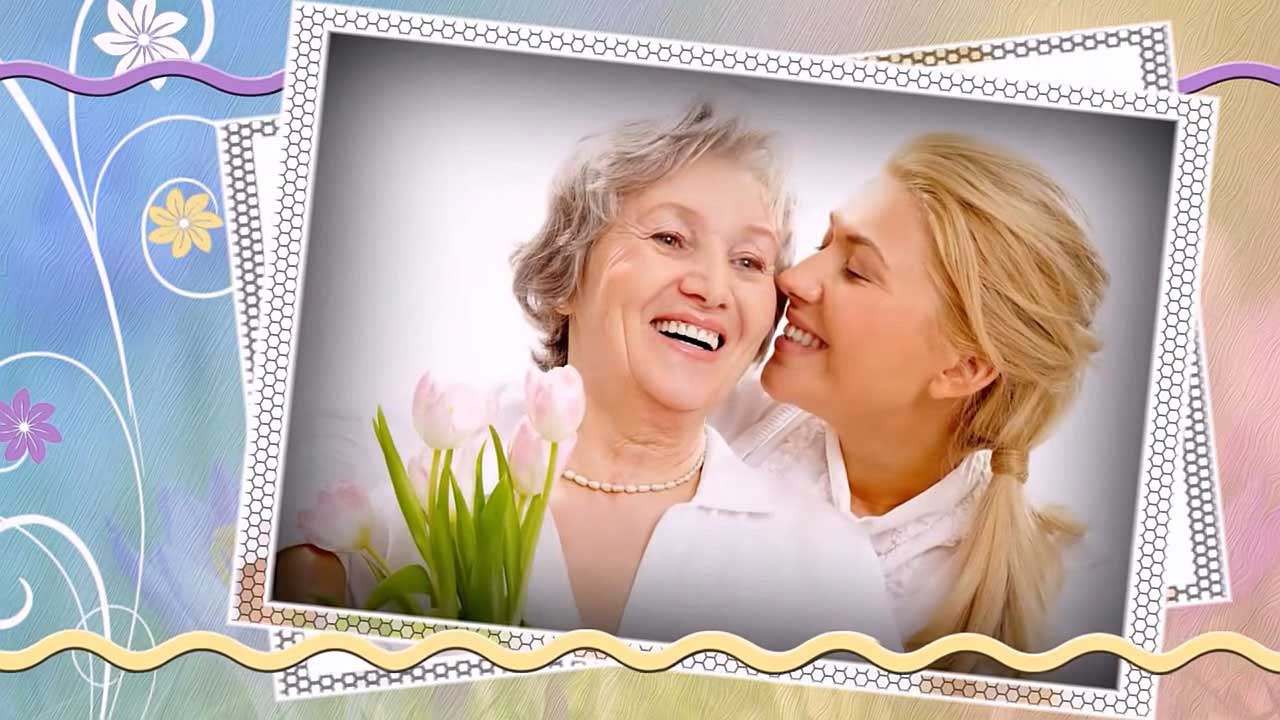 Get access to 550+ themed templates & cool effects that come with SmartSHOW 3D. Start your free trial today!
Happy Mother's Day Quotes
The best gift for Mother's Day cannot be something material. Mother's Day quotes are the words of love and tenderness that you can put at the beginning, in the middle, or at the end of your Mother's Day slideshow. You can use title clips or you can go to the slide editor and add a text layer with your message right onto the photo. Let us just give you some Mother's Day quotes to start with:
Mother is the name for God in the lips and hearts of little children (William Makepeace Thackeray)
Life began with waking up and loving my mother's face. (George Eliot)
Are we not like two volumes of one book? (Marceline Desbordes-Valmore)
A mom's hug lasts long after she lets go. (Author Unknown)
All that I am or ever hope to be, I owe to my angel mother. (Abraham Lincoln)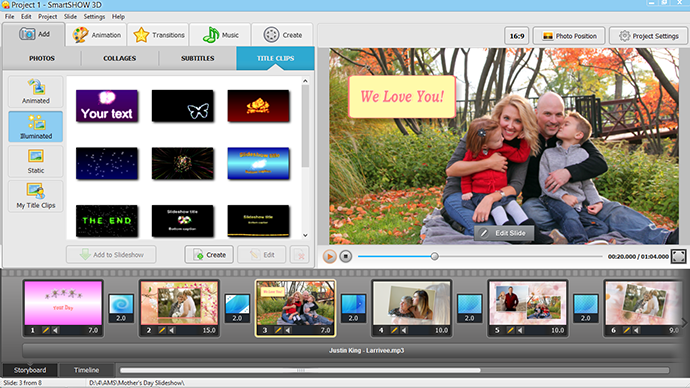 Mother's Day Songs
Depending on the style of your slideshow, choose a suitable song. It can add a cherry on top and serve as a soothing or inspiring tool for your Mother's Day slideshow. First, decide upon the tempo – for a moving video, select some slow-paced music, for a funny and dynamic one choose a fast-paced tune. Here are some of the most popular Mother's Day songs for you to choose:
Celine Dion - Because You Loved Me
Backstreet Boys – The Perfect Fan
Whitney Houston - Greatest Love of All
Elvis Presley – Mama Liked the Roses
Ozzy Osbourne – Mama, I'm coming home
Christina Aguilera - I Turn to You
Barbara Streisand – Memory
Elton John – Blessed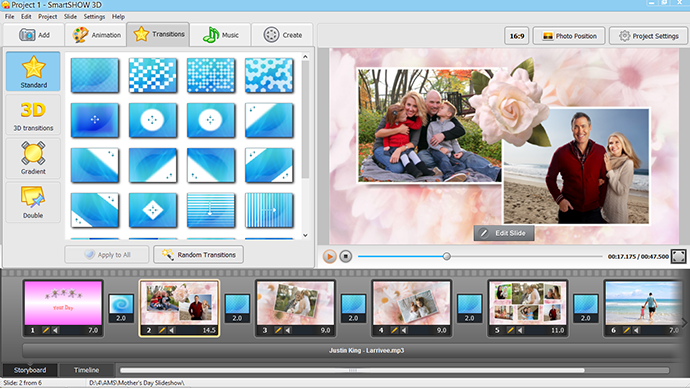 More Tips for Mother's Day Videos
Now you know how to mix Happy Mother's Day images with music and cool animation. Still longing for more? Check out these Mother's Day video ideas and tips that will pave the way to your one-of-a-kind slideshow gift:
Aim for a slideshow about four minutes long. If you make it longer, the people who will watch it can get bored. Play your Mother's Day slideshow at a surprise party or at a family dinner. It will surely impress your mother and other guests as well.
Who says that only children can appreciate their moms on Mother's Day? Husbands can also thank their wives for being great moms on this day. If some of your friends have kids, it's also a good idea to cheer them up and treat to a special DIY gift.
You simply can't beat a 'flashback' photo slideshow when it comes to video greeting cards. Dive into the stack of old pictures that best portray your love for mom, grandma or sister, and relive those happy memories with a lovable video.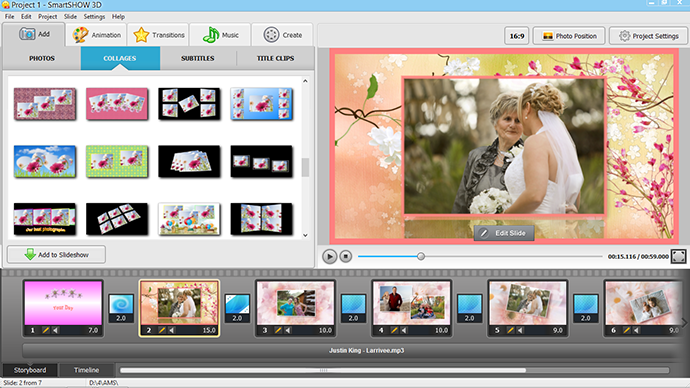 Frequently Asked Questions
With the help of a Mother's Day slideshow you can say "I love you!" in a way that just cannot be forgotten. Don't waste your time and money on standard presents that will be neglected. Make a movable yet funny slideshow video and thank your mom for all the good things she has done for you!
Need to create a professional photo slideshow?
Get started with

SmartSHOW

3D!