How to Create a Puppy Slideshow in 5 Minutes
Learn how to make a dog slideshow to melt people's hearts!
A dog is a man's best friend and that is no exaggeration. This little (or big) fluff ball can give you so much joy and love, never asking for anything in return. Well, maybe a belly rub. And a three-hour walk. And this sandwich you are about to eat. You know what? Just give it to your pooch. Dogs deserve such gifts! What they also deserve is to be honored. A cute photo slideshow could be the best way to do it!
Have a look at the sample slideshow of dogs below. Isn't it a great video tribute to your canine friend?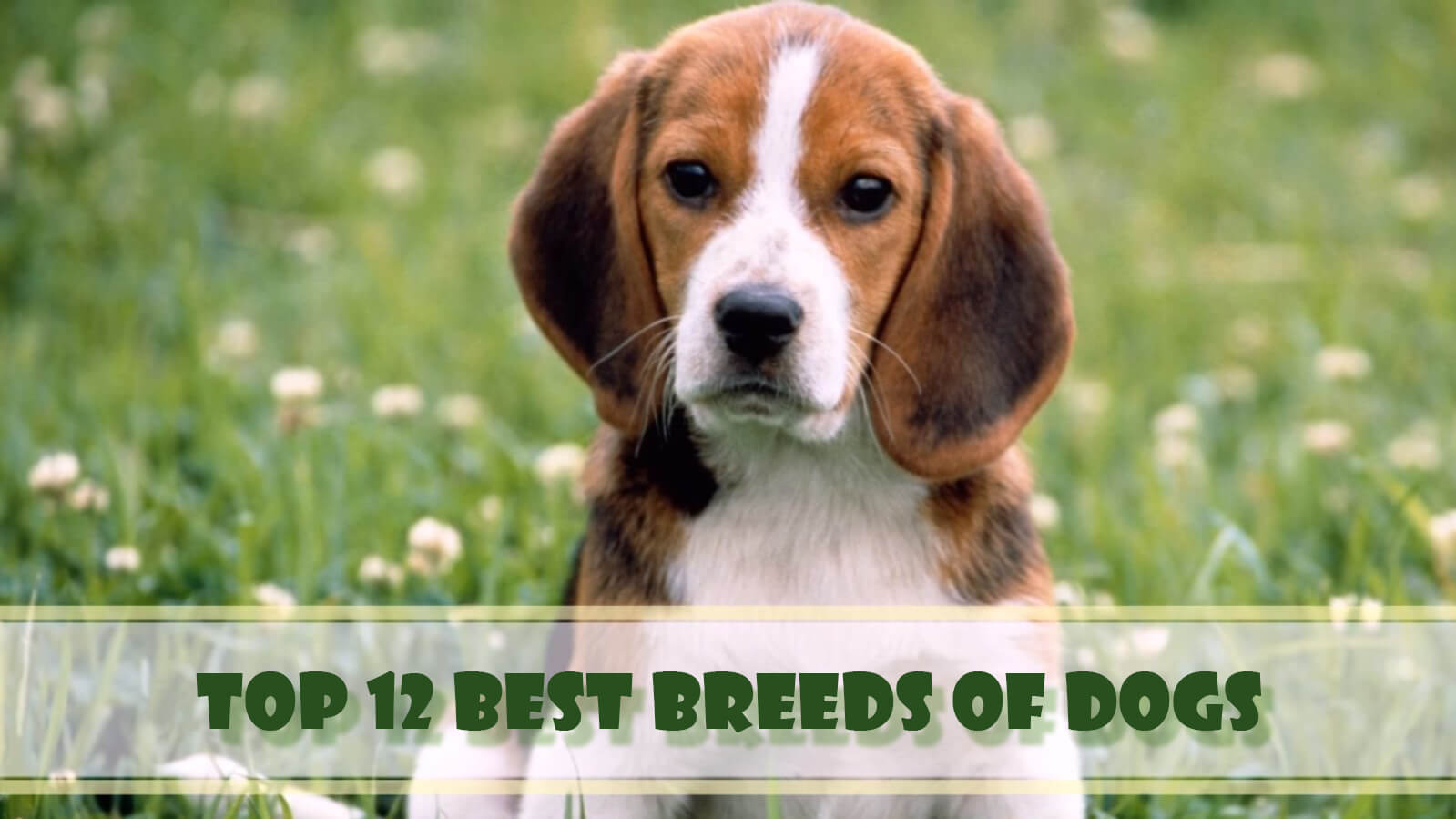 Want to create a similar video featuring your dog, but don't know how? Let's break down the ingredients for a lovely puppies slideshow. You'll need pictures of your pooch as well as videos of its various shenanigans, catchy music, and a versatile slideshow maker.
Sure, Powerpoint seems like a go-to choice, but there're more convenient and feature-rich softwares. If you want to make a visually engaging slideshow like the one above, go with SmartSHOW 3D. This automatic slideshow making program offers 350+ slide animations, 3D collages, and transition effects that will impress even seasoned geeks. With 200+ pre-designed templates, even newbies with no prior experience will be able to create beautiful slideshows. Another nice perk of the program is a free trial. Got you intrigued? Then let's learn how to make an adorable dog video with this powerful slideshow maker!
How to Make Puppy Slideshow in Mere Minutes
Take a bunch of your dog's pictures and videos and turn them into a fun slideshow with music and special effects! It's a lot easier than its seems. Just follow these five simple steps:
Step 1. Decide on the Type of Slideshow
Install and run the software. If you are new to slideshow making, go with the "Slideshow in 5 Minutes" option. Choose a pre-designed template from dozens of stylepacks, fill it with your pictures, and you'll have a cute puppy slideshow in no time at all. Feel confindent enough to create a custom slideshow from scratch? Then just pick the "New Project" option and move on to the next step.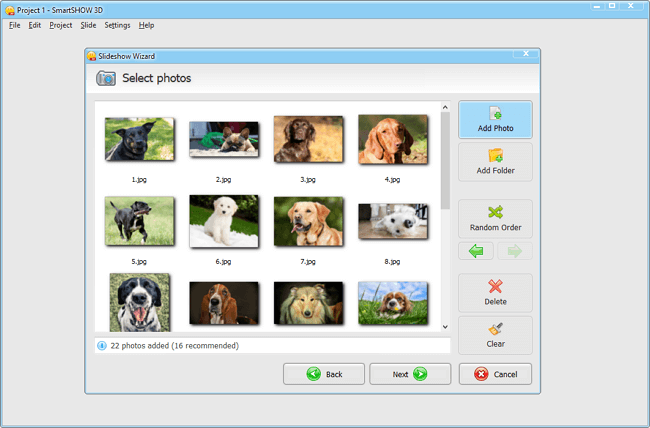 Step 2. Add Your Dog's Best Pictures and Videos
Drag and drop your pooch's pictures into the project. Add any pictures of your dog - from pro photoshoots, obedience trainings, or a casual walk in a dog park. You can shuffle and re-arrange your photos, or put them in a strict order if you want to chronicle your pet's growing. Add videos to make your slideshow more dynamic.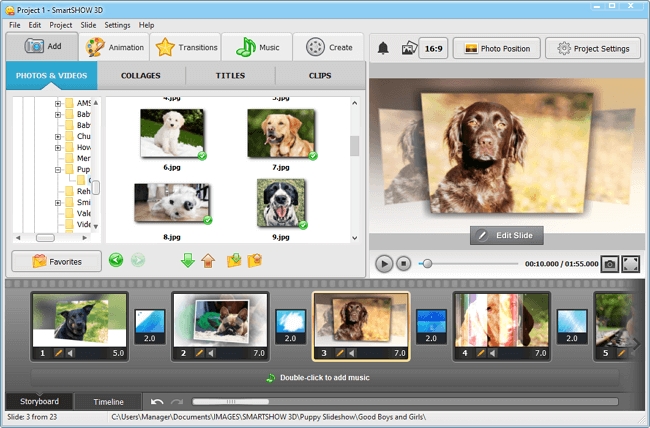 There is no recipe for an ideal dog slideshow, so add those pics of your dog you really feel like adding. Unbearably funny, hilariously cringy, or eerily beautiful - anything goes. If you have a grown dog, chronicle its transition from a small puppy into a strong canine. If your pet is still a pup, be sure to capture this sweet time with a picture slideshow because they grow so fast. And what if you don't have a dog yet, but want to create a puppies slideshow to warm your canine-loving heart? Here you'll find
puppy pictures
aplenty!
Step 3. Pick a Lovely Tune for Your Puppy Slideshow
Funk up your slideshow with an upbeat song. SmartSHOW 3D has a huge library of royalty-free music. With 200+ tracks at your disposal, you are sure to find a fitting tune in almost any genre. Want to make your dog video more personal? Then go with your favorite track or use one of the famous dog songs. Add voice comments to tell stories behind the sweetest or weirdest shots.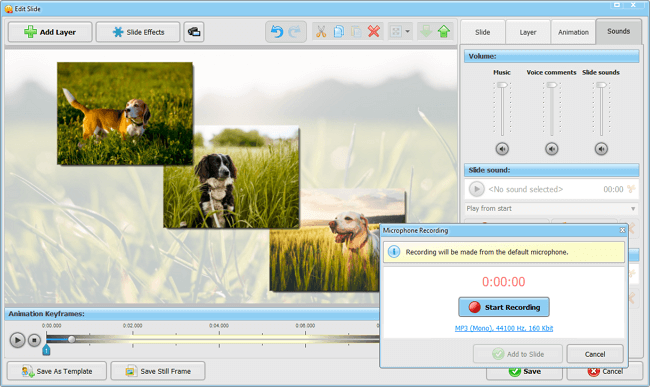 Step 4. Make Your Video Visually Captivating
Spice up your slideshow with jaw-dropping effects! Let your dog's pictures zoom in, pan, and rotate with slide animation. Make your slideshow dynamic and intense, or smooth and calm with various transitions. Use nature effects like soaring leaves or falling snowflakes to add more zest to your video.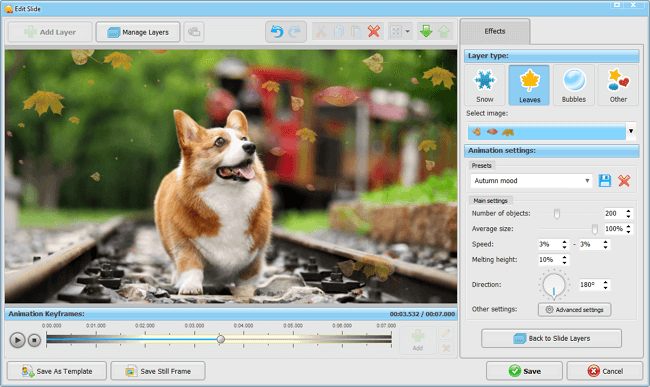 Step 5. Save and Share Your Slideshow
Now it's time to let the whole world know how cute your dog is! Save your slideshow in 30+ formats and share it the way you like: create a video for your Facebook page or your YouTube channel, burn it to DVD, or have a little private screening with your friends and play your dog slideshow on TV.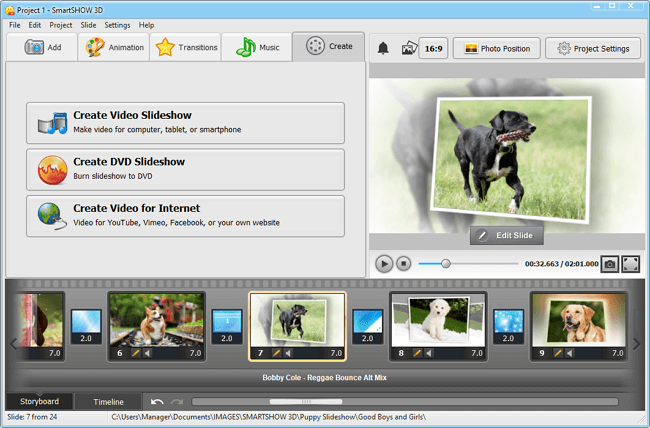 "Dogs are not our whole life, but they make our lives whole." You can't find truer words to describe these wonderful creatures. Use SmartSHOW 3D and its limitless artistic possibilities to celebrate your bond with your furry friend. Create a heartfelt slideshow to prove a simple truth - you can never get enough of your dog!
Want to create a cute puppy slideshow?
Get started with

SmartSHOW

3D!