How to Make a Happy Birthday Video
Tricks on Creating Cool Birthday Video Greetings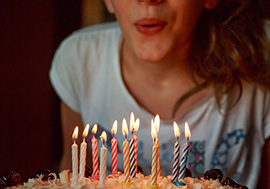 Feeling uncomfortable about someone's birthday approaching, stuck in search of a perfect gift? The solution is surprisingly easy, off the beaten path and creative - a video with photos and clips, featuring the person. It will surely hit the nail on the head.
How to create a birthday video? No worries - you don't need to be a video montage guru or a designer. With SmartSHOW 3D, an easy-to-use movie maker, you will be able to create a video wishing happy birthday in a few clicks! Below, we gathered some ideas that you can use to make the best gift of the year for your special person.
Here's our example of a personalized birthday video. To make it, we mixed short video clips and images, applied eye-catching animation and transitions effects, decorated some slides with animated cliparts, added suitable music and text captions. Watch it to get a bit of inspiration: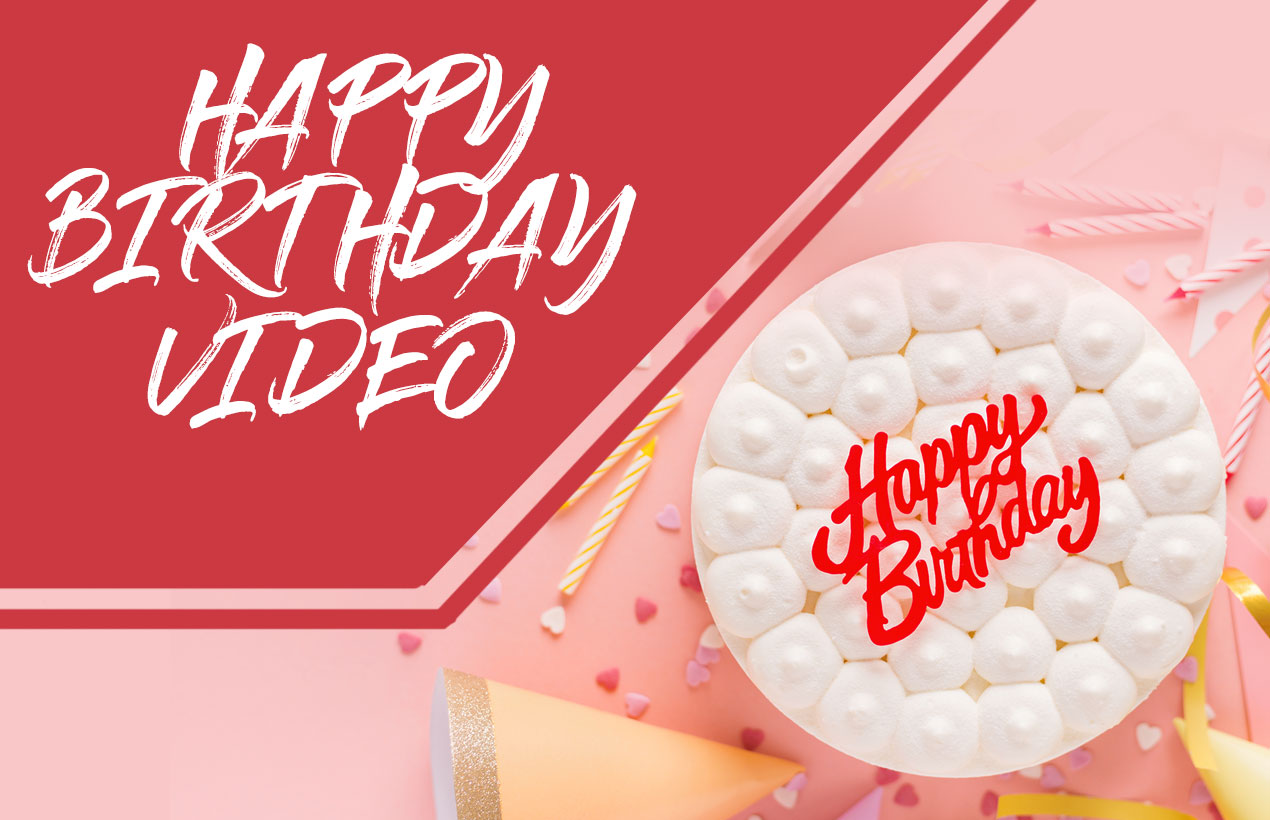 How to Make a Birthday Video in a Minute
Want to make something like this and need a detailed text guide? Here are 5 quick steps for creating a cool video:
Step 1. Open SmartSHOW 3D
Run our happy birthday video maker. Pick the best mode: you can make a custom project from scratch or use a ready-to-go template as a base. You will find templates suitable for different birthday types: your dad, mom, best friend or child.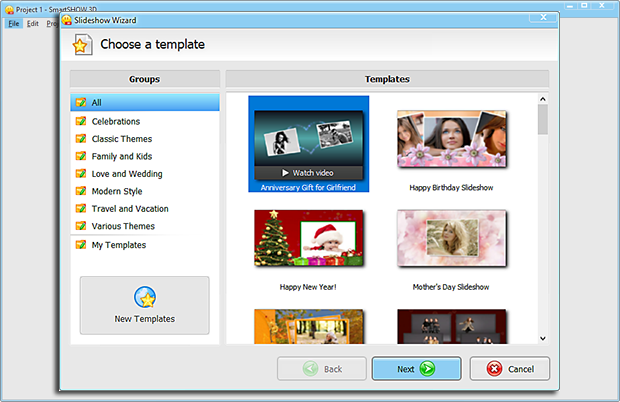 Step 2. Drop in Your Photos and Clips
Add your images and video clips. Select the beautiful ones that depict the birthday person and his or her important life events. Don't just throw it all onto the storyboard: mix some contents into collages to make the slideshow look solid. If you are short on photos, look for happy birthday pictures in the Internet.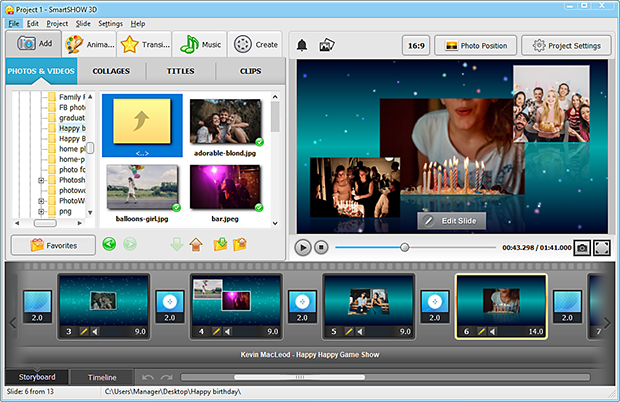 To make the video look bright and lively, add some animated happy birthday images. Try not to go over the top though, no one likes to watch a motley mess of pictures and music.
Step 3. Add Heartwarming Congratulations
Beautify your slides with stylized captions and texts. Add some funny quotes or gather happy birthday wishes from the person's relatives. You can insert some slides with poetry as well.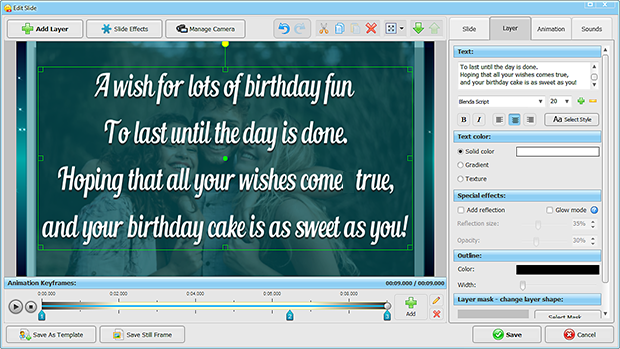 Step 4. Funk Up Your Video With Music
This birthday video maker with songs has a vast music collection - over 200+ royalty free tracks for you to choose from. So pick the music that corresponds to the mood and events showed on this or that slide. Here's some juicy happy birthday music for you to choose from.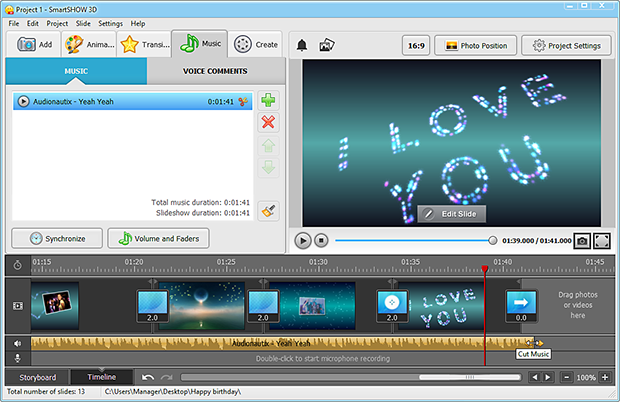 Step 5. Create Your Happy Birthday Video
Once you're done with editing, go to the Create tab. Here, select the desired format for your future video. You can make a video for Youtube or copy it to USB and play the video during the bday party.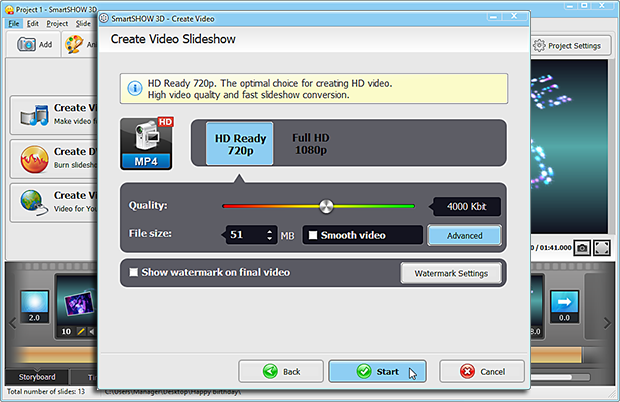 Now you know how to make a birthday video. Just 5 steps and you have a unique present! Don't waste any more time on searching for a gift and get yourself our powerful birthday movie maker:
Ready-to-Go Templates For a Happy Birthday Video
Need a bit more help to get started? Or are you extremely short on time? Then take a look at what this automatic slideshow maker has to offer - these four pre-made templates are suitable for making a birthday video card right on a fly: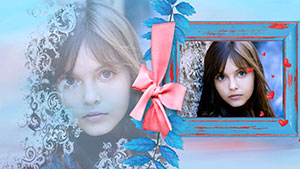 "Happy Birthday" Slideshow Templates"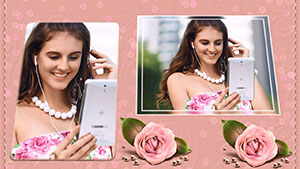 Sweet 16 Slideshow Templates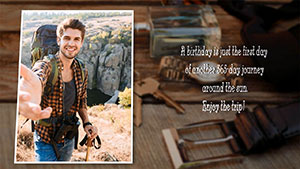 Man's Birthday Slideshow Templates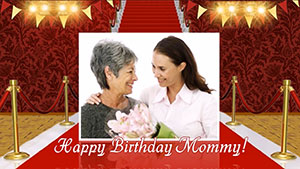 50th Birthday Slideshow Templates
Ready to create your slideshow? Just download SmartSHOW 3D and make a music video that will rock the birthday party!
Birthday Video Ideas For Any Occasion
How to create a birthday video that will be remembered? You need to think about its idea and theme as well. It should be cool enough to be a real gift and fun enough not to get others asleep.
No need to worry, there are tons of options to pick from, depending on the occasion. Here are our top 5 birthday video ideas: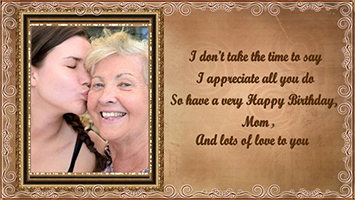 Video Gift for Your Mom or Dad
Members of our family are always special for us. That's why we want their gift to be super awesome. Mix family pics and clips, add funny captions and stories, spice it up with animations to send them happy birthday video greetings. Make your mom or dad feel special!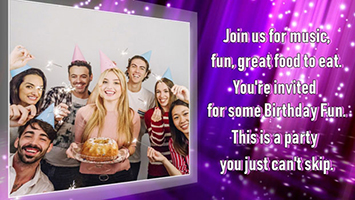 Party Invitation
Using our editor, you can make a video card to invite your friends to the party. Address the future guests and tell them about the location, date and time. Later, share this customized invitation via social media to make sure everyone sees it.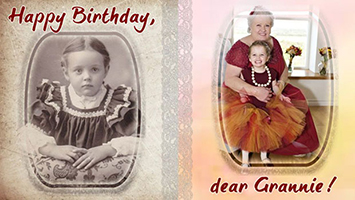 Life Story Recap
If you want to make a gift for someone's 40th or 50th birthday, then the best choice is to create a life story video devoted to important events. You can ask their friends and parents for help. Old photos from childhood and major milestones will touch everyone's heart. This option also works for younger adults.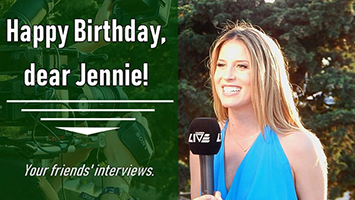 Interview
If you are really talkative, try acting as a reporter while making a birthday video. Take a camera and a microphone and ask all the friends around what they think of the birthday person. They can share stories, tell compliments or jokes. Show the interviews at the party to have a good laugh.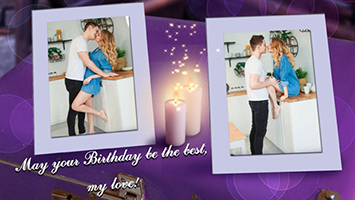 Gift for Girlfriend or Boyfriend
Make a happy birthday video message for your beloved one. Show special moments in your relationship, your mutual achievements and, of course, express lots of love with stickers, GIF animations and sweet captions.
That's some of our ideas for making a cool birthday video presentation. We hope they will help you create a sweet gift for such a special day and receive lots of thanks and warmth in return!
Need the best happy birthday video maker?
Start now with

SmartSHOW

3D!