Birthday Slideshow Songs for a Truly Festive Video
Get tips on B-day video tunes and check out our song picks for all ages and genres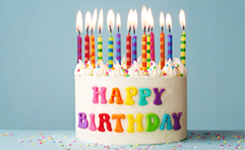 Making a sweet birthday slideshow for your friend or family member and still can't come up with a fitting tune? Then you've come to the right place, because we know a thing or two about songs for birthday slideshows and will be happy to share our knowledge with you and help you find the best tune.
In this article, we'll give you surefire tips on how to choose the best soundtrack for your festive video. And to make your job a little bit easier, we'll share with you our top picks for birthday slideshow songs. They'll be divided according to genres and the celebrant's age. Let's get going!
How to Pick Songs for Birthday Slideshows
While the famous Happy Birthday to You tune can serve as the universal soundtrack for your video, wouldn't it be better to pick something more personal? This way your video will hit right home with the birthday boy or girl. To find those tailormade birthday slideshow songs, this is what you need to take into consideration:
What is the age of the celebrant? Your choice of music for a birthday slideshow should really depend on it. It's unlikely that a senior person will enjoy the latest bop with explicit lyrics. And the youth will hardly love the old school jams their grandparents used to dance to. So know both the birthday celebrant and your audience and go with either a tune they'd appreciate or just stick to some undying classics.


What is your relation with the birthday boy/girl? Now this one is more about the lyrics. No matter how much you love a certain song, make sure that it fits the occasion. There is no chance you are going to use a song about a young man or boy for your aunt's birthday, right? So base your choice on your relationship. Are you making a birthday video for your mom or dad, brother or sister, son or daughter, and so on? Then you'll know what song to pick.


Do you approve of the lyrics of the song? Here is another tip on the lyrics - always take it into consideration. The music itself could be misleadingly jolly, but the subject matter can be dark. So if you don't want to spoil your video with an unintentionally creepy or sleazy song, make sure to read and understand the lyrics first.


How long will your birthday video run? There is no perfect running time for a Happy Birthday video, but most people agree that it should be somewhere between 3 and 6 minutes. So once you determine the running time, pick the soundtrack accordingly. Go either with one longer song or pick two that would cover the duration of your video. Do not use the same song twice, better come up with two similarly sounding tunes.


Do you know how to make a birthday slideshow? This is more of a general knowledge tip. There is no way you can start choosing songs or pictures until you actually know how to create a birthday slideshow. So take your time to study the subject, and once you have the knowledge, ideas on pictures and good songs for your birthday slideshow will come flowing.
Want to see what a slideshow with a carefully chosen song looks like? Then take a glimpse of this festive video. You might find the much needed inspiration right there.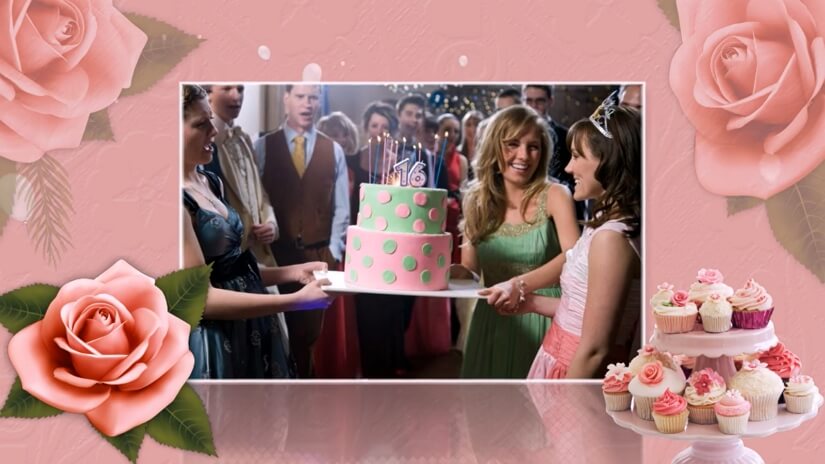 Love what you see? Want to recreate the sweet vibes of this video? Then let's move on to our picks of the top birthday slideshow songs.
Best Songs for a Birthday Slideshow by Genre
Now let's see our meticulously chosen tracks. First, let's have a look at songs in different genres. Since a birthday is a joyous occasion, we'll steer clear of any gloomy or heavy tunes and will dive right into wholesome fun with these birthday slideshow songs.
Upbeat Birthday Songs
What is birthday if not the happiest day of the year? Then it's only fitting to use the most feet-stomping jams for your festive video. Here're some sweet upbeat songs for your slideshow:
Forever Young by Rod Stewart
24K Magic by Bruno Mars
What's My Age Again by Blink 182
Changes by David Bowie
Wouldn't It Be Nice by Beach Boys
Country Birthday Songs
Having a country-style slideshow? Then here are a few tracks that wonderfully reflect a person's growth and maturity with a pinch of good old southern charm thrown in:
Happy Happy Birthday Baby by Dolly Parton
Happy Birthday by Loretta Lynn
My Wish by Rascal Flatts
My Next Thirty Years by Tim McGraw
Bottoms Up by Brantley Gilbert
Want to start making your birthday video? You need a handy instrument for it. Go with SmartSHOW 3D. This slideshow program has all the tools you need: tons of templates, animations, transitions, and a huge library of birthday-appropriate music. The software also has a trial version so you can test it risk free.
Christian Birthday Songs
Want your Lord and Savior to also be part of your loved one's birthday celebration? Then make sure to include these songs into your slideshow:
Great is Thy Faithfulness by Carrie Underwood
Just Another Birthday by Casting Crowns
Christain Birthday Song by various artists
Birthday Song by Blessing Iduh
Instrumental Birthday Music
Don't want a song's lyrics to overshadow your slideshow visuals? Then go with an instrumental piece. By the way, if you do, you'll be able to insert recorded voice comments with your best wishes into your video. Here's background music for a birthday slideshow you can go with:
The Cradle by George Winston
Always with Me, Always with You by Joe Satriani
Tequila by The Champs
River Flows in You by Yiruma
First Breath After Coma by Explosions In The Sky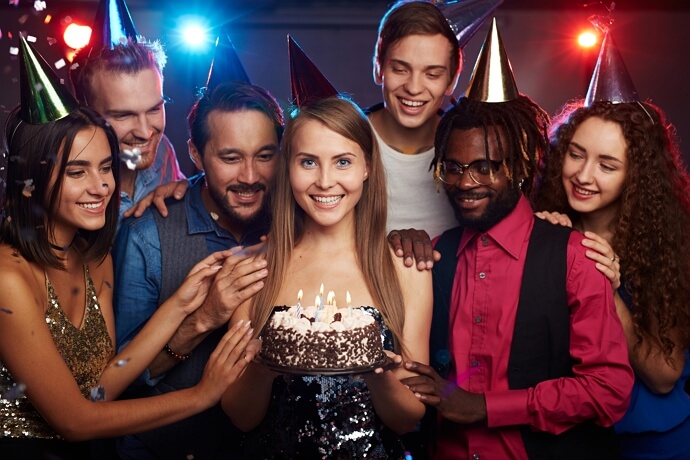 Classical Birthday Songs
Want to make your birthday video refined and sleek? Then be sure to accompany it with classical music. These pieces will make the perfect soundtrack:
Canon in D Minor by Pachelbel
Ode or the Birthday of Queen Anne by Handel
Serenade No 2 by Brahms
Horn Concerto No 1 by Richard Strauss
Piano Concerto No 2 by Shostakovich
Pop Birthday Songs
Pop music is arguably the most uplifting genre. That is why it is perfect for a lively and festive slideshow. Have a look at our selection of popular happy songs:
It's My Birthday by will.i.am
Birthday by Selena Gomez
Birthday by Katy Perry
Happy Birthday by Kygo ft. John Legend
Birthday Cake by Rihanna
Birthday Slideshow Songs by the Celebrant's Age
Is some sweet number going to be on the cake? Then this birthday video deserves a special song! Let's have a look at a selection of songs that would reflect the age your loved one is turning.
First Birthday Songs
It's been a tough year, but you and your baby made it through. So celebrate your little boy or girl's 1st birthday with these jams:
Little Bird, Little Bird by Elizabeth Mitchell
Zip-a-Dee-Doo-Dah by Bing Crosby
Sunshine, Lollipops and Rainbows by Lesley Gore
Top of the World by The Carpenters
Starting a New Life by Van Morrison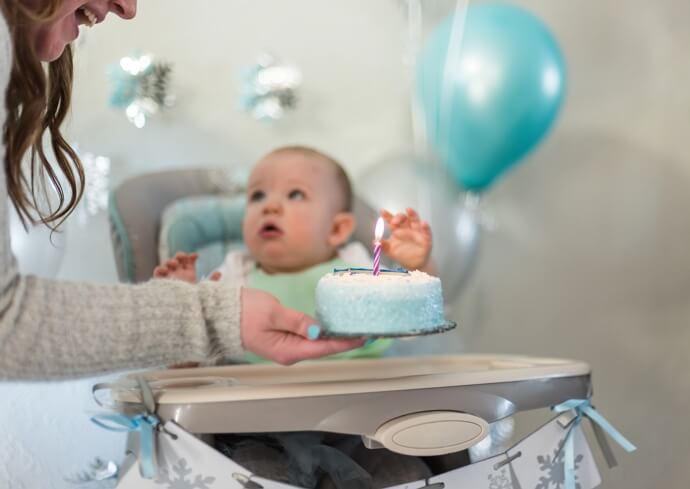 Sweet 16 Birthday Tunes
Is your princess finally turning 16? Then honor her with a lovely video. Just make sure to use these songs for the birthday slideshow.
Dancing Queen by ABBA
Firework by Katy Perry
Umbrella by Rihanna, JAY-Z
What Makes You Beautiful by One Direction
She Looks So Perfect by 5 Seconds of Summer
18th Birthday Songs
So childhood is ending, huh? This is hardly the reason to feel bad. Instead, create a slideshow that would usher the new adult into adult life. These songs for a birthday slideshow will help you.
She's Only 18 by Red Hot Chili Peppers
Blooming 18 by Ace of Base
18 by One Direction
Graduate by Third Eye Blind
18 Till I Die by Bryan Adams
30th Birthday Jams
Your loved one is turning 30? Celebrate this round number anniversary with a heartfelt video. Accompany it with these songs for a bigger impact.
I Am by Hilary Duff
Overcomer by Mandisa
I Bet You Look Good on a Dance Floor by Arctic Monkeys
Good Riddance (Time of Your Life) by Green Day
Stronger by Kanye West
50th Birthday Songs
50 is a great age when the person is wise enough, but still has plenty of energy. Celebrate the most energetic person in your life with a cool slideshow. Here are some tunes for the task.
Gimme Shelter by The Rolling Stones
Times of Your Life by Paul Anka
Unforgettable by Nat King Cole
Happy, Happy Birthday Baby by Ronnie Milsap
The Best Is Yet To Come by Frank Sinatra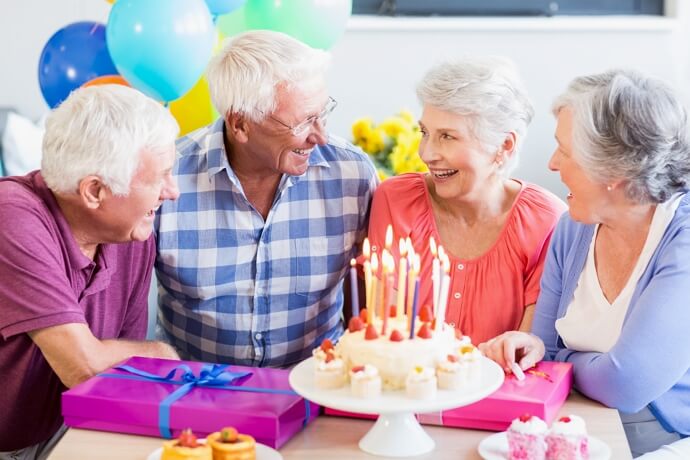 60th+ Birthday Tune
Someone forever young at heart is celebrating their birthday? Here's a chance to honor them in a sweet way. Create a lovely video for your senior relative and accompany it with this music for a birthday slideshow.
Happy Birthday by Stevie Wonder
It's My Party by Lesley Gore
Birthday Song by Don McLean
Earth Angel (Will You Be Mine) by The Penguins
So now you hopefully know how to choose songs for a birthday slideshow and already have a few awesome ideas for your festive video. If you wish you had more options, check out some of the best birthday slideshow songs out there. But whichever tune you choose, just make sure that the slideshow you create will be as heartfelt and as touching as possible.
Looking for birthday slideshow songs?
SmartSHOW 3D

has tons of tunes and other tools for an awesome video