Animated Collage Maker with 3D Effects
Make a Slideshow with Animated Collages Hands Down
If you're fond of making picture slideshows, check out some new features you can use in your projects, such as animated photo collages. SmartSHOW 3D slideshow software provides all you need to create a splendid presentation powered by animated collages. That means you can apply different kinds of animation effects to your photos, i.e. move them in space, rotate, make them disappear, gradually disolve and so on. How to make collage animation by yourself? Keep on reading the guide and find out!
In this guide, you'll learn how animated collages work, where to find the templates, and how to make your own. For those of you who are the visual type, we've made a video - click Play to see some examples and how to make a collage.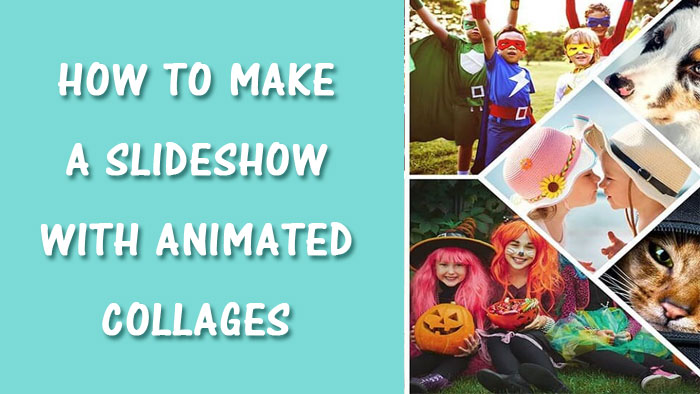 Like the idea of a moving photo collage? Click the button below and get started with SmartSHOW 3D for free.
Download free

Launch the program and try these features for creating photo collage animation in a few simple steps.
Ready-to-Use Collage Templates
How to put a photo collage on your slide? One way is to use ready-made templates. SmartSHOW 3D has a collection of collage presets to choose from. Click the Collages tab under Titles and have a solid look at them. There are lots of stylish templates, including 3D. You can preview each of them simply clicking on the effect and then on the big play button on the right. Drag an effect you like to the timeline and then add the photos to the corresponding slots. You can customize the collage later using the Slide Editor.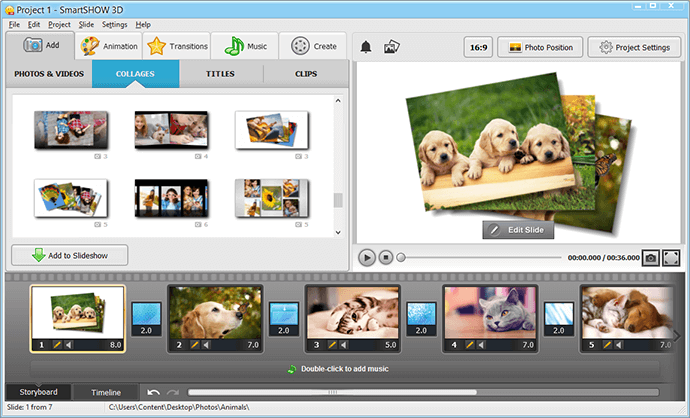 Your Own Animated Collages
You can also make a collage from scratch.To create a new animated collage, insert a blank slide first. In order to do that, right-click on the timeline and choose Insert Blank Slide, or simply press Ctrl + Ins. Then double-click on the new slide to open the Slide Editor. Choose a background - solid color, gradient, texture or an image from your computer. Now add a few photos. To add a photo, click the Add Layer button in the top left corner and select Photo. You can add up to 10 photos to the slide. We recommend keeping the reasonable amount of photos not to go over the top; otherwise the overall look of the slideshow can easily be spoiled.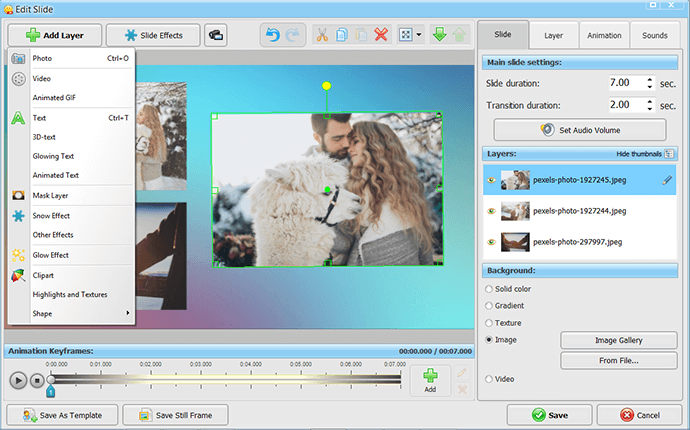 Make Animated Collages!
Animation is a great way to make unique projects, and it's not only about collages, you can even create awesome 3D slideshows! Now let's add animation effects to the photos we've added. Select a layer and click on the Animation tab. Add animation with the help of keyframes. Set the position of the object for the first keyframe, then add the second keyframe, and adjust the settings. Animation settings include panoramic motion, scale, rotation (simple or 3D rotation), transparency - edit one or several settings, depending on how you want the object to behave. To preview the result, click on the Play button. In the same way, you can set animation for the rest of the objects on the slide to make them move, disappear or rotate in space.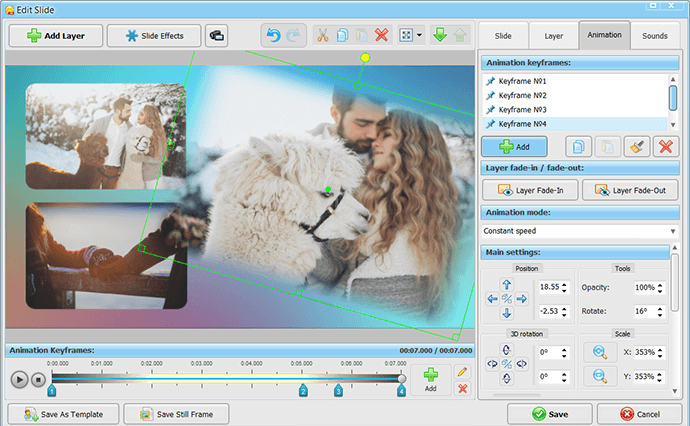 So if you want to try making a slideshow with animated collages, download SmartSHOW 3D here and use your imagination and creativity to design an awesome slideshow project!
Need a trendy animated collage maker?
Get started with

SmartSHOW

3D!