Create a Moving Rehearsal Dinner Slideshow
Great Rehearsal Dinner Video Ideas and Tips for You to Try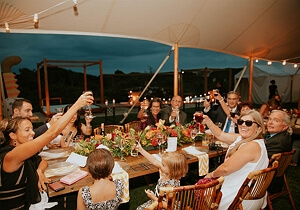 You are about to tie the knot in a beautiful ceremony in front of your respective families. What would be the best way for your relatives to meet and mingle? That's right, a rehearsal dinner! It is a good opportunity for the groom's and bride's families to get to know each other before the wedding day craze starts.
To keep this family gathering from being a formality, turn it into a heartwarming celebration in its own right. Let a rehearsal dinner slideshow become the centerpiece of this party. Learn how to create a slideshow that will establish the bond of your respective families, while telling your love story.
Fail-Safe Rehearsal Dinner Slideshow Ideas
Set the perfect running time - Most people tend to make their slideshows too drawn out. Don't be one of them - your purpose is to tell a captivating story and not bore your guests out of their minds. So set the perfect slideshow running time - no more than two average-length songs. This will make your slideshow dynamic and engaging.
Find the best broadcast timing - All things should happen at the right time. If you play your rehearsal dinner video right at the beginning of the event, don't expect it to be appreciated to the fullest - your guests will be just too busy talking and making acquaintances. Play it too late in the evening, and once again you'll barely find the audience. It's better to showcase your artistic achievement right when the first toasts begin.
Choose the right photos - No doubt that you have an extensive photo archive - pro photoshoots, funny selfies, goofy photo montages. But that doesn't mean that you have to show your guests every single picture of your couple. Rather pick those photos that can tell a coherent and engading love story. Show you and your partner growing up, having the first date, going on your first vacation, moving in together - all those important steps towards happiness.
Find the suitable music - You two might be die hard heavy metal fans, but do not - just do not - use your favorite tracks as a music background for your slideshow. Always take your families' members into consideration, whose musical taste might be drastically different. So go with safer options - romantic tunes, upbeat songs, soothing music - anything that is not controversial.
Don't pick up a fight with technical issues - Making a memorable slideshow might prove to be tricky. That is, if you use some non user-friendly software. If you fail to create animation or use a transition effect - just don't do it. Your slideshow doesn't have to be that technically complex. Better yet, just opt for easy-to-use automatic slideshow making software that will help you make a stunning slideshow effortlessly. For example, SmartSHOW 3D, that you download here to try it for free.
Gorgeous Rehearsal Dinner Slideshow Templates
If the idea of a wedding rehearsal dinner got you intrigued, but you lack either time or artistic confidence, don't rush to dismiss it. Beautiful slideshow templates are just the thing for you! Create a touching slideshow in just five minutes using your pictures and one of the lovely templates made by professional designers. So little effort for such an impressive result! Have a look at the sample slideshow below. This free template comes with SmartSHOW 3D along with many others.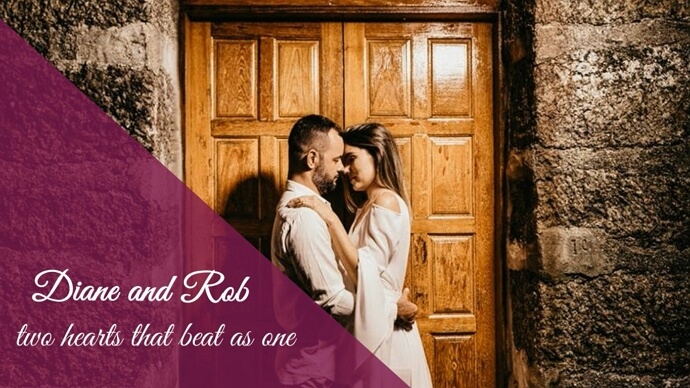 Wasn't it romantic and heartwarming? Get started with SmartSHOW 3D and create an even bigger tearjerker!
Fun fact: A wedding cake is not the only cake to be featured in the celebrations. There is also a thing called a groom's cake - a cake exclusively designed for (and sometimes by) the groom. And it's served at the rehearsal dinner. If you have a design in mind, why not use it in your slideshow to maintain a theme?
How to Make a Rehearsal Dinner Slideshow in a Few Easy Steps
Want to melt your families' hearts with a touching slideshow? Then follow these simple steps to create a rehearsal dinner video that will make your relatives reach for tissues:
Step 1. Install the software and run it on your computer. Pick the type of your project. Go with a New Project to make a slideshow of your own, or pick the Slideshow in 5 Minutes option if you wish to use one of the predesigned themed templates.
Step 2. Pick the pictures you want to use and place them on the Timeline. Rearrange them if you want your photos to tell a coherent story, or shuffle them if you want to make a beautiful medley. Mix your pictures with cute videos that your couple is sure to have aplenty.
Step 3. Spice up your project with some eye-catching effects. Add transitions to either create a smooth flow or an explosive narrative. Use preset slide animation effects or create some of your own. Then throw in some natural effects like snowflakes, leaves, sparks, and bubbles to truly bring your slides to life.
Step 4. Now it's time to add a music track to set the right mood. Choose one of 200+ tunes from SmartSHOW 3D's royalty-free collection, or add a song of your own. If you are looking for a surefire track to complement your slideshow, then get familiar with some of the best songs for rehearsal dinner slideshow.
Step 5. Save your creation in a fitting format. Be it a video for a TV, a tablet or a smartphone, or a video to post on your Facebook page - SmartSHOW 3D can do it all.
Frequently Asked Questions
With the theme picked, the venue booked, the menu decided on, and the invitations sent out, your rehearsal dinner preparations are now over. So take a little break and get acquainted with artistic storytelling. Download SmartSHOW 3D for free to create a slideshow and share your love story with your families. Prove once and for all that you were truly made for each other.
Looking for a rehearsal dinner slideshow maker?
Get started with

SmartSHOW

3D!