Thanksgiving Slideshow Ideas & Tips
Celebrate this Thanksgiving day with a heartfelt video
It's November already, and you know what that means - soon you will be stuffing and roasting, baking and mashing. But what's more important, you will be spending time with your loved ones and you will be thanking. Yes, it's that time of the year when families get together, count their blessings, and enjoy a humongous dinner.
Why not try something new this Thanksgiving Day! Surprise your family and friends with a festive thanksgiving slideshow. Don't know how to make one? Well, it's as easy as (pumpkin) pie! In this article, we'll show you how to create a heartwarming thanksgiving slideshow and give you more tips and ideas than you can shake a wishbone at! So let's put on our pilgrim hats and get rolling!
Have a look at a sample Thanksgiving slideshow. This is what you can have as the centerpiece for your dinner: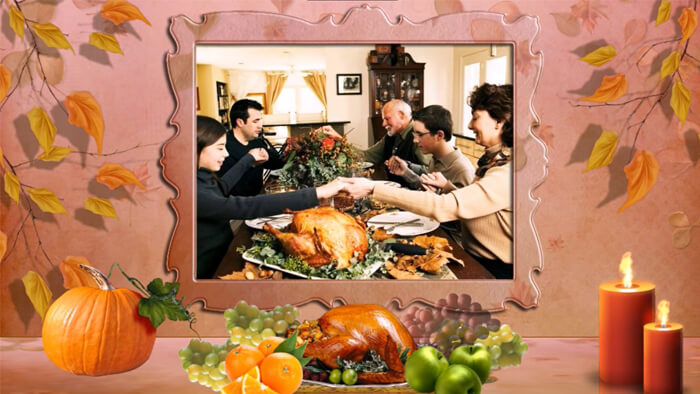 Wasn't that fun and moving? Want to create something just as visually pleasing? Then here's our guide!
Pumpkin Flavoured Thanksgiving Slideshow Ideas
Here're some tips that will help you make your Thanksgiving slideshow a real crowd-pleaser even if it is your first time creating a video out of pictures.
Use quotes galore - TIt's true that a picture is worth a thousand words, but gratefulness is such a delicate feeling that can't solely be described with imagery. So fill your Thanksgiving theme slideshow with wise words. Those can either be quotes from famous writers and philosophers, weighing in on what it means to be grateful. Or you can add your own thoughts. Share with your family what are you most thankful for and encourage them to do the same.
Mix pictures with videos - Sure, pictures are fine, but just imagine how much more dynamic your video would be if you sprinkled some videos throughout. You probably have tons of funny videos from previous Thanksgiving dinners, so use them for your slideshow as a backdrop or as a slide centerpiece. Don't have videos of family fun and shenanigans? Then use stock footage of a Thanksgiving dinner being prepared and served. Such scenes are a great way to have everyone's mouth water before the grand meal!

If this is your first time creating a slideshow, you might be understandably confused. But shrug off any doubt and learn

how to make a video with pictures

completely hasslefree. You might like it so much that you'll end up creating a slideshow for just about every seasonal holiday.

Opt for using templates - Doesn't matter if you are a seasoned slideshow master, or a complete newbie - you can really benefit from using themed slideshow templates. This would make the task so much easier and it would guarantee you a really captivating video, both visually-wise and pace-wise. We certainly would not discourage you from making a one-of-a-kind slideshow from scratch, but if you are looking for a simple and quick way to create a video, thanksgiving slideshow templates are a way to go.
Don't underestimate the importance of a good tune - Granted, we all know a handful of Christmas songs, but what about a Thanksgiving jam? Well, luckily there are tons of thanksgiving songs to choose from. So don't turn your slideshow into a silent movie and don't set it to some bland default tune. Instead, make your video more tender and intimate with some soulful song that would speak of gratitude, blessings, and quality family time.
Go with the right software - Sure, Powerpoint can do the trick. However, this program is more suited for business presentations, and not for sweet Thanksgiving slideshows. If you need software that would give your video a poetic touch, go with SmartSHOW 3D. This easy-to-use slideshow app for PC is equipped with 600+ effects and templates. With it, you'll be able to create such a bright slideshow that would give the Thanksgiving parade a run for its money! SmartSHOW 3D comes with a free trial, so you can try it risk-free.
Want to make a festive video that will have people talking till the next Thanksgiving? Download SmartSHOW 3D to kick-start the holiday season with a lovely slideshow!
Download free

Now let's discover the wonderful world of slideshow making with SmartSHOW 3D! Hold on tight!
How to Create a Touching Thanksgiving Slideshow
If you already have your inner artist pumped up and ready to go, then let's dive into the slideshow making process. Just follow these simple steps to make a memorable and touching holiday video.
Step 1. Add Photos and Videos to Your Project
The first thing you'll need to do is to decide whether you are going to make a video from scratch, or use a professionally designed Slideshow in 5 Minutes templates from the built-in collection. Once you pick your project's type, add your pictures and videos to it. You can use photos from the previous celebration, or just add your favourite family photos and intersperse them with Thanksgiving images.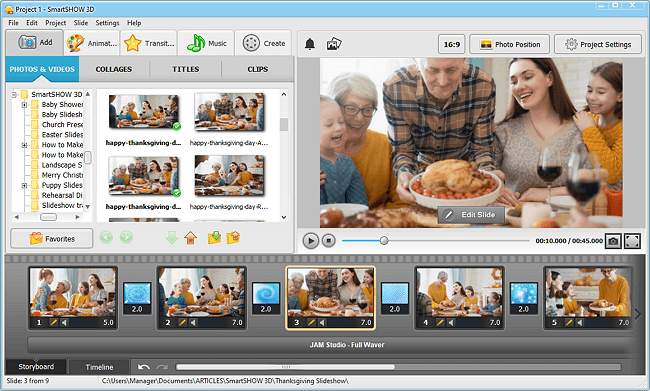 Step 2. Spice Up Your Video with Effects
Bring life and movement to your Thanksgiving slideshow video with SmartSHOW 3D's eye-catching effects. Use the built-in collection of more than 400 animations & transitions, 3D collages, and pan and zoom effects. With this effects library at your disposal, you can set the style and the pace of your video the way you want. You can add effects with a simple drag-and-drop.
Step 3. Pick the Right Tune to Carry the Spirit
Now it's time to add music to your video. You are free to add a track of your own, or you are welcome to use the software's collection of royalty-free tunes. Add as many tracks as you want! Besides, you can record voice comments and add them to the timeline as well. Tell a family anecdote or share a recipe for a perfect roast turkey - anything goes!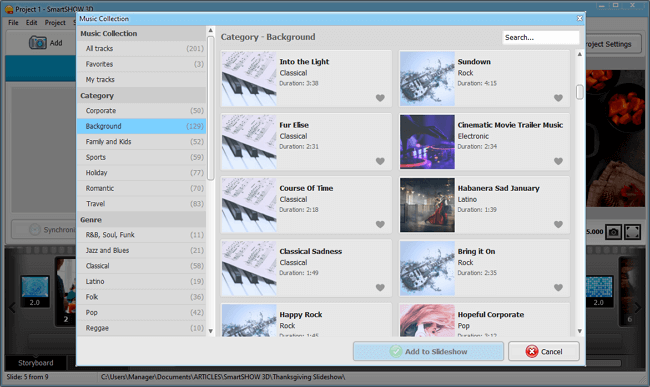 Step 4. Save Your Thanksgiving Day Slideshow
Once your video is done, pick the format to save it in. If you are planning to show your creation during the dinner, then save it as a video for TV or tablet. If you want to upload your thanksgiving picture slideshow straight to your social media page, then Video for Internet is the way to go. You can even burn your video to DVD old-school style (as a gift for your relatives).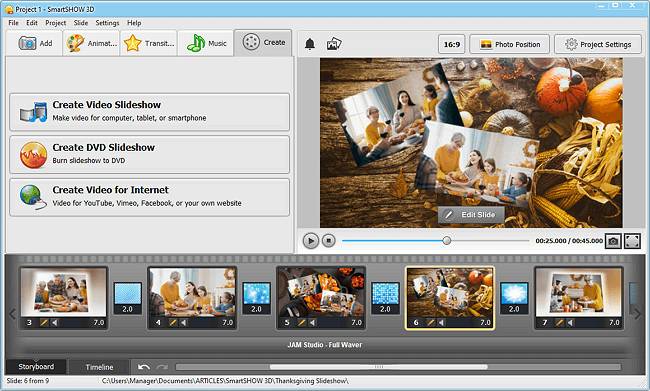 So while the turkey brines, take your time to make this Thanksgiving Day truly unforgettable. Amaze your family with a heart-felt video that would pay tribute to this day's values. Just take a pile of your family photos, add themed backgrounds and a nice tune, and use SmartSHOW 3D to turn them into a lovely slideshow. A slideshow that would touch people's hearts and will make them say Thank you once again.
Need a smart Thanksgiving slideshow maker?
Get started with

SmartSHOW

3D!