How to Make a Slideshow with Music and Pictures
Mix your photos with music and create an amazing slideshow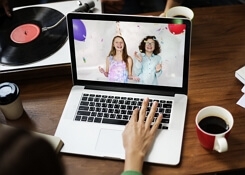 Want to create a video from your favorite photos and add some music to it? Need to make a slideshow for your work with a quiet tune in the background? Even though neither of these tasks seems simple, making a slideshow isn't that complicated.
Follow our step-by-step guide and discover how to create a stunning slideshow with music and pictures. You'll learn to add a catchy tune to your project and spice it up with special effects.
In our tutorial, we'll be using SmartSHOW 3D. It's a powerful and user-friendly program with tons of templates. It allows you to mix your photos with music and apply awesome animation and transition effects. Since SmartSHOW 3D has a free trial, you can check it out yourself. Do it right after you've read how to make a slideshow with pictures and music. In case you want to learn about some other tools to create your movie, we'll tell you about them as well. So let's begin!
Step 1. Download and Install the Software
Click the green button below to download a free trial of SmartSHOW 3D.
Download free

After the download is complete, install the program. It will take you just a few minutes.
Step 2. Choose the Project Type You Need
Run the slideshow maker and pick the option that suits you best. Click New Project to create your video from scratch. Or choose Slideshow in 5 Minutes. This option offers you ready-made templates almost for any occasion which is really helpful in case you're pressed for time.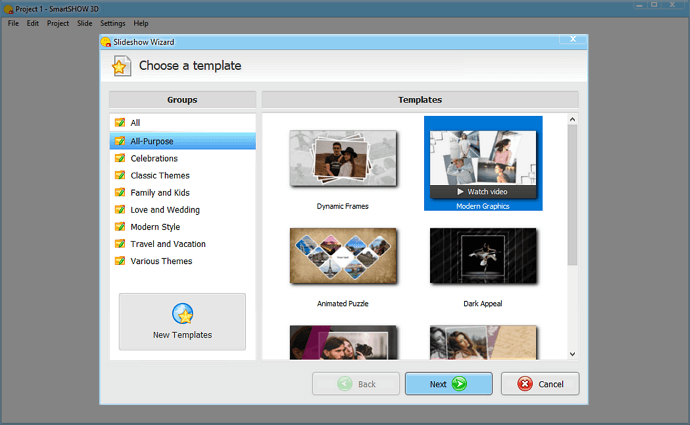 Step 3. Add Your Photos and Spice Them Up
You may drag and drop your pics one by one to the Storyboard or add the whole folder with a single click. Want to animate your pics? Choose from tons of effects from SmartSHOW 3D library. Switch to the Animation tab and apply the preset you like with an easy drag and drop action. Have a bit more time? Then you can create your own animation effect! Click Edit Slide to create custom animation, add nature effects or animated text.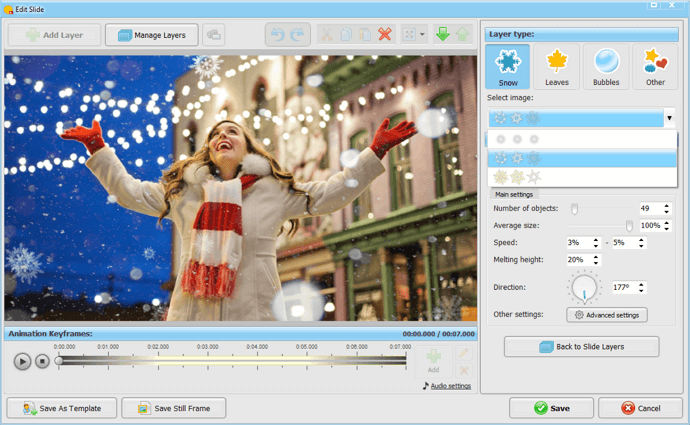 Step 4. Jazz Up Your Project with Music
Now it's time to set the mood for your clip with some tunes. Choose from over 200 royalty-free tracks from SmartSHOW 3D collection: rock, electronic, pop, background music, etc. Want to make your slideshow even more special? Add your favorite song that will remind you of these happy moments caught on camera. But what if you want to tell the story your way? Then record your voice message and add it to the timeline.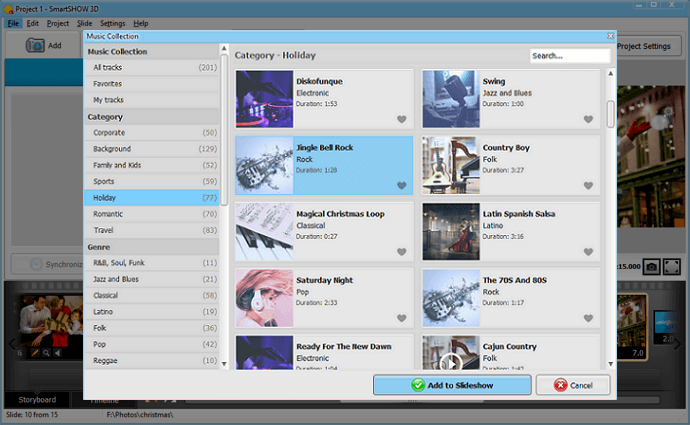 Step 5. Save Your Slideshow with Music and Pictures
Finished? Now you can click the Play Button to check the result. Like it? Then click Create Video to save your slideshow in the format that suits you. Opt for a video for TV or burn your project to a DVD. Alternatively, you can save your slideshow as a video for the web and post it on your favorite social media. Let your friends enjoy watching your full-fledged movie.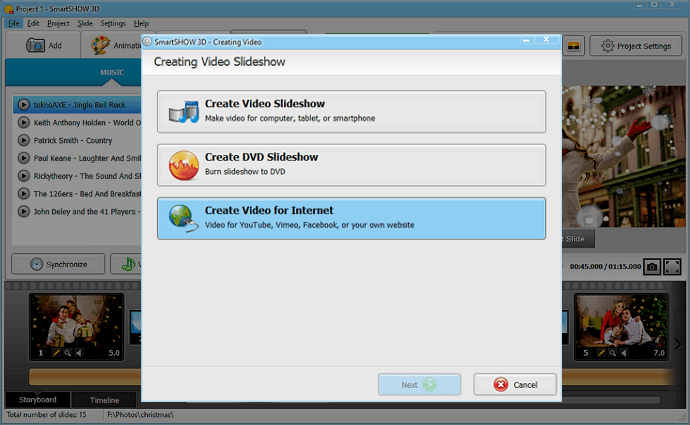 Prefer video tutorials? Then watch this video guide on how to make a slideshow with music and pictures on your computer in a few steps.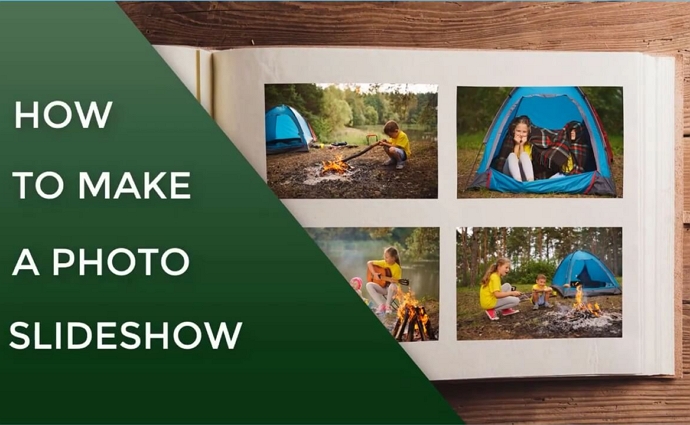 You've just learnt the best way to add stunning transitions and apply 3D and nature effects to your pictures. So you can not only create a dynamic slideshow with pictures and music, but turn your video into an eye candy with ease!
Now you know how to make a slideshow video with music and pictures with SmartSHOW 3D. But what else can this program help you do? For starters, it'll help you bring still images to life in a few clicks. How? With this animated collage maker, you can zoom on the pics, rotate them, make them rapidly disappear or gradually dissolve. Or you can make a slideshow with special effects. Create a wow effect video with amazing animations, smooth transitions, and meaningful text captions. Realize your creative ideas with SmartSHOW 3D!
Making a Slideshow With Pictures and Music: Alternative Ways
Prefer using a smartphone to turn your recent shots and old photos into a movie? Or just want to check some other PC programs to make slideshows with pictures and music? Let's have a look at different tools to create your unique video.
We'll start with apps that you can download on your phone and use wherever you are. If you have an iPhone, then you can try SlideShow Maker Photo to Video. This app allows you to choose filters and moods, apply different transitions and add some music. The app is quite handy, but paid. If you own an Android device and want to try creating a slideshow, then opt for Scoompa Video. The free version of the app allows you to make your slideshow with only 30 photos and not longer than 1:30 min. Optionally, you can buy its pro version.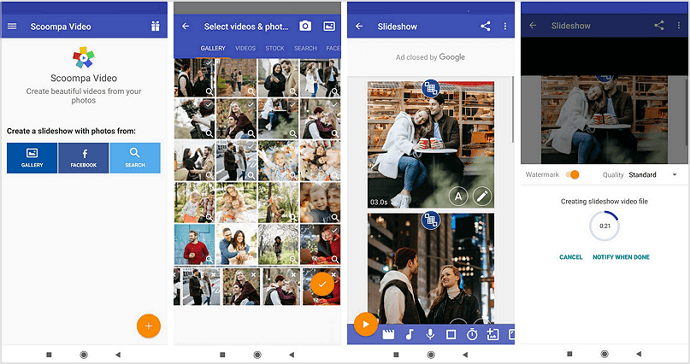 In case you own a Mac, you can create slideshows in Photos. The app allows you to select a bunch of photos and add some captions to them. You can also set a theme for your slideshow and complete it with some music. Seems handy, only if you have a MacBook. Wonder how to make a slideshow of pictures with music online? Good news, there's a handy online slideshow maker available for Windows 10 and for MacOS. It allows you to create a DVD slideshow in 7 different formats adapting it to the screen you'll be watching it on. While turning your pics into a clip, you can add some effects, text, and GIFs. You will definetely need a stable Internet connection.
Now you've learnt how to make a video slideshow with music and pictures. So it's high time to create your own unique video! All you need is a bunch of your photos, some cool music, a pinch of inspiration and SmartSHOW 3D. It's an easy-to-use and powerful slideshow maker that is equally handy for complete newbies and for experienced pros. So don't keep your huge photo archive only on your computer's hard drive. Relive those sweet moments with your family and friends.
Want to make a slideshow with music and pictures?
Get started with your free trial of

SmartSHOW

3D!