Movavi Slideshow Maker Review and Alternatives
Meet Movavi slideshow software and its competition on PC, Mac, and mobile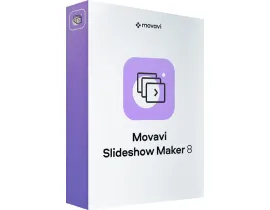 Whether you want to showcase your travel photos in a creative way or share some touching moments from your family archive, with Movavi Slideshow Maker you and your audience are in for the show. This program can win someone over with its variety of available tools – templates, filters, transitions, and whatnot. But if you want to go a little deeper than surface level, let's dive into the Movavi Slideshow Maker review.
In this article, we will address the most crucial questions regarding this app. How does it work? Is it safe for your computer? How much does it cost? We will provide the answers and outline the benefits and the downsides. On top of that, we will take a look at available Movavi Slideshow Maker alternatives for Windows, Mac, and mobile devices.
Movavi Slideshow Maker Review – What You Need to Know
Movavi Slideshow Maker is an app that allows you to create slideshows using your images, videos, and audio. You can decorate your work with visual effects, stylish transitions, and captions. Finished work can be easily shared across various social media platforms. Now let us answer the most frequent questions about this app:
What is Movavi Slideshow Maker? It is desktop software that allows you to turn your media into slideshows and collages. It is based on an engine of a full-fledged video editor from the same developer, which gives it a little more prowess.
What does it work on? This app is available for Windows 7 and above, as well as Mac OS X and above. However, Movavi Slideshow Maker has limited compatibility with Apple Silicon M1 processors – it is mostly stable, but issues are reported.
How to use it? It is fairly straightforward. You simply have to run the app, choose Slideshow Wizard, upload your media, and select a template. If you need more control over the result, then you can edit everything yourself in the Manual Mode.
Is Movavi Slideshow Maker free? Mostly not. You can download and use it for free for 7 days without some premium features and content packs (that include additional transitions, music, titles, and more), and with a watermark and half of the audio track on your renders.
Is it safe to download? According to other Movavi Slideshow Maker reviews and tests – it is. Visiting the Movavi website and downloading official software there holds no risks for you.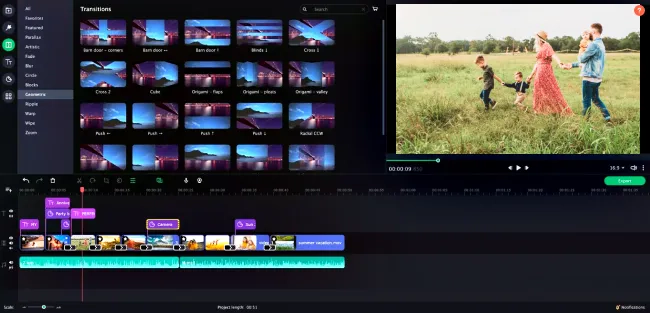 Quick movie creation tool
Picture-in-picture feature
User-friendly interface
Chroma key capability
Sound processing
Motion tracking
Unstable on Apple Silicon M1
Lack of advanced trimming
Somewhat slow rendering
You can download and try out Movavi Slideshow Maker for free for 7 days. To access all the available features and content packs, you have to go premium. There are three ways you can purchase Movavi Slideshow Maker – a yearly subscription for $44.95, or a one-off purchase for $64.95 or $89.95. The latter comes with the greatest package of extra content.
If you want to hear what Movavi have to say about their app or see it in action, just watch this clip: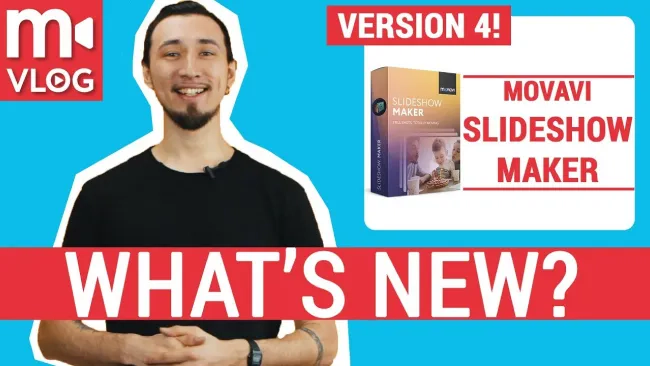 That's about all we (and the devs) have to say about this program. Now, let us review Movavi Slideshow Maker alternatives. We have picked one for PC, Mac, iOS, and Android.
SmartSHOW 3D – Movavi Slideshow Maker Alternative for Windows
Windows users can turn their eyes towards SmartSHOW 3D – a powerful slideshow software available for Windows 7 and any newer version. In terms of features, this Movavi Slideshow Maker alternative offers over 200 templates for any occasion, over 500 visual effects and transitions, over 200 built-in music tracks, a built-in animation module, video layering, and more. It also has a "Slideshow in 5 Minutes" tool that lets you quickly create themed slideshows, like a travel video with an animated map of your journey, or a wedding montage.
SmartSHOW 3D is easy to use and master, but if you still need some help, comprehensive online tutorials and customer support are available anytime. It will also strain your wallet less than Movavi. SmartSHOW 3D is a paid slideshow software as well, but it has a longer trial period and the pricing starts at $29.95. SmartSHOW 3D checks all the needed boxes to be an outstanding Movavi Slideshow Maker alternative for Windows. If you want to see it in action, watch this video: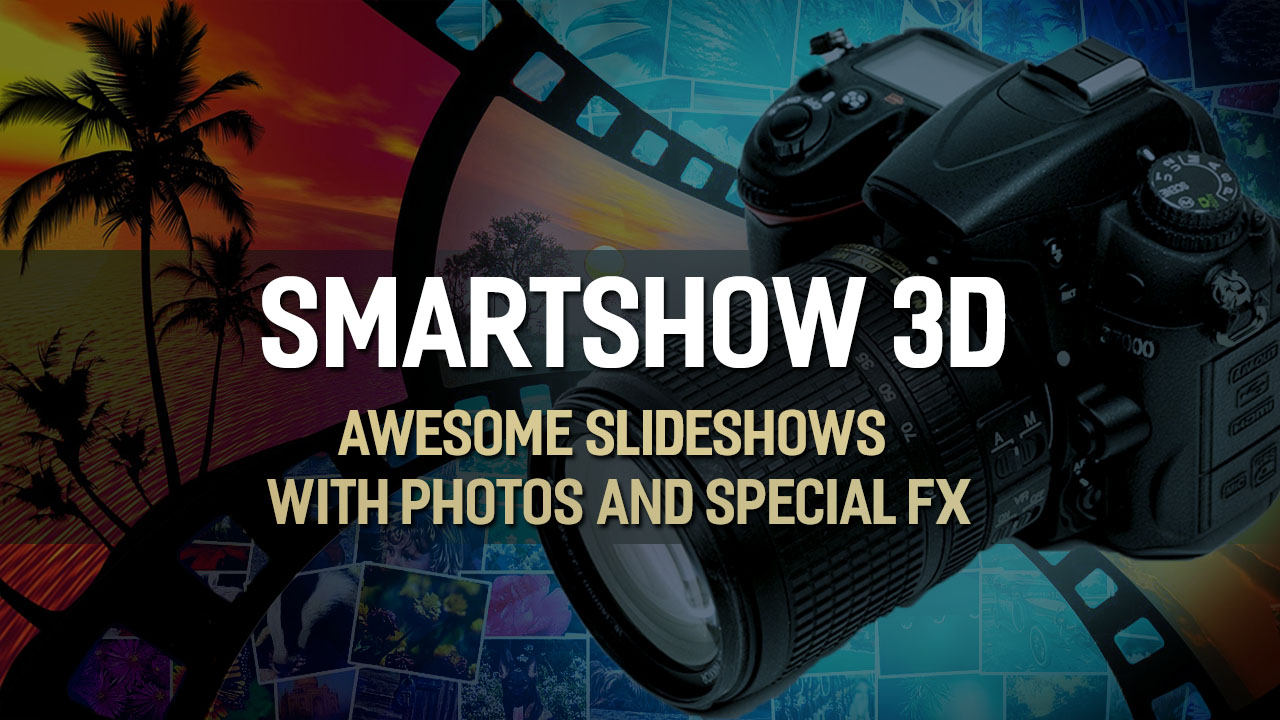 You can try SmartSHOW 3D yourself right now! Just hit the button below to get an installer:
Download free

60+ themed slideshow templates
500+ effects and transitions
200+ built-in music tracks
Animated Travel Maps
Extensive animation toolkit
User-friendly interface
Easy export and sharing
Processing large media may cause lags
iSkysoft – Movavi Slideshow Maker Alternative for Mac
iSkysoft Slideshow Maker for Mac is a good Movavi Slideshow Maker alternative for newbies. It features basic editing tools alongside a convenient media browser, transitions split into categories, templates for intros and outros, and more. You can also record and edit an audio track.
The iSkysoft app has a 30-day trial period and a $59.95 price tag. It's quite pricey, but it's a lifetime purchase, with no subscriptions involved. All in all, iSkysoft offers a nearly identical (in terms of features) Movavi Slideshow Maker alternative for Mac at a slightly lower price.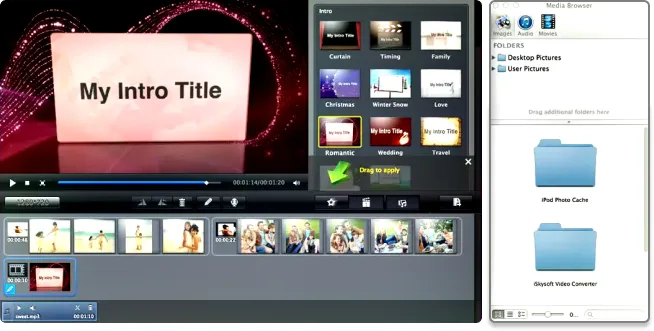 Convenient media browsing
Basic photo editing features
Direct sharing to various platforms
Few settings for animations and effects
The trial version has watermarks
Slideshow – an Alternative for Android
Slideshow is a Movavi Slideshow Maker alternative for Android. It allows users to quickly and easily build high-quality slideshows. On top of its user-friendly interface, you'll find over 60 free stock pictures to include in your montages or use for testing transitions and effects. You can also include background music and publish your work straight on social media. As a Movavi Slideshow Maker alternative, Slideshow is a bit basic, but it allows you to do slideshows on the go.
User-friendly interface
60+ free stock images
Audio import
Multiple transition effects
Export to social media
No drag-and-drop feature
Inconvenient audio file search
No proper audio editing
Want to quickly stitch some clips into one video? Read our guide on how to use a
video collage maker
and create videos from different pieces in a snap!
SlideShow Maker Photo to Video – Movavi Alternative for iPhone
SlideShow Maker Photo to Video is a Movavi Slideshow Maker alternative for iPhone. With it, you can use your iOS device to create montages from your photos, videos, and music. SlideShow Maker also includes a feature of compiling a presentation according to a certain theme – adventure, birthday, vintage, and whatnot. All of that makes SlideShow Maker a very decent Movavi Slideshow Maker alternative for iPhones and iPads.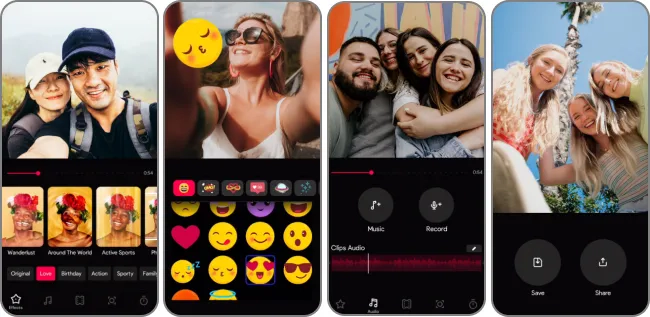 "Mood" montage feature
Library of effects and transitions
Applying text and stickers
Built-in music collection
Easy sharing on YouTube and more
Payment issues are reported
Settings are hard to access
Conclusion
As you can see from our Movavi Slideshow Maker review, this app is good, but not perfect, and other apps can do what this one can not. We have pointed out some alternative programs for PC, Mac, and mobile devices, but they are just a drop in the ocean of available options.
You'll always find something to your preference, as long as you keep searching for software to bring your artistic vision to life. Some programs are free, while others have a membership cost; some software may restrain your creativity due to technical limitations, while others are jam-packed with features and tools. The best choice is determined by your creative goals and budget.
Looking for a Movavi Slideshow Maker alternative?
Then download and try SmartSHOW 3D!