Autumn Slideshow with Realistic Effects
Celebrate the most beautiful season with a lovely video
They say that autumn is the year's last and loveliest smile. Do you have that smile - along with yours - depicted in many photos? Then make a fall slideshow with them. Take your brightest autumn photos and turn them into a love letter to this most beautiful season. Complete your slideshow with nature effects like rain or falling leaves. In the end you'll have a stunning slideshow just like this one: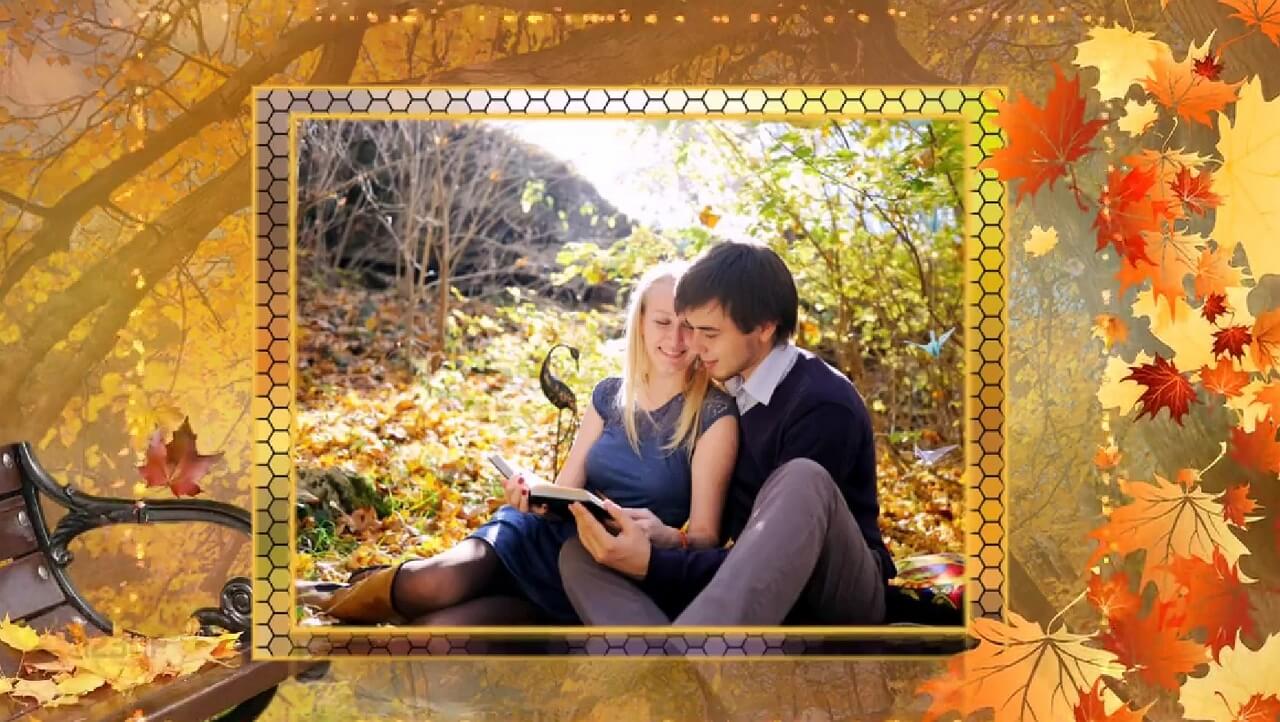 Wasn't this autumn themed slideshow enchanting? Your inner fall aficionado wants to create something of the kind? Then do it easily with SmartSHOW 3D. This software is perfect for creating slideshows for any occasion. It offers over 200 templates and is equipped with hundreds of effects. Despite being feature-rich and powerful, SmartSHOW 3D is still very easy to master. With it, you'll be able to make visually-stunning videos in mere minutes. Ready to try it yourself? Then simply press this button below to download SmartSHOW 3D and create your first ever fall picture slideshow.
Download free

Now let's enter a slightly melancholic mood and create a gorgeous slideshow that would burn red, orange and yellow.
How to Make an Achingly Sweet Fall Slideshow
So what does it take to create a video with your autumn photos? How can SmartSHOW 3D help you with that? Well, let's find out.
Step 1. Begin with browsing through fall slideshow templates that the software offers. In case you already have a concept in mind and don't want external help, then go with a blank project and build your slideshow from the ground up.
Step 2. Now it's time to add your autumn images to your project. Go with the most scenic pics you can find - after all, your video should stand out. Consider adding videos as well, as they will convey the autumn vibes even better.
Step 3. Make sure to spice up your autumn pictures with nature effects. SmartSHOW 3D offers realistic-looking effects of falling leaves and rain. You can customize every little aspect of these effects - the type of elements, the speed, the angle, etc.
Step 4. It's time to liven the gorgeous scenery with equally gorgeous music. SmartSHOW 3D allows you to use your own tracks - as many as you want. If you don't have a tune in mind, then have a look at the built-in library of good music. There are over 200 tracks to choose from so you are sure to find the perfect soundtrack.
Step 5. Now that your fall slideshow with music is done, export it however you see fit. This slideshow maker allows you to export your video for TV, mobile devices, social media, video hostings, and whatnot. Just choose an export profile and don't worry about the settings.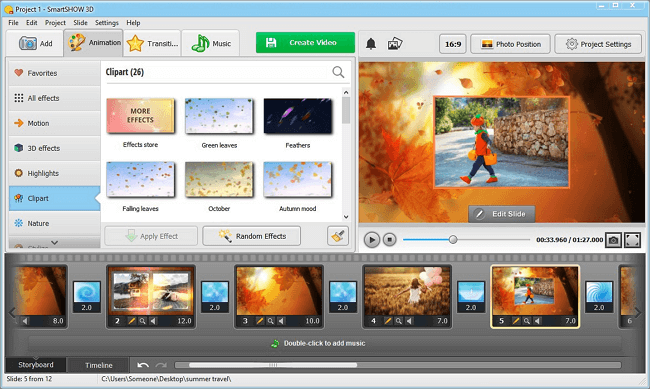 And this is how you create an autumn slideshow. So put on your raincoat, take your loved one and a camera and go to the nearest park to make awesome fall photos. Then turn them all into a stunning video that will be as bright and graceful as autumn leaves themselves.
Want to create a fall-themed slideshow?
Get started with

SmartSHOW

3D!