How to Make a Slideshow on Computer
Create a stunning animated movie right on your PC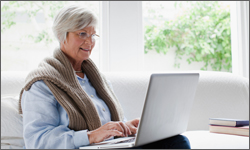 Gone are the days when you had to show your pictures through boring photo albums or endless socials feeds. You'll get a much warmer response to a slideshow with music and pictures. Such videos will capture your viewers' attention and help you show off your visionary style.
In this article, we'll tell you how to make a slideshow on a PC. What's more, we'll give you a slideshow example to demonstrate how amazing your DIY video can be. We'll also share with you a few trusty tools that would be perfect for the task.
The first tool we'll tackle will be SmartSHOW 3D. This software is packed with hundreds of templates, animations, transitions, and other effects. It comes with a free trial, which means you'll be able to try all its tools and features before actually buying the program. So first, we'll teach you to create a slideshow on a computer with the versatile SmartSHOW 3D, and then we'll move on to alternative ways. Ready? Then let's get going!
Step 1. Download and Run the Software
First, you need to do is to install SmartSHOW 3D. Just click the button below to start your free trial.
Download free

Now you have two options - create a slideshow from scratch or use predesigned templates. If you are pressed for time or don't have that much experience in slideshow making, the best way to make an awesome video is to go with the Slideshow in 5 Minutes option.
Step 2. Add Your Photos and Videos
Now, fill your project with your favourite photos. Add them one by one or just drop in a whole folder. Rearrange the pictures on the timeline however you want. You can either put them in a strict order or shuffle them for fun. Make sure to add videos as well as they provide a nice change of pace for your slideshow movie. Your pictures could use some improving? Enhance and stylize them with a built-in photo editor.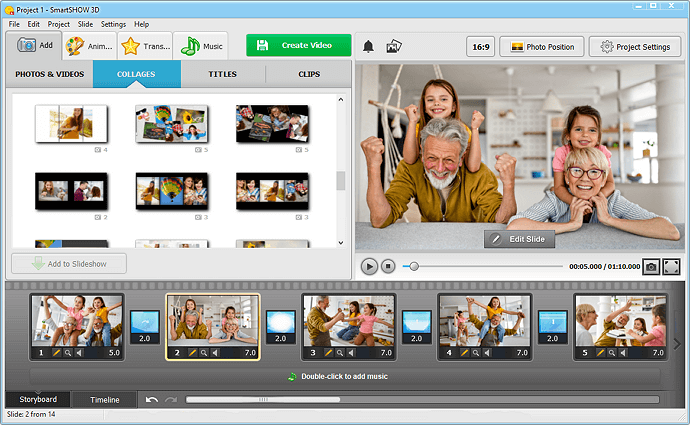 Step 3. Spice Up Your Slideshow with Effects
A slideshow with no animation is boring. Luckily, SmartSHOW 3D comes with a huge library of animations, zooms and pans, transitions, and even nature effects like rain and snow. What's more, there is a custom animation module you can use to create your own elaborate effects. Spice up your video with falling leaves or burning fire, soaring rose petals or bubbles - anything that would suit the theme of your photo slideshow.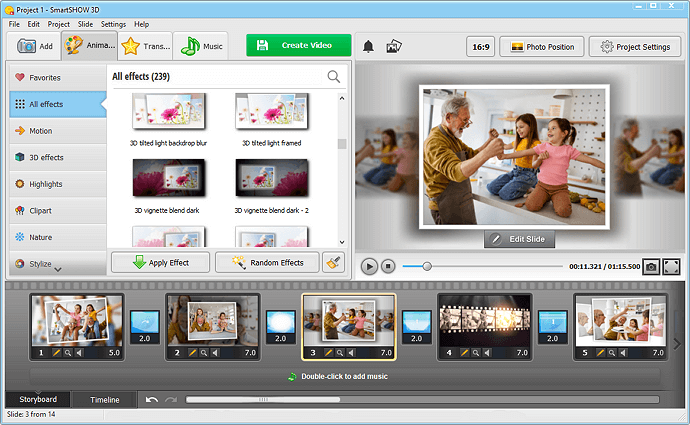 Step 4. Create a Mood with the Right Soundtrack
A wisely chosen soundtrack can make all the difference in the way your video slideshow is perceived. If you can't decide what tune to go with, let SmartSHOW 3D aid you. This slideshow maker offers you 200+ free tracks of almost any genre, mood, and tempo - you are sure to find the perfect song for your project. Alternatively, you can go with any jam of your own.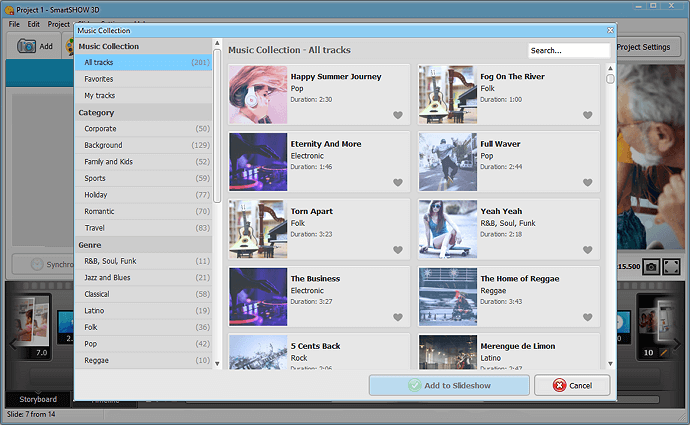 Step 5. Make Your Slideshow for PC or TV
Now it's time to convert your slideshow with music and pictures. You have dozens of options. First, you can create a video for TV if you plan to watch your slideshow with your family. Alternatively, consider making a video for social media or video hosting sites if you plan to share it online. There is even an option to burn your slideshow to a DVD, provided your PC has a DVD drive.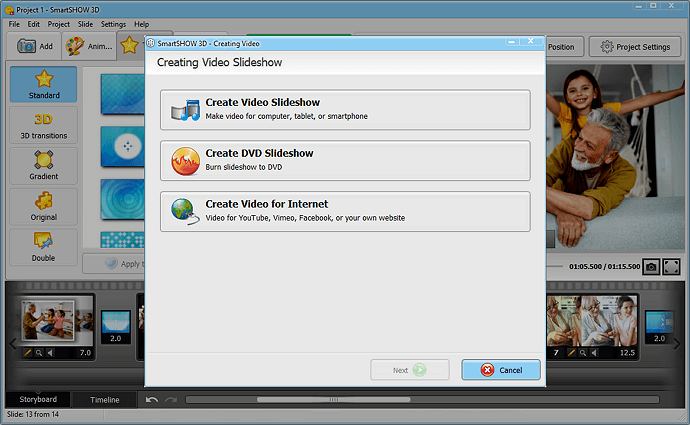 So now that you know how to make a picture slideshow with music on a computer, aren't you interested to see what such a video could look like? Then take a gander at this little number created with SmartSHOW 3D that will surely wow you.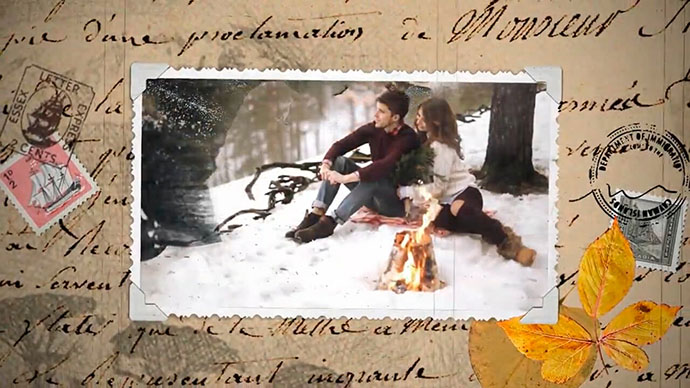 Would you like to create something just as lovely? Well, now you can. You just need a bunch of your photos, a nice tune, and SmartSHOW 3D.
Other Ways to Make a Slideshow on a Computer
Just as we promised you, we'll take a brief look at how to make a slideshow with music on a PC using alternative tools. First off, there is the Photos app that most Windows users are familiar with. This program is primarily for viewing and cataloguing your images, but it still allows you to create simplistic slideshows. Another tool you can use is Kapwing, a versatile web-based software. Sadly, it comes with no templates of its own, but it still lets you mix your photos and music into a reasonably interesting slideshow.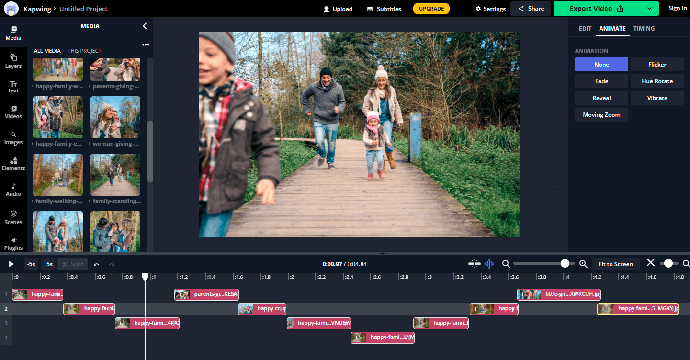 If you feel confident about your slideshow making chops and you have plenty of time, then direct your attention at Magix Photostory. This slideshow maker comes with a rich collection of templates and even richer collection of effects. It helps you to turn your otherwise boring photos into a thrilling movie, provided you have the time to master it. It also wouldn't hurt to have a high-end PC, if you want Magix Photostory to run smoothly.
Well, now you know some of the best ways to create a photo slideshow on a PC. This means that from now on you'll be able to showcase your latest vacation photos or sweet family celebration pictures in an eye-catching way. If you want to make sure that your slideshow making process is as fun and easy as possible, then go with SmartSHOW 3D. Despite being packed with tools and features, this slideshow software is refreshingly easy to use. So unleash your creativity with it.
Want to make a slideshow on your PC?
Get started with

SmartSHOW

3D to create amazing videos!