Songs for Wedding Slideshows: Pick a Fitting Tune
Get tips on wedding video music and enjoy our selections of songs by categories
If your or your friend's wedding is just around the corner, it's high time to make sure that all the boxes are ticked. The venue - check. All the guests' RSVPs - check. A wedding slideshow - no check! Have trouble picking the right tune for it? Nothing to worry about, because we are coming prepared with our meticulously picked selection of wedding slideshow music to help you out.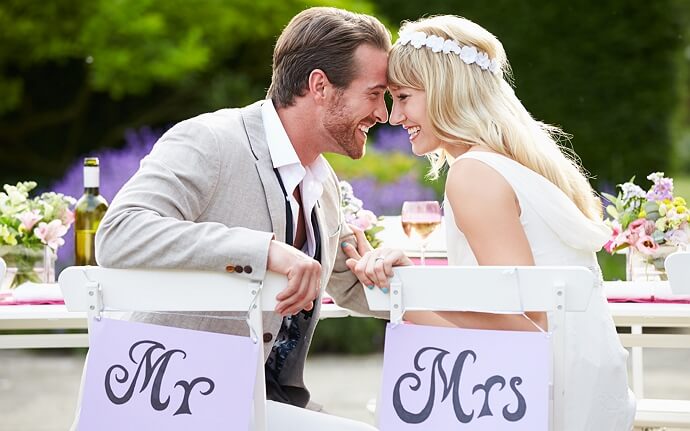 A wedding video usually features three parts - the first two show the bride and groom growing up, and the final part chronicles their journey to this day. Each of these parts requires a specific soundtrack. In this article, we'll be looking at the best wedding slideshow songs that would be a good fit for all those parts of your video. We'll tackle udying classics, modern jams, tunes of almost all conceivable genres, and quite uncommon songs. So put your headphones on and let's take a look at the songs that will not only elevate your slideshow for the upcoming wedding, but can also be used for the video created in the wake of this wonderfully romantic day.
How to Choose Songs for Wedding Slideshows
This question seems like a no-brainer, but there are still a few things you should consider when choosing the soundtrack for your wedding video. Let's take a gander at these crucial moments that will help you make sure that you've picked the best wedding slideshow song possible.
Don't rely solely on your music taste - If you are creating a wedding video for your friend or relative, try to match their music preferences, not yours. If they don't fancy overly-sweet romantic love songs, do not torture them with those. If you are making a slideshow for your own wedding, consider your audience and their expectations. If you are a death metal fan, we doubt that your grandparents are, too. So pick a soundtrack that would accommodate all.


Use more than one track - Even if you are ditching the three-part formula and don't have to pick music for each segment, don't limit yourself to using only one track. For starters, using two and more average-length songs will help you maintain the perfect running time. Besides, switching tracks along the way will give your video an interesting shift in mood or pace.


Consider the lyrics of the songs you pick - Just because the song sounds romantic, it doesn't mean that its subject matter is all that wholesome. So before you use some popular ballad or an upbeat jam in your wedding slideshow, make sure to really read into the lyrics and find out the ideas behind them. It could be unpleasantly eye-opening.


Avoid recent hits - What if a song comes along that is an irresistible earworm that you want to be featured in your wedding video? Stop for a second to think over this desire. Sometimes such songs are just the product of their time and they will soon fade into obscurity. Sometimes artists that record them fall out of grace. So if you don't want your video to sound out-dated or be associated with the wrong musician, stick with melodies and artists that have stood the test of time.


If everything fails, go with an instrumental piece - If picking a song is too much of a headache for you, consider using pieces of classical music for your wedding slideshow. Pachelbel's Canon or Hendel's Water Music - the list of options is rich and refined.
Already picked your slideshow making tool? If not, direct your attention to SmartSHOW 3D. This full-featured program with a free trial will help you create gorgeous wedding slideshow. You'll get access to dozens of templates, hundreds of effects, and myriads of decorative elements. And if you can't find the fitting song for your video, you can always use the 200+ tracks library.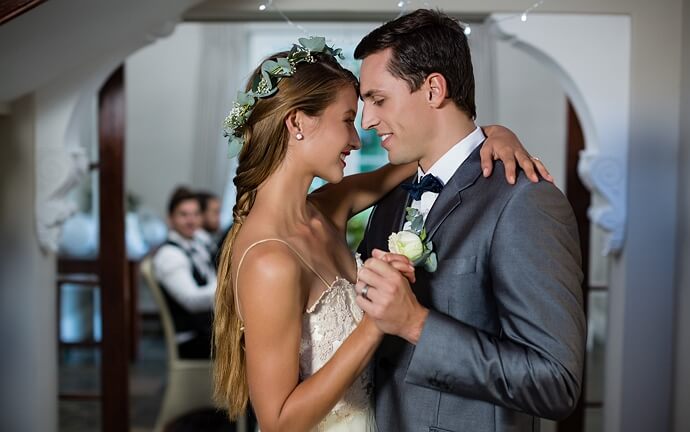 Wedding Slideshow Music: Top Picks by Categories
Now we've finally arrived at the point of your romantic destination. Below, you'll find lists of the most touching and wedding-appropriate songs divided into categories according to their genres or intended use. Still have your headphones on? Then let's take a proper listen.
Wedding Slideshow Songs for the Groom
Once a boy, now a man. A man who's met the one and is ready to tie the knot. Honor this amazing person with a tune that would both highlight his manliness and unveil his softer inner self:
How am I Supposed to Live Without You by Michael Bolton
Love of a Lifetime by Fire House
Angel by Aerosmith
The Boy I'm Gonna Marry by Darlene Love
My Guy by Diana Ross and The Supremes
Wedding Slideshow Songs for the Bride
Picture her, walking down the aisle, the embodiment of beauty and grace. It's understandable that you want to sing of this marvelous sight. These wedding slideshow songs will help:
Isn't She Lovely by Stevie Wonder
Time After Time by Cyndi Lauper
You Are So Beautiful by Joe Cocker
Pretty Girl by Eric Clapton
She's Got a Way About Her by Billy Joel
Songs for Growing Up Montage
You absolutely need to show the bride and groom's journey from adorable kids through awkward teens to graceful individuals. These songs will help you show that with utmost sincerity and charm:
Beautiful Boy by Celine Dion
Daughters by John Mayer
Back Then by Tim McGraw
Look at Us by Vince Gill
First Day of My Life by Bright Eyes
You And Me by LifeHouse
100 Years by Five For Fighting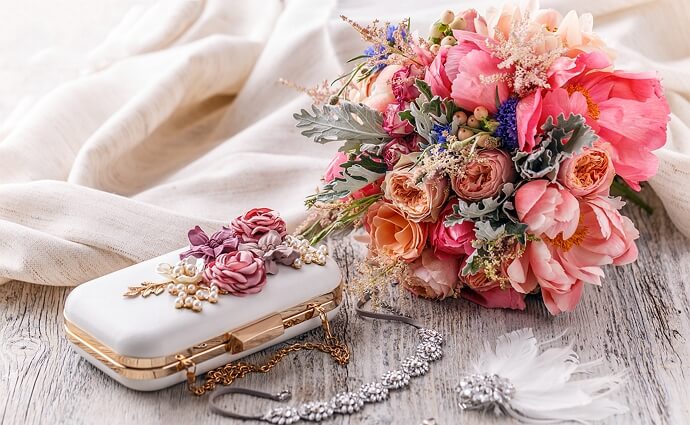 Upbeat Wedding Songs
Some people just can't stand solemn and slow-tempo tracks. After all, a wedding is a joyous event and the slideshow music should match the mood. Here is a collection of jams that will have your viewers feet stomping and hands clapping along:
All You Need is Love by Beatles
I Say A Little Prayer by Aretha Franklin
Picture Book by The Kinks
Marry You by Bruno Mars
Walking on Sunshine by Katrina & The Waves
Modern Songs for a Wedding Slideshow
It's fine if you don't want to follow our previous advice on skipping modern songs. After all, it's your slideshow and it can have any music you please. So here's a little selection of recent bops perfect for the occasion:
Thinking Out Loud by Ed Sheeran
Sky Full of Stars by Coldplay
All of Me by John Legend
Video Games by Lana Del Rey
For You by Rita Ora and Liam Payne
Country Wedding Songs
If y'all have a thing for country music and want to incorporate it into your wedding video, we have a list for you as well. So get ready for these sweet country songs for wedding slideshows that will make your guests pull out their hankies:
Nobody But Me by Blake Shelton
H.O.L.Y. by Florida Georgia Line
Life is a Highway by Rascal Flatts
Keeper of the Stars by Tracy Byrd
It's Your Love by Tim McGraw and Faith Hill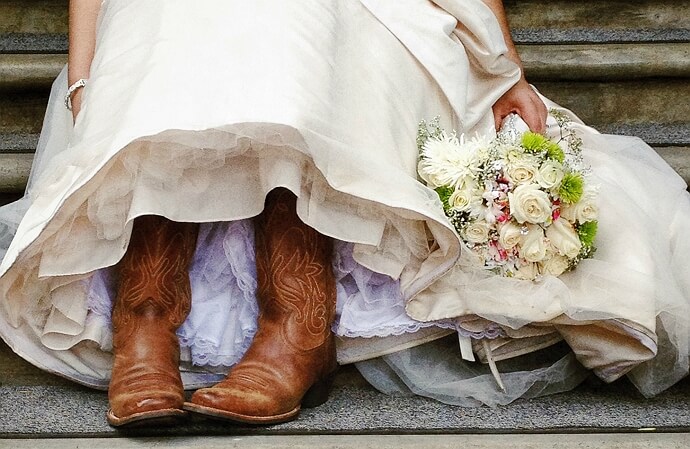 Instrumental Wedding Tracks
Don't want lyrics to steal the focus away from the lovely photos on the screen? Then opt to using instrumental music for your wedding slideshow. We have a list of hauntingly beautiful tracks that will surely draw some tears of happiness:
Opening by Craig Armstrong
Turning Page by Sleeping at Last
Main Title (from the Color Purple motion picture soundtrack) by Quincy Jones
Glasgow Love Theme by Craig Armstrong
Feels Like Home by Edwina Hayes
Classical Music Pieces
There is nothing more refined as a piece of classical music. If you are going for a serene atmosphere and an elegant feel of your slideshow, then classics are your best pick. Here's what you can use:
Canon in D, P.37 by Johann Pachelbel
Concerto No. 1 in E major, Op. 8, RV 269, 'La Primavera' (Spring): I. Allegro by Antonio Vivaldi
Serenade, 'Eine kleine Nachtmusik,' K 525: II. Romanze - Andante
by Wolfgang Amadeus Mozart
Suite Bergamasque, L. 75:III, Clair De Lune by Claude Debussy
The Blue Danube, Op. 314 by Johann Strauss II
Now you've got the music, but how about the general feel of your wedding slideshow? What should it look like? Take a glimpse at this gorgeous video for inspiration. Just make sure you have tissues nearby.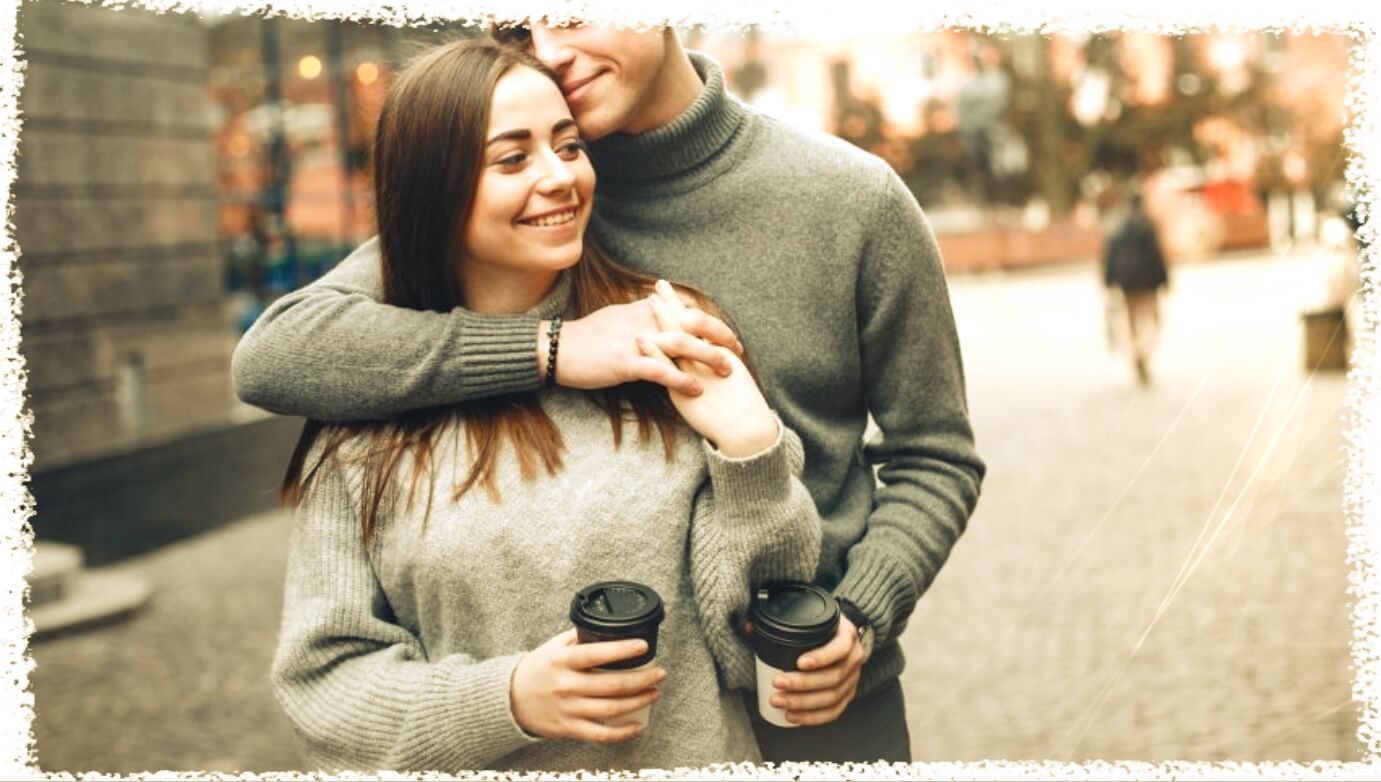 Love what you see? This wedding video was created with SmartSHOW 3D, a powerful but easy slideshow maker for PC. Go with this program and you'll be able to create wedding slideshows just as beautiful as this one, if not more.
Now that you have plenty of wedding slideshow songs to choose from, give them all a proper listen to determine which tracks would match your video. Go with various styles in one video for an interesting stylistic shift, or just pick the one that speaks to you most and loop it for several minutes. No matter which song you choose, we hope that your wedding slideshow creation goes as smoothly as the wedding day itself.
About the author:
Brought to you by SmartSHOW 3D team. We are professionals and enthusiasts in slideshow making from all over the world. We joined together to bring you the best ideas for your videos.
Need music for your wedding slideshow?
Get started with

SmartSHOW 3D

to gain access to its huge library of songs!